I had the pleasant surprise of visiting Kolkata twice last month. Once for a talk I did for Prabha Khaitan Foundation, moderated by Malika Varma in her mother Shamlu Dudeja's enchanting garden in New Alipore. I have become a real fan of this mother-daughter duo who, though not Bengali, have taken the art and craft of kantha to another level. They support nearly a thousand women skilled in this craft and now Malika has added some stunning new designs done on the more wearable crepe de chine, making kantha more contemporary. The old sari designs have also evolved from traditional motifs to designs incorporating geometrics and circles, all with flawless craftsmanship.
My second trip for the AKLF (Apeejay Kolkata Literary Fest 2023) included a stay at the gorgeous colonial-style Glenburn Penthouse off Park Street which, like many things in the city, is hidden on the top floors of an otherwise nondescript central Kolkata building. [Click here for recipes from her latest book Masala Memsahib].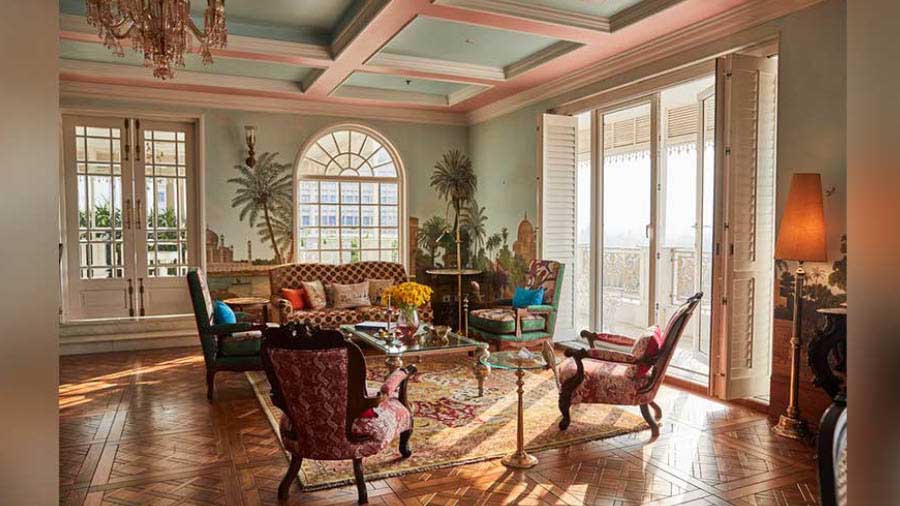 The Glenburn Penthouse is a discreet getaway atop Kanak Towers on Russell Street
The boutique property is on Russell Street which I love, with its quirky old shops (The Good Companions with their embroidered table cloths and lacy glass covers, has been a favourite of mine for years), the auction houses, iconic Bengal Club and Sutton & Sons… and for some reason it isn't as crowded either as Middleton or Park Street which lie on both ends.
Finally, I visited Sienna Cafe, about which I had heard so much, with food blogger/photographer duo Madhushree and Anindya Basu. It's in the trendy neighbourhood of Hindustan Park and Byloom, the famous local designer sari store, is right opposite. Auroni Mookerjee, the chef behind the food here, produced a multi-layered meal over several courses incorporating local produce by a new (to me) local online supplier, Amar Khamar. I loved the simple, clean flavours and presentation of the seasonal produce at Sienna. I did request only Bengali food although Sienna does do regional Indian and some international favourites including a mean risotto I hear.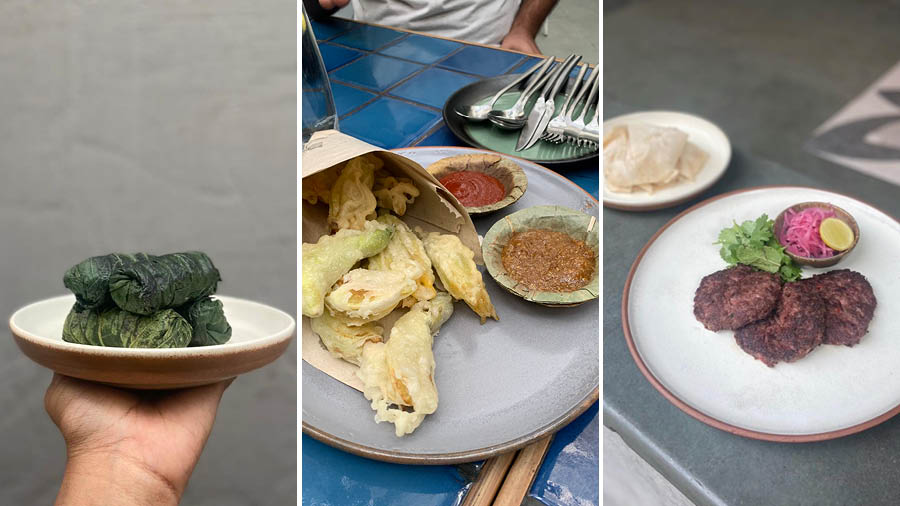 L-R: Laupata Dolma, Kumro and Bok Phool Tempura and Asma Khan's Bone Marrow Chapli Kebab at Sienna Cafe
The only thing was as a non-Bengali speaker you need a translator or a translation of some of the dishes! Loved the kumro and bok phool tempura - and the shorshe chingri and laupata dolma - basically rice and mustard prawns steamed in pumpkin leaves. Asma Khan's bone marrow chapli kebab is a predictable winner. As I took the shortcut and walked through the kitchen to the lifestyle store, the wonderful noodle Laksa Bowl they were plating blew my socks off — with all the condiments of a traditional laksa but served with a Goan Caldin gravy (a mild, yellow, creamy coconut fish curry). Quite a dish.
Apart from the now trending tags of sustainability, local, seasonal and so on, what you will find here above all is Taste – food which is high on flavours and utterly delicious. That's what I love and look for above all when I dine out. The lifestyle store has everything natural, home grown, well designed and I must say, well priced, too. Sienna was one of the first cafes in the neighbourhood. I remember they used to serve just tea and coffee and cookies. Now with Auroni at the helm of the kitchen, it has reached new heights. What I also love is that he credits all the visiting chefs when he incorporates their dishes on the menu — including mine!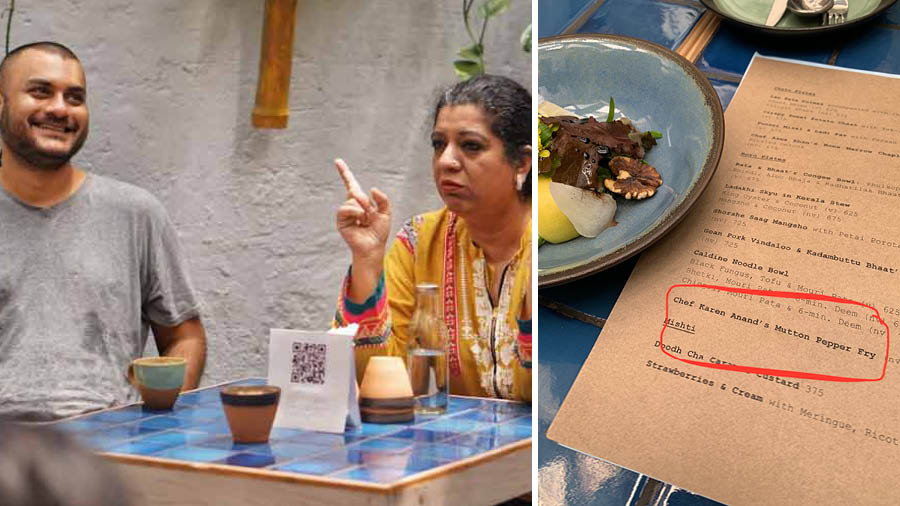 Dishes by visiting chefs like Asma Khan's Bone Marrow Chapli Kebab and Karen's Mutton Pepper Fry often float on the Sienna Cafe menu
Courtesy: Soumyajit Dey, Karen Anand
We then went for coffee down the road to the packed The Daily Cafe. Urvika Kanoi is running around like a plucked chicken with her two new outlets in Mumbai and this hugely successful cafe. The sugar-free chocolate lava bomb was to die for. Talking of which….I missed going to Chef Shashwat's European style bistro To Die For. Heard rave reviews though. Managed a last stop to shop and eat at Rajesh Sen's The Z's Precinct. Spread over three floors, this art gallery, cafe, curated heritage food space and boutique with a collection of stunning Indian saris and bits and bobs (you can find beautiful scarves and kaftans from Mala Sinha's Bodhi of Baroda here too). It's the kind of place you will always find what you're looking for.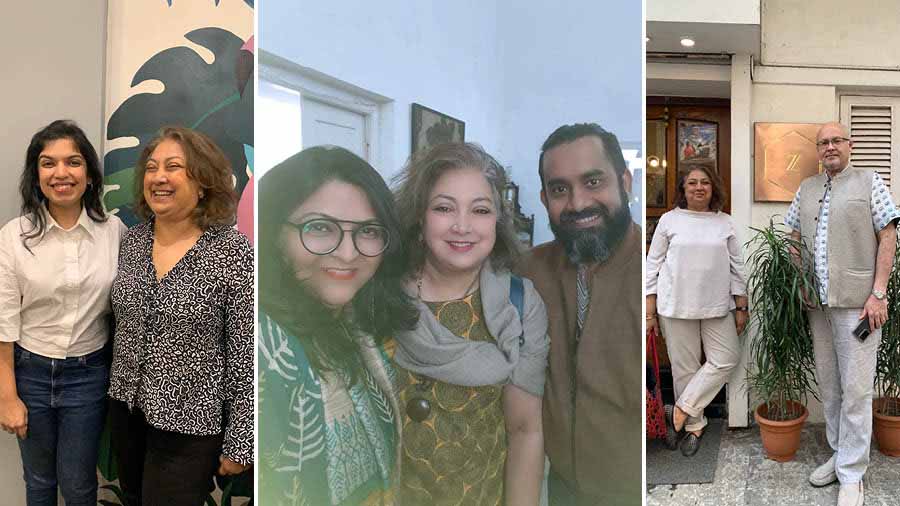 With Urvika Kanoi of The Daily Cafe, Anindya and Madhushree Basu Roy who shot the visuals for Karen's latest book Masala Memsahib, and Rajesh Sen of art and dine den The Z's Precinct
Courtesy: Karen, Madhushree
Lastly, a Bengali meal. What else...shukto, chingri malai, doi begun, maachher jhol, bata and bhaat and so on… Iti Misra on prior reservation will cater a Bengali meal to small groups in her Middleton Street home. Great for visiting guests eager for home-style Bengali food.
I didn't get a chance to visit my usual haunts but they must be mentioned. 6 Ballygunge Place and Sonar Tori for consistently good Bengali food, Mocambo for retro, nostalgia, turbans, Devilled Crab, Chicken a la Kiev and a great Gimlet. New to try are Avartana at ITC Royal Bengal, Peter Hu? and The Salt House [check out their ongoing Levantine food festival here]. Next time.
And who said Kolkata stands still in time? I think I did! Well it doesn't for food — old, new and innovative, it's right up there with every city in India.
Karen Anand is a food and travel writer, author, food consultant and founder of Markets by Karen Anand, a curated gourmet lifestyle market that takes place across India.