Very few people are chefs and writers. Karen Anand is one. The Masala Memsahib author, who was recently in Kolkata for a discussion around her latest book of culinary stories and recipes at the Apeejay Kolkata Literary Festival, spoke to My Kolkata. Excerpts from the conversation at The Glenburn Penthouse. 
My Kolkata: You start the book, Masala Memsahib, by saying that 'Food [Indian] is heavily misunderstood and misrepresented'. What made you write that?
Karen Anand: There are two sides to this. There are the trends and there is the commercial side. Chefs like Shaun Kenworthy, Prateek Sadhu and Thomas Zacharias are looking at regional Indian ingredients. I, too, have been saying for years that the hilsa or nolen gur is way underrated. The problem, though, is that India is a big country and to get ingredients from one place to the other is difficult. So while there is a movement towards understanding Indian ingredients in the last two years, I think it'll take a lot longer to translate into something commercial and therefore commercial Indian cuisine will remain the same and will not reflect how we eat at home.
How long did it take to curate Masala Memsahib? What is the story behind the name? 
Masala Memsahib is me. The content of the book goes back 30 years, of recipes I collected in the late 80s and 90s and others along the way as I did TV and travels. It's a COVID book that I completed in 2020 and it was done relatively quickly because I already had most of the information. I came up with the book's name and a designer friend did a 20-page presentation to show some publishers and everyone was very happy!
You have focused primarily on the coastal areas of Goa, West Bengal, Gujarat, Maharashtra and Kerala in elaborate chapters. Why so?
I purposely put these states for two reasons. One, these are the states I know. I don't know [states like] Punjab or Jammu and Kashmir, so I didn't talk about them much. The second thing is, I think subconsciously there has been a lot of attention given to north India - Delhi, Punjab, Uttar Pradesh and Lucknow.
West Bengal is a big part of it. I feel that the state's food is not written about enough except for by people who live here and have done a couple of books. When somebody comes from outside the state, they look at everyday things that residents may not see. When I come here [West Bengal] and tell people — your kasundi is fantastic or your nolen gur … — they are like 'oh yeah…' because they see it every day.
I have given this book to friends in the UK. They feel it's too much information. I feel it's not enough! I'm only giving you 15-20 recipes per chapter and even though I think I have touched the icebergs of coastal cuisines, there's a lot more. In Maharashtra, I have touched upon food from Vidarbha and Kolhapur. Then, of course, within the regions you have got communities and religious food, which I haven't touched upon. But hopefully I have brought a sense of what is available outside this whole north Indian diaspora.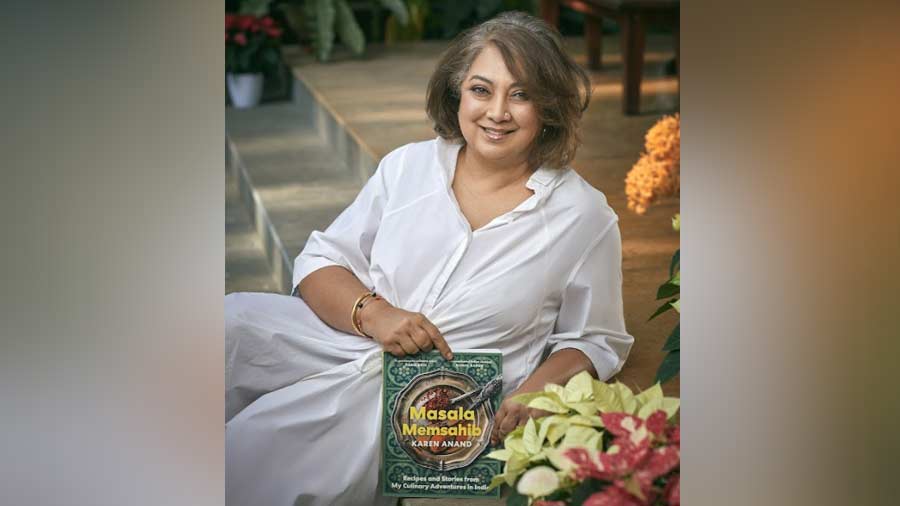 'Not many chefs are writers and many writers are not chefs. I'd like to think I do both well,' says Karen
What are the positives and challenges of the home chef and cloud kitchen boom across the country post Covid-19?
The cloud kitchen boom is what kept many restaurants going in the pandemic, including Dishoom [a Bombay-inspired restaurant group in the UK], which I set up many years ago. I think it's fantastic but the only questionable aspect is hygiene. My only advice when ordering is to be careful of your source. Who is doing it? For a lot of home chefs, I would question the hygiene a little bit because a lot of people don't understand food hygiene or food safety.
If you were to give one message to home cooks on the responsibility of keeping heritage and lost recipes alive, what would it be?
Put them down or give them to an author. For example, in the West Bengal chapter of Masala Memsahib, Madhushree Roy has shared her Doodh Maach recipe; Iti Misra gave me her chuchuri (chorchori) and chenchki recipes. Everybody knows chuchuri and shukto but they don't know chenchki. So each chapter has got a few classics like malai chingri, paturi or chuchuri, and some that are not. While tradition is important, you must also give people a working recipe, keeping the availability of ingredients in mind. Not everyone has access to dry prawn from a certain market so you must give an alternative.
Research says that while people love owning cook books, not many are really cooking from them. What then does a cookbook really mean to someone?
Well, I read cookbooks at night but I don't necessarily cook all the recipes. I think the trend now is to do a beautiful book. You want to situate where that dish is from and the visuals play a big role. That's what I wanted to bring to Masala Memsahib. I collected all the photographs myself. I think people are also buying books because of the stories behind the recipes, and when they do want to cook the odd one, they can.
During your travels, have you come across any food myths?
Yes, many. I find chillies the most misunderstood ingredient in India because we have so many by the same name. For example, I made Prawn Balchao when I did little cocktail events to launch the book. The Kashmiri chillies used for the recipes were different in all three cities. Kashmiri chilli is a mild, large, crinkly chilli. It does not come from Kashmir, it's grown mostly in Karnataka, and it has a great flavour. So, it is a myth that you can make everything everywhere. You can't. What I do now is make the masala myself, vacuum-seal it and take it to each place.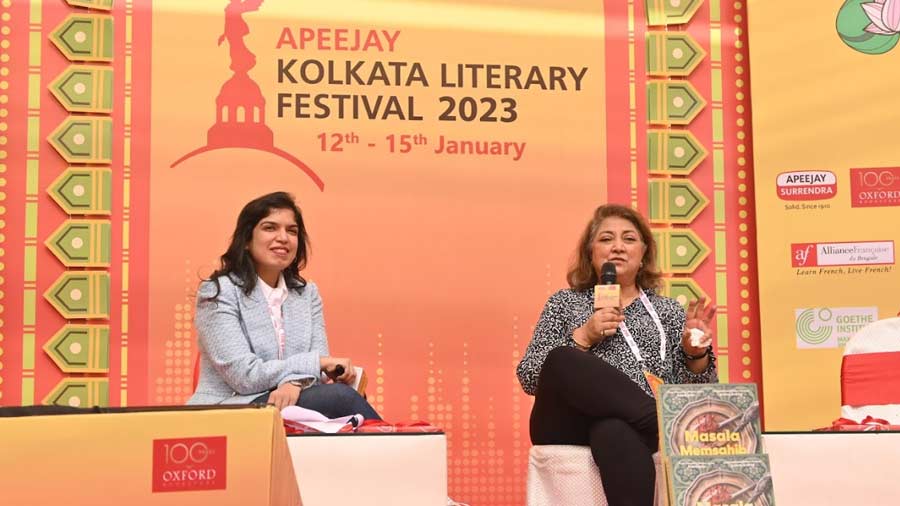 Karen Anand has been visiting Kolkata for over two decades, and was recently in the city to talk about her book at the Apeejay Kolkata Literary Festival
Sourav Nandy
How do you feel coming back to Kolkata and sharing your love for food?
I love Kolkata! I love the people and I have great friends here. I have been coming here for 25 years and if I could visit every week, I would. I'm not a big fan of mithai but I like the idea of mithai here because it's so much lighter. My chef friend Sourav [Banerjee, former executive chef of The Oberoi Grand] once took me to Vien on Shakespeare Sarani and I was blown away by the roshogolla. It's wonderful to have a local who can take you around, especially someone who shares the same taste. I did a north Kolkata tour with Calcutta Walks that was really good. Fabric is another great love of mine and I also like to visit places like New Market.