"I realise that everyone in this room is creative," said Roni Mazumdar to his audience at the Glenburn Penthouse – a gathering that included restaurateurs, chefs, food writers and film personalities. "We're Bengali, we're creative; we don't make money, that's a whole different problem!" Everyone, including veteran journalist and food writer, Vir Sanghvi, laughed, because the person uttering these words knew as well as his audience did that he has roundly defied this (oft true) stereotype about the Bengali community — and he has done it in New York, a city considered the epicentre of the world's most competitive restaurant industry. 
As Vir pointed out, Roni owns not one but six restaurants — all with different concepts, all successful — one of which is the famed Semma, which makes him the only Indian in the United States to own a Michelin-starred Indian restaurant. "Roni has broken out of that ethnic ghetto in which Indian restaurants are always placed," Vir observed. Dhamaka, probably his most celebrated restaurant, is "one of the top eateries in New York across cuisines, one that nobody sees as an 'ethnic' restaurant." On any given night, the waitlist for Dhamaka is around 1,500 people.
It is no surprise, then, that the conversation between the two stalwarts of food, hosted by My Kolkata and the Glenburn Culture Club, was engaging on several levels. For one, both men have intricate ties with Kolkata. Vir lived here and knows the city's food intimately (and is the author of a years-old article on Kolkata's soul that continues to be shared zealously by lovers of the city to this day); Roni was born in North Kolkata, and lived here for 13 years before moving to the US with his family. Second, as the business head of his operations, Roni's perspectives on Indian food and feeding various subsets of people provided valuable insights into what it takes to create food ventures that are successful and pathbreaking. 
Most importantly, the conversation, anchored by Vir with his usual deftness, steered clear of the safety that lies in hackneyed subjects, and focused, instead, on exploring the roots and strands that connect food with memory, family, friendship, history, love, geography, opportunity (or the lack of it), the value of our loved ones' labour, and, of course, community.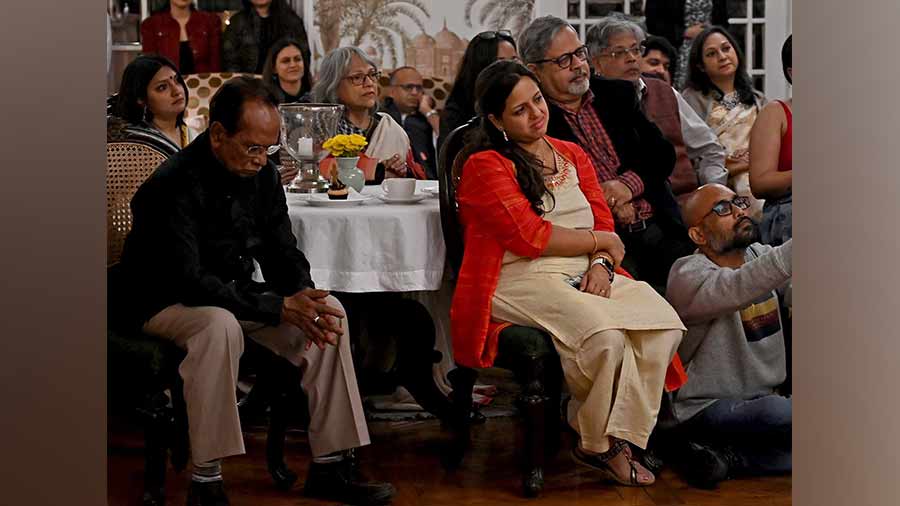 Roni Mazumdar's family (father Satyen Mazumdar, wife Sreoshy Banerjea and father-in-law and CFO of Unapologetic Foods, Ashish Banerjea) listen to him speak to Vir Sanghvi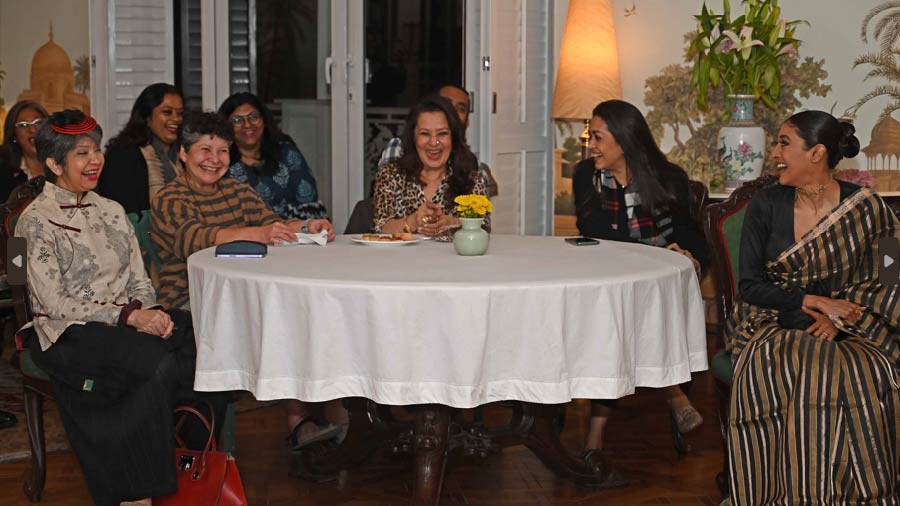 Pratiti Basu Sarkar, Swati Sarkar, Moon Moon Sen, Esha Dutta and Paoli Dam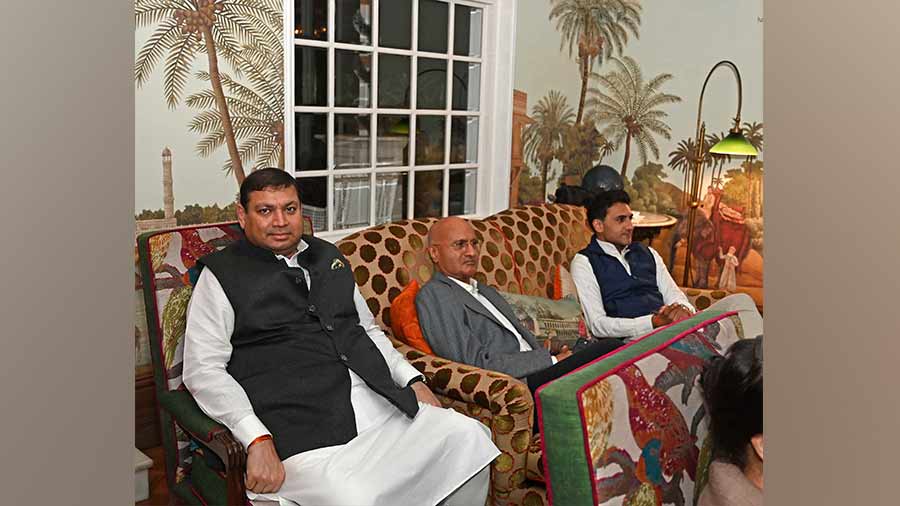 Sundeep Bhutoria; Nitin Kothari (Mocambo, Peter Cat) and Siddharth Kothari (Peter Hu?)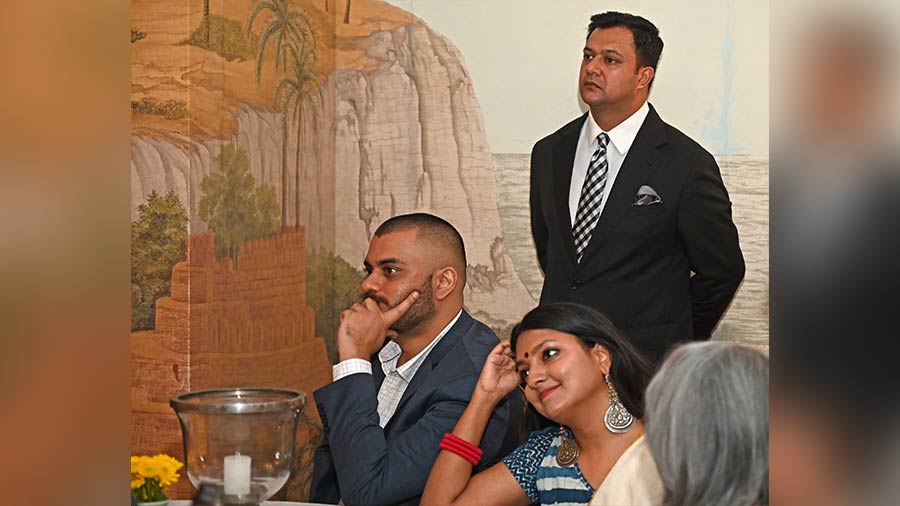 Auroni Mookerjee and Shuli Ghosh (Sienna Cafe); Gaurav Soneja (ITC Hotels)
"I wanted Indian food, and my father, to get a voice"
Why did the CEO of Unapologetic Foods decide to open restaurants? "My father [Satyen Mazumdar, who was in the front row at the conversation, along with Roni's urban designer wife Sreoshy Banerjea and his father-in-law Ashish Banerjea, who is also the CFO of Unapologetic Foods] has always been obsessed with feeding people," said Roni. "In that way, he resembles all our fathers and mothers. That's our culture — one that, I realised, does not get replicated into a formal restaurant setting. So, in 2011, with no fanfare or accolades, we opened Masalawala, because I wanted my retired dad to be able to do what he loves — feed people. My journey in the restaurant business didn't begin with glamour; it started with trying to ensure that Indian food and my father got a voice. In the process of trying to help my father find his dream, I ended up finding my own."
Was Masalawala successful? "If I look at that venture as something that gave my dad a sense of livelihood, then it's the biggest success we've ever had," said Roni. "We built a sense of community, and Indian restaurants, like all others, are very much a fabric of every community. It doesn't matter if they are in America, China, or the UK; I think we, as Indians, also belong in those places." The sense of home that the senior Mazumdar created must have wrought magic, for people from different backgrounds, including the Prime Minister of Malta, visited it.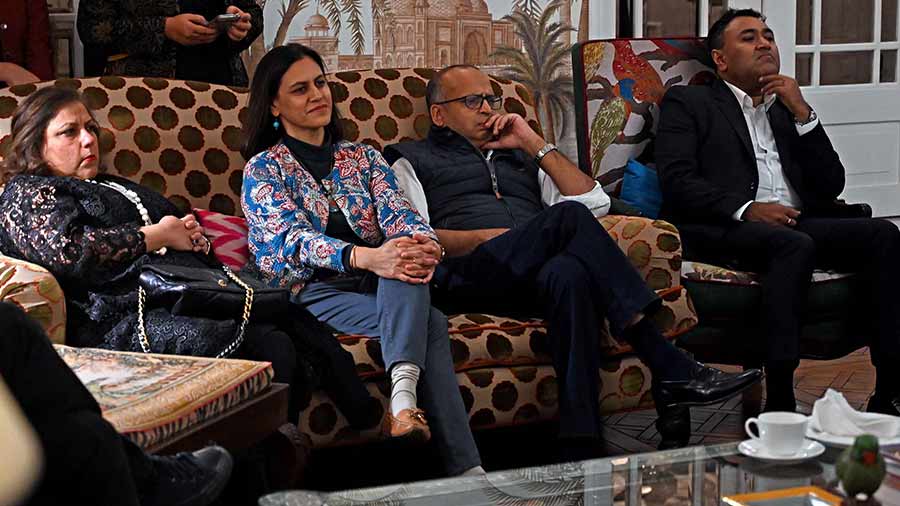 Lovey (Kookie Jar), Husna-Tara Prakash and Anshuman Prakash (owners of Glenburn Penthouse) and Debaditya Chaudhury (Chowman Hospitality)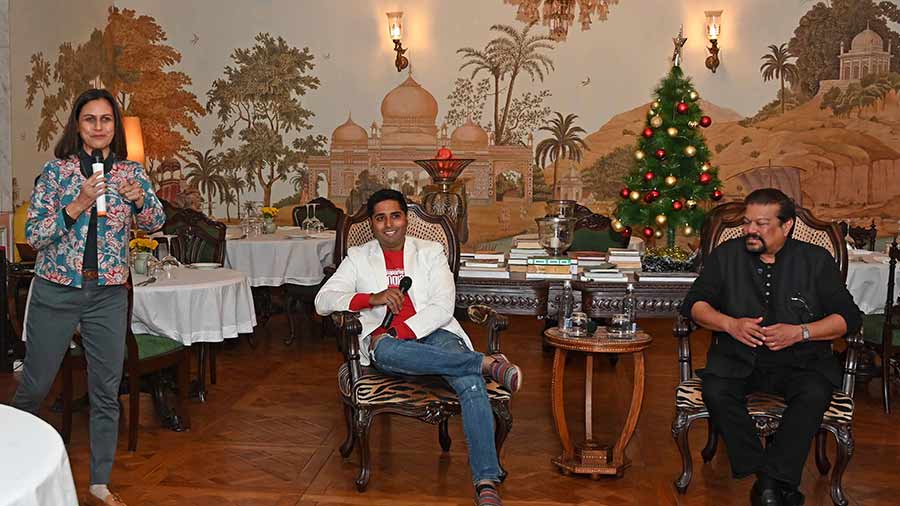 Husna-Tara Prakash welcomes Roni Mazumdar, Vir Sanghvi and the audience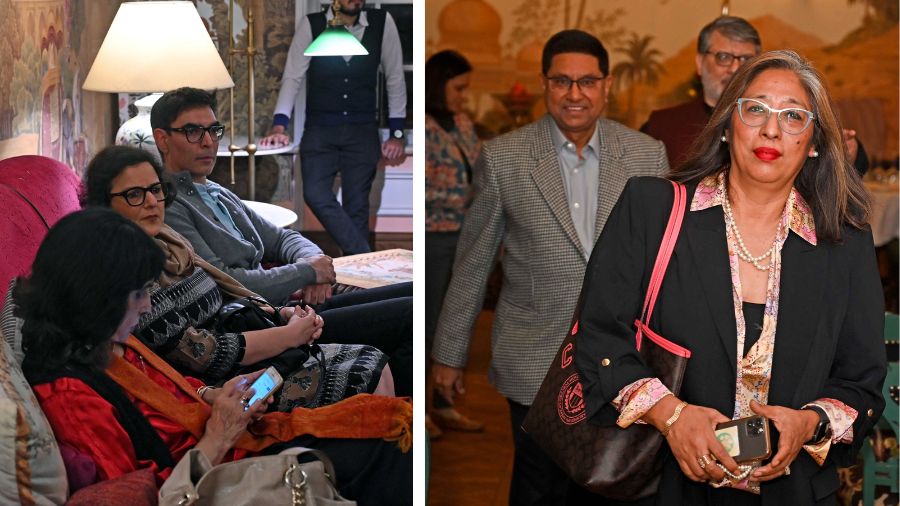 (Left) Minu Tharoor, Puja Kapur (Kookie Jar) and Anand Puri (Trincas); (right) Sanjay Budhia and Doma Wang (Blue Poppy - Thakali)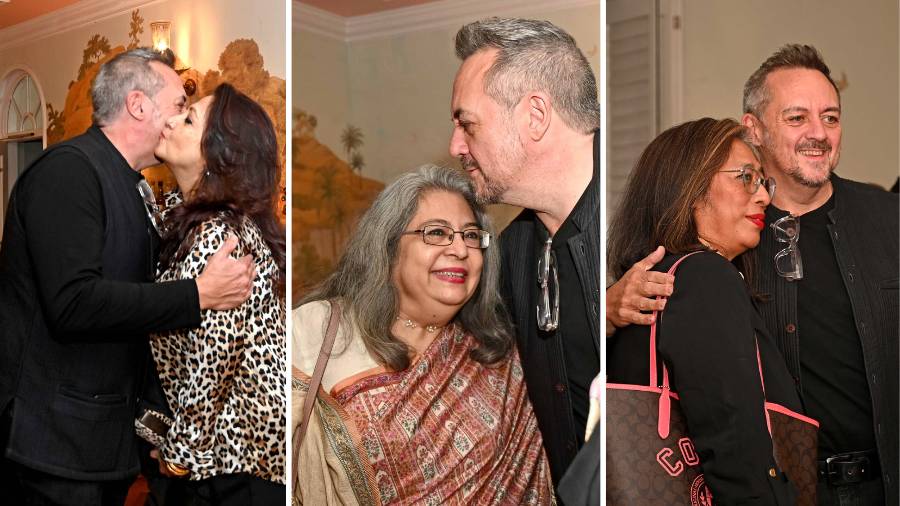 Chef Shaun Kenworthy, who curated the sumptuous spread at the event, with (L-R) Moon Moon Sen, Anjum Katyal, and Doma Wang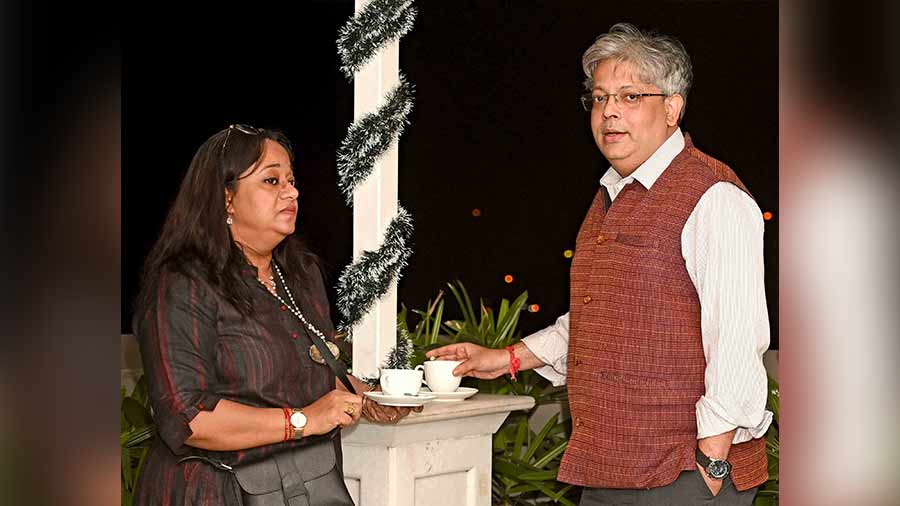 Devraj Lahiri (ITC) with his wife, Lopa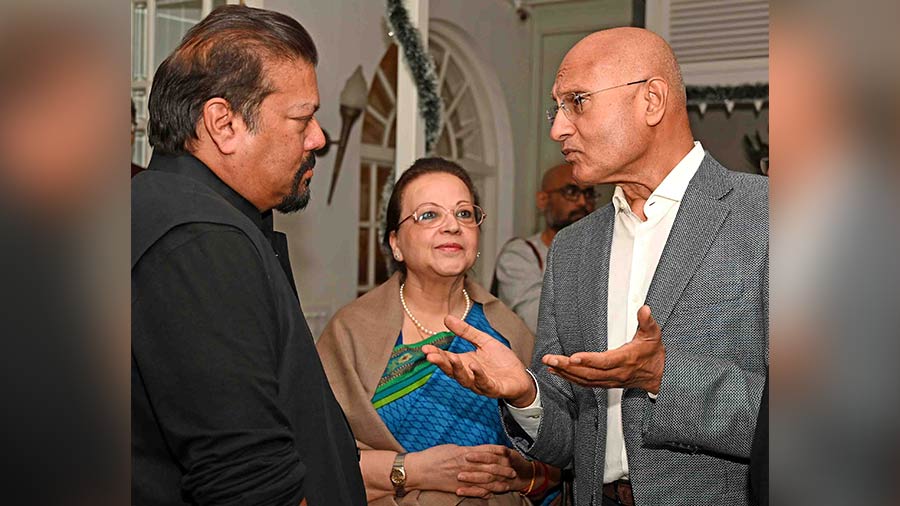 Vir Sanghvi with Kittie and Nitin Kothari (Mocambo, Peter Cat)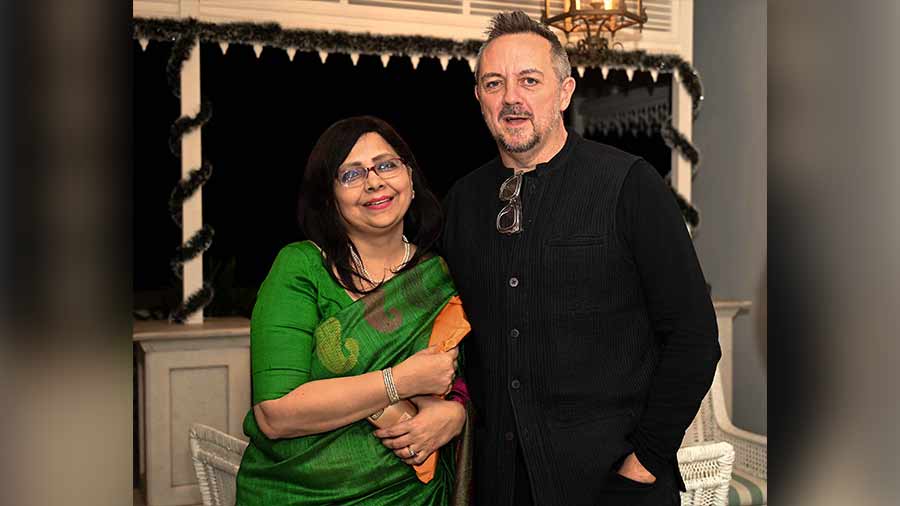 Modhurima Sinha (Taj Hotels) with Chef Shaun Kenworthy
Along came Chef Chintan Pandya….
With Masalawala setting the ball rolling, the trajectory of Roni's life took on a new momentum, complete with his partnership with the gifted chef from Mumbai, Chintan Pandya, the opening up of the modern Indian restaurant, Rahi, and genesis of Adda Indian Canteen – which, in many ways, changed how New Yorkers view and eat Indian food – and the eventual closure of Rahi to make way for Semma. "Chintan cooked me a 16-course meal because he said I should eat his food before I start working with him; by the third course, I knew I would be an idiot not to work with him!" said Roni. When they opened Adda Indian Canteen — "a dhaba on steroids" — Chintan and Roni learnt that they wanted to express who they really were through their food, instead of always thinking about what the customer might like or want.
"Too many of us change ourselves to fit someone else's expectations," said Roni. "When we stopped doing that, New Yorkers and Americans at large started showing up in a way they have never shown up to Indian restaurants before. We connected them to the food in a different way — as a conversation, as a moment of empowerment for our community. Gone are the days when we wanted to make our plates look American or French! In our latest restaurant, we are serving ilish without deboning it. At Dhamaka, the Champaran mutton is cooked and served as it's supposed to be – in a clay pot, with a whole head of garlic. It's the best-selling dish in a restaurant that no one can get into."
Breaking out of the immigrant shackles
"Why should we change ourselves?" Roni continued. "Which Italian restaurant asks South Asians if they should make their food extra spicy? It is only us Indians who have been doing it for so long." Vir observed that we have been "apologising for our food when we serve it to Westerners" – a phenomenon that Roni calls the "immigrant shackles", a fallout of our colonial past. "I, too, have been very apologetic," admitted the star foodpreneur. "We have chosen to put ourselves, and our food, on the sidelines."
The breakthrough for Roni and Chintan, interestingly, came with a disagreement between the partners on a menu created by the chef – a menu that wanted to put items like Bheja Fry and Paneer Khurchan on a diner's table. "In our characteristic fashion of minimising ourselves, I thought that this was food we can eat at home as guilty pleasures, but never put on a menu," said Roni. "But then I realised that I have no right to clip Chintan's wings, especially given the clarity and conviction of his creative vision. No amazing product can be created without a clear voice — and we created that product with Adda."
The tendency to apologise for who we are culinarily and culturally is deeply embedded in the Indian psyche, and, by extension, in the Indian food scene abroad. "Most Indian chefs in America aren't excited to cook Indian food," said Roni plainly. "Chefs of Indian origin prefer to say they work in French or Italian restaurants; in many ways, it makes them feel superior to say 'I've used burrata on this dish, not paneer', even though no one outside our culture is actually using paneer in their cuisine! This moment in time is about owning who we are, and carrying that forward. We have an incredible, unexplored history and heritage. How many of us are deeply familiar with Meghalayan food? I'm not! What about Bihar or Odisha? These places are in our backyard, but we hardly know anything about their food. Yet, we know a lot about pasta, as it makes us believe we have moved 'upward' in the world. I would like for us to dismantle this idea within the next decade, if possible. Food doesn't have to be foreign to be better!"
Vir observed that a part of the problem in India is that restaurant food has traditionally been food that nobody makes at home, and Roni agreed. "We all say, why should I pay for something at a restaurant if I can make it at home? What we forget is that with this approach, that recipe will be lost a generation later — recipes made lovingly by our aunts, mothers and grandmothers. We do a disservice to ourselves, and the loved ones who make our food, each time we create that separation."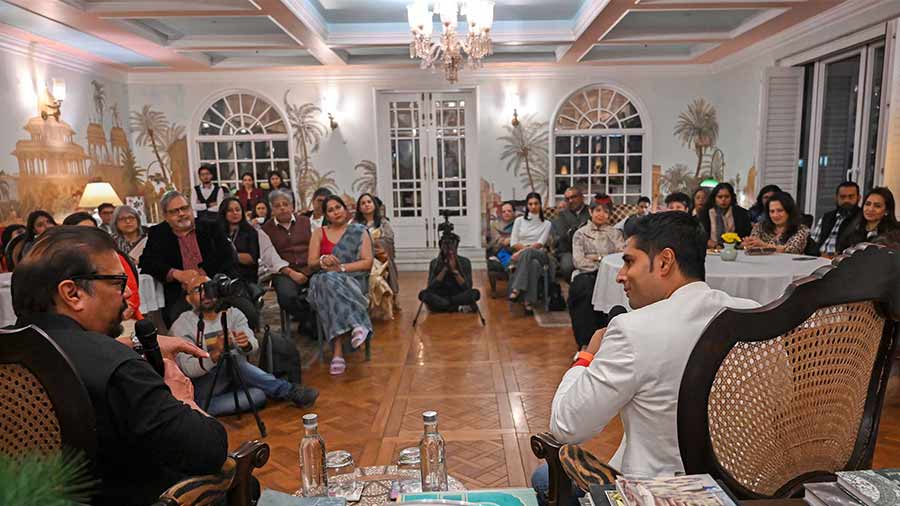 The audience at the Glenburn Penthouse listens to Roni Mazumdar and Vir Sanghvi speak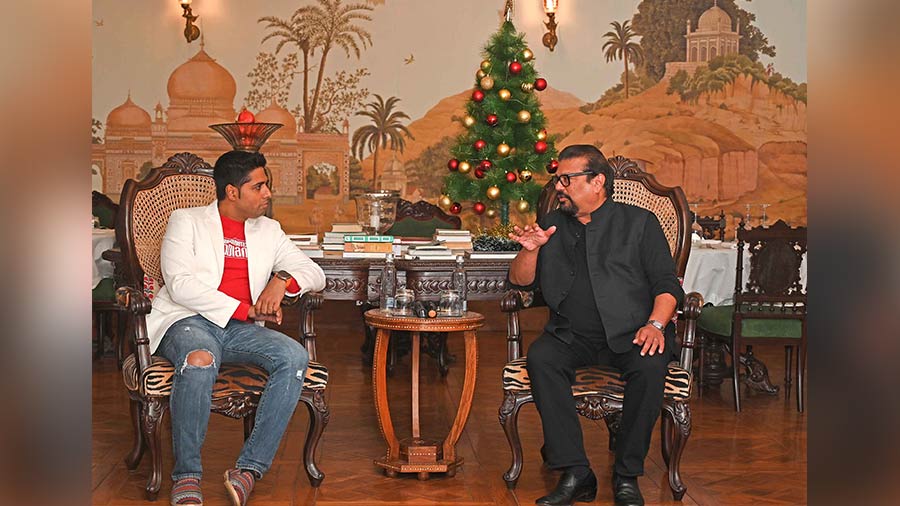 Roni Mazumdar and Vir Sanghvi
"Economics plays a huge role in how we see food," said Roni. "The reason why we don't know about Meghalayan, Bihari or Odia food is because of the economics of those states. It's sad how surface-level our knowledge about our country's food is. Snails are on the Semma menu because Chef Vijay Kumar used to forage for and eat snails cooked by his grandmother, and be made fun of at school. When he joined a five-star hotel years later, he realised that Indians go ga-ga over escargot!"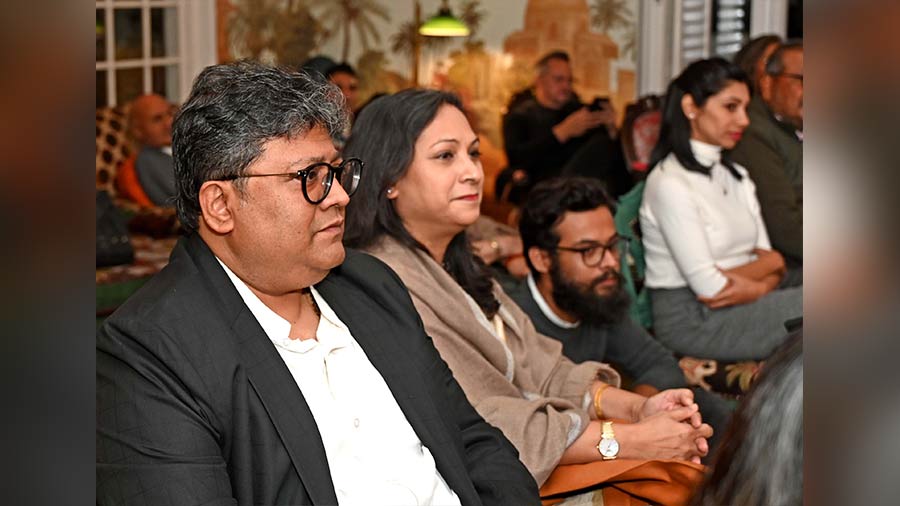 Aniruddha Roy Chowdhury and Indrani Mukherjee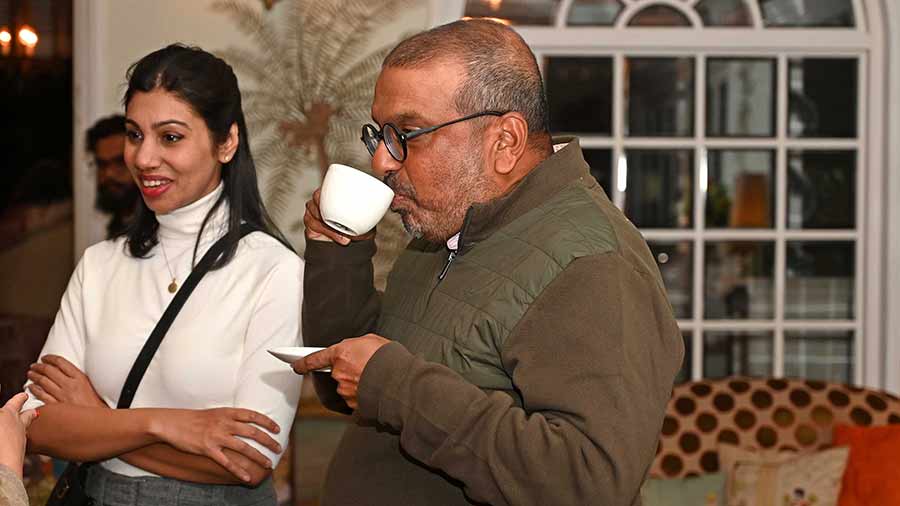 Gaurav Ghosh (J Thomas) and Neelanjana Ghosh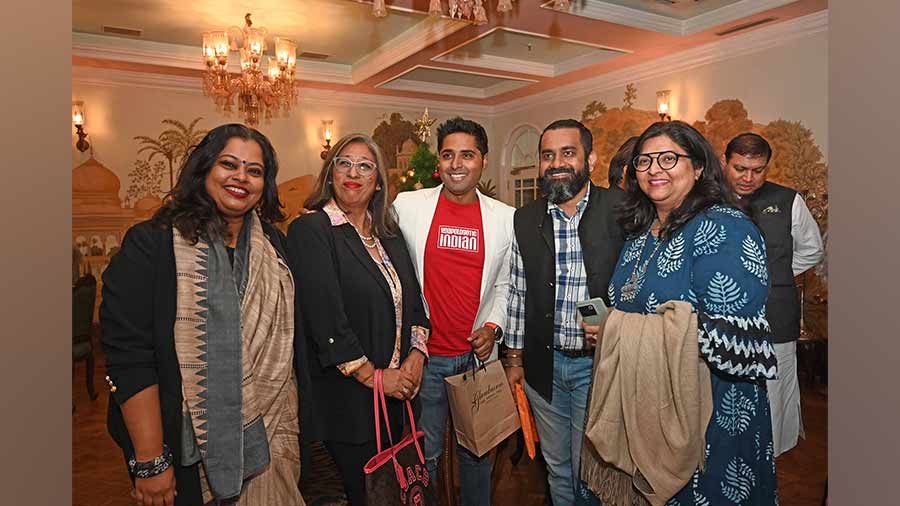 Roni Mazumder with Chef Doma Wang and Culinary Culture's Dolon Dutta Chowdhury, Madhusree Basu Roy and Anindya Basu Roy
"Americans are excited to eat our food as it is"
On a positive note, however, the process of dismantling that Roni spoke about earlier is well underway. It started with Adda, and is being taken forward with Dhamaka, where they have "doubled down on the idea of Adda". "We have a misconception about who the rest of the world is; we look at them through our lens. New York taught me that it is Indians who complain about our food being spicy. The white, black and Hispanic communities are excited to eat our food as it is; we are the ones convinced they cannot handle it, and want to temper it down. With Dhamaka, we said, 'You think Bheja Fry is bold? Let me give you Doh Khleh (Meghalayan pork salad made of pig's head and brain) or Chenna Poda (an Odia dessert made with fresh paneer) or Gurda Kapoora (goat testicles and kidneys)'. All of these sell so much that we have to practise rationing!"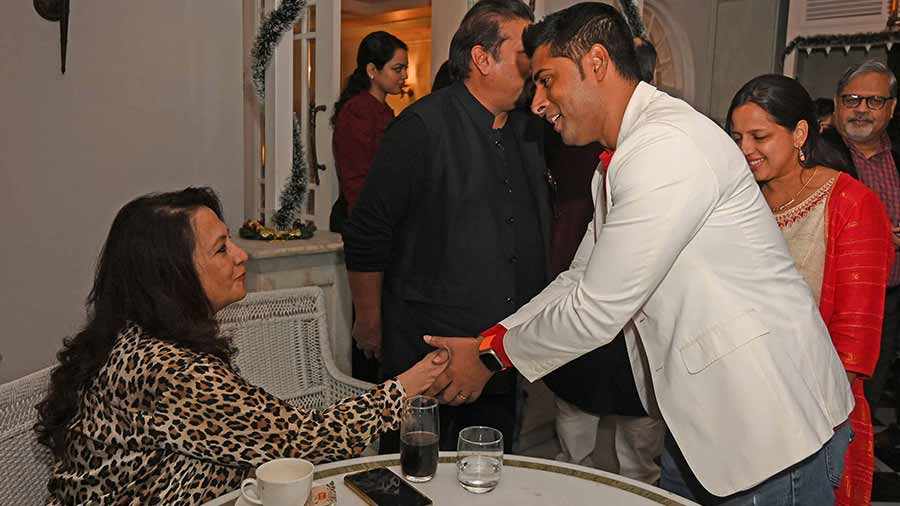 Roni Mazumdar and wife Sreoshy Banerjea meet Moon Moon Sen, after whom a cocktail on the Masalawala menu had been named!
The Moon Moon Sen cocktail connection!
In a conversation bearing as much levity as seriousness, the high point came with Vir asking the question of the evening – why did Roni have a cocktail on his restaurant menu at Masalawala named 'Moon Moon Sen'?! "First, she's a legend," smiled Roni, looking at the iconic star in the audience, seated just a few feet away from him. "But I cannot take credit for it; all the credit goes to Lucia, a Mexican bartender who came up with the entire cocktail programme at Masalawala. She researched everything Bengali, and created a vodka cocktail that she said should be called 'Moon Moon Sen'. Why? Because this cocktail, according to Lucia, was the perfect embodiment of who Moon Moon Sen is!"