It's a humbling experience to have a meal with Goa's most talked about chef — Avinash Martins. He may be rubbing shoulders with the likes of Sachin Tendulkar and Gary Mehigan, but the son of the south Goan soil is as rooted to the ground as he is to the greens that grow above it.
I first met Avinash at The Leela Palace, New Delhi, where he ranked among India's top 30 chefs at Food Superstars, the country's only chef-ranking awards by Culinary Culture. The 41-year-old can easily be mistaken for a north Indian by his build and accent (blame it on the six years he spent there). He had been written about extensively, but it was only when I visited Goa recently that we interacted. First, at the launch of Juju, a modern Indian restaurant for which he designed the menu, and then at his flagship restaurant Cavatina Cuchina in Benaulim, which has been making waves in the culinary world for reimagining Goan cuisine.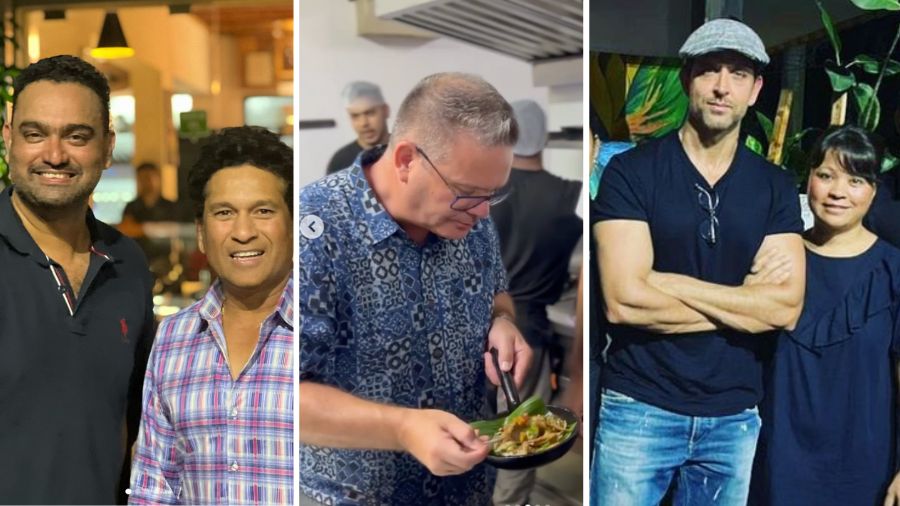 Avinash with Sachin Tendulkar, Gary Mehigan in the Cavatina kitchen, and Hrithik Roshan with Avinash's wife Tiz Lyngdoh, who is the pastry chef. 'When Sachin visits Goa, he has at least four meals with us. He's very discreet and private,' says Avinash. 'Of late, Gary Mehigan was here and I took him to the kitchen. Next time, I'm taking Sachin to the kitchen in an apron to sharpen his cooking skills!'
@cavatinagoa/Instagram
Avinash lives in his native village, Velim, in Goa, which is within a 5km radius of a hill, lake, pond, sea and field. During the pandemic, he set up C'est L'avi - Table in the Hills, a farm-to-table reservations-only dining experience. "The farm is the backend of my F&B operations, where everything from the making of the fiery red ambotik sauce to the smoking of meat takes place," says Avinash. If his world was a coconut tree (and he has climbed many!), the farm is its base and Cavatina the crown. 
"I never knew I wanted to be a chef. I was pretty sure I'd be a captain aboard a ship like my father and uncles," says the man who started out as a deck cadet. But a year into the merchant navy, he realised that cooking was his true calling. So, in 1999, he joined a hotel management course in Ooty and then trained at the Oberoi group, including six months at The Oberoi Grand Kolkata, and returned to his native place to open Cavatina Cuchina in 2013. 
My Kolkata visited Cavatina and caught up with Avinash, the man on a mission to change the perception of Goan food and showcase it to the world.
My Kolkata: Why are people outside of Goa talking about you now? What's changed in seven years? 
Avinash Martins: I never 'trained' in Goan cuisine. Goan is what my mother, granny and neighbours used to cook, and it never occurred to me to take that route. I started off with world cuisine and couldn't experiment from day one because I had to balance the supply of ingredients, sustain a business, and at the same time, make sure that guests loved what we served. So I played it very safe. I stuck to my forte, which has always been Continental or Western food.
Then the pandemic struck and the sources of imported meats and ingredients dried up. I stepped out, foraged and explored where ingredients are grown and met the growers. In 2021, I decided to go with Goan food, but not the regular perception of it, which is limited to vindaloo, cafreal and xacuti. I dug deeper, understood the cuisine of the Saraswat community and the Bahujans. I traversed back a few decades to the aboriginals of Goa — the Velips, Gawda and Kunbi tribes — who were nomads and went to different patches, grew and ate out of them. I tried to incorporate the confluence of flavours and food styles into showcasing what real Goan food is about. 
I am also quite old-school (laughs). I joined social media only in 2020. I believe that's done a great deal of good too. All of this took a good seven years of organic growth, which is probably why you've not seen me anywhere!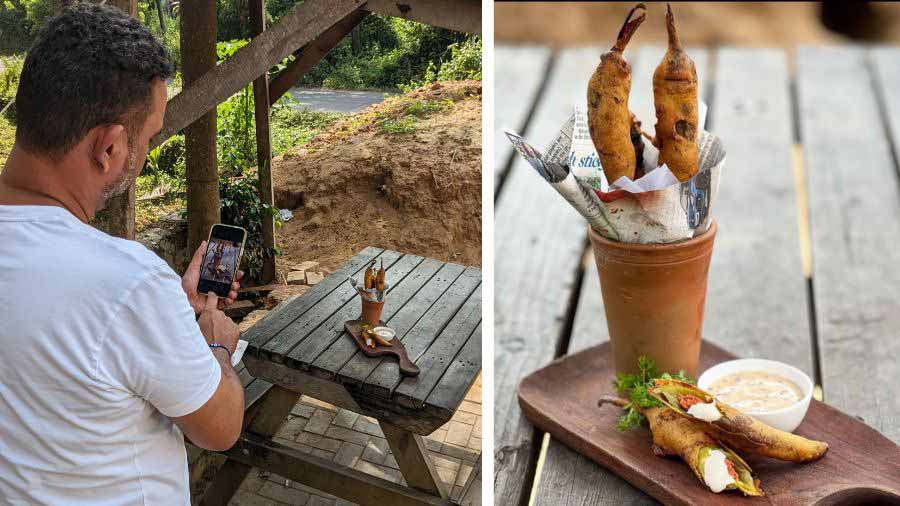 Avinash self-shoots for his social media account and each post is a lesson in story-telling on the history, origin and making of a dish
Karo Christine Kumar; @cavatinagoa/Instagram
What urged you to start C'est L'avi or Table in the Hills?
The Cavatina kitchen was closed for six months during the pandemic, so Table in the Hills started as an experimental kitchen. I used the farm to experiment with traditional cooking methods like wood fire, slow roasting, baking, smoking and more.
If I needed to retain the authenticity of a sauce, like ambotik or the cafreal bases, I couldn't do it if it was made in the mixer grinder. So, local ladies work at the farm, stone-grind a special type of chilli, add aged vinegar (not the commercial kind) and make the ambotik sauce. We smoke pork belly or duck here, too, and everything else that requires earthy elements.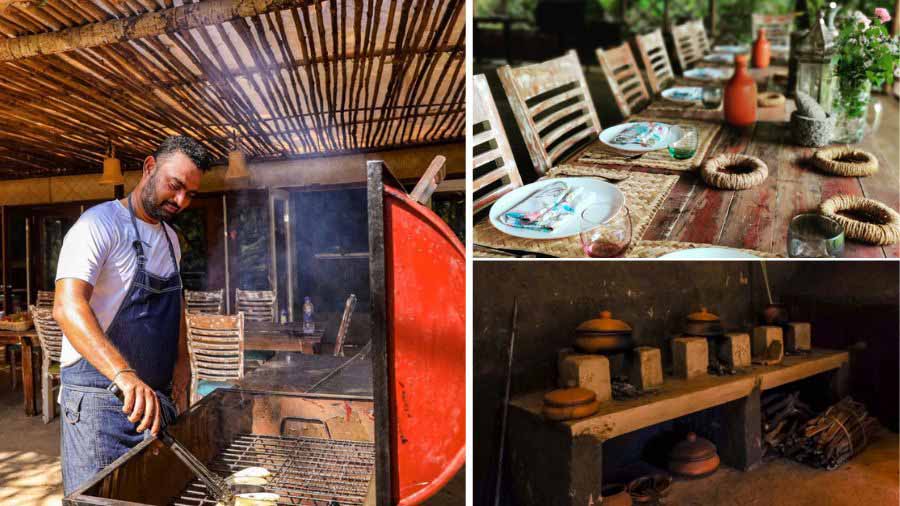 Table in the Hills or C'est L'avi has a ringside view to the theatre of nature. The farm-to-fork experience is set in the folds of a cashew plantation that's been in the Martins family for generations. 'The afternoon sun filters in through the jute-covered bamboo roof. You can hear the trickle of the fresh water spring and muffled sounds of music from a faraway church. It's a special kind of quiet,' says Avinash
Every menu, each dish at Cavatina and C'est L'avi tells a story… Can you share some of those stories?
There is Spanakopita made with red amaranth or tambdi bhaji, available in abundance in Goa. We have Hay Smoked Mackerel, which comes to us from the fishing community. When the fishermen returned from the sea, they'd throw a couple of fish in the hay while sorting the catch of the day. It's such an amazing recipe, but is not followed anywhere in Goa. So, I wanted to keep this legacy of presenting and preserving our older recipes alive. And each and every menu was a story.
The poie is like a staple, and it's humbling for me to say that it started in my neighbouring village of Majorda, and from there the Jesuits spread it across the country. The 'Bombay vada pao' or the 'Calcutta pao' is a gift from Goa tracing back to the 1660s, when a Portuguese princess married a British prince in Bombay. The pao travelled to wherever the British had their colonies.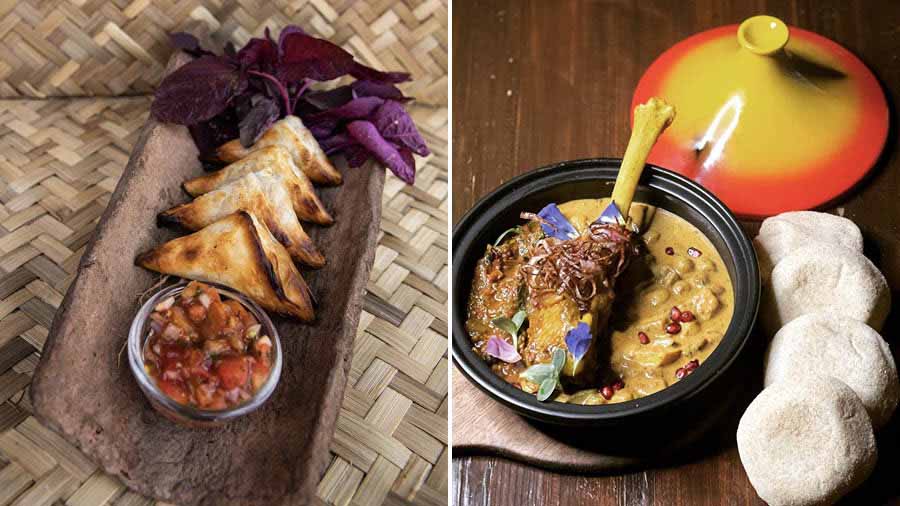 Cavatina's version of the Greek filo-pastry Spanakopita has cashew butter and tambdi bhaji, instead of spinach and feta. (Right) Lamb Shank Tagine Sukkha uses a recipe by the nomadic Dangar community and is served with homemade mini poie bread
A lot of people who are of Goan origin are settled abroad. When they pop the first bite of kalchi kodi, which is leftover curry kept over the dying embers of the oven, it takes them back to when their granny would cook the same. Food is about emotions. When you eat certain things, or smell certain things, you either remember an incident, a season or a person.
Early in 2022, we compiled a menu called the Postcards of Goa. I travelled a lot with this menu and that's when people said, 'Wow, we didn't know this Goa existed!'
We hear that you paint, play the guitar, and cook… all in a day!
(Laughs) I love architecture, music, designing and sketching… What you see (points to the artwork on the walls) is by me. At the end of the day, art in whatever form is what I love.
I would not call a chef a celebrity or something, but cooking is a form of art. It's one of the things that gives you instant gratification because you create something by transforming the form of flavours, textures and energy, feed somebody who feels good about it and that feeling transcends to your entire body.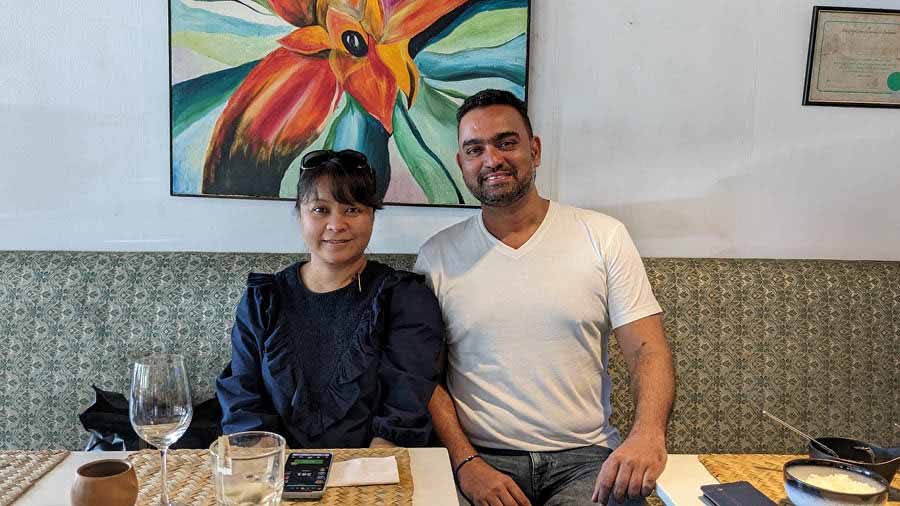 Avinash with his wife Tiz in front of one of his artworks in Cavatina
Karo Christine Kumar
When did you realise that you could cook?
When I was in Class V, I started by making French fries and other simple snacks at home. I would pick up stuff lying in the fridge, dice it, slice it and stir-fry. I wasn't dependent on my parents or the domestic help to make me something quick and fast. I was inspired by cookbooks. I used to see them and salivate! One of the cuisines I learned by reading cookbooks was Chinese and by the 8th standard, I had mastered it. So when my aunts hosted guests, they would make the Goan fare and they would call me to make the fried rice and chilli chicken. I just loved doing it, but I never thought of it as a profession until many years later.
Where is the future of Indian regional food headed?
In school, I remember my dad gave me my first Larousse Gastronomique and I would keep it under the pillow. At that time, our only reference points were French chefs like Escoffier. It's only now that you have Basque, Spanish and Scandinavian cuisines. Indian food never had that refinement; it was always full of garam masala and, you know, robust flavours. I'm glad it's transformed over the years. In another 10 years, I think Indian food is going to dominate the world, and when I say Indian food, I mean micro cuisines and regional food. The whole wide world is going to go local. People want to know what and where ingredients are growing. That's what's going to be the game changer.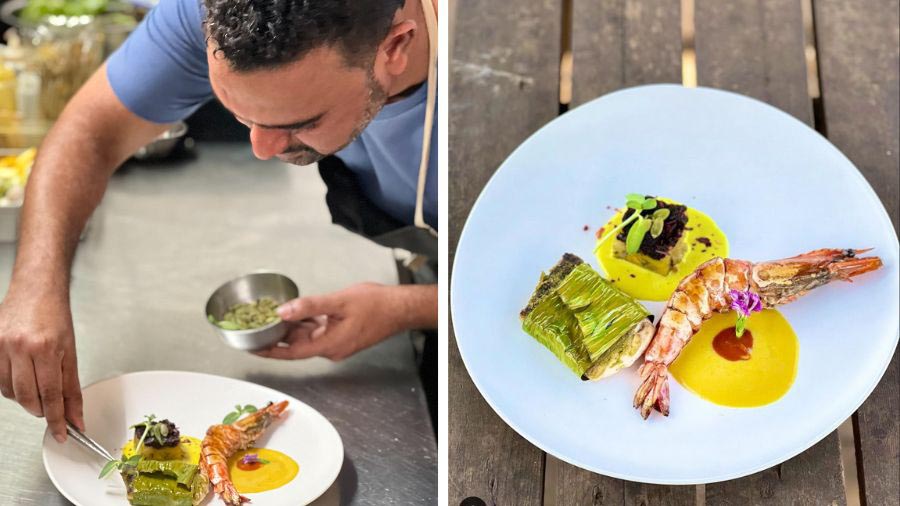 Avinash plates a dish that celebrates his village of Betul Velim, an amalgamation of where the river Sal meets the Arabian Sea. It has Partra de Goa, banana leaf wrapped chonok (sea bass) with recheado verde and water chestnuts, Arabian Sea prawn grilled with togarashi spice, raw mango ambotik, and organically-grown roasted red pumpkin, cashew nut hash, red amaranthus
There are a handful of Indian chefs who are doing similar things with regional food like Thomas Zacharias of The Locavore, Anumitra Ghosh Dastidar of Edible Archives and Auroni Mookerjee of Sienna Cafe.
I think they're all doing wonderful work. There are also many local ladies who are doing it in their own small way, who've not reached that restaurant level. A lady called Agnes D'sa cooks fantastic Indo-Portuguese style food at her home in Divar Island. In Panjim, Shubhra Shankwalker does Saraswat cuisine. The takeaway from this is that people are trying to lean towards fresh, sustainable, organic, local and seasonal food.
How difficult is it to sustain a business like this where the menu changes as per availability of ingredients?
I believe what people take as a disadvantage is my advantage. The beauty of a constantly changing menu is that nothing is constant! You know, when I take my boys for a market tour, we visit the suppliers and the growers too. We must understand their sentiment. When you look into the eyes of a grower, it's like a mother saying please take good care of my baby. That's when we are able to justify what has to be done to a simple pumpkin.
The other day, the general manager of a hotel asked me for some pumpkin flour. So I went to meet the locals, because some of them don't even have phones. They said, 'Baba, pumpkin flour season is over. We have pumpkin leaves'. This is what gets chefs thinking creatively. We have to up our game with the changing season.
In 2004, you spent six months in Kolkata at The Oberoi Grand as a trainee. What memories do you have of the city?
It was also the year when 40 staff members went on a strike. Our team of trainees was brought in overnight to handle the situation. There were 12 people who walked in and we worked relentlessly from 6am and waited to see if the night shift was coming, otherwise we'd continue! The first two months were the toughest and then support staff came in from the other properties. So we've seen those days also! We never got the time to go home, so we'd sleep in the executive lockers and party at night sometimes! We worked hard and partied hard.
By the 15th of the month, everyone was kangal, because we wanted to eat everything. We'd go to Tangra, New Alipore and pick up stuff from New Market, visit old Bengali restaurants, even the roadside shacks where you get the jhols. I used to love it. My memory of Kolkata is comfort food. There are so many things in common between Bengalis and Goans… football, music, love for fish and a soft-spoken language.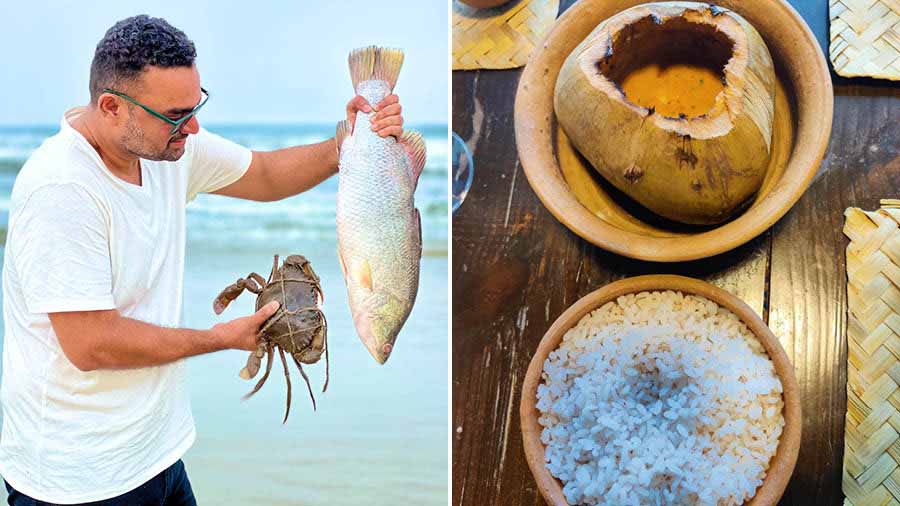 'There are so many things in common between Bengalis and Goans… football, music and love for fish,' says Avinash. The chef, who spent six months in Kolkata, was inspired by Daab Chingri and created a dish called 'Prawns who Drank the Feni', which comes in a daab and is flambéd with feni
Photo of the dish: Yogita Uchil
What's next for you?
My vision is to take Goan cuisine to the world. I've done six pop-ups in six months in some of the best hotels in India as well as local festivals. I try to keep the flavours and sourcing of ingredients authentic and then present them in a sort of fine-dining format. I would love to be in New York or Orlando and rub shoulders with other cuisines of the world and be proud of ours. That's my dream, and that's my vision. I want to change the perception of Goan food. I want to tell the story of Goan food that has never been told before. I think I've done justice to all these people who are my heroes, all these artisans who labour out of love — I want to tell their story through my food.