Up on the list of winter's many treats in Kolkata is the Apeejay Kolkata Literary Festival (AKLF) curated by Oxford Bookstore.
AKLF 2023, complete with a Poetry Cafe for poetry lovers and Oxford Junior Literary Festival for young readers, is being held at Oxford Bookstore and Park Mansions from January 12-15.
"We are doing a full-format physical festival plus a hybrid window. This year, Jeffrey Archer, Alice Walker, John Zubrzycki, Anna Kloebe are on board. The line-up is interesting. Every year, the festival aims to bring the best. If an Archer or Walker is coming, that itself is a testament to the kind of recognition the festival has earned over the years. COVID has been a great trajectory through which we have learnt and come out stronger," said Neeta Sreedharan, head of PR and alliances, Oxford Bookstore.
The festival, which enters its 14th year, owes its concept, character and success to Priti Paul, the director of the Apeejay Surrendra Group and founder-director of AKLF and an author herself. In a free-flowing chat with My Kolkata, Paul spoke about the 100th year of the iconic Oxford Bookstore, changing reading habits, the Oxford Bookstore Book Cover Prize and more. Excerpts from the conversation follow.
My Kolkata: Fourteen years ago, when you gifted the City of Joy AKLF, did you ever think that the festival would reach the point it has today?
Priti Paul: I think it's kind of interesting when cultural activities, festivals and events outlive or outdo the founder. I think for the festival to have real integrity and strength; and to be intrinsically a part of the social fabric of the city; and become a festival that belongs to the people of Calcutta; going beyond just the founders; it's truly a gift. It's not just resting on the shoulders of the founder. The founders set the stage, set the foundation and then it grew wings. I think it's possible because we have a really committed and strong team. People who are grounded in Calcutta but also have come from outside, so we have a really strong team backing it. As long as the festival can fly, take wings and become the city's own, then I think that's the aim of it in the end.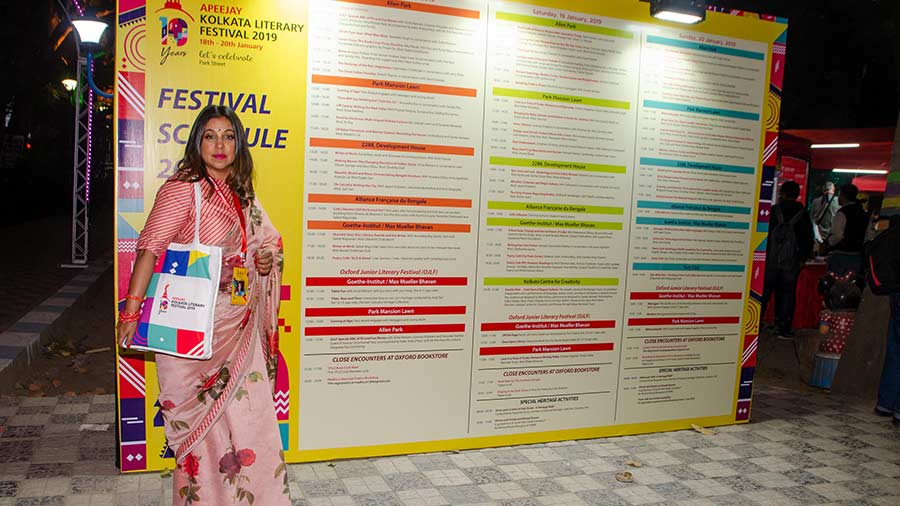 Priti Paul at AKLF 2019
With the festival returning in full force post a hybrid and an online edition because of the pandemic, what trends are you seeing in the reader community?
During COVID, people were reading a lot and buying online as that was the only channel of access. I myself was reading two to three hours a day online. Of course, Oxford Bookstore was selling through its own website and a variety of channels. What happened very swiftly when the bookstore opened was that we saw people returning to the bookstore in droves. People did not want to read online, they wanted to come to the bookstore, choose their books, and browse.
That's happened so quickly, that it's almost like a revenge reading and revenge buying situation. Instead of everyone shifting online and that trend continuing, the absolute opposite has happened. We have not seen such healthy numbers of people visiting our bookstore in a long time. In fact, in six months, we achieved our break-even sales for the year. That is a very strong financial number and it gives us a lot of confidence and impetus for doing more in the future. We feel like audiences want to interact with authors, touch a book, hang around and browse, have a cup of tea; that's all amazing and counter- intuitive from what happened during COVID.
AKLF has always had a fantastic repertoire of authors. At times, the festival has bridged the gap between readers and difficult-to-get authors. How has that been achieved?
AKLF is a very serious literary festival where we touch on different themes. We try to bring the best of international presence to Kolkata and support national and local authors; sometimes combining them together for an interesting dialogue. In the beginning, when we started off, it was a challenge to bring writers to Kolkata. Now, we are so well-networked internationally that people come to Kolkata, Jaipur, Kerala etc.
Kolkata has a lot of literary offerings and together they make a fantastic bouquet and create a really strong energy and magnet for writers. In the first few years of the festival, we found that people would come and attend the festival and sometimes hear an international author, but maybe not buy the book. Over time we found that actually the events lead to sales of books. We believe that a bookstore is the window to the world and the window could be looking outside or looking inside. Also, the authors want to connect with the Kolkata audience. The content, approach and curation reflect the interest and depth of knowledge of the Kolkata audience, which is well-recognised. If an author comes to Kolkata, then they know that the audience has read the book or is aware of the subject matter.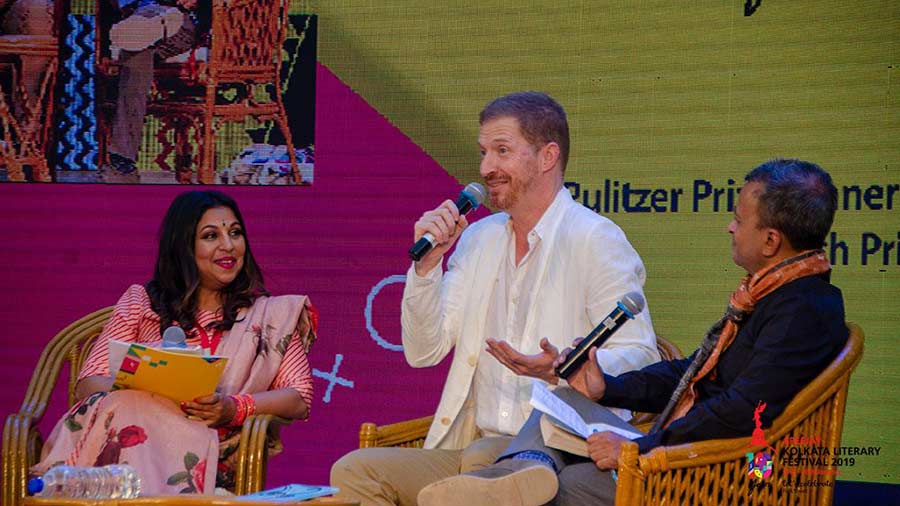 Priti Paul in conversation with Pulitzer Prize winner Andrew Sean Greer and Sandip Roy at AKLF 2019
Do you think literary festivals in general have transcended from just being a meet-and-greet platform for authors?
A section that has really suffered during COVID is that of authors. They have not had an audience. Books came out but went into some shelf of some bookstore that was not opened or some online platform where people had choices to click on. I think that the festival transcends a meet-and-greet. It's actually a genuine and much more appreciated form of interaction with the audience. Also, a number of authors and publishers are following up, eager to get their books included in the festival, but we are sort of jam-packed. My feeling is that now festivals are earning genuine appreciation. If we are going to take one hour of a person's time, it should be for something that lends value, enrichment and awakens understanding; that's to me what a festival should do. Meet-and-greet is on the sidelines. One of the things Oxford was able to do very quickly during COVID was access technology, author and audiences and deliver from the first minute of corona, a great many variations to bring authors, publishers and audiences together. We kept going. We had a lot of very well-managed sessions.
Let's talk about the bookstore, which is not only celebrating its centenary but is also the only bookstore-curator of several festivals, including AKLF. How do you remember the Oxford Bookstore as a young reader?
I would visit the Oxford Bookstore every week with my mother. There used to be a lending library. There was a big section along the side that had children's books. Every week, my mother would take us there to borrow a book and then we would spend the whole week reading it and return the week after to return it. In the bookstore section, it was kind of very old-fashioned and there were people like librarians. There were all these strict sections like you had to show the book here, the bill was made here, then you had to wait and it went to another section where they would put the book in the bag, and a section where they would stamp it; it was a whole production. But it was filled with the most amazing books. Going there was like you had a chance to discover the world. It was a very exciting and energising place.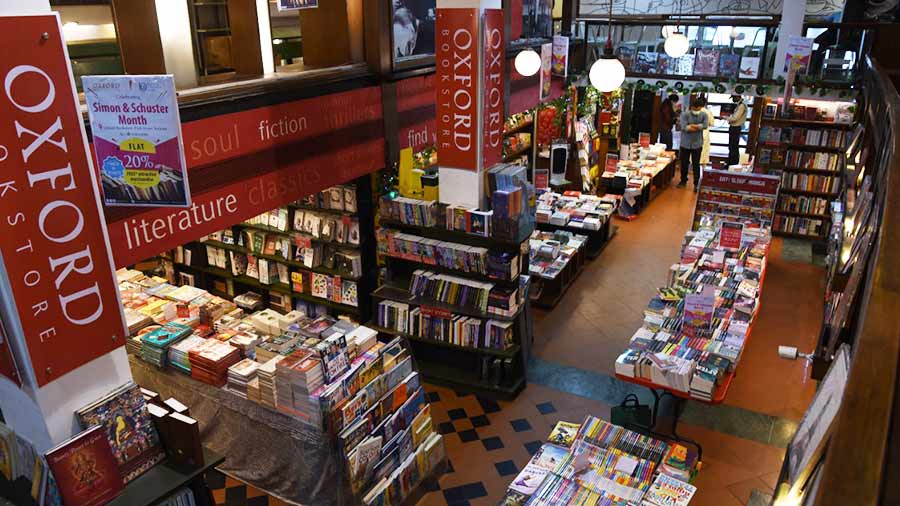 Oxford Bookstore on Park Street
The Oxford Bookstore Book Cover Prize is also the first to recognise the inherent visual impulse in buying a book — the book cover. How did that come about? How valuable do you think illustrations, in any form, have become today in catching the reader's attention?
We always wanted to recognise and help people in the industry who are not fully recognised. We understood a few years ago that book cover designers in India are actually not given the importance or recognition that they deserve. So, we instituted the Oxford Bookstore Book Cover Prize and we were surprised that very soon all the publishers were sending in their options. There were individual people who were sending entries, too. We realised that having this Book Cover Prize really helped the people in the industry to be recognised, have better jobs and have choices. Our understanding is that at least 50% of the books in the Indian market are sold just based on their cover. There are many other countries where there is no design on the cover like French books are white or pale cream. There's no image, just the name of the book. In India, people want to touch and feel things before they buy, so the book cover is extremely important in deciding what to buy. I buy books nearly every day and a huge number of my books are bought just by looking at the cover.
The jury [of Oxford Bookstore Book Cover Prize] is working independently. The covers that I choose are different from what the other jury members choose. Based on that, the cover that gets the most votes wins. It's an unbiased process.
A special initiative has been taken to recognise art books this year.
You are also an author yourself with ABC Desi, which wonderfully catches Indian elements for a non-residential diaspora. Could you tell us about your journey as an author and when we can expect another book from you?
I have now covered every aspect of books — selling, launching, author interactions, helping writers launch their careers; so, I actually wanted to have a 360-degree experience. So, the part that was missing was being the writer.
I had three little children growing up abroad, I wanted them to learn Hindi and be very aware of Indian visuals. I was very aware that my generation and generations before that have grown up learning the alphabet using books with English imagery. Like S for Strawberry, but which Indian kid has a strawberry? or H for House and there will be a London-style house with a chimney. These are not things that Indian kids grow up with. So, I wanted to create an ABC alphabet book that my kids and future generations can grow up learning Hindi and English language through Indian imagery. All the images are Indian references like Y for Yoga or T for Tiffin. When you are living abroad you don't have that tiffin carrier that every person in India knows. We used a Bollywood artist who paints big banners and posters to paint the images. That art form is also disappearing now. All the images were painted in huge panels with thick brushstrokes in the style of Bollywood posters and then we have used those for the images in the book.
Though it's an ABC book, it took me four years to put it together which is a long time. I think the process of putting together a book, whether you are a writer or an illustrator or a graphic designer is a long process. It requires long periods of isolation and a lot of effort and perseverance. I am happy that I had that journey so that I can understand as a bookseller what it is to be on the other side of the coin. The book is dedicated to my children who speak four-five different languages and I wanted them to absolutely know their Indian heritage. It's a gift to my children but also a message about our culture.
And the next book, I'm not sure. I have an idea for it but that means four more years.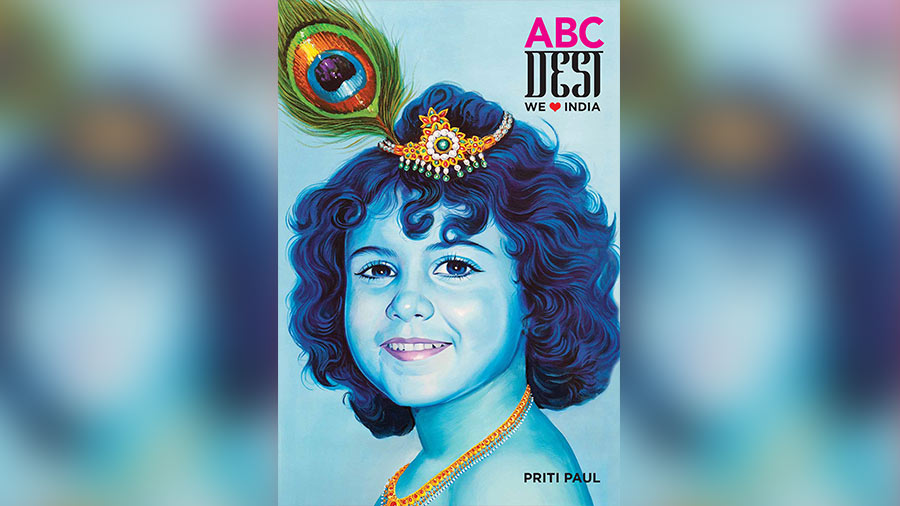 As a reader, mother, and director of AKLF, what is that one anecdote you would like to share with young readers, so that they can build their reading habits?
I think what happens is people start reading and then they keep reading what they like. What's fun is to awaken yourself, challenge yourself. Choose another author or a different genre and expose yourself to have a new way of looking at the same theme. If you are reading about death or stories about death, you may be reading Indian authors who approached death in a certain way, our philosophy, our books on God, we have a particular way of addressing it. Then you can read a Japanese author who would have a totally different take on what death is. That leads to a cultural understanding, an awakening, tolerance, and a greater human understanding. Even I get stuck, like I start reading thrillers and keep reading them, then I start reading business books and I really enjoy them. My son just started reading an author that I never expected him to read and I'm really happy that he has found an author whom I have never read, but he's brilliant. Now I'm looking to read that. The idea is to read a wide range of things.