Machhe bhate Bangali — the commonly used phrase vouches for Bengalis' love for fish and rice. In 18th-century poet Bharatchandra Ray's Annadamangal, when the protagonist Ishwari Patuni prays to goddess Annapurna for her children's wellbeing, rice and milk emerge as symbols of the wish — "Amar shontan jeno thake doodhe bhaate" (May my children always have ample milk and rice).
Rice being a staple of the Bengali diet is not surprising, since Bengal grows a wide variety of paddy. Each district has its distinct variety, but with time, only a few are available in the market, especially in the cities. People are often unaware of the kind of rice they consume, beyond knowing if it is sheddho chaal or atop chaal.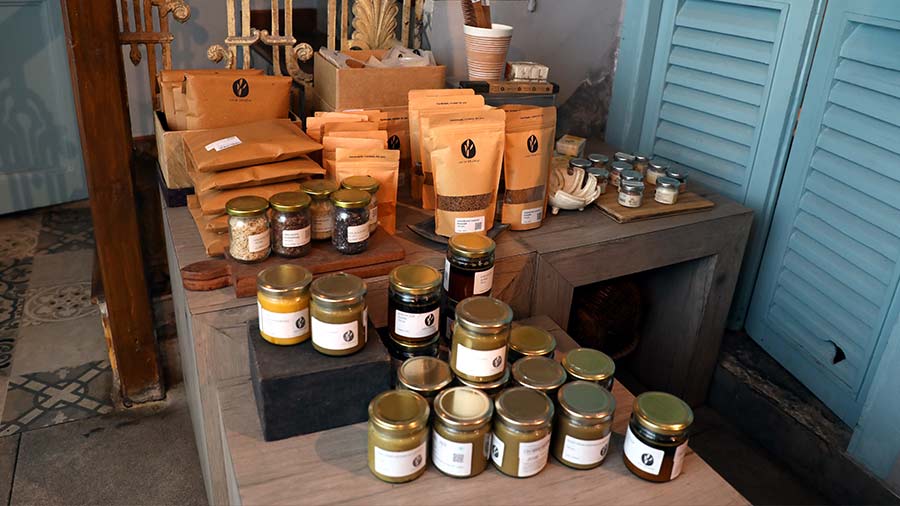 Amar Khamar has a physical store in Dhakuria, and their products are also available for sale at (and feature in the menu of) Sienna Store & Cafe in Hindustan Park
Amar Khamar, a Kolkata-based online and offline organic food store, has been promoting food diversity in Bengal and bringing the region's produce, especially rice, from farms to tables. Not only that, the effort is to acquaint the consumers with the origins of the food they consume.
The beginning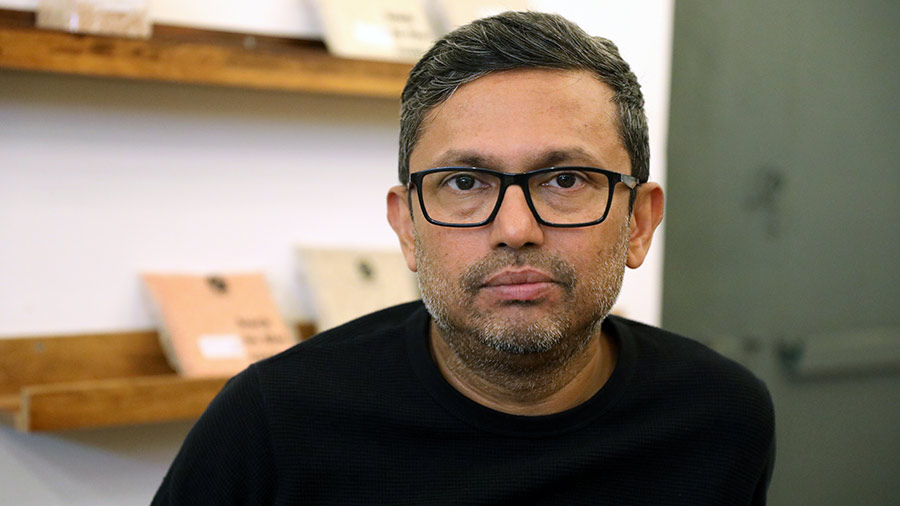 Sujoy Chatterjee, founder Amar Khamar
Amar Khamar was formed in 2019. The name combines amar, which in English means my or mine, and khamar, which refers to a granary. "It was coined so that people could relate and feel attached to it," says the man behind the initiative, founder Sujoy Chatterjee, who happens to be involved in development consultancy. "Because of my work, I have often been exposed to small holder farmers and diverse food. Though it had been more of a theoretical experience, I became acquainted with the diversity of food. Gradually, I came to know about the wide diversity of rice that Bengal produces. However, we have restricted ourselves to just a handful of them — neither do we know about the varieties nor do we have a connection with the people who produce the staple for us," he said.
It was to bridge this gap and provide customers with a wide variety of indigenous produce that Amar Khamar was launched. Sujoy adds, "Our aim is to sensitise people towards food and to enhance the diversity of production." Presently, Amar Khamar has a 10-member team that operates out of their location in Kankulia, Dhakuria.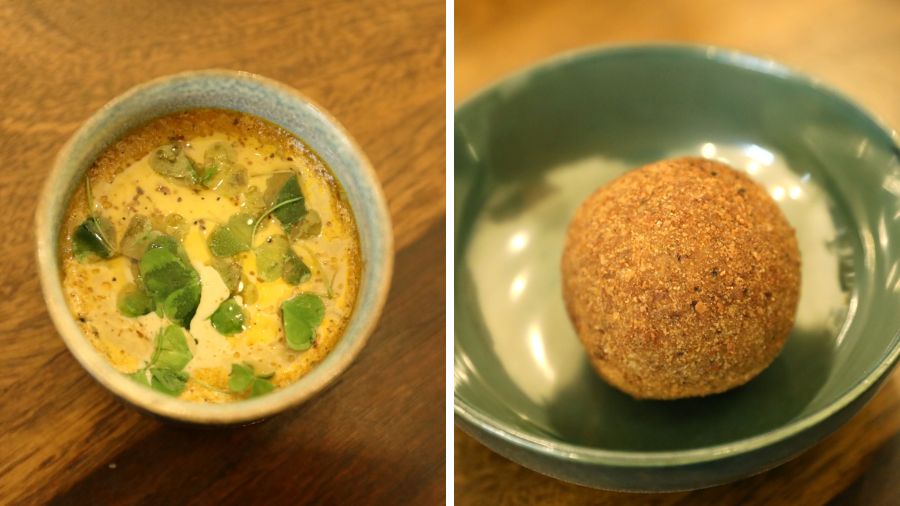 One of the interesting aspects of the store is their Khamar Table. Among the dishes served in the Winter Edit menu are crab custard and (right) chop made with aloo bhaate with pieces of chholar dal, bits of helencha shaak and Thankuni paata and oozy butter
The store
The Amar Khamar store sells a variety of indigenous produce from Bengal, including a wide selection of locally grown, organic, unpolished rice. Among them are varieties like Dudheshwar, Rupsal, Khejur Chhari, Laal-Sada Dudheshwar, Kanakchur, Tulaipanji, Karpurkanti, Kalonunia, Narasinghajota, Kolaboti, Pakhi, Chine Kamini, to name just a few. Each variety is different and each is used in a different kind of preparation. Kanakchur, for example, which is widely associated with Joynagarer moa, is an aromatic rice with small grains that can be had with just gawa ghee and is also used to make pulao. The black rice is sticky by nature and can be used to make payesh. The Tulaipanji rice is also used to make pulao and the flour from this rice is often used to make rotis.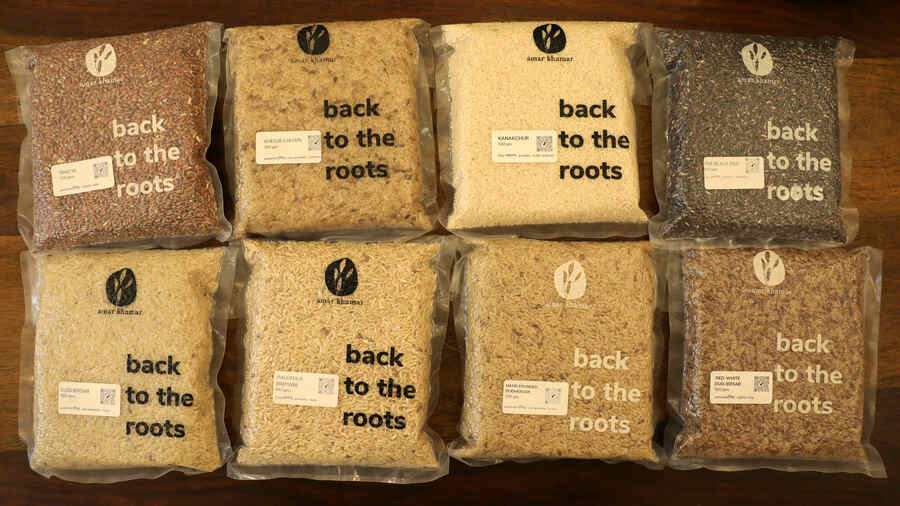 Rice is among the most popular items sold at Amar Khamar with at least 30 varieties of rice always available
"Some 30 to 35 varieties of rice are always available here. We are trying to promote the cereals produced in Bengal too," says Sujoy.
Among the selection at the store are masalas like kalonji (kalo jeera), mustard, and poppy seeds along with millets. Bori is available throughout the year. The aamshotto is made on the pati (bamboo straw mat). There are varieties of honey like kalojeera honey and eucalyptus honey. There's also ghee from different parts of West Bengal, along with gur in winter. The produce comes mainly from West and South 24 parganas, Nadia, East and West Medinipur, Alipurduar, Kurseong, Kalimpong and West Dinajpur.
Apart from their Kankulia store, they also have an online store and some of the products are also available at Sienna Store & Cafe in Hindustan Park.
Khamar Table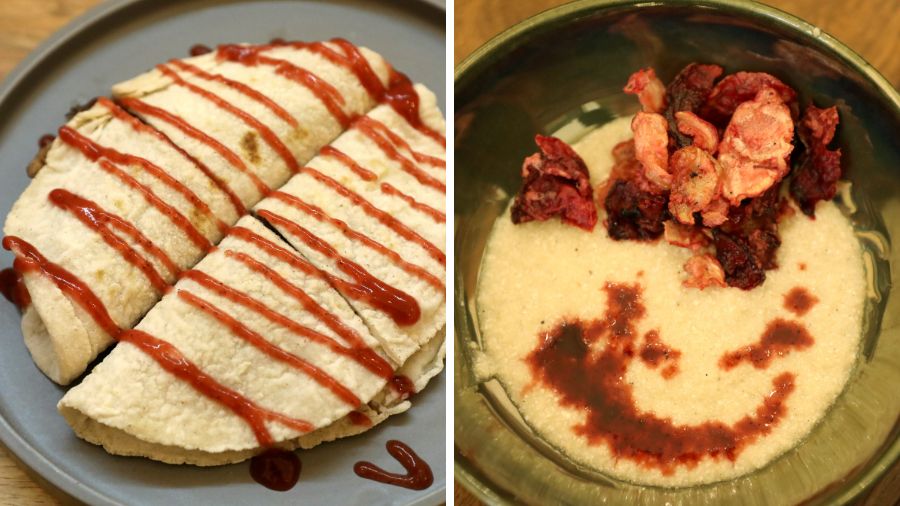 From the Khamar Table winter menu: (Left) the rice-flour roti with a filling of duck meat and German turnip salad topped with roselle sauce, and (right) kaon porridge with beet and radish crisps and sauce made from the peels
The Khamar Table is an interesting enterprise by Amar Khamar. The culinary experience usually features a small group of people and a menu made primarily using ingredients available at the store. The food is contemporary, made with indigenous produce.
"We are trying to present the rice varieties in a way such that consumers also get to know the diversity of the produce," says Preetam Bhadra, the culinary head of Amar Khamar. "We wanted to present the indigenous food with a twist. Unless we cook the food it will not reach the people," he adds. Khamar table is an intimate and interpretive experience where you get to know and talk about the food you eat. Only six people can be accommodated on a specific date and the bookings are done online through the website.
"We are getting an overwhelming response, and we plan to take it a little further," adds Sujoy.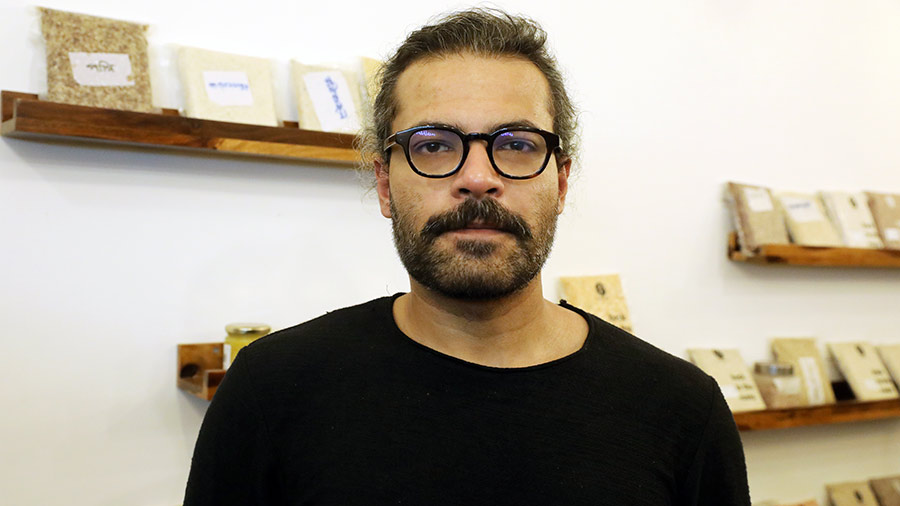 Preetam Bhadra, the culinary head at Amar Khamar
At one of the Winter Edits tables, not only did the participants seem happy and satiated with the spread served, which was delectable, but they also engaged in talking about the food.
Debleena Sen reminisced about her childhood memories of sheddho bhaat when the first course was served, which had a chop made with aloo bhaate with pieces of chholar dal, bits of helencha shaak and thankuni paata and butter oozing out. Similar sentiments were relayed when the roselle hog plum sorbet was served, which reminded everyone of the tok-jhal candy from childhood. Anwesha Ghosh, a returning guest at the Khamar Table was really overwhelmed with the taste of the dishes. "Not only is the food delicious, but it takes us back to our roots too.That's the reason I try to book my seat time and again."
The flavourful, appetising Winter Edit menu featured dishes like rice-flour roti with a filling of duck meat and German turnip salad topped with roselle sauce, Kaoner (foxtail millet) porridge with beetroot and radish crisps with a sauce made from the peels, phulkopir (cauliflower) makha sandesh with chhanar payesh.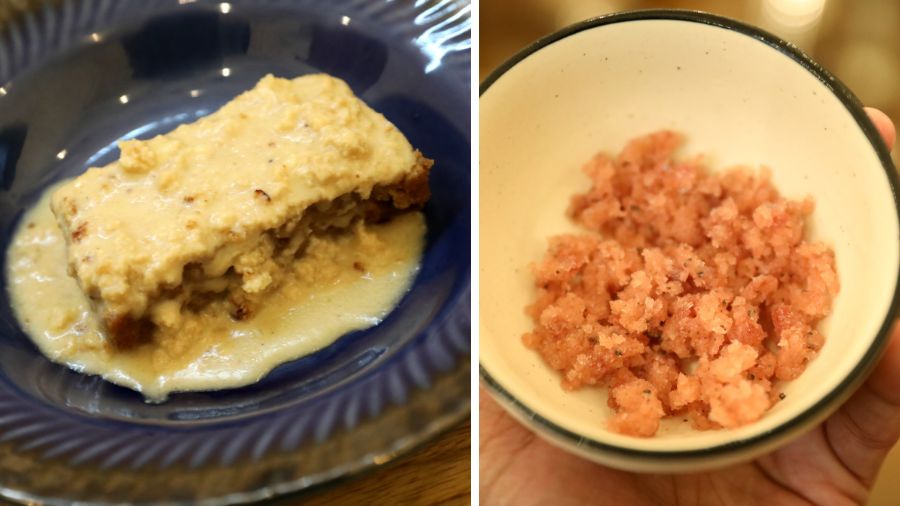 Cauliflower 'makha sandesh' with 'chhanar payesh' and (right) roselle hog plum sorbet from the Winter Edit Khamar Table
Dishes made with these now lesser-known ingredients feature on the website as well. From muri kheer and kotkoti honeycomb to bibikhana pithe and ilish begun with Raniakanda rice, there's a whole collection of recipes online. "The concept of incorporating recipes evolved during COVID times when Khamar Table was not possible and everything had to move on virtually. We tried to give a framework to people. We did not get into traditional recipes, but tried to reinterpret the ingredients retaining the flavour combination and played around. In this respect we do get inputs from the farmers too," remarks Bhadra.
The farmers and faces behind the food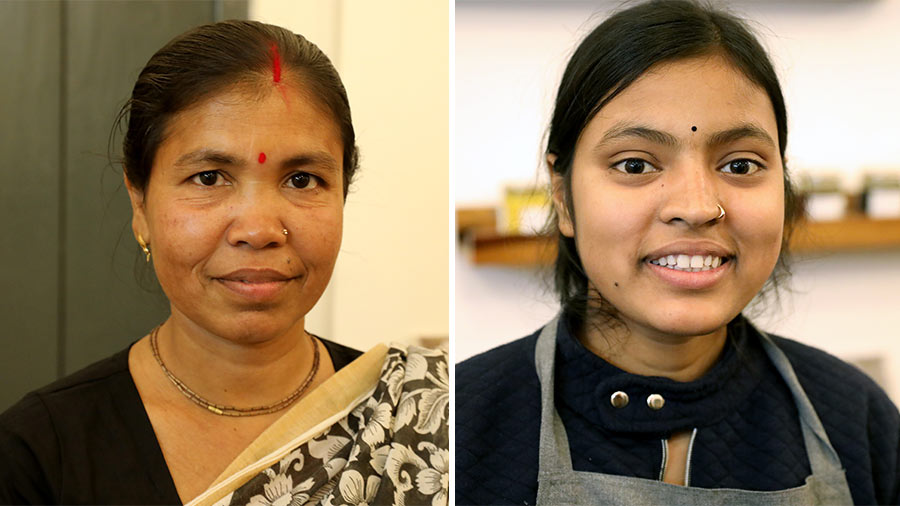 Promila Monadal and (right) Rekha Das from the Sunderbans are farmers and also part of the kitchen
Amar Khamar gets its produce from cooperatives, farmer producer companies or from local organisations working with small-scale farmers. "We are an extension of them. We work in a way so that the farmers get proper value of their produce. We are trying to provide them with a market where they also get motivated. In a way, their work is also appreciated through us," says Sujoy. The production takes time, but once the customers know about the diverse produce, they happily wait, he adds.
Many women are involved in the work — not only in the fields, but in the Khamar kitchen as well. A lot of inputs on the food and the cooking procedure comes from them and in some tasting sessions, many of the farmers come to give them tips.
Promila Monadal, Rekha Das and her mother — all from the Sunderbans — are farmers and also part of the kitchen. Rekha Das, who is a student completing her graduation, is very happy working here. "I can hardly give two hours of time here. I have been asked to concentrate on my studies now and I can work here at my convenience. We not only get the proper value of our produce but I also get to learn a lot of new things," she says. For the winter menu, Rekha made the roselle hog plum sorbet under Bhadra's supervision and named it Borofkuchi. "She wants to learn a lot of new things," remarks Bhadra.
Promila Mondal, who is also a part of the team, says, "Amra ekhane amader pholoner sothik mullyo pai. Rashaonik chhara phosoler thik mullyo pai. Ei jaega amader onek kichu dieche. Suddhu ortho noe sothik somman o dieche." (We get the proper value for our produce here. We also get a lot of respect here.)