If you're ordering a Bengali meal this week, don't be a know-it-all with the menu. Consider exploring lost recipes, offbeat ingredients or even some seasonal signatures.
Kosha mangsho and phulkopir roast are dependable as ever, but there are a host of other flavours and medleys in Bengali cuisine that need to be explored. My Kolkata did all the necessary research (and tasting!) to recommend what exactly you should order from these popular Bengali eateries.
6 Ballygunge Place
6 Ballygunge Place, which opened in 2003, is a pioneer of Bengali fine-dining with its authentic line-up featuring heritage recipes. Named after the location of its first outlet, which used to be the bungalow of a former Rai Bahadur, the restaurant spotlights unexplored aspects of Bengali cookery.
"We have always served authentic Bengali food using the best ingredients available, thus maintaining quality from day one. We have also introduced a lot of lost recipes, which were at one point in time cooked in almost every Bengali home," says Chef Sushanta Sengupta, Founder Director and Executive Chef of 6 Ballygunge Place.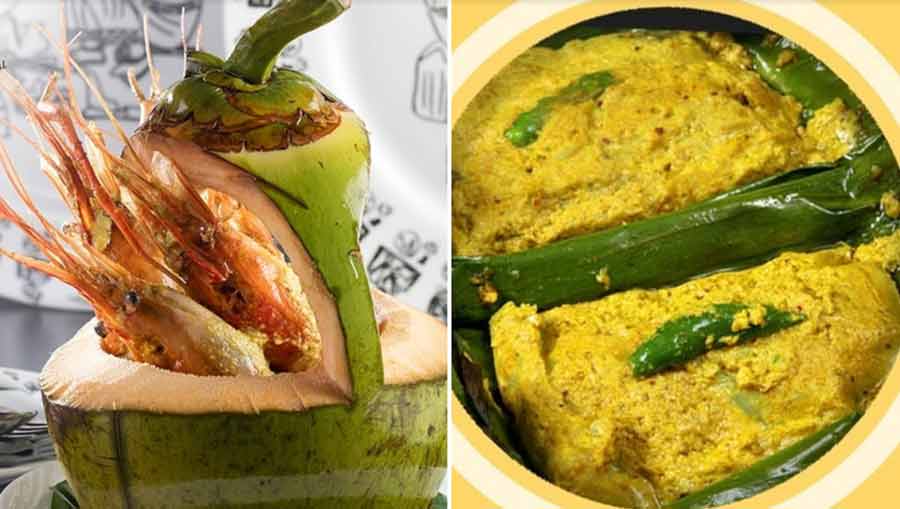 Daab Chingri (L) and Bhetki Paturi
@6ballygungeplace/Instagram
At 6 Ballygunge Place, go for the classics like Bhetki Paturi and Daab Chingri (preferably both). Diametrically opposite to each other in taste, the paturi heroes the umami of mustard, while the Daab Chingri highlights the soothing flavour of coconut.
Kasturi
If you're looking to explore a unique side of the overarching Bengali cuisine, Kasturi's Dhaka-style food should be your next pick.
"Bengal in itself is unique, and so is Bengali cuisine. We represent the o par banglar ranna, which makes Bengali food so interesting with the sheer varieties it offers," shares Bishal Saha, owner of Kasturi, which was started by his father, late Gopal Chandra Saha.
Kochupatta diye chingri bhappa is their signature dish. The sharp flavours of the mustard mingle with the kochupatta greens effortlessly and shrimps give it a well-rounded savouriness. The drizzle of mustard oil over the dish, right before it is served, makes the flavour notes sing. Pair this with piping hot rice, which acts as a blank canvas for all the flavours to shine.
Kewpie's
Dining at Kewpie's is always special as guests are invited into Rakhi Purnima Dasgupta's Elgin Road home for a home-style meal.
Named after Rakhi's mother Minakshi Dasgupta's daak naam, Kewpie's is like a walk through food heritage. This eatery celebrates Minakshi's recipes and champions traditional flavours. Their thalas are a must-try because it is a feast fit for a king.
"One of our most popular niramish dishes is malai palong kofta," reveals Chef Dasgupta.
The amalgamation of spinach and cottage cheese is genius as they both cling to each other to give the kofta its shape and distinct melt-in-your-mouth flavour.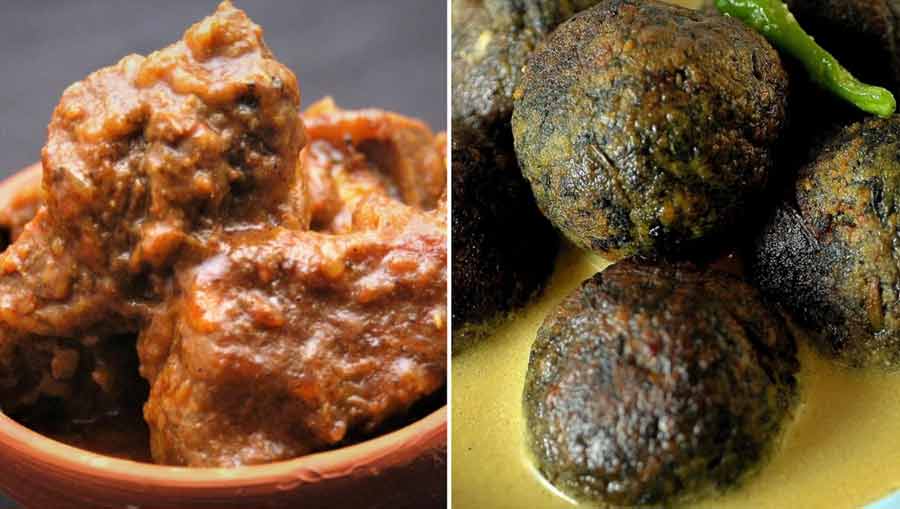 Ratan's kosha Mangsho (L) and Malai palong kofta
@kewpies_kitchen/Instagram
Their Ratan's Kosha Mangsho is every meat-lover's delight. The rich curry clings on to every piece of meat and the fall-off-the-bone meat is delightful.
Himur Heshel
Looking for authentic Bangladeshi food? Himur Heshel is the new kid on the block creating one-of-a-kind numbers. Sutapa Barua is Bangladeshi by birth and treasures the recipes from her childhood.
"Since I'm from Bangladesh, when I decided to start a business, I thought why not focus on Bangladeshi food?" says Barua.
You can't go wrong with their daber shash e gondhoraj chingri. It is made with soft coconut meat along with the citrusy flavour of gondhoraj lemons.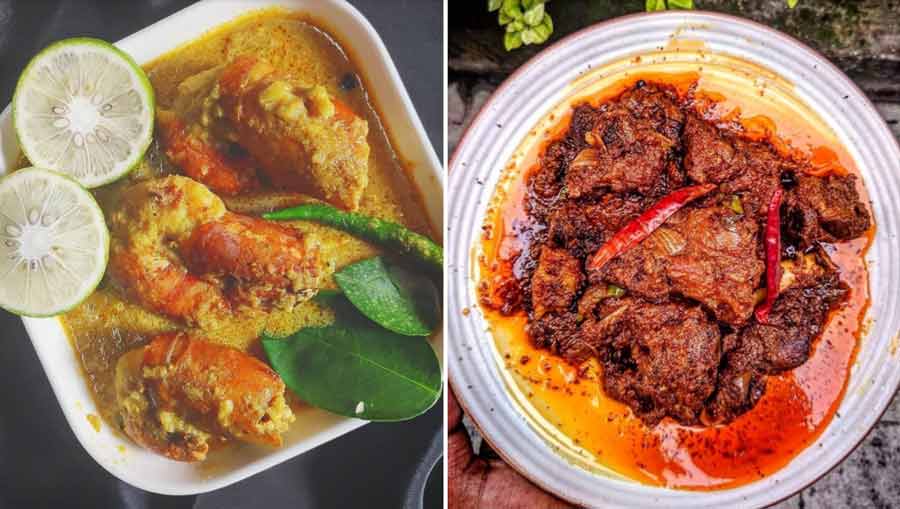 Daber shash e gondhoraj chingri (L) and Chittagong-style mutton kala bhuna
@himurheshel/Instagram
The other recommended pick is the Chittagong-style mutton kala bhuna. This dark coloured gravy has a richness that pairs effortlessly with the mutton. This dish uses 17 different spices and can easily replace your Sunday afternoon mutton curry.
Oh! Calcutta
Anjan Chatterjee's Oh! Calcutta offers an unmissable spread and a luxury fine-dining experience. While the restaurant has championed the classics, the menu does not shy away from with new flavours.
Their fish fry is served with pickled onions and kasundi. The fish is flaky, while the hot and crunchy crumb makes sure that when you break into it, a puff of steam quickly escapes!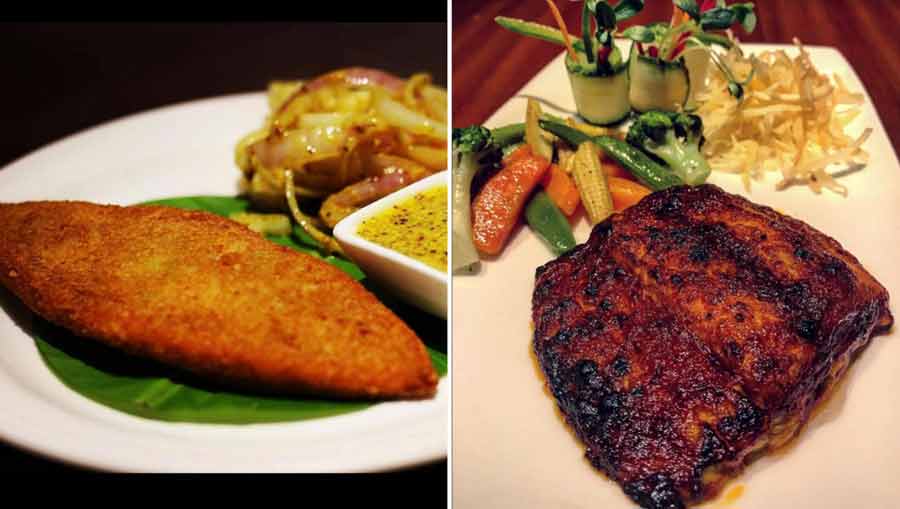 Fish fry (L) and Smoked ilish
@ohcalcuttaindia/Instagram
Another must-try is their Smoked ilish. The dish takes inspiration from British-era Bengal and has all the elements of quintessential Bengali food — the fish, the veggies and the spices — with an elegant presentation. The notoriously bony ilish is deboned for a smooth culinary experience. Expect the soft-bodied, juicy hilsa to melt away in your mouth!