It's said that hard work in silence makes the loudest noise. That couldn't be more true for Husna-Tara Prakash, the force behind Glenburn Hospitality. For years, she's shied from the spotlight and city social circles, while quietly building a brand that's become a name to reckon with. 
Two decades ago, Husna-Tara restored a planter's bungalow in Glenburn Tea Estate into a sophisticated boutique resort overlooking the rolling hills of Tukdah near Darjeeling. Then, in 2018, she turned an office warehouse into The Glenburn Penthouse, an upscale dine-and-reside getaway in the heart of Kolkata, which took seven years to create. 
"I'm a work horse," admits the self-taught entrepreneur, who grew up actually competing in horse shows in the English countryside before "stumbling into tourism". 
When she's not wearing her hospitality hat, Husna-Tara is a doting mother of two, a science teacher, passionate story-teller of Kolkata's rich heritage and friend to city expatriates. My Kolkata met with her to learn more about her Glenburn journey and connection with Kolkata.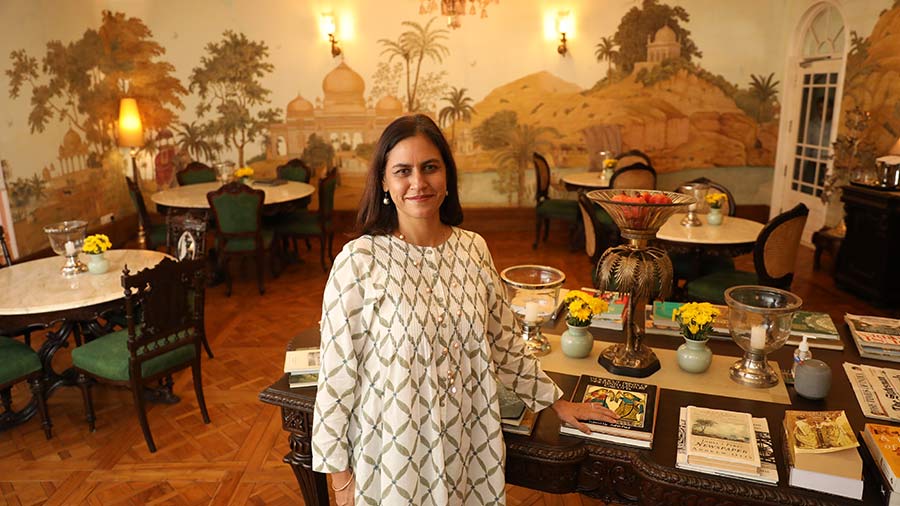 When she's not wearing her hospitality hat, Husna-Tara is a doting mother of two, a science teacher, passionate story-teller of Kolkata's rich heritage and friend to city expatriates
Arijit Sen
Glenburn Tea Estate
"My whole Glenburn story has been about meeting the right people at the right time," says Husna-Tara, seated in the Victoria Terrace of The Glenburn Penthouse in Chowringhee. It is her favourite spot in this discreet sanctuary overlooking the Maidan greens. "If we're lucky, we'll get to see a pink sky as the sun sets," she says. 
When she was 18 and backpacking around the world on a gap year, Husna-Tara met her husband Anshuman Prakash. They dated for around six years, during which she continued to study in England. In 1998, she moved to India to marry into his tea-planting family, and much of that year up until 2001 was spent in Kerala. 
"My transition into the world of tea happened quite organically. We were posted together as a couple on a beautiful tea estate called Haileyburia in Kerala, that was partly owned by Anshuman's family. It was really God's Own Country. That's when we really started thinking about doing something in tourism," she says with absolute clarity.
A plan was put in place for a resort in Haileyburia but it fell through. The Prakash family sold the estate and bought Glenburn Tea Estate a few months later in 2001. "When we saw Glenburn, we thought, 'Oh my gosh, this is like a piece of heaven!'" she recalls. There were manicured tea gardens, dense forest areas, an emerald green river and white peaks of the majestic Kanchenjunga.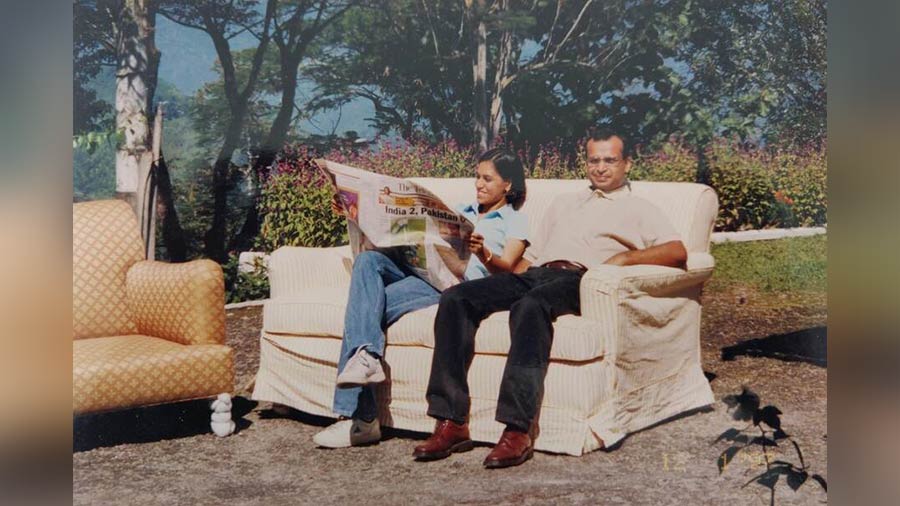 Husna-Tara Prakash and husband Anshuman during the restoration years, reading The Telegraph
Courtesy Glenburn Tea Estate
Taking it step by step
"Nobody used to think much about bungalows as a hotel at that time, so initially we thought of creating tents near the forest by the river Rangeet that runs through the estate," she explains. She met Australian interior designer, Bronwyn Latif, in Delhi, and together they took up the Glenburn project. They hired a local architect, who proposed "this huge resort down at the campsite with 60 cottages and cascading waterfalls and everything which was totally, you know, over the top."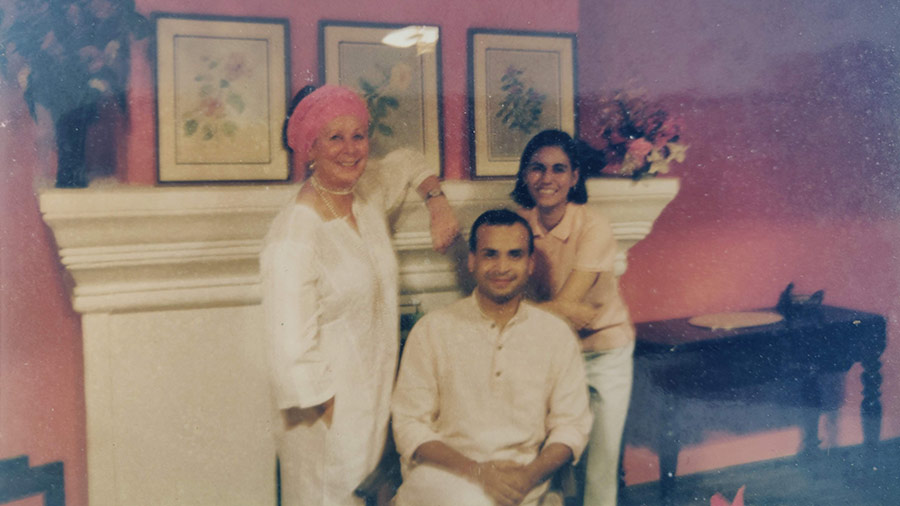 Anshuman and Husna-Tara Prakash with (far left) Bronwyn Latif. "Glenburn never had a blueprint. It was just little bits of hard work, passion, and Bronwyn, who I call the magician of Glenburn," says Husna-Tara
From the Glenburn archives
Bronwyn, very gently, told Husna, "You're in your late twenties and you have your whole life ahead. Don't just throw your money away over a fancy resort. Do something slowly; you don't know anything about tourism, do you?" So Husna listened to her, put in a small investment and did up the planter's bungalow that was falling apart. If it worked as a hotel, it worked. If it didn't, then her family would have a beautiful home.
It worked.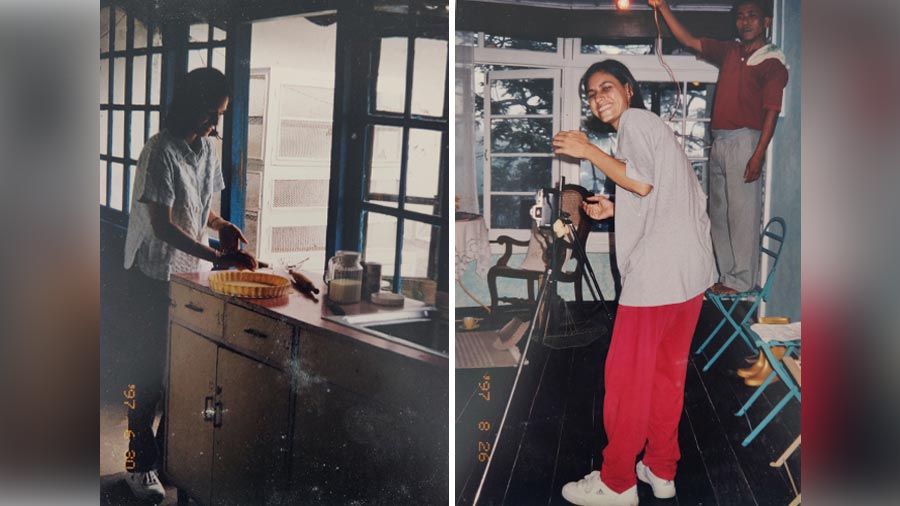 Husna-Tara Prakash at Glenburn Tea Estate in 2002, the year of restoring the Burra Bungalow into a hotel
From the Glenburn archives
She went to England in the summer and pitched the property to travel agents, who sent a few international guests, some more, and then many more. Four years later, Glenburn made it to The Tatler Travel Guide 2006 as one of the 101 best hotels in the world.
Husna-Tara and Kolkata
"I'd never really been to Bengal. I'd never lived in a humid place where you were still hot and sweaty after a shower!" laughs Husna-Tara, who is a Welhamite from the cool climes of Uttarakhand. 
"My first memory of Kolkata is arriving at Howrah Station in 1997 before our engagement, and staying at The Tollygunge Club. We were driving over the Howrah Bridge and then entered the city and the first thing that hit me was the heritage and the old buildings, but in a very subtle way. In those days, I had no appreciation for the heritage that I do now because of the tours that I run," she says. About seven years into the Glenburn Tea Estate journey, a lot of guests started asking about Kolkata. "Things like, 'Oh, my great grandmother got married in St. John's Church… Can you show me where it is?' And I'd ask people, and nobody really knew where St John's Church was 18 years ago," says Husna-Tara.
'The history of Bengal and of the city was an amazing story to tell'
The Victoria Memorial by night, as seen from the penthouse
Arijit Sen
She started researching. She took a walk with conservation architect Manish Chakraborty in Dalhousie Square. She was swept away by a historical talk on Kolkata by Dr Rudrangshu Mukherjee for a group of Portuguese travellers at The Bengal Club. She discovered north Kolkata with a group of French ladies from Kolkata International Women's Club (KIWC). And, she read. 
"I read a book and then another, and then I kept reading about the history of Bengal and the history of the city. I suddenly realised that it was an amazing story to tell and perhaps I could do a better job than the people who were taking me around." 
She started Glenburn Private Excursions offering heritage city tour packages. They were not cheap. Those who could afford it were international guests staying at The Oberoi Grand. 
"Naturally, everybody told me I should have a hotel here," she says.  
Enter, Glenburn Penthouse. 
The Glenburn Penthouse and Glenburn Cafe
"When my husband Anshuman saw the view from the seventh floor, he called up Bronwyn in the middle of the night and said, 'Stop looking for a heritage house. This is where we have to do our hotel'," she laughs as brightly as the string of pearls around her neck. 
Kanak Building on Russell Street, which used to be the old Army & Navy Store, belonged to Anshuman's family. So does the building behind that houses Glenburn Penthouse on the seventh and eight floors, overlooking a Kolkata skyline that joins the dots from The 42 to Victoria Memorial to Howrah Bridge to ITC Royal Bengal.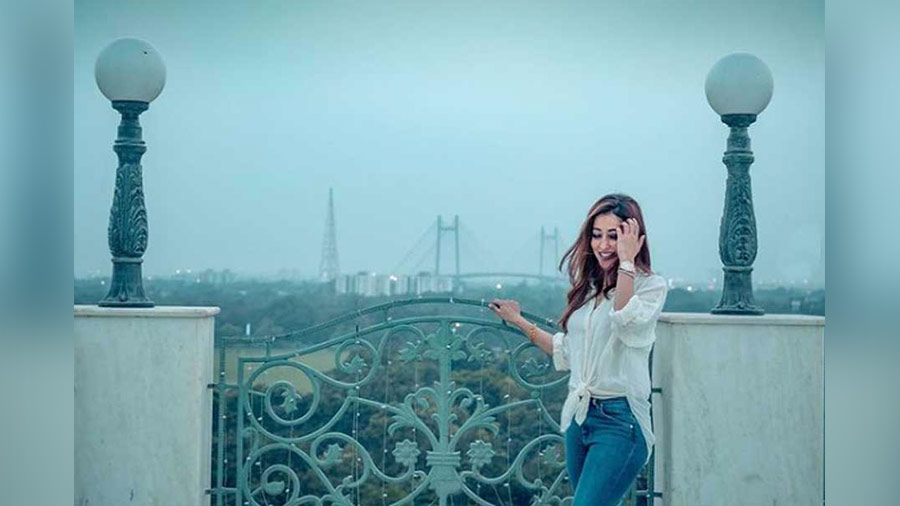 Raima Sen at the Glenburn Penthouse
@raimasen/Instagram
But the problem was that the building hadn't been designed as a hotel. It had been designed as a pillarless office, a glass block designed for offices, with not enough plumbing for a hotel, and just two bathrooms per floor. The challenge was to "create the heritage". 
It took seven years to do that. 
The stunning wallpaper titled Hindustan rolled in from Paris, and the marble inlay on the tables came from Rajasthan. From wood-panelled floors and four-poster beds to walk-in showers and bathtubs — every detail was paid attention to. 
"When The Penthouse opened in 2018, we started getting international guests, but we didn't really announce it to Kolkata because we weren't sure how we would balance the hotel guests and local visitors. It's a small space," she explains.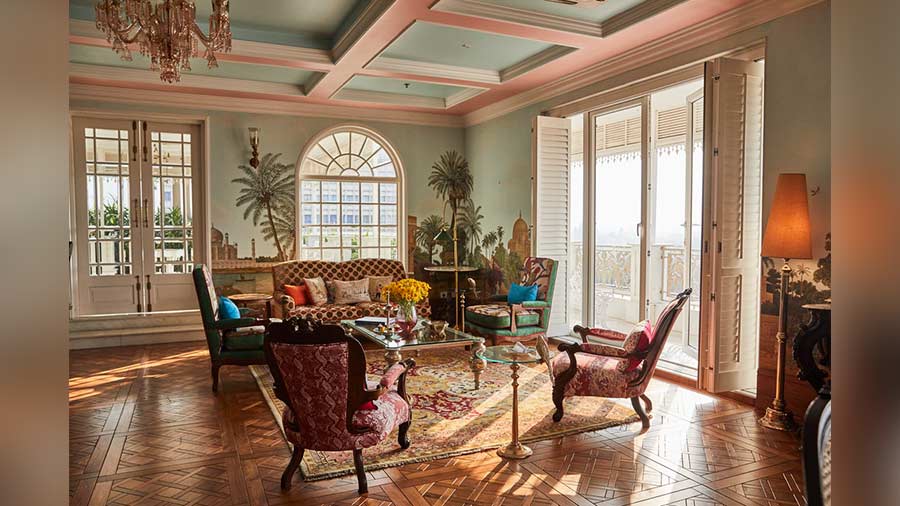 From wood-panelled floors and four-poster beds to walk-in showers and bathtubs — every detail has been paid attention to at The Glenburn Penthouse
glenburnpenthouse.com
The pandemic paused the influx of travellers and helped open up the space to locals for private events and high tea. Chef Shaun Kenworthy created tasting menus blending the best of the old and new. In May 2022, The Glenburn Cafe opened on the ground floor serving European fare and tea from their estates in Darjeeling and Assam. "We never thought people would dine in, because Park Street is next door. But we found that once people had visited, they wanted to return for a nice meal or a G&T by the pool." 
The Glenburn Penthouse,  a space that was strictly 'reservations only', is now open to walk-ins, with an a la carte and bar menu. "The Penthouse is an ode to Kolkata just like the Tea Estate is to Darjeeling. We're trying to be more accessible and I feel like we have been accepted by the people of the city," signs off Husna-Tara, with the sky over the Victoria Terrace a cotton candy pink.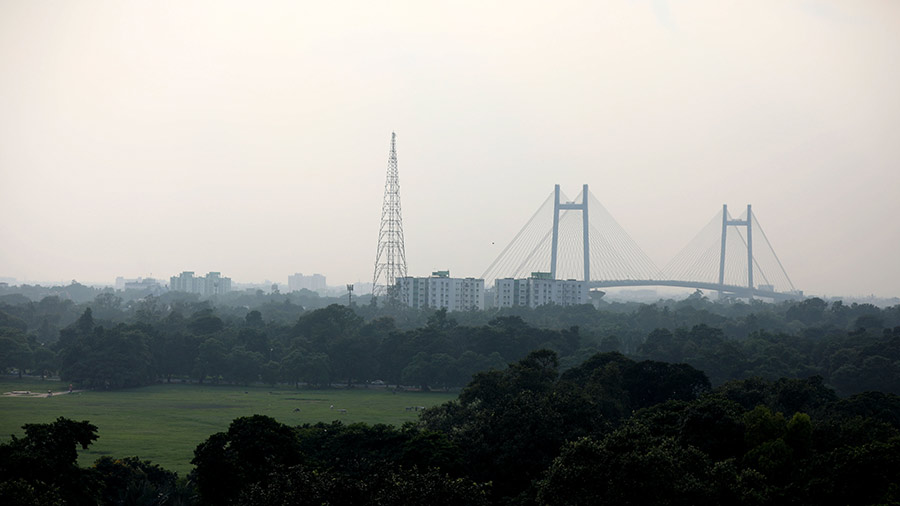 Some evenings at Glenburn Penthouse are all about cotton candy sunsets and building bridges over afternoon tea
Arijit Sen