I was first introduced to Bengali culture when I was at university in England. We had a cinema club and Satyajit Ray's award-winning Pather Panchali was the first film to be screened there, followed by an onscreen interview. I was mesmerized; he was elegant and erudite and politically aware, with that mane of thick white hair (just what a 19-year-old girl is impressed by!). I remember wanting to leave for India right away . . . and, as fate would have it, I did. 
On returning to India in 1984, I met the Director of the National Film Development Corporation at a dinner, where we discussed the state of my Hindi (pretty bad!) and my love of cinema. 'Why don't you help us subtitle Indian films?' he had suggested. 'Someone will do the basic work. You need to spruce up the English, you'll see all your favourite new wave movies, and hopefully learn some Hindi as well.' 
In my excitement, I said yes. The first film I worked on was by Mrinal Sen. I didn't know who he was or that he made films in Bengali. My Hindi was shockingly bad but surely not so much that I couldn't understand a word of the film. My colleague, who was actually doing all the hard work with the translation, laughed and said, 'Look at the credits … if you see Chatterjee, Banerjee or Sen more than three times in a row, it's a Bengali film!' And of course, he was right – no wonder I was having such a hard time with this one! 
I met Mrinal Sen a few years later in Kolkata, as he waxed lyrical about his films and everything else under the sun. I was captivated by how much time he spent talking to an absolute stranger for hours. 'Do you know how to recognize a Bengali?' he said. 'Look around you. We men love to sit in cafes and procrastinate all day long … chatting about any subject. Others will come and go but the Bengali will only leave when it's time for dinner. The other thing the Bengali man will willingly do is go to the fish market; such is his obsession with good food.' 
I remember a scene from one of the Bengali films on which I worked, where two zamindars were sitting on the floor, wearing their crinkly dhotis and having a meaningful discussion about their lands, devouring what looked like the most divine crayfish, probably golda chingri in a chingri malai kari – freshwater giant shrimp bathed in a rich coconut sauce – a dish which they say comes from Malaysia (hence Malai or Malay). I had never seen food depicted so brutally well, and it spoke reams about how serious Bengalis are about eating.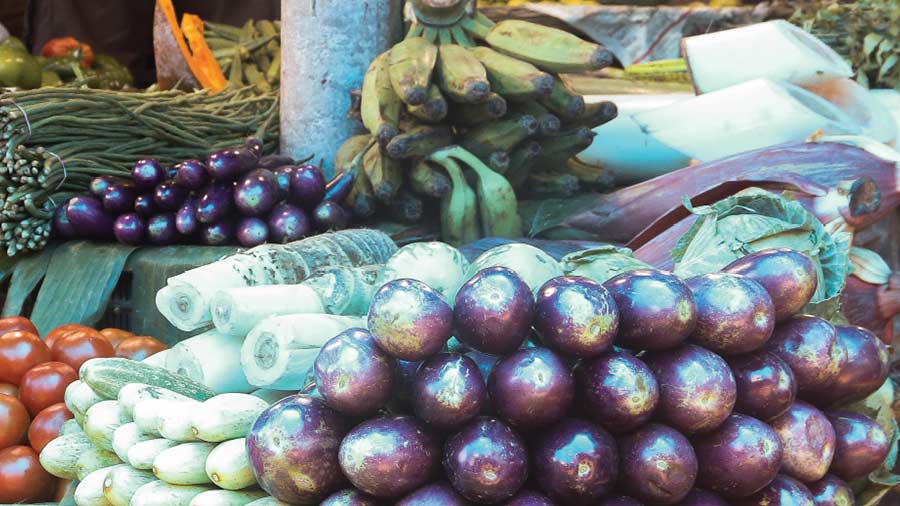 'The chronology of dishes served is based on ancient beliefs relating to the digestive process' writes Anand
Food in Kolkata has been influenced by many cultures – British, Portuguese, Baghdadi Jewish, Armenian, the Mughals, royal kitchens, neighbours in Tibet and Burma and the newer Marwari business community from Rajasthan. In this chapter, I am simply going to focus on the Bengali food I know and love. Kolkata is a city of fantastic people, whether they are Bengali or not, and gracious hospitality that is a result of leisure time and a past steeped in culture, literature and art. Bengali food is a big part of that, executed with much care to detail, served course wise and is often compared to French sophistication.
The chronology of dishes served is based on ancient beliefs relating to the digestive process. Since lunch is the main meal, they start with a bitter vegetable, then comes a saag or green leafy vegetable, dal and a chhenchki (stir fried vegetable) and bhaja (fritters), a vegetable like a chorchori followed by the fish, first the small ones then the large, and lastly the crab or prawn. Then comes the poultry or game birds, mutton, chutney and, finally, dessert. Leafy and bitter vegetables are never served in the evening. Lucchi (Bengal's answer to the poori), pullao or white rice is served to accompany the meal.
Mustard fish in banana leaf (Fish paturi)
This is one of my favourite ways to eat fish, smothered with mustard and chilli, wrapped in a banana leaf and steamed. Some people place the parcels on a griddle with a little oil, but this is the traditional way and, in fact, much easier. Iti Misra is the embodiment of Kolkata's good taste and fine manners. She is an accomplished Bengali cook and, at almost eighty years old, is now doing 'pop-ups' with well-known chefs throughout the country. This is her failsafe, foolproof recipe.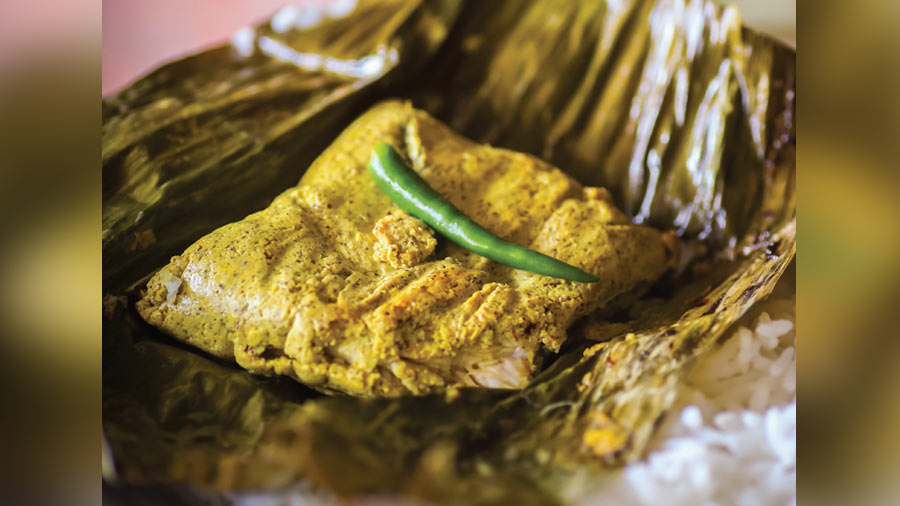 Courtesy Pikturenama
INGREDIENTS
For the paturi
4 large pieces of fish fillets (without skin and approx 4 x 3 x ¾-inch. Use firm white fish, preferably bhetki, mullet or sea bass.)
1 tsp turmeric powder
For the marinade
6 tbsp mustard paste
1 tbsp poppy seed paste (poppy seeds ground with water)
1 tsp ginger paste
2 tsp chopped green chillies
4 tsp chopped fresh coriander
4 tbsp mustard oil
Salt to taste
1 big banana leaf
METHOD
Smear the fish with ½ tsp of turmeric powder and around a tsp of salt. Set it aside for 5 minutes.
Combine all the other ingredients in a bowl with the remaining turmeric. Mix well and spread all the marinade over both sides of the fish fillets and set aside for 15–20 minutes.
Remove the centre portion of the banana leaf and cut into 4 pieces (each 10 x 12-inches approximately).
Soak the banana leaves in hot water to make them pliable and prevent splitting or soften over a gas flame. Drain and pat the leaves dry.
Place one piece of fish on a piece of banana leaf with the marinade and wrap. Repeat with all other pieces of fish. Secure well with a string and ensure that there is no leakage.
Place in a steamer and steam on high heat for 10 minutes.
Serve the fish paturi straight from the steamer, still wrapped in the banana leaf
Tip: If banana leaves are not available, use aluminium foil. Not as exotic but does the trick.
Pritha Sen's Steamer Fowl Curry
This must be the easiest recipe for chicken curry I have ever come across but the most difficult to replicate in terms of flavour because the ingredients were particular to a place in time which doesn't exist today. You must try and find a free-range bird or 'gavthi' chicken. It is just not the same with what we call a 'broiler' or commercial chicken.
Heady nostalgia – during the late 1800s, passengers took the East Bengal Express connecting urban Calcutta with Goalondo, from where people opted for the ferry service on the Padma River which took them to Narayanganj in Dhaka or to Barisal. They then took connecting country boats and steamers to Assam, Sylhet, Chittagong or Burma. The express train was discontinued in 1964 during the Bangladesh war but one particular thing was not forgotten – the famous Goalondo Fowl Curry. It was cooked by the boatmen who came from East Bengal and Chittagong Hill which is why it is also known as Boatmen's Chicken Curry. The steamers were slow. To cater to hungry passengers, a few enterprising boatmen, who were just villagers, rustled up a quick curry with a couple of country fowl they had just slaughtered and threw some readily available spices and oil into a pot and slow cooked it. There are several, almost poetic, accounts of the aroma and taste of this curry. Pritha Sen says that the umami flavour (could this originally have been cooked in salt water?) of the chicken is a mystery, so she recreates this in her recipe below with dry shrimps.
Meat from a large cock (a doodle do variety) is traditional. It should be a fiery thin red curry, with oil floating on top.
INGREDIENTS
½ of a medium head of garlic
2 tsp dried shrimp, chopped
15 whole dried red chillies, soaked in warm water
1 kg chicken, cut into 12 pieces across the bones (not jointed), preferably with skin
2 medium-sized onions, roughly grated
1-inch piece of ginger, grated
1 tsp fresh turmeric (preferable) or 1 tsp turmeric powder, made into a paste with 3 tsp water
5 tbsp mustard oil
One whole head of garlic
2–3 boiled eggs, cut in halves
4 whole green chillies
METHOD
Make a paste of the ½ head of garlic, chillies and dried shrimps.
Marinate the chicken pieces with the chilli-garlic-shrimp paste, grated onions, ginger, turmeric paste, salt and 2 tbsp mustard oil and set aside for about an hour.
Heat 3 tbsp mustard oil to smoking point in a kadhai or pan. Add the marinated chicken and fry well on high heat, stirring till dry and golden.
Add water to cover the chicken, bring to the boil and cover the kadhai.
Drop the whole head of garlic into the curry. Lower the heat to a simmer and let it slow cook.
When oil floats on top and the chicken is tender, add the halved boiled eggs and green chillies.
Serve with a salad of raw onions and slices of lime.
Excerpted with permission from Karen Anand's book Masala Memsahib, Recipes and Stories from My Culinary Adventures in India published by Macmillan. The book can be purchased here.