Chef Viraf Patel stands true to his Parsi lineage. After being repeatedly asked to cook Parsi cuisine, he decided to delve deeper into the culinary culture of the community and came up with "an ode to the flavours of the Levant" — a Levantine cuisine pop-up at The Salt House Kolkata as part of the Shakespeare Sarani restaurant's Pop-up with Chef series. After touring Mumbai and Bangalore, the pop-up comes to Kolkata, from February 3-5, 2023.
My Kolkata caught up with chef Viraf and Prachi Saraogi, partner, The Salt House Kolkata, before the event. Chef Viraf, who consults with The Salt House among other restaurants, created and part-owns Café Zoe in Mumbai, and has also served brands like Indigo Mumbai as sous chef and Olive Bar & Kitchen as executive chef and business head.
At the onset, Prachi mentions, "We, at The Salt House, have always believed that we are not just a restaurant, but also a space that provides a holistic experience to our customers. From inception, we have had master classes, lifestyle pop-ups, live music etc. We believe that collaborating with chefs across the world will offer the people of Kolkata new experiences, which will keep them excited about The Salt House."
The inception of the Levantine pop-up
Talking about how the thought of curating a Levantine cuisine pop-up came about, Viraf explained: "I am a Parsi chef. Everyone always asks me, why don't you make Parsi food? But coming to the Parsi food [today], it's really something that has come up only after the migration of the community from Iran, where Zoroastrianism originated, to India. I dabbled a bit deeper into the cuisine and thought of tracking back to what it used to be. That's where this idea came from."
Prachi added, "We always told him to do Parsi food. But he was like Parsi food is not a cuisine everyone would be interested in. So, when he said that he wanted to do Levantine cuisine, we got very excited and wanted him to take the lead."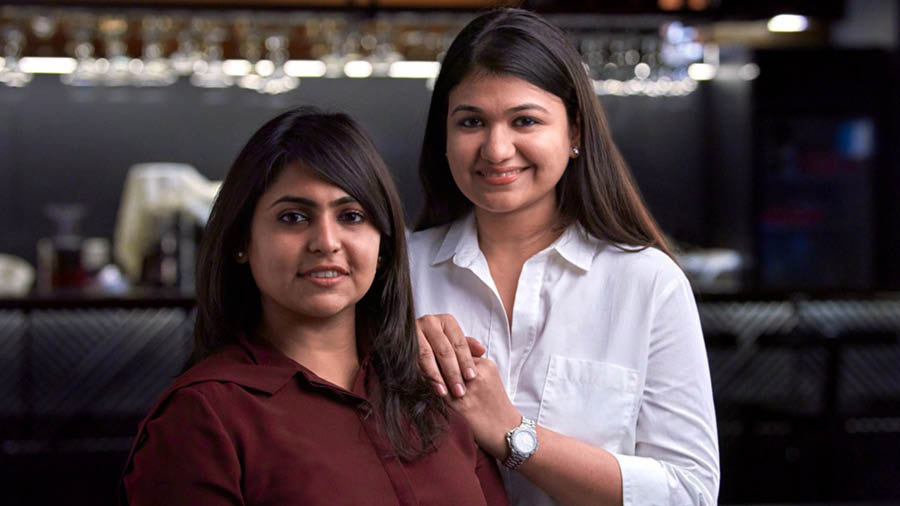 Prachi Saraogi and Saloni Jhunjhunwala of The Salt House Kolkata
Ashwin Abraham
Same or different ?
"They are notably different from each other – Levantine and Parsi food today. Levantine cuisine is simply food from the Levant (a large area in the Eastern Mediterranean region of Western Asia). What happened to the Parsi culture after migrating is that we settled in Gujarat. Due to which we took on a lot of Gujarati influences in our food. It's exciting to see how one adapts to the local region when a community migrates," said Viraf, who served as culinary consultant to brands like The Table (Colaba), Gateway Taproom (BKC & Kalaghoda) and Frida cantina.
What's on the plate?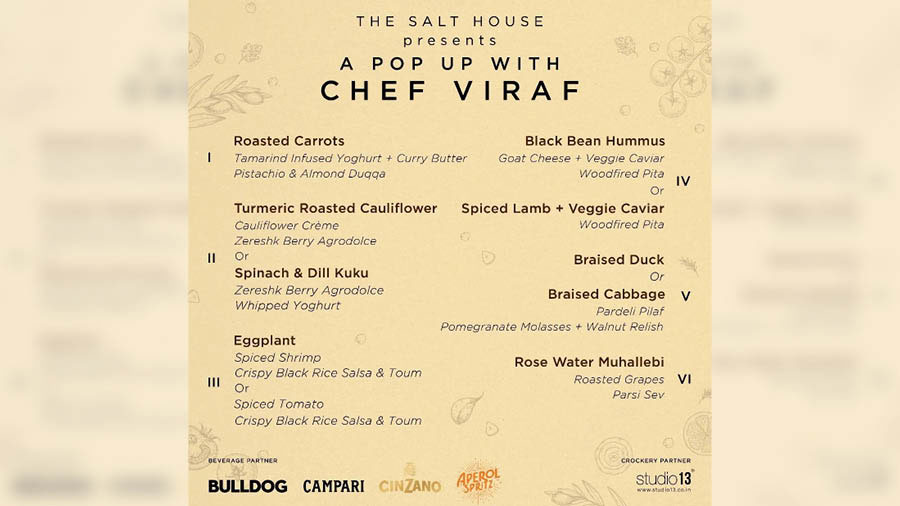 With just a few days before the chef welcomes the public to taste his Levantine menu, he gave My Kolkata a rundown on the flavours. He said, "The idea is to use subtle spices, and not heavy ones like they are used in Parsi food today. For me, it's always the ingredients that are most important. I'm working with one ingredient [star ingredient] per dish. For instance, I'm working with carrots, cauliflower or aubergine. We start off with a Roasted Carrots course. I'm doing this with yoghurt infused with tamarind for additional sourness. A duqqa of almond, pistachio and coriander is going to be flavouring the carrots."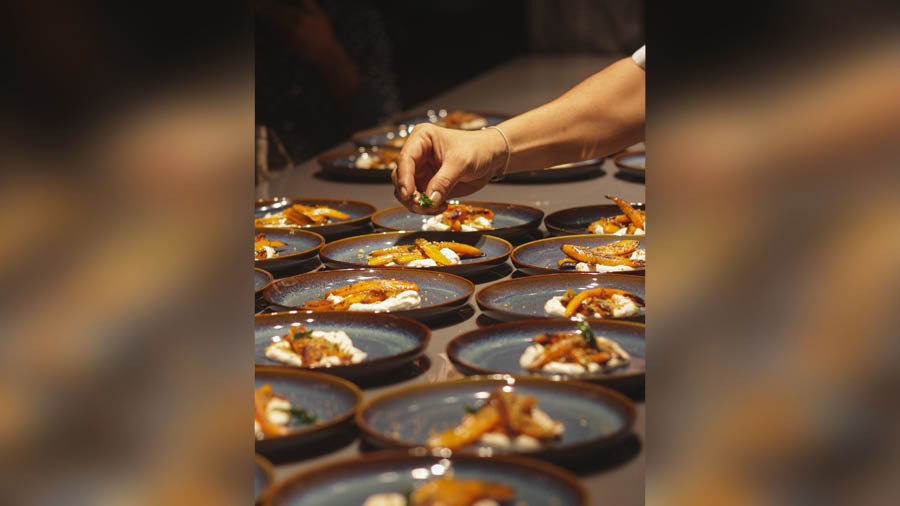 The Roasted Carrots course
Ashwin Abraham
Evolution of ingredients
"Lemon would have been used in a preserved form back then, while today, we use it more in a fresh form, simply because it's easily available. Also, being up in a hilly region, there was a lot of usage of ingredients like beans that could be stored longer," informed the chef, while recalling how the nature of ingredients changed due to the geographical shift. He added, "Today, we are used to getting everything ready and fresh. So, I'm using high-altitude beans that are sourced from there [the Levant] and working with berries that come from Iran."
Paying attention to technique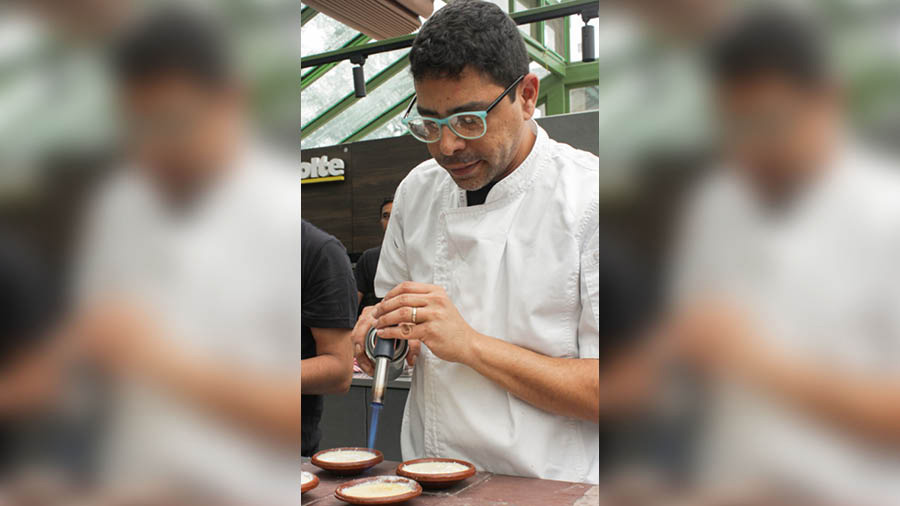 Chef Viraf enjoys cooking with fire
Ashwin Abraham
Chef Viraf is known for cooking techniques throughout his journey in various kitchens. What would be the star technique this time? "In Kolkata, I am going to be using a wood-fired oven for most of the courses. In places that I don't have it, I tend to cook directly over a fire."
Chef's special
Chef Viraf specially recommends his Eggplant dish. He said, "My favourite is the aubergine/eggplant dish that I make with seafood. The idea is to roast the aubergine and serve it with puffed black rice and shrimp."
This pop-up is open to the general public.
Pop-up dates
February 3 — 8.30pm to 10.30pm
February 4 — 1.30pm to 3.30pm
February 5 — 1.30 pm to 3.30pm
Address: The Salt House, 40, Shakespeare Sarani, 6th floor, Kolkata - 700017
To reserve a spot: Call 8047092574
Price per person: Rs 2,800 all inclusive