Good things come to those who wait in line. 
Kolkata Time runs on a different kind of clock. This is not to say that the sequence of days, hours, minutes and seconds don't add up here. But, quite often, and in an equally metronomic fashion, time has this unreal ability to be suspended in motion. The ambling trams and yellow taxis, completely oblivious to the rumbles of the turbo-charged engines passing by. The veteran buildings of New Market and Esplanade, still basking in their golden-domed glory while residential skyscrapers and hotels slowly outgrow them. Deadlines and promised deliveries reneged on because one forgot to account for the festival break. I know these are clichés that many love to snigger about, but over the last few years, if there's one thing I've learned from this way of life, it's that it is more sustainable. 
Of course Kolkatans have places to be, things to do and goals to accomplish, but the point is to do it all on their own terms and in their own time: a sense of urgency that is manageable and in sync with their inner tick-tock. And if, at times, even time must take a break, then so be it. I think this is what makes the people of this city a happier lot than most. But, more than anything else, it gives them an ability to be tremendously patient. 
A story of patience
This patience has many faces. Kolkatans almost always re-elect incumbent parties, pursue lengthy postgraduate educational degrees, haggle with taxi drivers and maachhwalas as though there is no home to get back to — I can go on and on with examples. But I think their patience is best displayed when the end goal is something edible.
This was the other daab that dropped that day, when I was walking back munching on my 'medium-jhaal' muri. There were so many people in line – yet, none of them complained or reconsidered staying on. They all patiently waited, confident in the knowledge that, at the end of this line, awaiting them was the most delicious, lip-smacking payoff.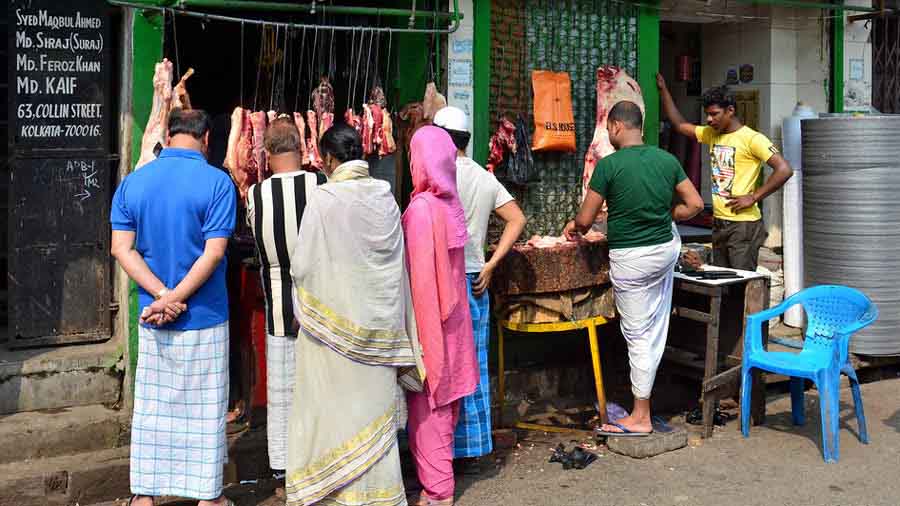 Kolkatans don't just stand in line for their street food or fast food. On Sunday mornings, every butcher's shop has rows of smiling customers greedily daydreaming about the glorious 'bhaat ghoom' ahead
Manfred Sommer/Flickr
And Kolkatans don't just stand in line for their street food or fast food. On Sunday mornings, every butcher's shop has rows of smiling customers greedily daydreaming about the glorious bhaat ghoom ahead. On Park Street, especially during Christmas and Durga Pujo, one often gets confused as to where the line for Peter Cat ends and the one for Flurys, Mocambo or BarBQ even begins. Even the kids that accompany their moms through the endless march and ordeal that is pandal-hopping know that there is a Kobiraji and Mughlai Paratha at the end of this tunnel.
There's always time to eat
In life, one cannot take much for granted, but one can always bet on Kolkatans' ability to break time for good eating. This is why every day at lunch, every evening when office wraps up, and at every festival and celebration that comes around the year, Kolkatans, like clockwork, start lining up. Over the years, I, too, have fallen in love with this ritual. So this is a list of my favourite eateries where I would gladly stand in line and wait.
Sufia, opposite Nakhoda Masjid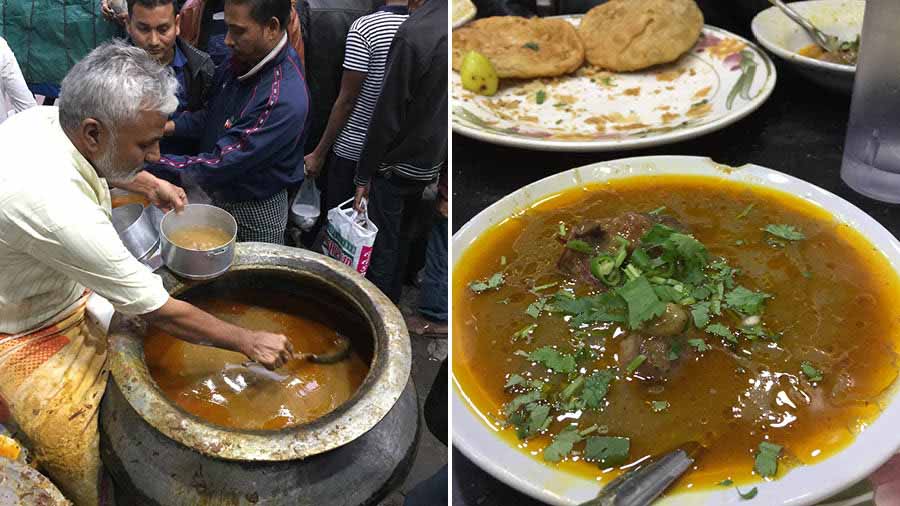 The Magaz Haleem during Ramzan and the Nihari during winter at Sufia are worth the wait
Auroni Mookerjee
Every year, I make the bi-annual pilgrimage to the Nakhoda Masjid area to eat at this legendary eatery: during Ramzan for its Magaz Haleem, and in the winter months for its Nihari. Both preparations are so popular that Sufia runs out of them within hours. It doesn't help that these items are served during hours that aren't typically meal times (4pm and 5am respectively). Nonetheless, many stand in line to get one of the quickly rotating seats. But hundreds stand in line to either pick up pre-ordered parcels or to fill up a tiffin dabba that they've brought from home. Trust me when I say – especially keeping their pricing in mind – that it's definitely worth the wait.
The roll counter at Tandoor Park, Dhakuria
Yes, there are better known Kati Rolls in town. And Tandoor Park has many more legendary dishes, my favourite being the Tandoori Bhetki, butterflied like a ninja and brimming with more maachh stuffing. But the Tandoor Park roll hit the spot for me like no other. To begin with, they never run out of mutton kebabs. Their parathas are the perfect ratio of lachha to crispy to salty-and-sweet. And, no matter how long the line is, the chefs maintain a steady rhythm and rotation, so the wait is never long.
Adam's Kabab Shop, Phears Lane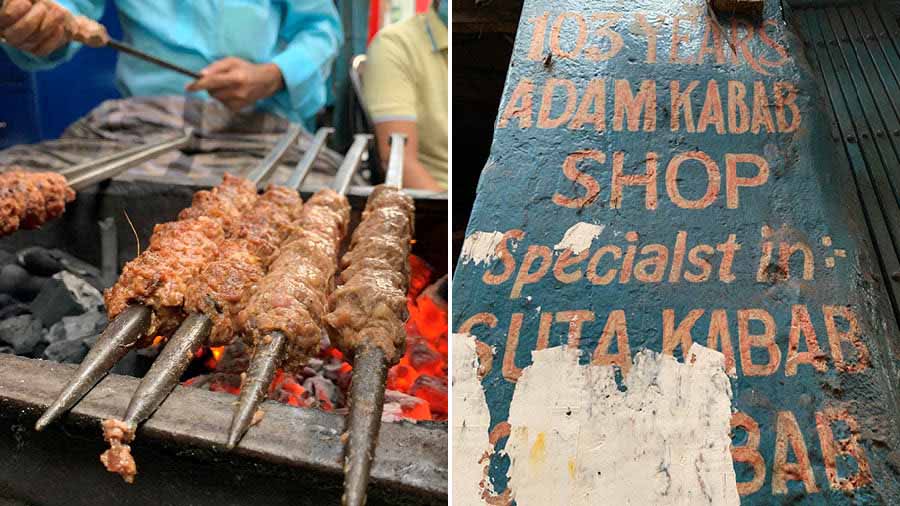 The Suta Kebab at Adam's Kabab Shop melts in the mouth
Auroni Mookerjee
Standing in line at this minuscule kebab stall, tucked away inside the tiniest bylane off Nakhoda Masjid, is quite often a fight for your life and limbs. You're constantly walking the tightrope of crashing into a passing vehicle or person, sometimes even straight into the fire if you're an avid Instagrammer. But I've never eaten a kebab that melts in your mouth the way their Suta Kebab does. Not even in Lucknow.
Borishaler Rannaghor, Daronda Village, near Bolpur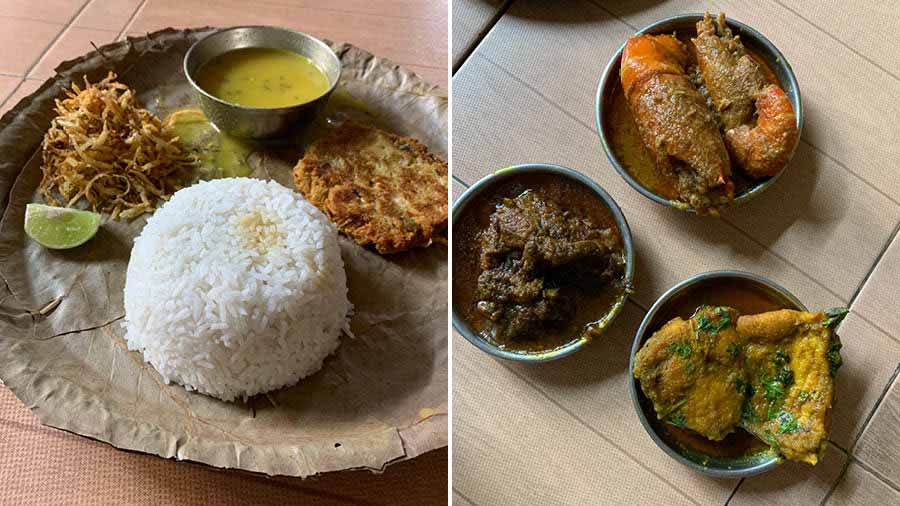 The fare at Borishaler Rannaghor justifies the wait, which can often be for an hour
Auroni Mookerjee
Yes, Banalakshmi next door makes better ghee and kasundi. But when it comes to the ranna, this smaller neighbour is leagues ahead, and probably my favourite bhaat-er hotel to visit. It's almost always the first meal I eat whenever I travel to our Sienna workshop, and here, the wait can sometimes last an hour. And while they do cover all the greatest hits really well – think Shukto, Dhoka'r Dalna, Malai Chingri – my favourites here are the Katla Maachher Kalia, using only the most prime peti cuts, and the Kochi Pnatha'r Mangsho, impeccably kosha'd while maintaining a good balance of makha-makha to jhol – perfect to mix into shaada bhaat.
Dibakar Da's Catering
Come winter and there's another kind of line that most Kolkatans stand in – the one at the wedding feast. Now, as a chef, I'm not a fan of catered cooking. I know all the cheats and trade secrets of bulk cooking and, most often, I find that there is a lack of nuance that comes about with all the mixing of prep and premade gravies. But that's never the case with Dibakar Da's ranna. I admire a caterer who is suspicious of laying out a buffet as it'll ruin the food. If he has his way, you'll always be served course by course, so that everything is in its place and is also served to optimum freshness. Add to that the fact that the Chhana'r Kofta his team prepares are softer than most rosogollas I've eaten, and his kochuri and mangsho diye dal are the best I've had. Also, it's normal for each one of his diners to ask for a second or a third pabda. I first ate this caterer's ranna at my colleague Avinandan's home. Now, I make sure I gatecrash every para celebration he's invited to.
Gita Mashi's Breakfast Stall at Gariahat Bajaar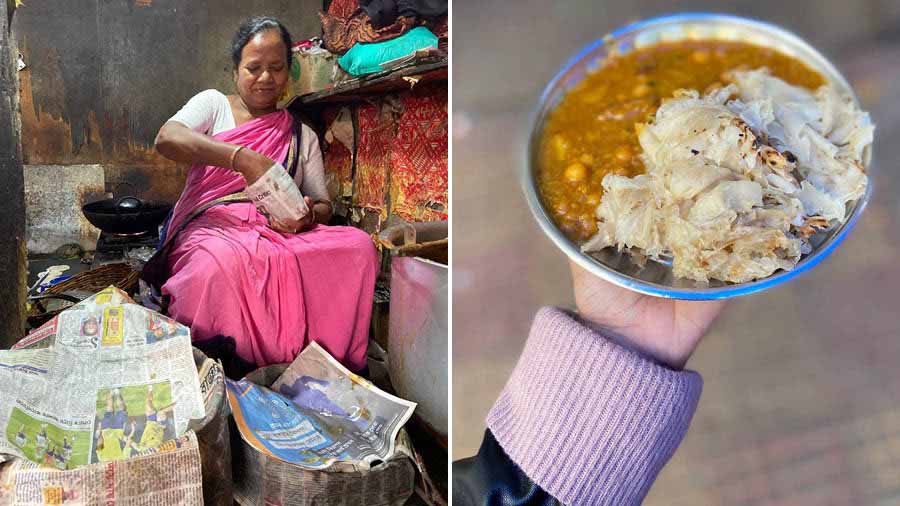 Petai Porota with Ghugni at Gariahat Bajaar witnesses flocks of customers
Auroni Mookerjee
Last, but not least, the Sienna team's favourite post-bajaar breakfast ritual is to eat Kochuri-Chhola'r Dal and Ghugni-Petai Porota at Gita Mashi's stall. Located just next to the maachh section Gariahat Bajaar, Gita Mashi runs the busiest stall in the market, with dozens of local vendors flocking there for their morning fill. She also makes a mean chhaat diye ghugni on special order.
A copywriter by training, a Delhi-ite at heart and a probashi Bengali by blood, Auroni Mookerjee used to make ads for a living. A few years ago, he gave up his copywriter's job to cook and feed people full-time, and moved to the deliciously joyous city of Kolkata. Now, he is executive chef and head of the kitchen family at the Sienna Store & Cafe.