Manish Mehrotra, the legendary chef best known for transforming Indian food, was in Kolkata for 'Masters of Marriott Bonvoy X Culinary Culture presents Indian Accent'. The curated meals on September 24-25 consisted of 14 courses featuring signature Indian Accent dishes from the acclaimed restaurant in Delhi and New York. On the eve of the event, My Kolkata caught up with the champion chef on the 23rd floor of the JW Marriott Kolkata, for a breezy tête-à-tête…
My Kolkata: What was the first thing you ate when you arrived in Kolkata? What else is on your list?
Manish Mehrotra: The first thing I ate when I arrived in Kolkata was a meal at The Blue Poppy Thakali. It was very good. We had different types of dim sum and momos. The dish I liked the most was the Chilli Pork. I'm looking forward to trying the Kolkata phuchka, even though I'm from Bihar and most of Kolkata's phuchka wallahs are from Bihar! Also, Bengali food, of course. I want to come to Kolkata with my daughter only to eat, someday!
The Cheeni Malai Toast at your restaurant Comorin in Gurgaon is one of the best-sellers. Tell us the story of how it is inspired by the streets of Kolkata… 
I was in Kolkata for an event a few years ago and my host took me to the shops behind the Calcutta Stock Exchange. I've grown up eating malai toast - we all have - but this was the first time I was seeing it done in a 'professional way', one that was not a home setting.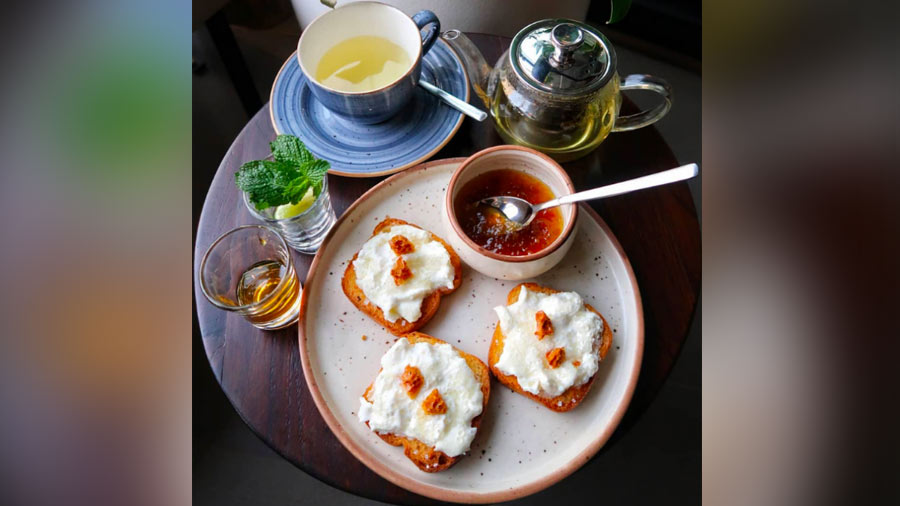 Comorin's Cheeni Malai Toast is a modern take on a classic childhood favourite
Comorin/Facebook
When I was planning Comorin's menu, the idea was to highlight innovation. Malai Toast has not been invented by the Mughals — it has been invented by a commoner or a housewife. And Comorin's menu aims at highlighting that. We did our own take on the Cheeni Malai Toast — a nice brioche bread with malai garnish and honeycomb. It has all those fancy things. It makes people so nostalgic. They say 'Oh, my nani used to make this and my mother used to feed me this as well'. We were the first to put it on a restaurant and it is one the highest-selling items that's inspired by the streets of Kolkata! We end up selling around 35-40 portions a day. 
You posted the drawings of the dishes you had prepared for the Kolkata pop-up. What is the creative process behind the dishes at your restaurants?
'Calcutta' is so rich in culture, art, music and literature — I got inspired. We usually plan dishes by sketching them out. This time I thought we could sketch them in colour, keeping with the spirit of Kolkata. We shared them on social media so everyone could see the sketches and it could serve as a reminder of their childhood. 
Name the best-selling dishes at your restaurants Indian Accent and Comorin. 
There are a lot of best-selling items! People come to Indian Accent mostly for the tasting menu, which changes every six weeks or so. At Comorin, the Baby Back Ribs with Chilli Old Monk Glaze is one of the best sellers along with the Cheeni Malai Toast, Honeycomb.
What are some food gems you have tried and loved from different corners of India? 
There are so many but to name a few, the baby naan puris from Uttar Pradesh along with khatta-meetha methi aloo, the chaat corners that are unique to north Delhi, a good sadhya meal and the amazing Chettinad dishes from the South. 
Which country, according to you, is the most experimental with food?
I think people are experimental everywhere. They want to try new things and even India has seen this trend in the last 20 years. The public that was not that adventurous earlier is now ready to experiment because they are becoming more knowledgeable. People are travelling more and they have access to social media, so they are more curious. I couldn't choose one place but if I really had to I'd say, New York — it is one city where you can get good food at $5 or $5,000.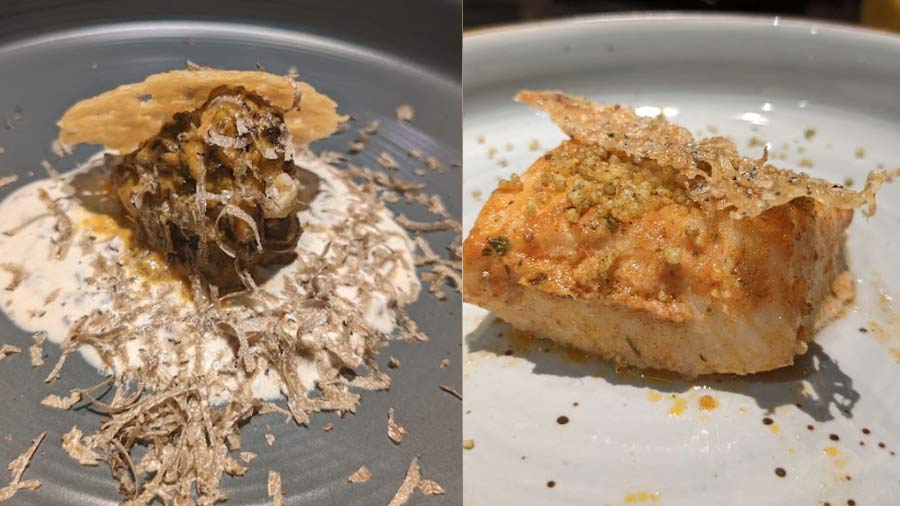 Crowd favourites from the Indian Accent pop-up menu: Kashmiri Morel Musallam with Parmesan papad; (right) Baked Cod with Amritsari butter masala, mint boondi and papad
Karo Christine Kumar
What is your favourite spice mix? 
Chaat masala or Kolhapuri masala. 
As someone who has shaped the career of so many chefs, what is your advice to an aspiring chef?
Hard work is very, very important. Especially in the kitchen where physical hard work is a requirement. You have to be mentally prepared for it. It's really a tough environment. It's hot, it's humid and it's noisy. There's hustle and bustle. So, you have to get used to it. It should not intimidate you. Instead, try to learn from the whole experience and you'll be at the top of your game.