The quiet purr of a Mercedes. 
A rattling of chairs being stacked against each other.
Circles of grinning friends.
"Bhaiya… ek chai aur malai toast, please!"
It's a Sunday morning at 'share market'.
As you snake through the bylanes of Dalhousie, having driven past localities that are effervescent with a post-colonial hangover, you'll arrive at The Calcutta Stock Exchange, often called 'share market'. On Sunday mornings, the bustle is at the opposite end of the facade. 
What's at the heart of the bustle? Shankar Tea Stall and Kona Dukaan. While the latter has been serving a crispy and creamy, malai-topped toast, the other stall is famed for the bhnar'er cha.
Cornershop chronicles: Kona Dukan
Kona Dukan was set up 77 years ago. It's presently run by brothers Mukund and Guddu Anand Singh, the fourth-generation owners of the street stall. "We took over the business and made a number of changes to it. The stall was very famous before, but no one knew what it was called — because it had no name! We named it Kona Dukan and it has been a craze ever since," says Mukund.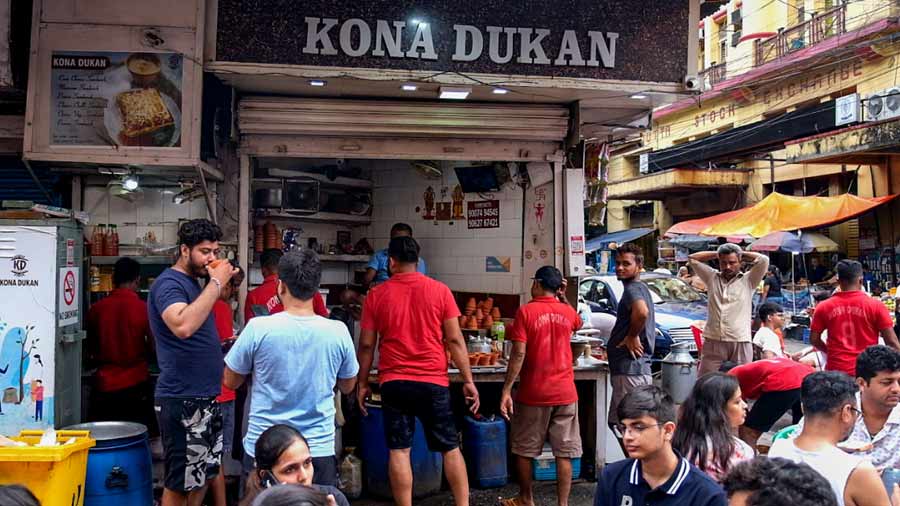 The Sunday bustle at Kona Dukan
Photos: Ritagnik Bhattacharya
Mukund's great-grandfather came to Kolkata from the town of Gaya in Bihar and set up Kona Dukan in 1945. The corner shop ran for six decades without a name and yet garnered massive goodwill among Kolkatans. Mukund entered the business in 2017 and named it 'Kona Dukan'.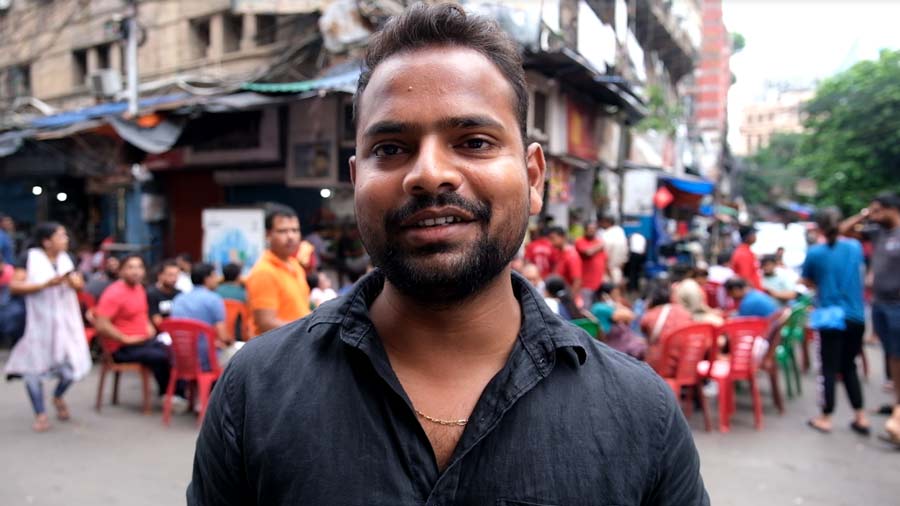 Mukund Singh, the fourth-generation owner of Kona Dukan
"I know that we need to market the business in order for it to grow," says Mukund. He introduced a new menu that features grilled sandwiches (mushroom, corn, cheese, masala potato), club kochuri, samosa and chilli cheese toast. "While I was making changes to our business, I visited tea shops from all over Kolkata so I could understand what was available and what people wanted," reveals Mukund.
The original items — chai and malai toast — continue to reign supreme, attracting people from all over the city.
Everyone's cup of tea: Shankar's tea and toast
Shankar Tea Stall previously stood outside Writers' Building, where it was set up by Shiv Shankar Jana in 1995. It moved to the Calcutta Stock Exchange in 2019. "When we came to share market, we introduced new items to our menu so we could expand our customer base," says Hari Jana, one of the owners, who runs day-to-day operations.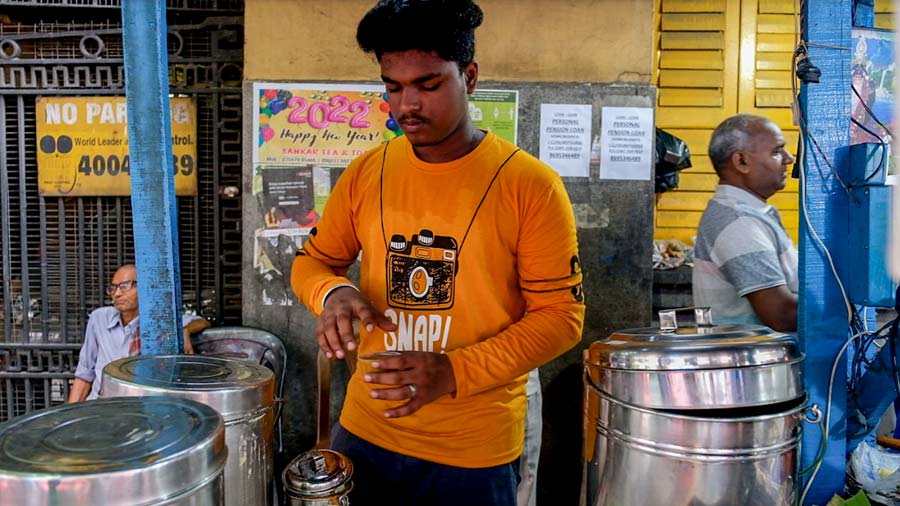 A staff member mixing the chai at Shankar Tea Stall
Apart from the chai and malai toast, Shankar's is famed for its thanda dosa — a dosa served cold with a unique filling. The stall also serves sandwiches, club kachoris and vadas. The sambar vada is a must-try.
Shankar serves lemon, kesari and masala chai with an array of toasts. There's the OG malai toast, butter toast, cheeni toast and namak toast.
Both shops are open every day from 6am to 8.30pm.