Doma Wang reaches for the lid of the bamboo steamer on the table and looks pleased as a cloud of mist dissipates to reveal 10 perfectly steamed momos.
Guests at her Tibetan restaurant, The Blue Poppy Thakali, tucked away on the first floor of a building on Middleton Row in Kolkata, steal a glance at this bespectacled boss lady in a blue dress, going about her business, often stopping by tables to say hello.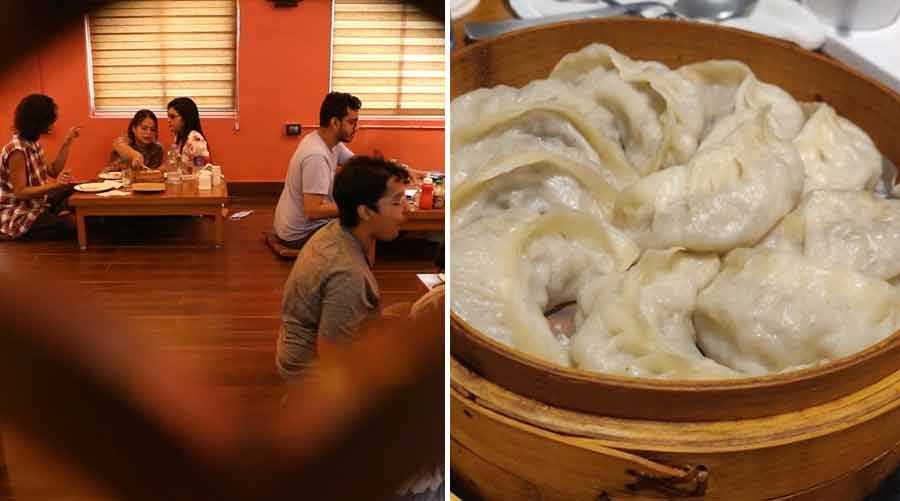 The interiors of The Blue Poppy Thakali and (right) mutton momos
Arijit Sen; Karo Christine Kumar
She is a familiar face, because Doma di, as the city respectfully calls her, has never shied from the public eye. She likes to be the hub of things, enjoys being the social butterfly (both virtually and offline), rarely misses participating in a good cooking or talk show and she can do all of this because she is good at her job — which is cooking.
The makings of a chef
In the late 90s, Doma was working for a Japanese firm in Kolkata. A transfer to Gaya was impending and the single mother of two was hesitant about bringing up her first girl child in Bihar. "I was looking for something to do, which would let me stay at home and earn a livelihood. I have always been a proud woman and earned my own money and I didn't want to ask the father of my children," she says. 
Thus started her journey in 1992, making and self-delivering momos from the humble kitchen of her Salt Lake home, at a time when the concept of home chefs was little-known.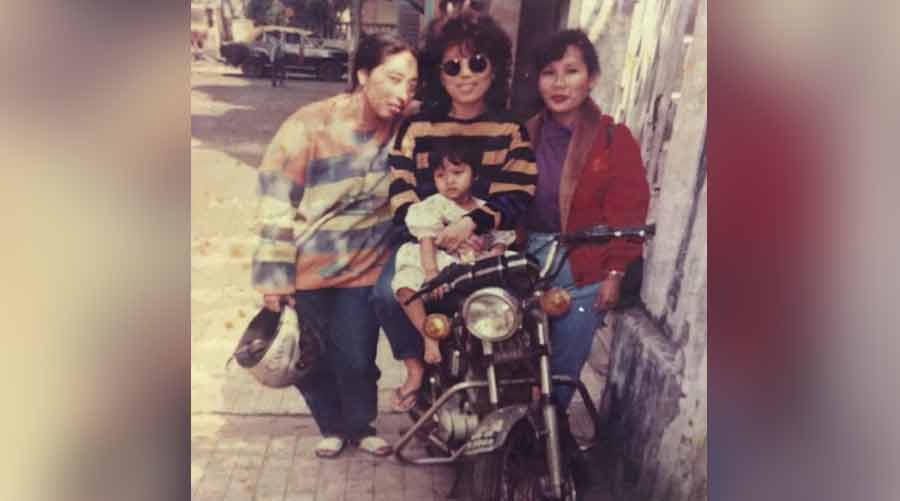 In the early 90s, Doma (left) would hop on to her Kinetic Honda to deliver momos made in her humble Salt Lake kitchen
Courtesy: Doma Wang
"I made tiny posters and put them around my block in Salt Lake and started taking orders on the phone. Those days, the poultry men in the bazaar would not mince the keema, so one had to bring home the chicken, debone it and mince it," she says, without mincing her words. Then she would make momos with the help of the kitchen help, Somu, who now mans the Lake Town takeaway outlet of The Blue Poppy. She would hop on to her Kinetic Honda, and he on his cycle, and deliver the food. 
The title of 'Momo Queen of Kolkata'
"I really don't know how I came to be known as the Momo Queen of Kolkata but I know I'm a Momo Nazi because if the momo's not good, I have plenty to say," she laughs, her fingers patting her hair that is packed as neatly into a bun as the firm, patterned folds of a momo. 
Doma ranking #19 on Culinary Culture's list of #India'sTop30Chefs 2022 — with no formal training in food and hospitality, and alongside names like Manish Mehrotra, Regi Mathew and Ritu Dalmia — makes it clear that success ultimately boils down to the basics, which is experience and instinct. "I have won many awards in my life but this one was special," she says.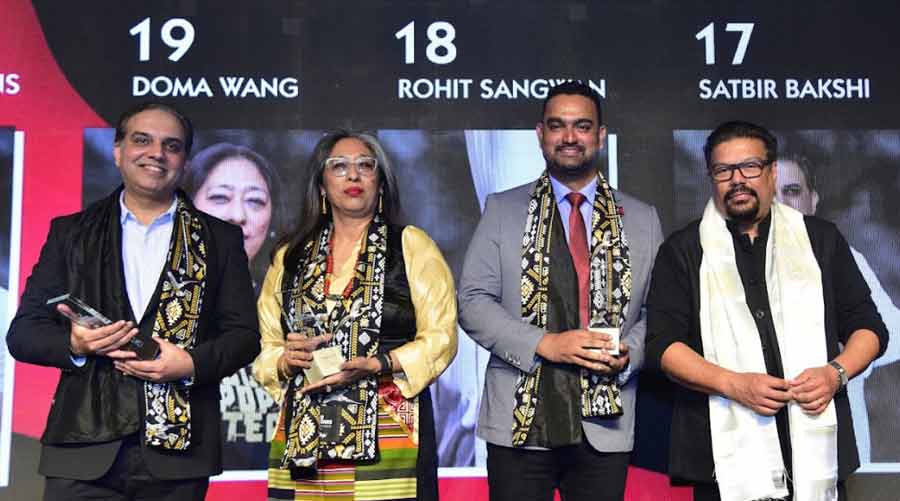 Doma receives the Food Superstars award in Delhi on March 19, seen with (from left) The Oberoi Group's corporate chef Satbir Bakshi, Goan chef Avinash Martins and Culinary Culture's Vir Sanghvi
Culinary Culture
In 2003, the husband of a friend, the then tourism minister of Sikkim, invited her to run the canteen at Sikkim House on Middleton Row. She accepted, little knowing what it would entail. "I thought the room guests would be out all day, and probably order breakfast and perhaps some thukpa and momos for lunch or dinner. 
She landed up with Somu, and two of the previous canteen staff pleaded with her to keep them on (they, too, are still with her 20 years later). "I said: 'Okay, join but I can't pay you much.' So, the five of us, including my daughter Sachiko, who would join after school, would run the show."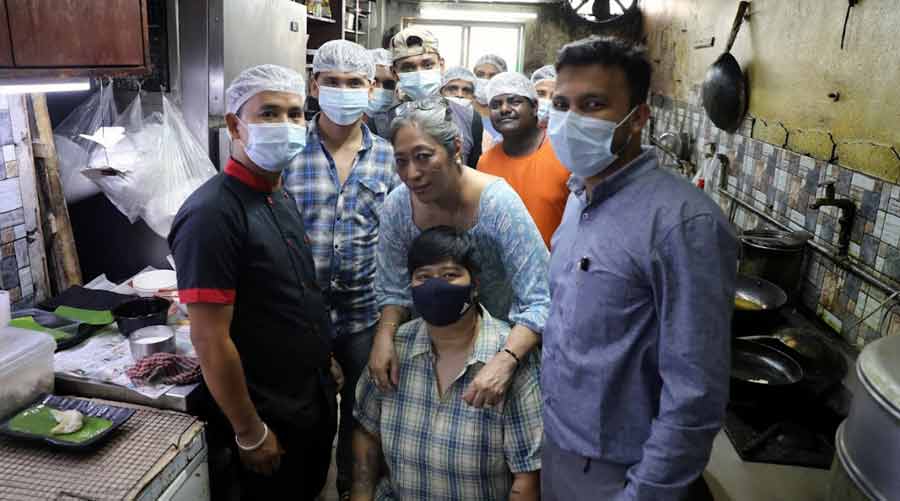 Doma and her daughter Sachiko (seated) with their team in The Blue Poppy Thakali kitchen
Arijit Sen
In no time, visitors extended beyond the room guests to office-goers from the commercial Camac Street-Russell Street-Park Street area — a long, meandering queue proof of a straight road to success. 
The rest is history. 
The winds of change
In 2019, when the government of Sikkim changed hands from the SDF to the SKM party, the lease to the restaurants was lost. By then, Doma also operated an outlet of The Blue Poppy Thakali in Salt Lake. 
"I sort of anticipated this. My daughter Sachiko and I found this space in the building next to Sikkim House and by the time the lease wasn't renewed, we were ready here," she recalls, deeming it foresight — a core competency for anyone who has had to make it on their own. 
During the 2021 pandemic wave, Sachiko, who recently featured in a video with Bong Eats, and Sachiko's friend Manisha, launched Boma Asian Bakery on the same building premises.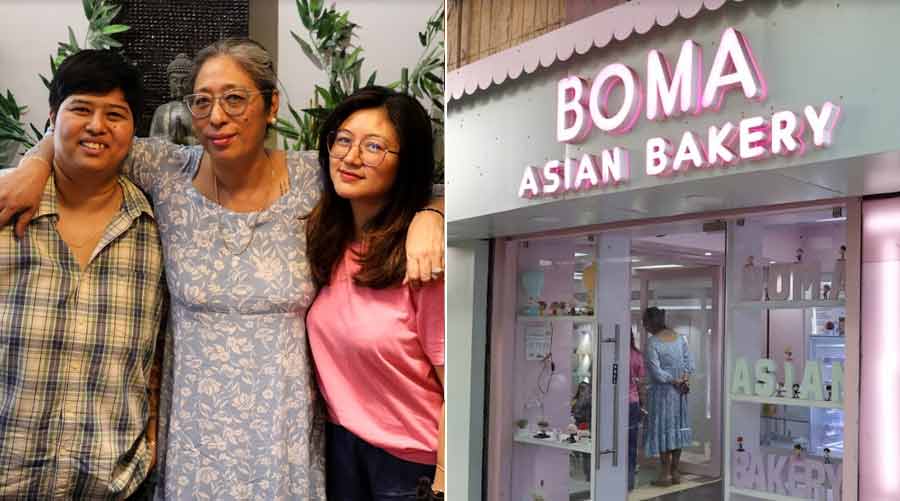 Boss ladies (left to right) Sachiko, Doma and Manisha; the exterior of Boma Asian Bakery
Arijit Sen
Leisure time during the lockdown meant home-baking, and the brilliance of a Japanese cheesecake made by Doma's younger daughter, Sonam, and Manisha, fuelled by the rise of Kpop culture in Kolkata, led to the opening of this bakery-cafe. "Apart from the range of Japanese cheesecakes, choux and tea cakes available off the shelf, we've recently introduced hot pots, corn dogs and BBQ dates on request," says Sachiko. 
There is no doubt that the talented and reclusive eldest daughter, Sachiko, now manages both the kitchens in the shadows of her mother, who continues to be the face. "The onus is on my children to take it forward," says Doma.
Kolkata and beyond
"I would not be where I am if the people of Kolkata had not embraced me. I have spent most of my life in this city and my friends call me more Bengali than any Bangali. So naturally, Kolkata is home to me," says the 55-year-old, who grew up in the quaint hill station of Kalimpong in north Bengal.
The Wang family plans to take The Blue Poppy Thakali beyond the shores of Kolkata and Siliguri to Tier 1 Indian cities and even abroad. With Doma's younger daughter, Sonam, set to move to the USA, the time is ripe to seek investors. "I will join Sonam and hopefully do some pop-ups in the US. We are exploring opportunities and are open to investors in other parts of the world," signs off the Momo Queen.