The chef who transformed Indian food. 
The chef whose restaurant Indian Accent is one of 'Asia's 50 Best Restaurants'.
The chef who is coming to Kolkata.
Two weeks before Masters of Marriott Bonvoy X Culinary Culture brings Indian Accent to Kolkata, we chat with Manish Mehrotra on the changing mindset of the industry, Kolkata food favourites (yes, biryani tops his list!), and what to expect at the pop-up at JW Marriott.
Hotels and star chefs are now collaborating for pop-ups. Do you think the F&B industry has evolved?
Definitely. Over the years, I have been refused by many hotels that said, 'No, we will not allow Manish Mehrotra to cook in our hotels'. Guests wanted to have Indian Accent food at their functions, and hotels used to be very cautious and never allowed it. Fortunately, the industry has moved on and the mindset has changed. Now, hotels are telling me to do a pop-up! Chefs are meeting each other these days and wanting to learn from each other. I consider these pop-ups to be a learning exchange — people who are going with me are going to learn something, and vice-versa. The old school of thought that recipes are what makes a chef is a thing of the past. One doesn't become a chef by recipes. If that was the case, I have 1,200 cookbooks with me, and I would be the best chef in the world. 
Indian Accent in Delhi is ranked as the #22 Restaurant in Asia by Asia's 50 Best Restaurants
What was the response to the Indian Accent pop-up at JW Marriott, Pune, in May?
The three-day event at the hotel's rooftop lounge Paasha was super successful; we were sold out. 
What are some signature dishes we can expect at the Indian Accent pop-up in JW Marriott Kolkata?
We will be bringing some Indian Accent signature dishes to Kolkata like our Pork Ribs, Daulat Ki Chaat, Blue Cheese Naan and our famous kulchas, as well as a few things specially curated for the pop-up in Kolkata. There is a new dish — Fresh Truffle Soft Serve with Pista Chikki - which we are doing for the first time and will later introduce it to the restaurant.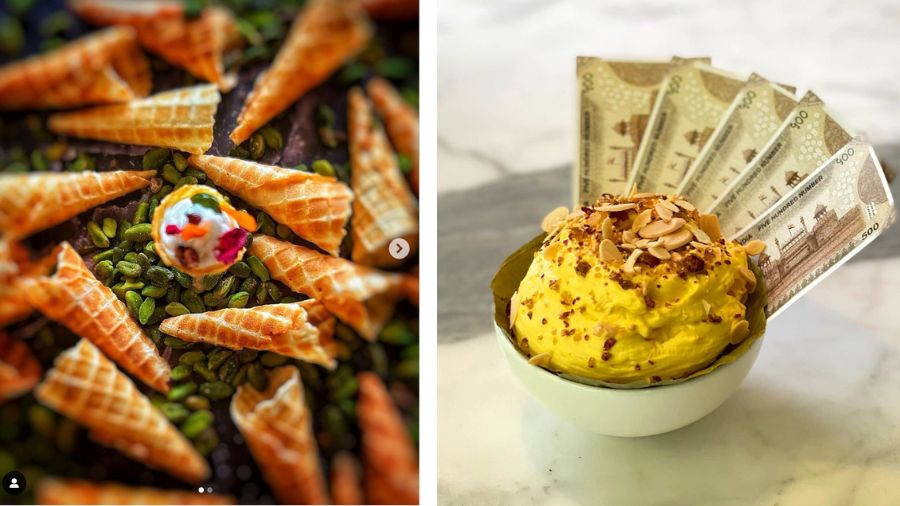 L-R: The Fresh truffle soft serve, pista chikki will be featured at the upcoming pop-up in Kolkata, Indian Accent's Daulat Ki Chaat
The pop-up is a week before Durga Puja… 
I'm so excited! This is the first time I will be in Kolkata this close to the Durga Puja season. I grew up in Patna and there, too, Durga Puja is celebrated in a big way with lots of fun and excitement. 
What do you think of Kolkata as a city? 
Kolkata is a big city with small-city vibes, and a lot like Patna, where I was born and brought up. There is a sense of belonging or apnapan. What is also special about Kolkata is that it thrives on nostalgia and culture. People value culture and heritage, and that is something not so evident in other big cities. 
Which are your favourite Bengali desserts?
I love everything! Back in Bihar, I grew up eating kachagolla, sandesh and chhena ka mithai and my cousin still runs a mithai shop there. 
What Kolkata food are you and the Indian Accent team looking forward to trying?
I want my team to taste really good Bengali and Kolkata food, and especially Kolkata biryani. It is one of my favourite biryanis. It's not because of mutton or chicken but because of the potato. I wrote this a while ago on social media and got trolled when I said that Kolkata biryani is my favourite (laughs). People wrote back praising Hyderabadi biryani but this is my personal opinion. If I like something, I like something! So, I would love my team to try biryani and rolls in Kolkata. There are some places in Delhi doing rolls but the moment chicken tikka and hari chutney ends up in the roll, it's not correct.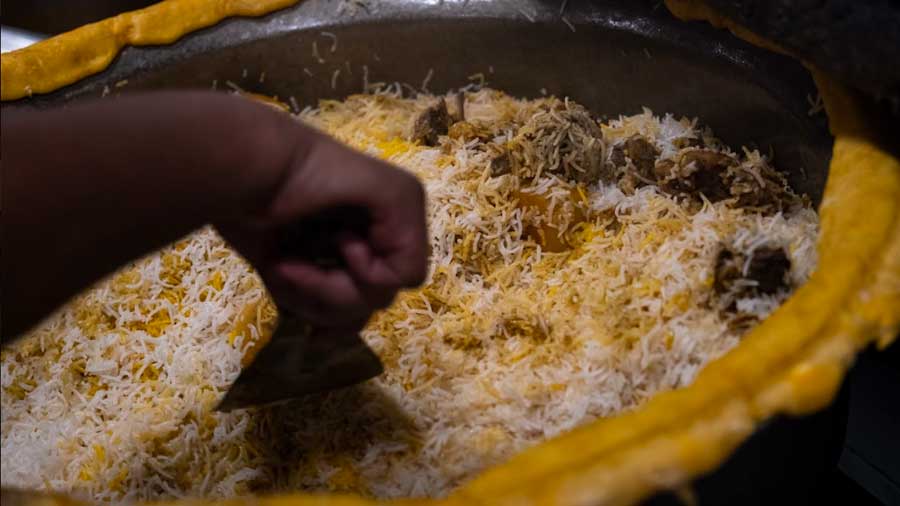 Kolkata biryani
Ritagnik Bhattacharya
What's the update on the new Indian Accent restaurant expected to open in Mumbai?
Things are going well. It's going to be up very soon, we're hoping to open it by end-2022. 
You are closely associated with Culinary Culture. What do you think of the work they're doing?
Culinary Culture is doing a fantastic job, especially with their initiative Food Superstars, a platform that recognises and awards talented chefs in the industry. There was nobody doing it in India and this was the one thing that was missing. Chefs like me or Gaggan Anand… we have done whatever we have done. Now it's time for the future generation and they need recognition. Culinary Culture is recognising chefs like Hussain Shahzad (Bombay Canteen), Himanshu Saini (Manish's protege, who is now with Tred Ind Studio, the only Michelin-starred Indian restaurant in the UAE), Prateek Sadhu (formerly Taj, Leela and Masque) and Saurabh Udinia (Revolver, Singapore). They are the future. 
Date: September 24 (dinner) and September 25 (lunch and dinner).
Venue: JW Marriott, Kolkata