If you're planning on dining out this Durga Puja, make sure you stop by some renowned Kolkata eateries that have delectable and special festive spreads on offer. You'll not only spot the classic kosha mangsho, bhekti paturi and malaikari, but also a few contemporary wonders such as the Anglo-Indian-style smoked hilsa. To end your meal on a sweeter note, there will be the regular mishti doi and rabri, along with the unconventional atar payesh, kalojam and komola sandesh.
My Kolkata hopped around town and did all the necessary research (and tasting!) to recommend what you should order from these popular Bengali eateries on each of the five days of the Puja. Dig in…
Celebrating Durgotsab @ Kewpie's on Sashthi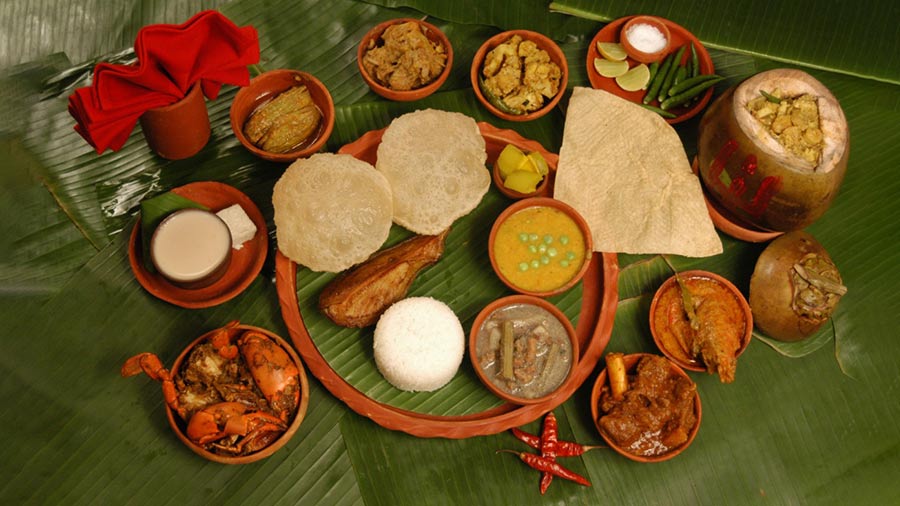 Rakhi Purnima Dasgupta's festive menus always have a home-style touch, which makes them all the more special. Kickstart the season's festivities with four types of thalas — 'Pujor', 'Sharodiya Amish', 'Mahabhoj Niramish' and 'Mahabhoj Amish'. The thalas pack in main course items of vegetarian, meat or fish, with Gobindobhog rice, pulao, bhaja, daal and more. 
If you're planning to order a la carte, try the Dab Jhinge, Palong Channar Kofta, the Smoked Hilsa or the Elish Paturi. "The Anglo-Indian dish of Smoked Hilsa is one of the dishes Kewpie's is famous for. It takes special skill and knowledge to debone the fish," shares Dasgupta. Or taste the Phulkopi Sarso, also known as 'Mona Ma' named after one of Dasgupta's late grand aunts. "Another recipe that dates back to the time of my great grandmother is the Chitol Petir Jhol, which imbibes flavours from opar Bangla," adds the veteran chef and restaurateur.  
Where: 2 Elgin Lane (near Netaji Bhawan) 
Price: The thalas start at Rs 895
Dates: Oct 1-5. Lunch: 12.30pm-2.30pm and 2.45pm-4.30pm; Dinner - 7.30pm -10.30pm
Reservation: Call +913324861600 or +919831677610 to book a table
Saptami @ 6 Ballygunge Place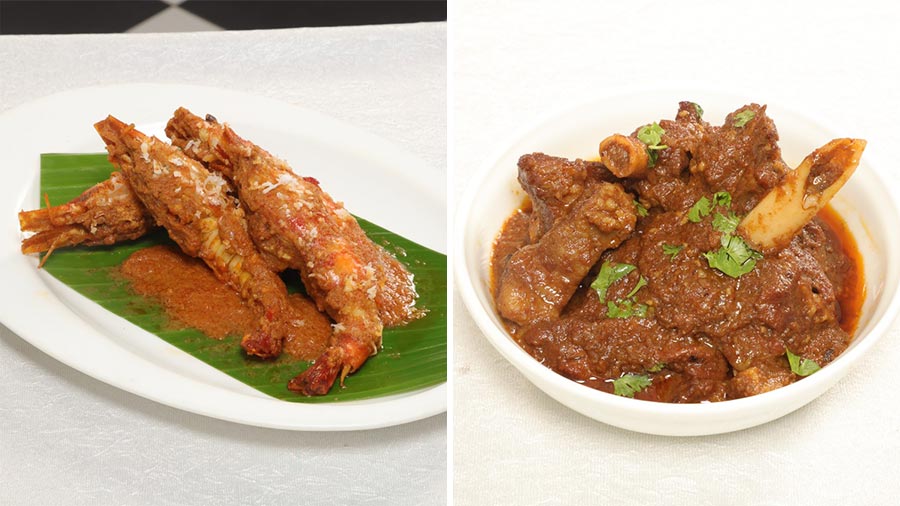 Chingri Malaikari and Kosha Mangsho from 6 Ballygunge Place
A hearty meal at 6 Ballygunge Place will only liven up your Saptami. The homely hub has been catering to Kolkata's fine-dining tastes since 2003 and this festive season, chef Sushanta Sengupta has whipped up delectable special menus. The Salt Lake, Rajarhat, Chowringhee and Ballygunge outlets will see a 'Pujar Special Buffet', while the Jodhpur Park, Topsia and Sector V outlets are offering 'Pujar Special Thalis'. 
"The buffet spotlights unexplored aspects of Bengali cuisine," shares Sengupta. There's Dhakai Pora Murgi, Dum Handi Mangsho and Murshidabadi Grilled Bhekti. 
The thali keeps it traditional with Narkel Kishmish diye Cholar Dal, Begun Bhaja, Bhetki Paturi and Bhapa Hilsa. 
Where: All 6 Ballygunge Place outlets 
Price: The buffet starts at Rs 1,000 (vegetarian); the thali at Rs 650. Taxes additional
Dates: Oct 1-5. Lunch (noon-3.30pm) and dinner (6.30-11pm) 
Reservation: Call the restaurant in advance to book a table
Ashtami's 'Aa-Shamudro-Himalaya'r Bhromon' @ Aaheli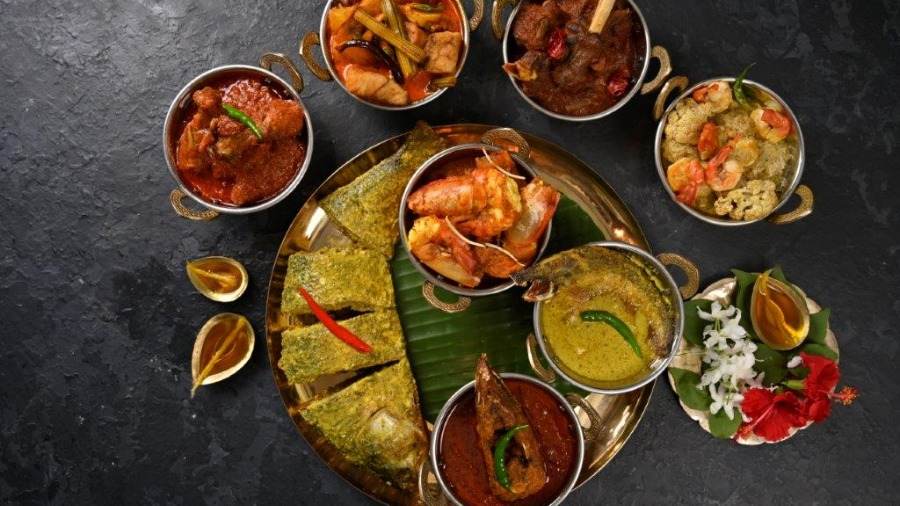 On Ashtami, head straight to Aaheli for pet pujo. There's a Puja-special a-la-carte menu, as well as thalis with "items from every nook and corner of Bengal". Stellar picks include the Bhetki Machher Lal Shukto, Murgir Rosholla, Bardhoman Er Mangsher Gorgora for non-vegetarians and the Phulkopir Rezala, Chanar Pure Badshahi Begun for the vegetarians. To cater to your sweet tooth, there's Jonai-Er Monohora and the Sita Bhog Mihi Danar Jugol Bondi. 
You can also enjoy the meal in the comfort of your home with Aaheli's home-delivery service available for Bhuri Bhoj Thali and Mohatshob Thali. 
Where: Aaheli outlets at The Peerless Inn, Kolkata; Axis Mall, Sarat Bose Road. The buffet is only available at the Rajarhat outlet 
Price: The buffet is priced at Rs 2,199, and the thalas start at Rs 1,999. Taxes additional
Dates: The Puja-special a la carte menu is available from Sep 25-Oct 5. The buffet is available from Oct 1-5. Lunch (noon-3.30pm) and dinner (6.30pm-11pm) 
Contact: For more information, call 9831780403 / 9831780405
Navami's 'Sharodiya Abhinandan' @ Bhojohori Manna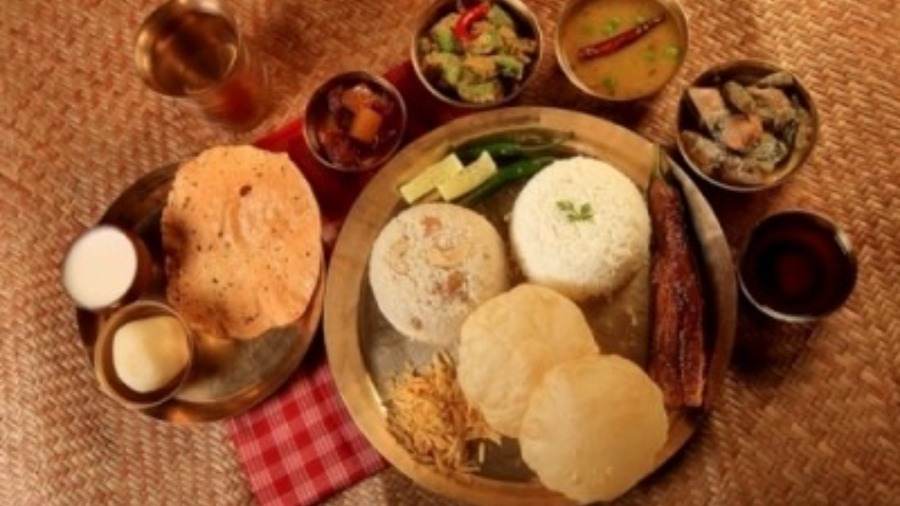 The queue for lunch outside Bhojohori Manna on Puja days usually stretches till the nearest pandal. All 11 outlets are serving different thalas on each Puja day. The quintessential Bengali meal on Navami begins with Chholar Dal, Begun Bhaja and Dhokar Dalna or Chingri Alu Phulkopi and culminates in Rabri and Mishti Paan. The highlights of the meal lie in its main dishes — Ilish Barishali and Kosha Mangsho for meat-lovers and Doi Potol and Echorer Dalna for vegetarians. Papad and Anarosher Chutney seal the deal. 
Where: All Bhojohori Manna outlets (Ekdalia, Hazra, Hindustan Road, Kasba, Salt Lake Sector 1 and V, New Town, Chinar Park, Esplanade, Hathi Bagan and Nagerbazar) 
Dates: Oct 1-5. All restaurants will be open from noon to 11 pm
Price:  Rs 985 + GST. On Puja days, the minimum order is one veg and one non-veg thala 
Reservation: No pre-bookings
Dashami @ Oh! Calcutta, Forum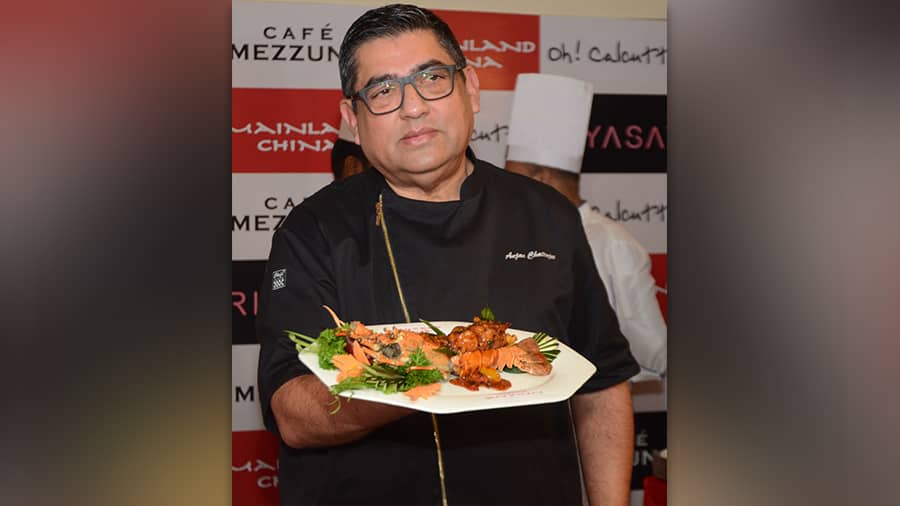 Anjan Chatterjee, founder and managing director of Speciality Restaurants, with a Puja-special dish
Amit Datta
Anjan Chatterjee's Oh! Calcutta never leaves an opportunity to shine. For Durga Puja, the champion restaurateur has curated a festive menu that pays homage to the classics while also giving contemporary flavours their due. Available only at the Forum Mall restaurant outlet, the buffet for lunch and dinner on all Puja days includes Aam Ada Grilled Bhekti, Chitol Peti Rosha, Pomfret Tomato Jhaal, Kasundi Paneer Tikka and Bhekti Macher Pulao along with a few other old favourites. Don't miss out on the  desserts, it's Dashami after all! 
"Speciality Restaurants is one of the biggest chains for dining around the country. To make this auspicious festival more delightful, I have curated the exotic special menu for all the Speciality Restaurants like Mainland China, Oh! Calcutta, Asia Kitchen, Café Mezzuna, Flame & Grill, Riyasat or Haka. We are introducing new items on the menu to make the dining experience even more memorable. I have put all my thoughts into making the menu special for our customers," Anjan Chatterjee, founder and managing director of Speciality Restaurants Ltd., said.
Location: Forum Mall, fourth floor 
Timings: Lunch (noon-4.30pm) and dinner (6.30pm-11.30pm) 
Price: The buffet is priced at Rs 1,295. Taxes additional 
Reservation: Book a table "much in advance"