Riteish Deshmukh, the actor behind the architect
Riteish turned producer, making content-driven Marathi films to establish his Mumbai Film Company as a reliable banner. He is now in the throes of announcing his first Hindi film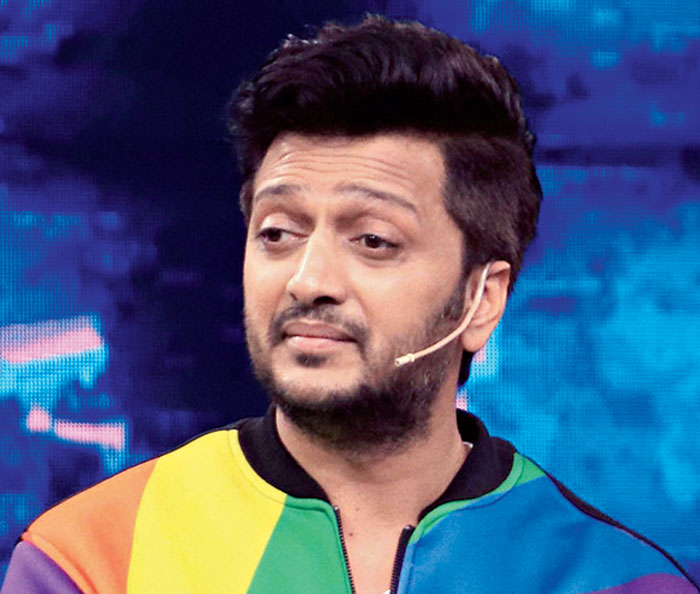 Riteish has become one of the more versatile names in the business, moving from comedy to commercial heroics in his own Marathi film Lai Bhaari (2014), and then playing a convincing serial killer in Ek Villain (2014)
PTI
---
Published 16.11.19, 06:22 PM
---
When Riteish Deshmukh posed with his inked finger, sandwiched between his two politician brothers and announced that politics wasn't for him, that he was happy being an actor, it signalled he had indeed come a very long way.
One knew him as chief minister Vilasrao Deshmukh's young 20-something son who was curious about movies as he'd drop in to watch a Subhash Ghai film being shot or come shyly to a party hosted by the filmmaker. Riteish may have been the son of the most powerful man in Maharashtra at that time but there was nothing flashy about him. He wasn't anything like, say, Narayan Rane's sons or Baba Siddiqui's Zeeshan, who are known bullies. Riteish was the least flamboyant guest. Whatever he may say today, he was drawn to movies and to acting way back at the turn of the millennium. What stopped him from admitting even to himself was that he didn't think he had filmstar looks (he still doesn't) and the omnipresent fear that people would laugh at him if they knew he harboured such an ambition.
He was so inhibited that long after he debuted in Tujhe Meri Kasam (2003) — incidentally, it did good business — and had done a couple of comedies such as Out Of Control (2003) and Masti (2004), he fought shy of introducing himself as an actor. A qualified architect, his visiting card disclosed only the profession of blueprints and buildings, no reference to his association with the land of dreams and divas.
His brother, Amit Deshmukh, now an MLA from his late father's constituency, once saw him call himself an architect and asked why he didn't say he was an actor. "I don't know, I just can't bring myself to tell people I'm an actor. I find it easier to say I'm an architect," Riteish told me later.
But everything about him took him closer to films. He fell in love with his first co-star, Genelia D'souza, dated her seriously and sincerely but pretended they were only "good friends" for the longest time before marriage made it official. By the time he was married, his best buddies were all from the movies, especially Karan Johar (whose house he did up as an architect/ designer), Shah Rukh Khan, Aashish Chaudhary (his co-star in the Dhamaal series) and writers like Milap Zaveri and Mushtaq Sheikh. In fact, when Aashish's sister and brother-in-law were trapped in a five-star hotel during the 26/11 terror attack in Mumbai, he desperately tried to enlist Riteish's help to save them. His father was the CM when 26/11 happened.
Over the years, the Deshmukh family too inched closer to the glamour world as younger son, Dheeraj (also an MLA), married film producer Vashu Bhagnani's daughter, Honey, at a starry affair.
No longer feeling that he couldn't make a good fit here, Riteish turned producer, making content-driven Marathi films first to establish his Mumbai Film Company as a reliable banner. He is now in the throes of announcing his first Hindi film.
Gifted with a spontaneous sense of humour, when I once texted him about his spelling — was he Riteish or Hriteish — he promptly replied, "Riteish with five fingers". Hrithik Roshan was the flavour of the season then. Another time, when we talked of a bad hair day, he said he even had "bad face days".
Riteish has become one of the more versatile names in the business, moving from comedy to commercial heroics in his own Marathi film Lai Bhaari (2014), and then playing a convincing serial killer in Ek Villain (2014). Riteish is now fully filmi.
But three nights ago, at a special screening of his latest, Marjawaan, where he's done the role of a height-challenged villain, there was a huge traffic jam. Many more people now know him but reminiscent of the Riteish of 2003, he with wife and mother, Vaishali, got down from the car and walked to the theatre. Mercifully, some things haven't changed in the actor who once hid behind an architect.
Bharathi S. Pradhan is a senior journalist and author