'Marjaavaan' review: Watch at your own risk!
A couple of unintelligible scenes stitched together into a film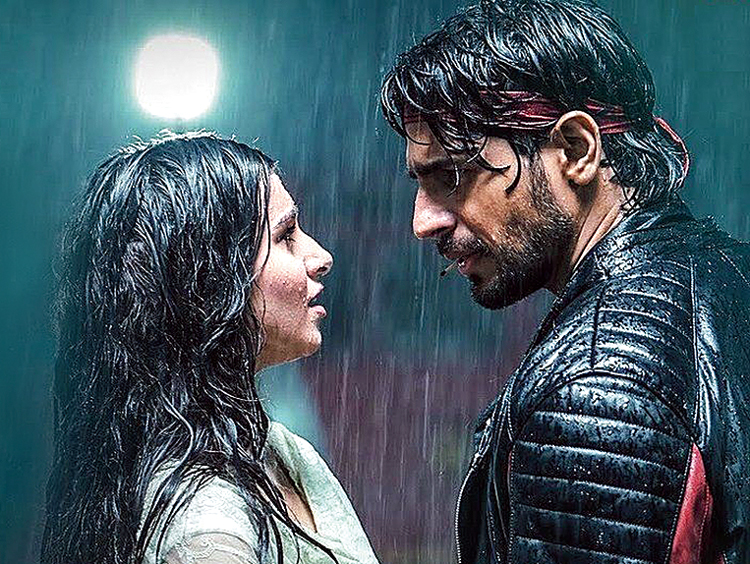 A scene from the movie
Source: 'Marjaavaan'
---
Published 15.11.19, 01:23 PM
|
---
Marjaavaan is exactly what its trailer promised it would be. Just a whole lot worse. Granted that director Milap Zaveri has always been clear about what he wanted to make — a massy and masala mish-mash of Bollywood potboilers that played out in the '80s and '90s. But doesn't every film warrant credible continuity, a semblance of logic and at least a bit of a story? Marjaavaan doesn't care to have any. At some point in the film, Sidharth Malhotra's Raghu, a bandana-sporting ruffian with fists powerful enough to crack open everything from a helmet to a head, thunders, "Pata hai dhai kilo ke haath se zyada taaqatwar kya hai? Dedh kilo ka dimaag." Just about managing to stumble out of the theatre on a Friday morning with my brain intact (dedh kilo... and then some more), here's what I faintly remember of Marjaavaan…
Marjaavan is a couple of unintelligible scenes stitched together into a film. The hero's blazing entry quickly gives way to the heroine, smiling beatifically, walking into the frame. The next shot has someone breaking into an item number, which quickly cuts to an overdramatic mother carting the body of her young son to the grave. The villain comes in snarling, yet another song plays out, a cop is introduced, a fight takes place, someone delivers an illegible dialogue to an over-heightened background score. And then the same things play out over and over on a loop.
Every fight scene is guaranteed to make your eyes bleed, and not just with the amount of blood spilled. Raghu, eyes blazing and biceps bulging, cracks windshields with his palm, and when he lands a punch on someone, the man's body first shivers, then contorts and finally flies off, never to land back on earth. This is the kind of film that has goons sporting flowerpot hairdos and thick gold chains resembling dog collars, brandishing swords in the middle of bustling Mumbai. Some of them have only been given screen time to land belly first on strategically placed tomato and egg carts.
Raghu, an orphan with a heart of gold, has been brought up by Anna (Nasser), a local don who functions as the kingpin of the city's water mafia and also runs a prostitution racket. Raghu is forever indebted to Anna and carries out his orders blindly, taking care never to face off with Anna's son Vishnu (Riteish Deshmukh). Vishnu is vertically challenged and spends a lot of his time cracking jokes on 'height'. For example, he asks, "Competition ki height kya hai?" He also answers, "Niagara Falls ke saamne peshaab karta hua aadmi". Vishnu uses a henchman as a stepping stool every time he steps out of his SUV. The SUV has the word 'Hero' (a shallow take on Zero, where Shah Rukh Khan played a dwarf) emblazoned on it.
Everyone talks in rhyme. Raghu's favourite lines in the middle of every fight are, "Main maaroonga toh marr jayega, dobaara janam lene se darr jayega" and "Todunga bhi aur tod ke jodunga bhi". In his me-time, he says, "Aaj poori raat tashan se jashan manayenge." In walks Nora Fatehi to gyrate to Ek toh kum zindagani and even she talks in rhyme — "Kal meri shaadi hai, aaj azaadi hai". At some point, Vishnu smirks, "Holi itna hi khelo jitna gulaal ho, namak halaali karte karte na khud halaal ho." An upright cop is told, "Suna hai ki tera baap itna imaandaar hai ki abhi bhi havildar hai." The one that really stuck with me: "Tera jungle ka sher mushaira ka sher ban chuka hai."
In every frame she appears in, Tara Sutaria's Zoya looks like she's walked straight out of a shampoo advert. Her hair billows in the wind, her eyes constantly glisten and she claims to hear music even in the middle of a fight, when Raghu is busy pummelling people to pulp. If you've watched the trailer, you will know Raghu kills Zoya, despite loving her. In the run-up to the film, Milap and Co. have heightened this 'suspense' to a Twitter hashtag called #RaghuNeZoyaKoKyun Maara. Sorry, Katappa wins this any day, even now.
The women in the film are strictly functional, but also need to be constantly rescued from either being kidnapped or killed. At one point, Raghu is told, "Tu kaisa mard hai ki apni auraton ko bacha nahin pata?" Aarzoo (Rakul Preet Singh) is the prostitute he beds at night but Zoya is the chaste virgin he wants to set up home with. In one scene, a 10-year-old kid can only sing if he teases a girl. He's encouragingly told, "Ladki ko chher" so that he can audition for a music festival.
This isn't a film where anyone cares about being politically correct. A mute character walks in and someone goes, "Yeh toh lady Barfi hai". A few scenes later, she's described as, "Iska volume off hai lekin dil ka speaker loud hai". Vishnu is constantly referred to as 'bauna', with Raghu being continuously egged on to take him on with lines like, "Uski teen foot ke jism se do takey ki jaan ukhaad le."
Everyone overacts. Everyone walks in slo-mo. Every movement on screen — fight to romance, drama to death — is choreographed to an ear-splitting background score.
Marjaavaan has an Agneepath moment, a Vaastav ode, a Shaan hat-tip, a scene lifted directly from Aatish…. These are films we watch — and some we also enjoy — even today. Why would anyone pay to watch a bargain basement version?
There is so much water! There's rain, sweat, tears... theirs and yours. Every emotional scene plays out in the rain (and there's not even Shraddha Kapoor around). Every fight has to have a moment where blood and rainwater mix and drop rhythmically to the ground. No wonder the film starts off with the line, "Mumbai… jahaan khoon aur paani dono behte hai aur dono ka hisaab chukana padta hai."
Well, we walked into this... and paid the price!