Director Indra Kumar on Total Dhamaal
The filmmaker tells us about the film, his favourite lead pair and handling ensemble casts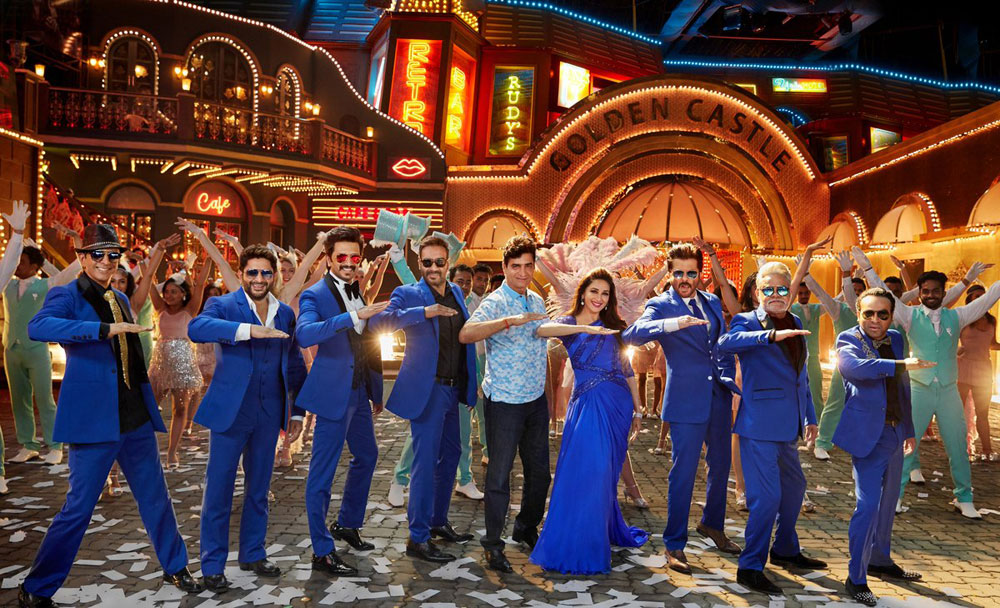 ---
---
Beta, starring Madhuri Dixit and Anil Kapoor, was one of director Indra Kumar's biggest hits in the '90s. He managed a casting coup of sorts when he got the same pair to be a part of his latest release Total Dhamaal. After Dhamaal and Double Dhamaal, this film, which also stars Ajay Devgn and Riteish Deshmukh, is the third film in the franchise. We chatted with the director about the film, his favourite lead pair and handling ensemble casts.
What made you make this movie?
Money! (Laughs) It's a film that's all about money, and we all need money. Some people need a little, some a little more but we all need money. You call Ambani today, he'll be needing money. The film is based on that idea, and it's an idea that can never grow old. Even after a thousand years, the idea will still be fresh. So, I thought why not make a film on money, and how we're all running after it in our own sane way, but sometimes we can also go insane. With these guys, the film is all about how they go insane.
Your movies in the '90s were love stories that were high on emotions, whereas what you make these days is completely different....
Where are the emotions left these days? (Laughs) I've been looking with a searchlight for emotions but can't see them anywhere. 
Did you then have to change the kinds of stories that appealed to you?
One has to change, or they'll change you and get someone else. I was making dramatic films and shifted to comedy, and have been surviving on this for the last 15 years. It's a good change; I'm alive and kicking, jumping, working and I'm happy. 
Creatively, are these satisfying for you?
Your child could be tall, short, dark, fair, whatever — you're still going to love him or her the same. These are all my children and I love them the same. 
Are these large ensemble casts easier or harder to handle compared to the movies where you had a lead pair?
Perception is that ensemble casts would be difficult. But if your script is clear in defining all the characters in their orbits properly, then you need not worry. Then, all the actors are relaxed in the knowledge of what it is that they need to do. It makes life very easy, and there are no changes later. If you start making changes, that's when they start questioning you. Logistically yes, getting dates from so many people is the biggest problem when one has an ensemble cast. Luckily, I didn't face that because everybody gave me the dates I wanted. Had one of my schedules got cancelled, then I would have had it. Getting everybody together again would have been a nightmare. 
Has there ever been a time when you regretted working with so many actors in one film?
(Laughs) Never! I'm enjoying it even more. The more the merrier. I really like it because there's so much variety and as a director, it's a large canvas to play around with. That gives me the energy and the drive.
What was it like bringing together Anil and Madhuri after so long?
The last time we all worked together was 26 years ago. Back then I never could have imagined that 26 years later, we'd be doing a film again. Who even knew where we would be after so long? But when we started work this time around, I felt so blessed and that God is so kind. Mainly because we have all lasted that long. So many of our contemporaries can't say the same. It's also about adapting and moulding yourself to the situation. Madhuri, even today, looks so beautiful. It's a lot of hard work and it isn't easy after two kids and 20 years of marriage. Even for Anil Kapoor to look that young and fresh for 35 years, and be energetic all the time, is not easy. Age does take its toll on you, it can't be stopped but they managed to stop it.
One of the highlights of your films would always be the music. What made you want to have so many recreated songs for this film?
I felt there's a trend going on, and honestly, the composers today are not able to deliver those songs. So, instead of having a bad song, I'd rather revisit a classic. I told my children I'm recreating Mungda, and they had not even heard of the song, and when they did hear it, they thought it was okay. But after it was remixed, they all started dancing and said it would be a superhit. It's the same with Paisa yeh paisa — you can't create songs like that again today, no composer can. Why fight that when I can just borrow? The day I have a song that can compete with Mungda, I'll do it.