Why Cambridge International became a perfect fit for our school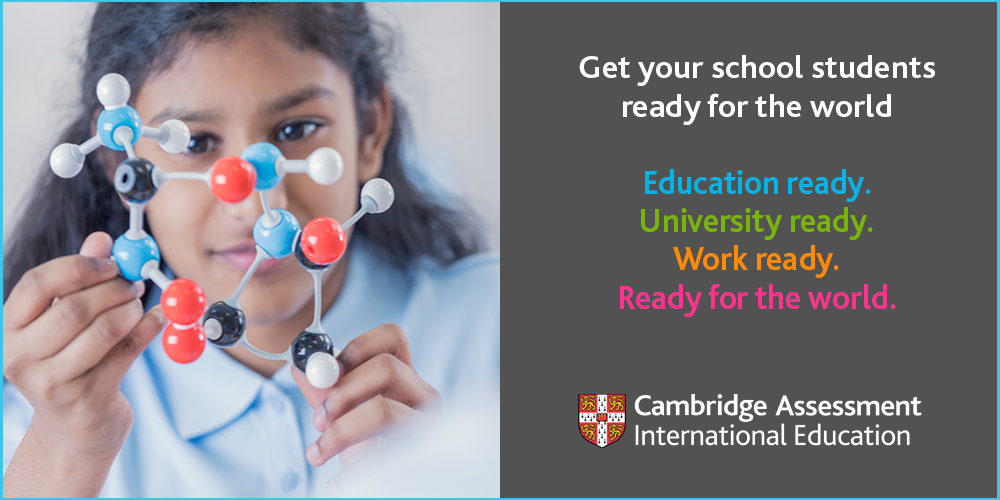 ---
Published 11.03.21, 06:18 PM
|
---
Our school – Calcutta International School (CIS) – is one of the oldest international schools in India, founded in 1953 by Miss Barth. Over the years, our school has evolved to become a highly reputed institution providing academic and extramural education. Today we have 663 pupils from 17 nationalities who have come from different parts of the world as well as the local community.
CIS has been associated with Cambridge International since June 2005. In June 2012, we became a Cambridge Pathway school, offering the complete Cambridge curriculum from Cambridge Primary to Cambridge Advanced (Class 11 & 12).
The Cambridge International curriculum was a logical fit for our school because of the flexibility it offered in terms of choice of subjects, making it appealing to students. At CIS, we aim to provide a holistic approach to a student's education right from the early years. This approach helps our students excel at academics but also enhances their career prospects.  
The Cambridge International curriculum has opened doors to many opportunities for our students and so we would like to share some of the reasons why the curriculum is the right fit for our school:
We can conceptualize, personalize and analyze academics
The Cambridge International curriculum is global in nature, but we are able to adapt the syllabus content to fit our local context. The curriculum is flexible, challenging, and inspiring, culturally sensitive yet international in approach.  The programmes are designed and can be adapted to the local context with the help of expert educators in schools and universities – to challenge students and excite them about their education. The innovative and thought-provoking skills-based programme places academic study in a real-world context. 
Cambridge International offers us a broad array of subject combinations
Cambridge International allows our students to take up subjects with a combination of the Sciences and Humanities along with language and Mathematics allowing them to choose a holistic and interdisciplinary education instead of restricting themselves to one form of subject choices – like either the Sciences or commerce or Humanities. The curriculum offers a choice of 55 subjects and we could offer them in almost any combination. This flexibility means that we could build a personalized curriculum, and our students could choose to specialize in a particular subject area or study a range of subjects.  The breadth in education helps students identify their passions and future path of study.
We can help students get ready for the world
The Cambridge international curriculum sets a global standard for education and is recognized by universities and employers worldwide. We have seen our students gain the essential skills they need for success at university and in their future careers. Our students have been accepted in reputed universities in India and abroad. With the introduction of subjects like Cambridge Global Perspectives, media studies, and applied mathematics we are confident that our students are well equipped with skills that they would need to be successful in their careers.
 
Cambridge International is helping us develop independent learners
The Cambridge International curriculum helps our students develop higher-order thinking skills so they can apply what they've learned to new situations. Solving problems creatively. Thinking for themselves. Doing their own research and communicating it. This approach is empowering our students by allowing them to take more ownership of their learning, motivating them throughout their studies, and ultimately nurturing their love of learning. 
As a renowned educational institution in East India with a rich heritage and legacy, it is our responsibility to help young learners become an asset to mankind and also, equip them with the skills they need to help in the development of the country. We believe that with a progressive international curriculum like Cambridge International, we will be able to provide our students with the relevant skill sets they need to become future leaders and also be prepared for a successful career, and life.
To know more about Cambridge Assessment International Education visit: www.cambridgeinternational.org
Express your interest to become a Cambridge International school: https://www.cambridgeinternational.org/why-choose-us/why-become-a-cambridge-international-school/
There are more than 500 Cambridge schools in India, to find the nearest Cambridge school visit: https://www.cambridgeinternational.org/why-choose-us/find-a-cambridge-school/ This article is sponsored and is created by the Calcutta International School. The Telegraph India editorial team played no role in creating this content.