Djokovic feeling blessed
Novak Djokovic beats Domanic Thiem to lift his eighth Australian Open singles title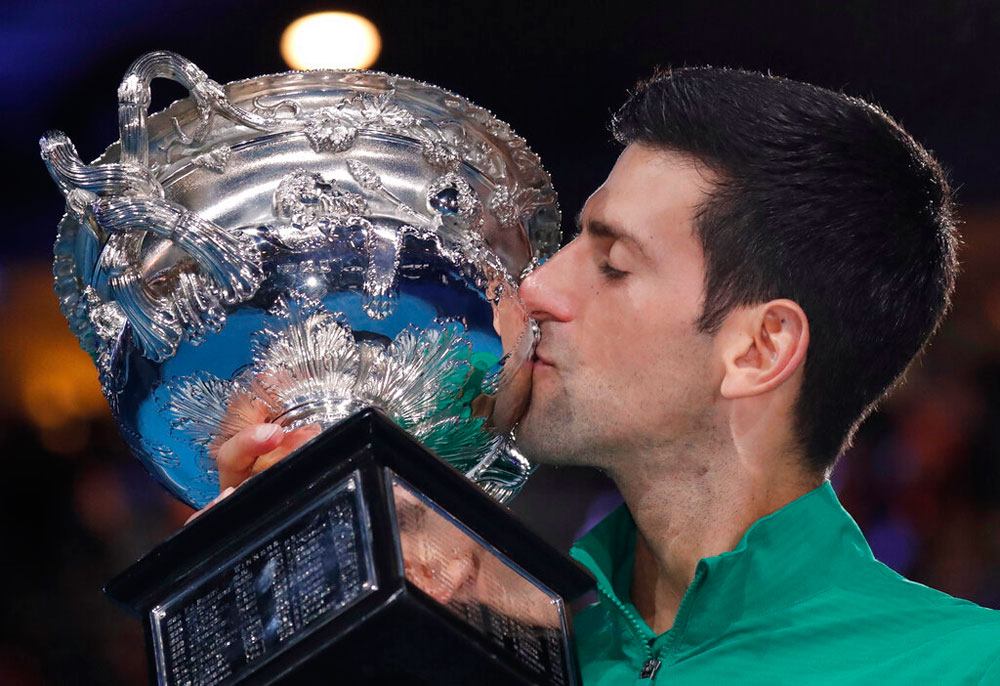 ---
---
Novak Djokovic extended his record by winning his eighth Australian Open singles title on Sunday, defeating Dominic Thiem 6-4, 4-6, 2-6, 6-3, 6-4. The victory allowed Djokovic to reclaim the No. 1 ranking from Rafael Nadal and to reassert his dominance in Melbourne.
Based on the evidence, the hardest task in men's tennis remains defeating Nadal at the French Open. But the second-hardest task must be beating Djokovic down the stretch at the Australian Open.
He has never lost a semi-final and is now 8-0 in finals, after winning his second straight final here. He excels on all surfaces, but he has won nearly half of his 17 Grand Slam singles titles on the medium-speed hardcourts in Melbourne.
"Definitely my favourite court and my favourite stadium and I'm blessed to hold this trophy once again," Djokovic said after a final that lasted 3 hours 59 minutes.
Djokovic took quick command of the fifth set, breaking Thiem's serve in the third game. He saved two break points in the next game to stay in front.
Thiem's last good chance to close the gap came with Djokovic serving at 4-3 but at 30-all, Djokovic hit a wide, bold second serve that surprised Thiem, then closed out the game with a first serve that Thiem could not return. After Thiem held, Djokovic served out the match for the championship.
At the start on Sunday, it looked like Djokovic might avoid another marathon. His form in the opening games looked similar to his dazzling display in last year's rout of Nadal in the Australian Open final, which Djokovic considers one of the finest performances of his career.
He jumped out to a 4-1 lead, winning points from all parts of the court and with all manner of tactics: drop shots, powerful groundstrokes and penetrating first and second serves. But Thiem, unlike Nadal, found a way to weather the early storm and get back to 4-4 before Djokovic closed out the set.
The second set turned Thiem's way after Djokovic was called for consecutive time violations by the chair umpire, Damien Dumusois, when serving at 4-4.
The second violation cost him a first serve. Thiem went on to break, and Djokovic, fuming, patted Dumusois's feet as he passed in front of his chair. "Great job, man," Djokovic said.
Thiem served out the set and swept to the third as Djokovic looked increasingly sluggish. With Thiem leading 4-1, Djokovic received a visit from the medical staff but did not take an injury timeout. He found his rhythm again in the fourth set and they were soon into a fifth set.
Djokovic has now won Australian Open titles in the 2000s, the 2010s and the 2020s. It will be interesting to see if Federer or Nadal can manage to match winning the same tournament in three different decades.
For now, Federer holds the men's record of 20 Grand Slam singles titles, Nadal has 19 and Djokovic 17.
What makes those numbers more remarkable is that many of their victories have come after the age of 30 — once considered a barrier to achievement in the men's game.
No longer. Djokovic, 32, and Nadal, 33, have won five major titles in their thirties. Federer, 38, has won four.
That explains why no active player in his twenties has won a Grand Slam singles title. Thiem, a 26-year-old Austrian, has come the closest.
"I'm really proud and happy I can compete in these times and this period of tennis," Thiem told Djokovic during the on-court ceremony after the final.