My Puja began with a meal at Kewpie's and yours should too
The minute I heard good ol' Kewpie's was reopening with a Durga Puja menu no less, I knew I had to drop in. Rakhi Purnima Dasgupta's Bengali diner earned renown for its home-style cookery and heritage Bangladeshi fare - its repertoire steadily grew among gastronomes and others.
An orange ceramic sign with "2" greeted me at the door (Kewpie's is located at the quaint, bougainvillaea-dotted bylane of 2, Elgin Road). Stepping into Kewpie's felt like a time warp; the walk to my table felt like a walk through a collector's room. On the walls hung artworks that seemed older than time while the glass cabinets were full of curios and knick-knacks made of glass, china and clay. There were vintage chandeliers in almost every room shedding sepia accents on diners - an incidental filter for selfies if you will.
Dasgupta greeted me with a warm smile at her residence upstairs and indulged me with some great conversation. "My mother, Minakshi, was a phenomenal cook. Kewpie was her daak naam. After she passed, my father, sister and I wanted to start a home kitchen from our garage to celebrate her recipes. That's how Kewpie's was born," Dasgupta shared.
I noticed most of the a la carte amish dishes from the Durga Puja menu feature names, like 'Pia's Bhetki Paturi' and 'Ratan's Kosha Mangsho' among many others.
"These dishes were made best by these people. Some are family members and some are staff members who have retired or have passed on. We have named these dishes after the people who have cooked with us and have been a part of this family," said Chef Dasgupta.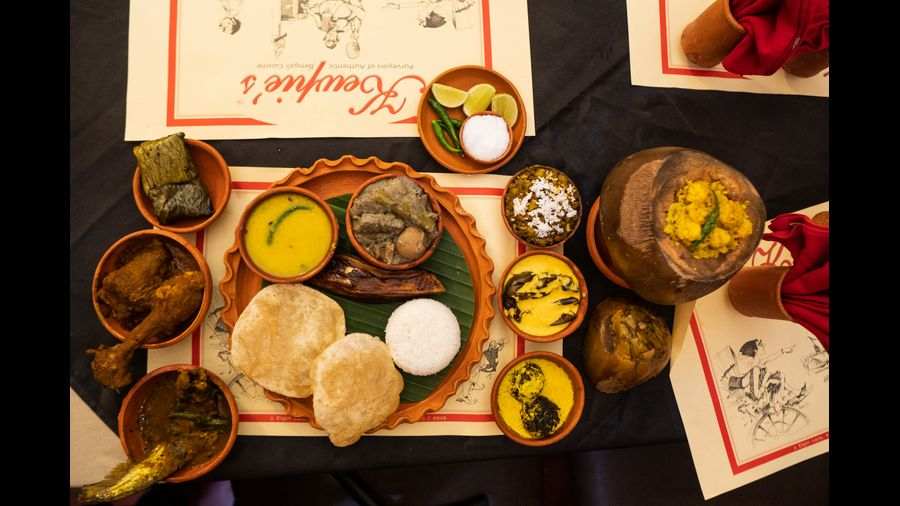 The festive spread at Kewpie's.
At lunch, I was excited to see an earthen plate at my table flanked by the familiar banana leaf; on the plate was a smattering of Gobindobhog rice, luchi, moong dal, begun bhaja and shukto. Another fleet of dishes swiftly followed:
Saraswati's Pabda Jhaal
Murgi Goalondo
Pia's Bhetki Paturi
Palong Chhanar Malai Kofta
Doi Begun
Mochar Ghonto
Chandradip's Daab Chingri
It was a divine spread, I started the meal with shukto as is the norm; the Bengali staple made with bitters usually makes for the first course in a traditional Bengali meal and Kewpie's did not disappoint with its rendition. I enjoyed the pabda jhaal which had a mix of spices along with tomatoes and coriander leaves.
However, my favourite dish was the Palong Chhanar Malai Kofta. A unique Kewpie's invention, the soft chhana and spinach created fireworks of flavours while retaining its melt-in-mouth smoothness.
The Daab Chingri and Bhekti Paturi deserve special mention - while they're featured on most traditional menus, Kewpie's versions make for an unmissable affair that is both familiar and novel.