Irrespective of how often you fight over your shared Netflix accounts, Rakhi is a time for indulgence. However, pampering your sibling may not be a cakewalk, especially if you're not sure what to buy them. But a home-cooked meal can always be a love language. 
So, if you want to do something special for your brother, sister or sibling squad this Raksha Bandhan, why not whip up something in your own kitchen?
Be it low-calorie mains, some zesty curried sausages, succulent kebabs or fruity tarts — these delicious recipes may just help you bargain some extra favours with your siblings this year!
Lemon rice
The tangy lemon rice is low in calories and boasts the aroma of curry leaves. It is light, palatable and has crunchy peanuts that zhuzh up its overall texture. It's quick and easy to make and can be teamed with almost anything.
Ingredients
Rice: 1 cup
Curry leaves: 10-15
Roasted peanuts: 15-20
Slit green chillies: 5-7
Lemon juice: ½ cup
Yellow mustard seeds: 1/1 tablespoon
Dry red chillies: 2
Turmeric powder: 1 tablespoon
Mustard oil
Sugar
Salt
Recipe
Cook rice and drain the starch
In a frying pan, add mustard oil and heat
Add yellow mustard seeds and dry red chilli and let the mustard seeds pop well to form the spice base
Add the curry leaves and fry until lightly roasted. Put the peanuts and cook for 1-2 minutes
Add the green chillies and saute for about 30 seconds. Add the rice next
Mix the rice well with the spices and add the turmeric powder. Mix well again and cook in medium heat for about 5-7 minutes, uncovered
Add the lime juice, salt and sugar and stir well. Cook for another 5 minutes, check the seasoning and serve piping hot
'Bekti paturi'
If you want to go traditional but don't want to slave away in the kitchen for hours, go for a paturi! The recipe guarantees an explosion of flavours and also perhaps the 'Sibling of the Year' award. The zesty sorshey-posto marinade accentuates the tenderness of the steamed fish and the smoked banana leaf adds the perfect accent.
Ingredients
Bekti fillet: 6
Yellow mustard paste: 4 tablespoon
Poppy seed paste: 4 tablespoon
Slit green chillies: 6
Banana leaves cut into medium sizes: 8
Mustard oil
Salt
Strings/Toothpick
Recipe
Mix the mustard and poppy seed paste in a bowl with a generous sprinkle of mustard oil and check the seasoning
Marinate the fish fillets in the mustard and poppy seed paste
Take one banana leaf per fillet and place the marinated fish
Add one green chilli on the top and some mustard oil
Wrap the paturis with string or seal with toothpicks
If you are steaming on a gas oven, grease a large enough tiffin box and place the parcels. Heat water in a kadhai and add enough water to half submerge the tiffin box. Place the tiffin box in the kadhai once the water is rolling hot and add a cover on the top
Steam for 15-20 minutes. Sneak into one paturi to check the final outcome and serve hot
Tip
Paste the mustard seeds with a pinch of salt, ½ teaspoon lime juice and 1 green chilli
You can try this recipe with hilsa, rui or any fish of your choice
You can use a microwave to steam the paturis too. Preheat for five minutes and bake the fish parcels for 15-20 minutes at 180 degrees on the baking tray. Don't forget to use the stand!
Pork sausage 'kosha'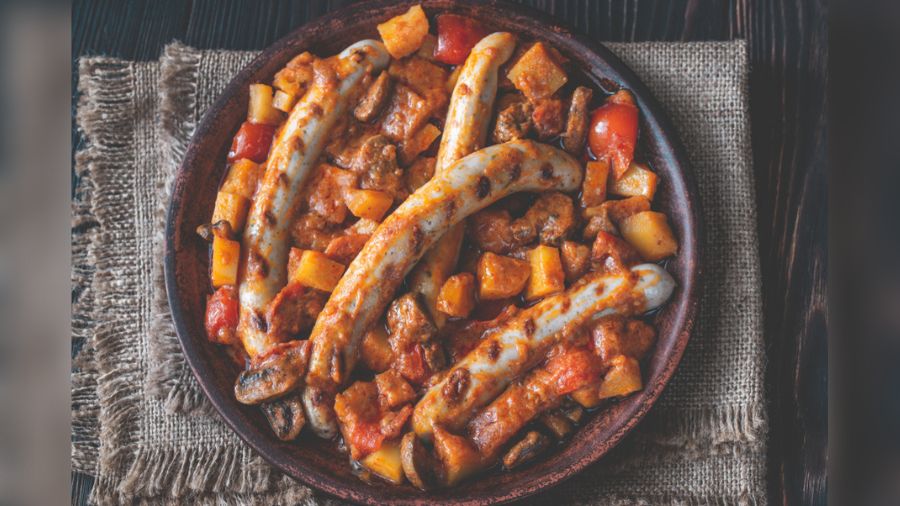 Shutterstock
Give this indulgent recipe a try if you have pork-loving siblings coming over. You can go for some artisanal sausages (even chicken, if you don't like pork sausages) from city-based delis or use store-bought ones. It takes less than 30 minutes but will earn you a long-lasting reputation as a culinary maverick!
Ingredients
Sausages: 15 (large)
Roasted onion paste: 3 tablespoons
Ginger-garlic paste: 1 and 1/2 tablespoon
Green chilli paste: 1 tablespoon
Roasted dry red chilli paste: 1 tablespoon
Diced tomato: 1 large
Slit green chillies: 2-3
Roasted cumin and coriander powder: 2 tablespoon
Tomato sauce: 2 tablespoon
Black pepper powder: 1 teaspoon
Bay leaf: 1
Roasted garam masala powder: 1 teaspoon
Potatoes, cut into small dices: 1
Mustard oil
Salt
Sugar
Recipe
Add mustard oil to a frying pan and heat
Add bay leaf and saute for 7-10 seconds, followed by adding the onion paste. Cook for 3-4 minutes and add the ginger and garlic paste
Saute the spice pastes together for another 3-4 minutes before adding the green chilli paste, red chilli paste, cumin and coriander paste and black pepper powder
Mix well and cook for 5 minutes in low to medium heat, occasionally sprinkling water
Add potatoes at this stage and stir well
Add tomato sauce, mix and cook for 3-4 minutes, add the diced tomatoes, salt, sugar and some water. Cover the utensil for the potatoes to cook
Once the potatoes are almost ready, add the sausages and green chillies and cook for 7-8 minutes
Sprinkle the garam masala powder, check the seasoning and serve hot
Tip
If you are opting for artisanal sausages, opt for a 70:30 meat-fat ratio and a medium spice profile
To roast an onion, peel the skin and grease some oil on all sides. Hold it with a tong and roast it in direct high flame till it turns golden brown
Beef malai kebab
The perfect cheat day kebab with the richness of spices and a tender galawati finish — this beef kebab can be the superstar of your Raksha Bandhan menu. Bookmark this recipe for when you need delicious monsoon appetisers.
Ingredients
Beef keema: 500 gm
Boiled onion paste: 3 tablespoons
Ginger-garlic paste: 2 tablespoons
Finely chopped green chillies: 1 and ½ tablespoon
Red chilli flakes: 1 teaspoon
Chopped onion: 1 large
Chopped coriander leaves: 2 tablespoons
Lime juice: 1 tablespoon
Bay leaf: 1
Whole garam masala: ½ teaspoon
Garam masala powder: 1 teaspoon
Roasted sattu: 1 cup
Egg- 1
Salt
Sugar
Mustard oil
Ghee
Chaat masala
Recipe
Boil the beef keema with the bay leaf and whole garam masala powder. Cool it and make a smooth paste with onion paste, ginger-garlic paste, a pinch of salt and some mustard oil
Add chopped onion, green chilli, chilli flakes, coriander leaves, garam masala powder, salt, sugar and egg and mix well. Keep the marinated meat aside to rest for a minimum of 20 minutes
Right before frying the kebabs, add the roasted sattu. Check the seasoning
Heat mustard oil and ghee on a non-stick pan and slow-cook the kebabs in low to medium flame, covered
Sprinkle some chaat masala and serve hot
Tip
You can make this kebab with chicken, mutton and pork keema. You can also try using fish (chitol, bekti, lotey, topshe) to give it a fishy twist
Using kebab sticks is optional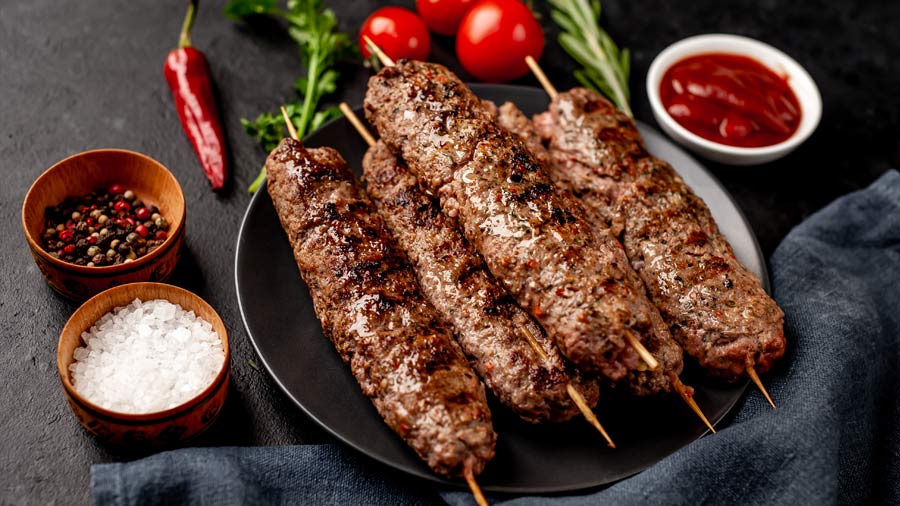 Shutterstock
Lemon tart with ripe mango
End the joyful day with this fresh, homemade, sweet concoction. This lemony tart has the goodness of mango which balances the acidity and adds to its luscious texture.
Ingredients
For tart-
All-purpose flour: 200 gm
Unsalted butter: 150 gm
Powdered sugar: ½ cup
Lemon juice: ½ teaspoon
Lemon zest: ½ teaspoon
Lemon essence: ½ teaspoon
Salt: A small pinch
For filling-
Full fat cream- 200 gm
Ripe mango pulp- 200 gm
Desiccated coconut- 3 tablespoons
Unsalted butter- 50 gm
Sugar- 4-5 tablespoons
For topping-
Ripe mango pieces: 8-10
Mint leaves: 8-10
Recipe
Mix flour with salt, sugar and butter and mix till it has a breadcrumb-like texture. Add lime juice, lemon zest and lemon essence along with some chilled water to make a dough. Cover the container and keep in the fridge to rest for 10 minutes minimum
Grease the moulds with some butter and add the dough. Keep in the fridge for 10 minutes
Preheat the oven to 180 degrees and bake the tarts for 10-15 minutes
In a non-stick pan, add butter and melt. Add sugar and cook on low flame till it is light brown and liquid. Add desiccated coconut and cook for 5 minutes
Add the mango pulp and cook on low to medium flame till it has a jam-like texture
Turn off the flame and cool
Add cream to the mango mixture and fold. Put in a piping bag or use a spoon and fill the tarts
Garnish with mango pieces and mint, and fresh seasonal berries
Serve chilled