In an era that favours the lazy foodie, nothing beats the convenience of cold cuts, 
Be it a minimal-effort breakfast or an elaborate fry-up, deli meats can save you a lot of time in the kitchen. The past few months saw the popularity of DIY charcuterie boards rise, which proves Kolkata's pickiest foodies are also prioritising artisanal meat produce – be it salami, pastrami, briskets or holiday ham.
While brands like Meatigo and Prasuma offer standard frozen options, there's now a market for fresher non-processed picks like hand-rolled chorizo, Kalman-style ham, made-to-order prime cuts and Texas-style briskets.
"The Kolkata customer is a cautious buyer – they prefer feedback from someone who has already tried our product," shares Chef Sambaran Mitra, whose label Meathead can have the juiciest Texas brisket delivered to your doorstep within 48 hours.
Here are a few labels that offer fresh, expertly-cut, artisanal meats in Kolkata:
Whole Hog Deli
Most Kolkatans who trusted the beloved delicatessen, Kalman Cold Storage, now rely on Whole Hog Deli for their supply of high-quality pork meat, prime cuts and breakfast cold cuts. In fact, Saurav Gupta launched the Whole Hog Deli in May, 2019, to fill this gap in the city's market. After Kalman closed its doors in 2019, the brand's manager Joy Ghosh, suggested Gupta start something along these lines to fill the void that would surely be felt by Kalman's long-time buyers. This also led to Whole Hog Deli's tagline, 'Kalman Revisited'.
They specialise in artisanal pork sausages, especially the classic old 'Calcutta'-style spicy pork sausages. Not only are they handmade but also feature a unique blend of spices that resemble the taste of the Chorizo.
"Our distribution point is in Sovabazar and our processing unit is in Agarpara, North 24 Parganas. We're using the same facilities and machinery as the erstwhile Kalman Cold Storage. It is managed by Kalman employees with expert advice and guidance from Joy Ghosh," shares Gupta.
Some of their most popular products include various cuts of fresh pork along with ham, salami, bacon and pancetta.
"We have received overwhelming support and patronage from the city's people. The majority of our orders are from repeat customers," Gupta tells us.

Top picks: Authentic bratwursts, pancetta and pork fillets
You can place your orders at +91 70422 25800 on WhatsApp.
Meathead
Chef Sambaran Mitra has always loved barbecuing and in July, 2020, he finally founded his brand – Meathead – to offer a selection of wood-smoked meats to Kolkata.
The chef realised early that a commercial outlet may not work out for this niche, considering his line-up boasts laboriously tended meats that have been cooked for 16-18 hours, and sometimes even more.
"Figuring out the logistics was difficult in the beginning, but after some trial and error, we have created an efficient way of transporting the products, ensuring they remain at their best quality," shares the chef.
The modus operandi is clearly working for the brand because Meathead's smoked meats can reach you within 48 hours of your order, anywhere in India.
This lockdown experiment-turned-business started out with the made-to-order format. In the initial months, Meathead smoked about 20 kilos of meat a month. Now, they go through a ton of meat monthly! The brand has two kitchens in Gurgaon and Goa, with delivery bases in Kolkata and Mumbai.
"Meathead is a one-man show. I do everything from handling production and customer queries to registering orders and monitoring logistics. This niche is still very new in the market so there aren't too many people who can come in and help with production. This process of cooking is very instinct-driven and has a lot to do with touch-and-feel," explains Chef Sambaran.
Their Texas-style pastrami and brisket are top-sellers. The texture and taste of the products are exceptional as the meat retains its moisture to offer a distinct mouthfeel.

Top picks: Honey bourbon pork belly and Maple mustard pork loin
You can place your orders at +91 85880 74566 on WhatsApp.
Calcutta Stories Cafe and Deli
Prithvish Chakravarti was a Kalman loyalist growing up and naturally wanted to keep this rich and versatile food culture alive. He went on to create the popular Calcutta Stories Cafe and Deli which is dedicated to this idea.
"Chef Francis Thomas initially trained us to create cold cuts. I look after this brand myself and we have about 10,000 loyal customers now who order from us," says Chakravarti.
Based out of Keyatala Road, Calcutta Stories offers some uniquely flavoured cold cuts and artisanal meats. They are known for their exquisite bacon and smoked ham leg, along with cocktail and Hungarian sausages.
"It was initially difficult to get the word out, but social media has really helped us reach our clientele. Our growth so far has been organic and through word-of-mouth," Chakravarti shares.

Top pick: Hungarian sausages
You can place your orders at +91 89810 99900 on WhatsApp or visit their website https://calcuttastories.com/.
The OG pick: U.P. Cold Stores
New Market's U.P. Cold Stores deserves a mention in any list about fresh deli meat. The brand has been a part of Kolkata's history for decades and is known for the freshest cuts of pork along with a variety of spiced sausages which stand out owing to their gorgeous red hue.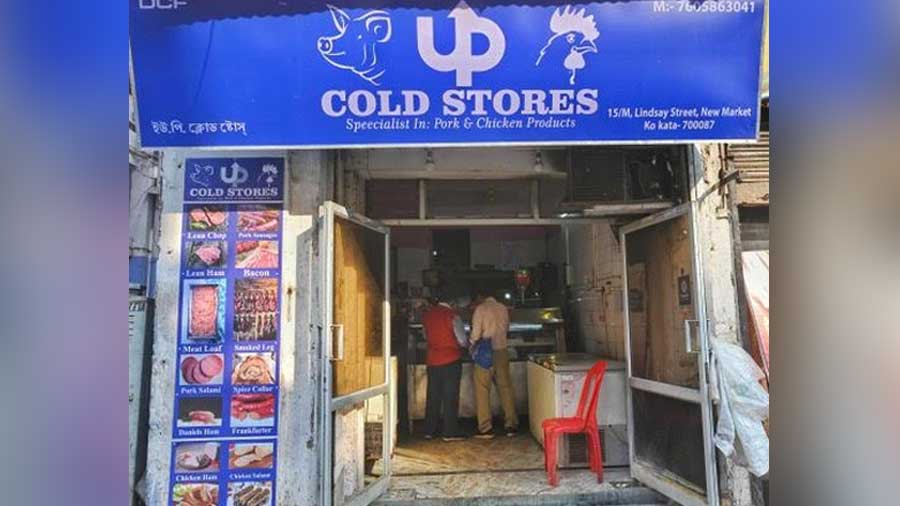 New Market's U.P. Cold Stores
Their bacon, lean chops, lean ham and their famous meatloaf and spiced collars have been loved by Kolkatans for years. If you're stepping out to shop for a big weekend meal, stop by this beloved store to stock up on some breakfast bacon or chops!