Since the time of Wajid Ali Shah, kebabs have been making the palates of Kolkatans sing. In the early days, the availability of kebabs was restricted to select pockets of the city. The view of solemn-faced cooks pulling out a red-hot iron skewer laden with pieces of meat from the belly of a clay charcoal oven was a treat for the eyes. However, the cooking technique was impossible to replicate at home. Moreover, by the time you took the kebabs home from their pocket-friendly restaurants, they were cold and aromaless.
But with the discovery that kebabs could also be cooked on a barbeque instead of a tandoor brought about a revolution in the way the city devoured this dish. The process was not cumbersome and soon, the meaty morsels became a regular feature of parties and get-togethers, albeit restricted to sections of society that had the means to arrange for the parties and barbeques.
The shift from high-society party favourite to mass availability occurred when a few industrious people decided to install small barbeques on transportable means like carts and vans. Soon, kebabs were brought out of restaurants and private parties and turned into one of Kolkata's most popular street foods – accessible to everybody.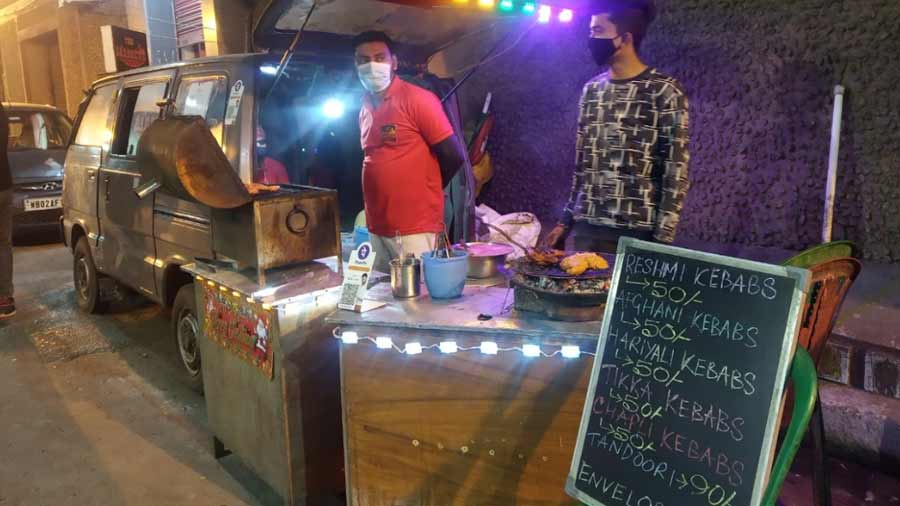 Shubhadeep Mukherjee's kebab van, Barbeque, on Bagbazar Street
Pinaki Bhattacharya
Kebabs on wheels
When Shubhadeep Mukherjee, a resident of Dumdum, first tried a commercial venture with kebabs on a cart, it was an experiment and a stressbuster. The success of this cart, parked in a middle-class locality, compelled him to leave his job and invest in a food van. He joined hands with a friend and launched their food van, Barbeque. And in a short time, it made chapli kebabs, katla barbeque and pineapple prawns household names on Bagbazar Street.
The emergence of two other ventures, Moms Kebab and Bros Kebab, within a 20-foot radius of Barbeque, has not diminished the popularity of either joint. They sell their own versions of reshmi malai tikka achari and murgh tikka Peshawari and each have their loyal customers.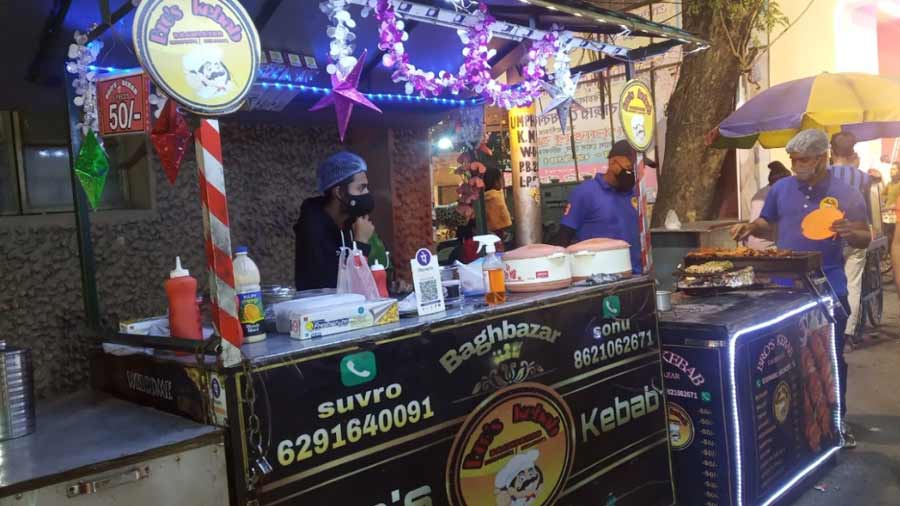 Bro's Kebab near Bagbazar Street
Pinaki Bhattacharya
A career in kebabs
Seeing the success of mentor Shubhadeep and his friends, Arijit Sett too left his banking job and started a food cart – Barbeque Thela – on Sukeas Street. He converted his scooter into a cart and started serving different types of kebabs almost every day. The malai kebabs are his signature item. His success, in turn, inspired Kabab Express, which stands just behind Barbeque Thela and serves a variety of items including kebabs, grilled chicken legs and chicken wings.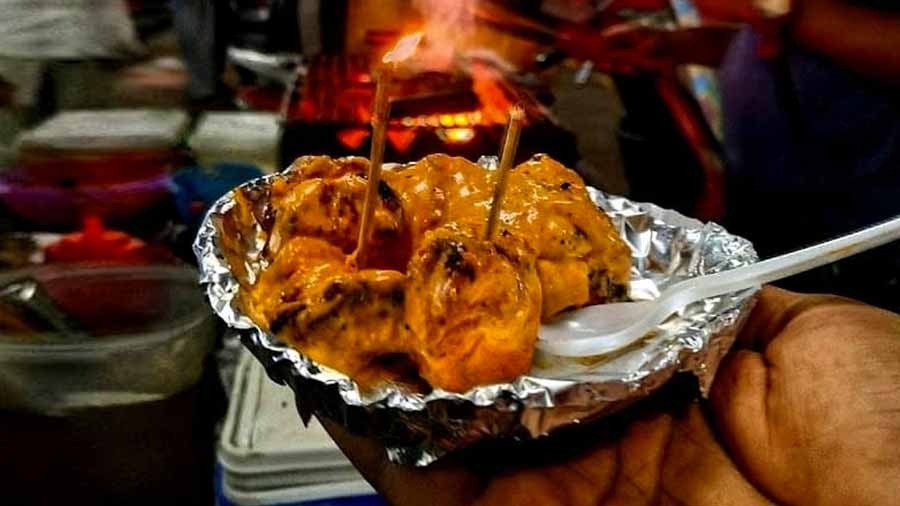 Kebabs from Barbeque Thela at Sukea Street
facebook.com/barbequethela
Indranil Chowbe was working for a network provider company when he decided to take a break. During this time, he started Meet & Eat, which stands next to Jagat Mukherjee Park in Sovabazar. Such was the success of his enterprise that he never returned to his job. In fact, his shop is only shut on the days when he's booked to cater for parties, where he sets up a live counters of his signature Pyare Kebab.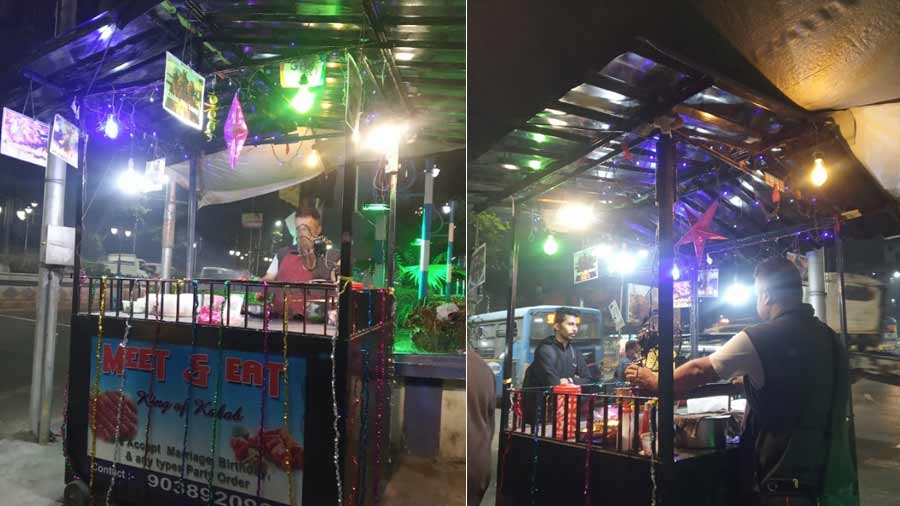 Meet & Eat stands next to Jagat Mukherjee Park in Sovabazar
Pinaki Bhattacharya
A five-minute drive away, on the junction of Beadon Street and Bidhan Sarani, is another cart, Smoky, where owner Arijit Khan sells his signature tandoori chicken. He rubs shoulders with adjoining kebab cart, Gypsy Bong.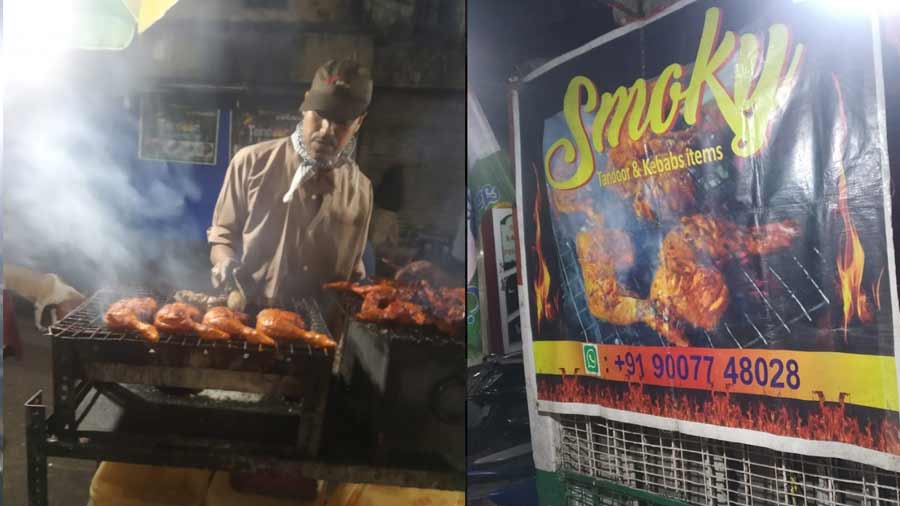 Smoky, on the junction of Beadon Street and Bidhan Sarani
Pinaki Bhattacharya
On other side of town
Oblivious to the success of Shubhadeep and others in Dumdum, on the other side of the city – in Kasba – Debangshu Dey decided to use his experience in event management to delve into the kebabs and barbeque business. He noticed that though kebabs were a popular item on the menus of elite parties, it was loved by all. So, he started Roasted Cart near Bosepukur, Kasba, to bring the delicious dish to everybody.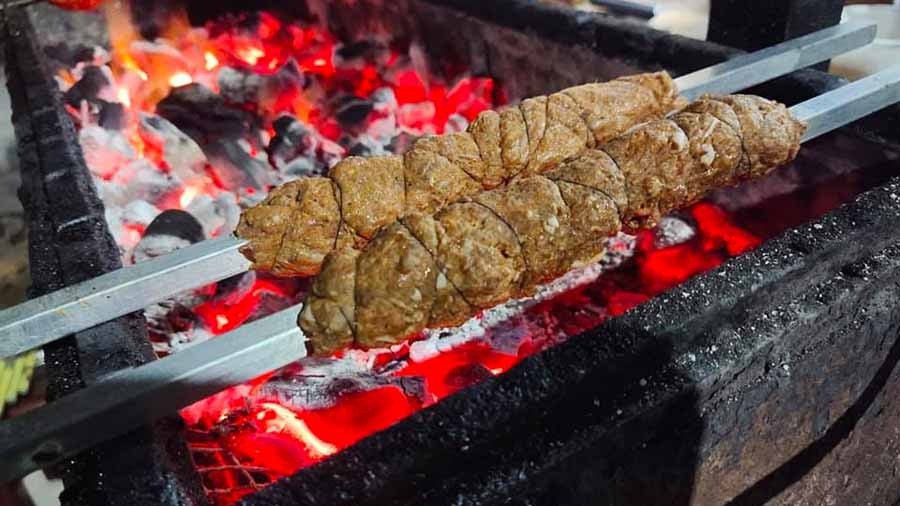 Kebabs on the barbeque at Roasted Cart near Bosepukur, Kasba
facebook.com/roastedcart
His venture was a smash hit in that location. Experimentation and innovation have been Debangshu's forte and resulted in menu items such as Mutton Tribal Tikka, Mutton Chapli and roasted eggs. The popularity of his food made him set up a second cart near Kavi Shubhas Metro station in New Garia.
The phenomenal fame of Roasted Cart in south Kolkata inspired others, and in turn influenced the success of joints that followed – such as Food Ques and Bubai Fast Food Center near Bapuji Nagar on Raja SC Mullick Road. Similarly, the success of Classic and Khwaja near Kalika Cinema near Hazra junction rippled down to the consequent establishments in the area – including Tasty Corner at Ray Bahadur Road, Behala, and the busy carts near Debdaru Fatak or at Parnasree market.
Street food championed by millennials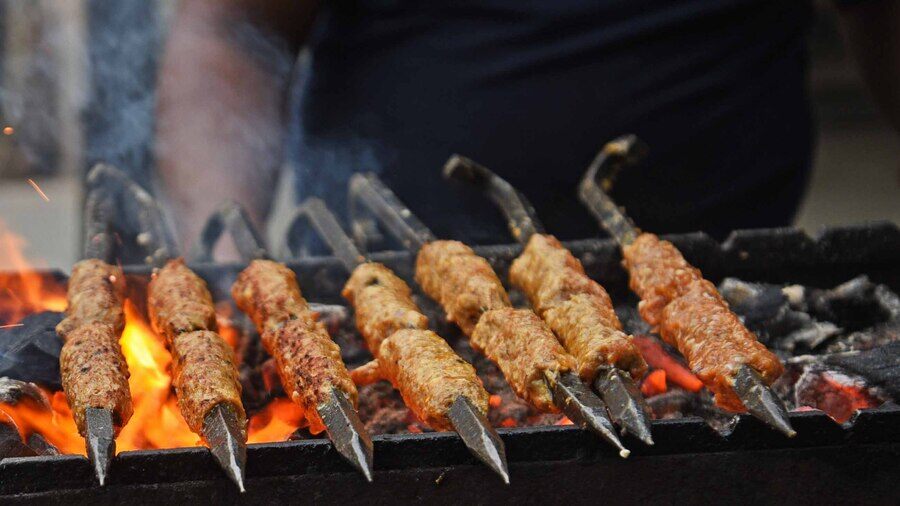 With kebab joints mushrooming in the city, every gully and para has its favourite
Amit Datta
These are but a few examples of the now mushrooming kebab joints in the city. Every gully and para has its favourite. With healthy living being on the forefront more than ever before, the roasted meat morsels trump fried snacks almost always.
Kolkata's kebab revolution was definitely the result of the ingenious and inventive ideas of the millennials and Gen Ys of the city. The popularity and the revenue generated from these "kebab-on-wheels" ventures are proof enough that it will be a continuing success.