Like all good things, the hilsa season too will come to an end — and it'll happen rather fast! So make haste and explore every possibility this delicious Bengali mainstay has to offer.
From quick work-day recipes to elegant party options — these four exotic hilsa recipes will not let you down:
Hilsa biryani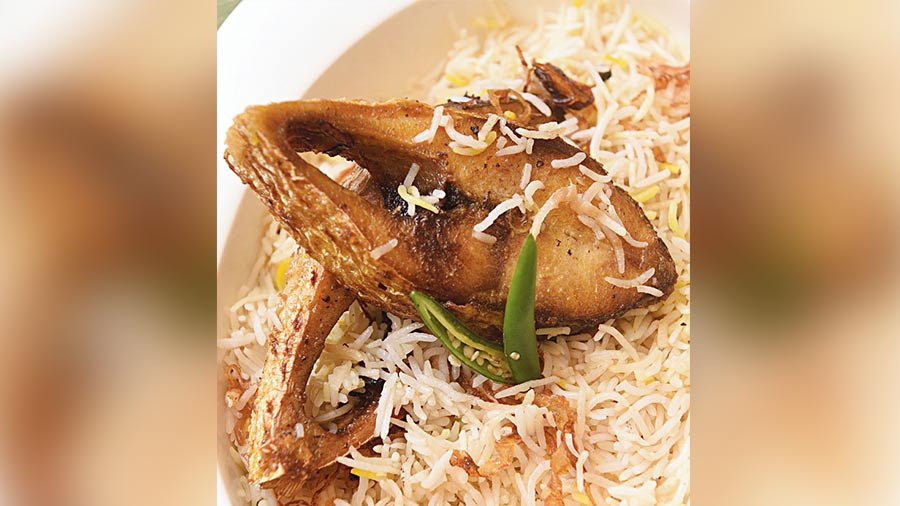 TT Archives
The hilsa biryani retains the regal taste notes of a quintessential biryani, but adds distinct and unique flavours, making it an umami-rich delicacy. Ring in a monsoon weekend with this ilish biryani recipe that is pairable with potatoes and eggs in true Kolkata tradition. 
Ingredients
Hilsa pieces: 7-8
Basmati rice: 1 cup
Bay leaves: 2 large
Cinnamon stick: 1
Whole biryani garam masala: 1 tablespoon
Whole biryani garam masala paste: 1 tablespoon
Onion beresta (fried onion): 1 small cup
Onion-ginger-green chilli paste: 6 tablespoon
Milk: 1 cup
Kesar (saffron) strands: 1 teaspoon
Turmeric powder: 2 tablespoon
Kashmiri red chilli powder: 1 tablespoon
Potato: 4 (cut into halves)
Eggs: 4-5 boiled and peeled
Salt
Sugar
Mustard oil
Vegetable oil
Ghee
Recipe
Make a potli of ½ tablespoon whole garam masala
Soak the rice grains in water for 15-20 minutes. Cook with a teaspoon of salt, two tablespoons of vegetable oil and garam masala potli till the rice is 70-80 per cent done
Drain the water and let it air dry on a flat surface
Take out the boiled garam masala from the potli and keep it in a small bowl
Take enough mustard oil in the kadhai so the fish pieces are submerged and you have enough hilsa-flavoured oil to add to the biryani
Marinate the hilsa pieces in salt and turmeric powder and fry till golden brown
Remove excess oil from the frying pan and keep about enough to make a spice paste with the bay leaves, remaining whole garam masala and onion-ginger-green chilli paste. Add a pinch of turmeric and the red chilli powder while making the paste
Marinate the fried fish with the spice paste and keep it aside. Keep the residual paste to add to the layered rice while making the biryani
Make small pin-sized holes in the potatoes with a fork or toothpick. Marinate the potatoes with turmeric powder and salt, and deep fry
Shallow fry the boiled eggs too, adding a pinch of salt and turmeric powder before frying
Add the kesar strands to the milk and stir well. Keep aside
Take your biryani cooking container and grease it well with vegetable oil and ghee
In one layer each, add:
Cooked rice
A small amount of whole garam masala paste
Fried onion
Fried potatoes
One fried egg
A few boiled whole garam masala pieces
A pinch of whole garam masala paste
Salt
A small pinch of sugar
A small pinch of turmeric powder
Some milk with kesar strands
Marinated fish
A little fish marination paste
Ghee
Repeat the layer combination till the rice is used up
Cover cook for 10-15 minutes in low flame
Check the status and seasoning and serve hot
Tip
You can seal the lid with atta dough or aluminium wrap (optional)
Use full-fat milk for the best results
Using potato and eggs is optional
'Ilisher tok'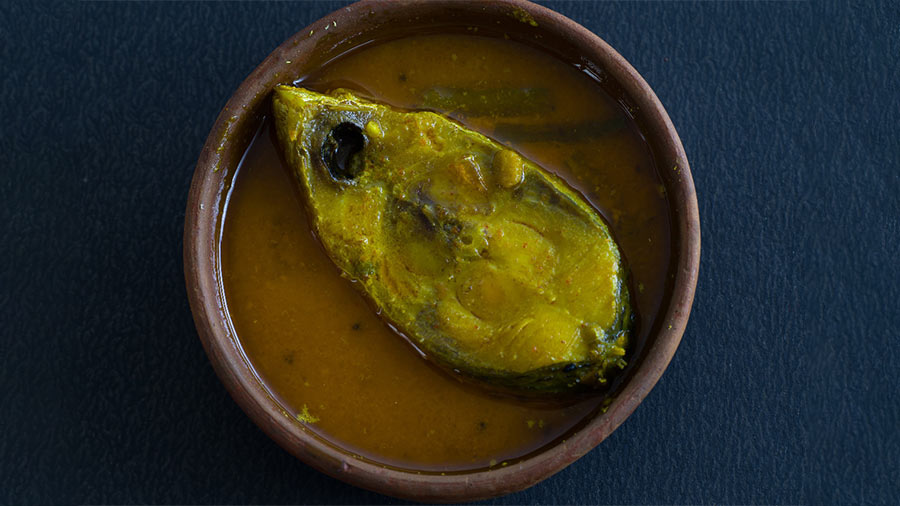 Shuttestock
Maacher tok is a popular delicacy in several Bengali households. But, how about taking it a notch higher and exploring a hilsa variant of the same? This flavourful recipe makes sure your meal ends on a high.
Ingredients
Hilsa: 3 steak pieces, 1 head cut into half, 1 tail slit
Whole dry red chilli: 2
Red achari chilli: 2-3 cut into halves
Paanchforon (Bengali 5-spice mix): 1 tablespoon
Ripe tamarind paste: 3 tablespoon
Jaggery: 100-120 gm
Green chillies: 2-3 slit
Mustard oil
Turmeric powder: 1 tablespoon
Salt
Recipe
Marinate fish with salt and turmeric powder
Add enough oil to the frying pan so the main dish has fish-flavoured oil
Shallow fry the fish pieces will golden brown. Set aside
In the same frying pan, add dry red chillies and the 5 spices. Temper till aroma fills the air (be mindful because panchforon burns faster than you think)
Add the ripe tamarind paste, turmeric powder, a pinch of salt and cook on low to medium flame for 7-10 minutes
Add the jaggery powder/liquid jaggery/grated jaggery and slowly stir in low flame to mix it well with the tamarind paste. Cook for 7-10 minutes and wait for the jaggery to leave the water and assimilate well into a rich, brown paste
Add warm water (enough to make a tok). Add a pinch of salt, the achari chillies, green chillies and bring to a boil in low to medium flame
Add the fish pieces and cook for another 5-7 minutes
Check the seasoning and serve hot with warm rice
Tip
If you don't like your tok too sweet, move the jaggery and tamarind quantity around for the desired taste
You can have this dish cold too. Just can batch cook and store for 2-3 days in the refrigerator
'Ilish korma'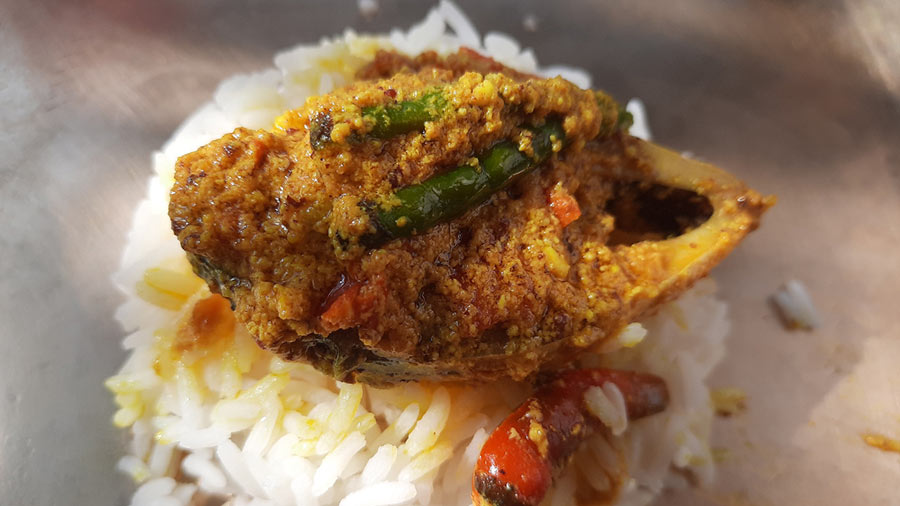 Shutterstock
A badshahi korma with the flavours of hilsa — if this is not perfect, what is? Rich gravy and thick hilsa pieces on a bed of white rice is the unfailing recipe for a weekend well done.
Ingredients
Hilsa pieces: 7-8
Fried onion: 1 small cup
Onion paste: 1 large onion boiled and turned into a fine paste
Ginger-green chilli paste: 1 tablespoon
Garlic paste: 1 tablespoon
Green chilli: 4-5, slit
Hung card: 8-10 tablespoon
Cashew nuts: 10-15 pieces soaked in lukewarm water and turned into a fine taste
Raisins soaked in milk: 8-10 pieces, made into a fine paste
Full fat milk: ½ cup
Bay leaf: 1
Whole dry chillies: 2
Whole garam masala: 1 teaspoon
Garam masala paste: ½ teaspoon
Red chilli powder: 1 tablespoon
Kashmiri red chilli powder: 1 teaspoon
Turmeric powder: 1 tablespoon
Mustard oil
Salt
Sugar
Ghee
Recipe
Marinate the fish pieces with salt and turmeric powder, and shallow fry till golden brown. Don't forget to take enough oil so you have fish-flavoured oil for the recipe
Add a dollop of ghee to the fish-flavoured oil and heat well
Add the bay leaf, whole red chillies and garam masala and temper well
Next comes the onion paste, ginger-green chilli paste and garlic paste, at a gap of 3-4 minutes each. Mix well and cook till the pastes have come together
Add the fried onions, red chilli powders, a pinch of salt and sugar, turmeric powder and cook well in low to medium flame
Once the spice base is ready, add the hung curd and mix well. Cook for 5-7 minutes or until oil leaves the surface, in low to medium flame
Add the cashew and raisin paste and mix well. Cook for about 5 minutes or till the raw nutty flavour subsides
Add milk and stir well, mixing the spice base. Bring to one full boil before adding the fish pieces
Cook for 7-8 minutes, check seasoning
Add the garam masala paste and ghee, and cook for another 15-20 seconds
Top it off with some leftover fried onions and serve hot with rice or Indian bread of your choice
Smoked Hilsa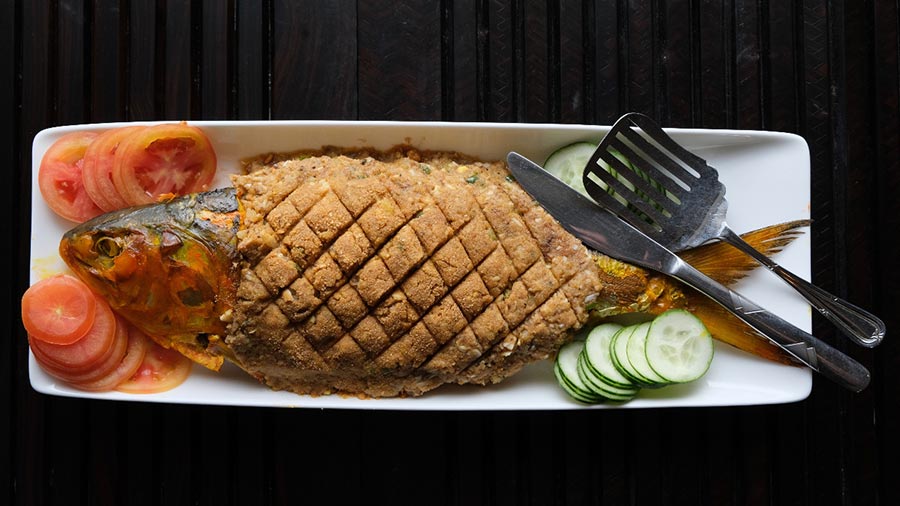 Shutterstock
If you have a hilsa cookout party planned this week and are looking for unique options, the smoked hilsa recipe is what you need. Succulent and Instagram-worthy, this recipe can be an elegant party starter. 
Ingredients
Hilsa: 1 whole
Fried onion paste: 1 tablespoon
Ginger-green chilli paste: 1 tablespoon
Whole red chilli paste: 1 teaspoon
Kashmiri red chilli powder paste: 1 teaspoon
Lime juice: 1 teaspoon
Tandoori spice mix: 1 and ½ teaspoon
Melted butter: 1 small cup
Turmeric powder: ½ teaspoon
Salt
Chaat masala
Aluminium foil
Recipe
Make slits on the fish on both sides
Marinate the fish on both sides with salt, turmeric powder, fried onion paste, green chilli and ginger paste, whole red chilli paste, Kashmiri red chilli powder paste, lime juice and tandoori spice mix. Don't forget to drizzle some melted butter
Cover and set aside in the fridge for a minimum of 20 minutes
Grease the baking tray/non-stick pan with melted butter
Right before baking, drizzle some more butter
Bake for 30-40 minutes at 180 degrees wrapped with aluminium foil, or cover and cook at low to medium flame for the same time
Flip the side at mid-time to cook it equally on both sides
Serve piping hot with thin lemon wedges on the sides, and a dash of chaat masala on the top