This year, Jamai Sasthi is a weekend affair — so jamais have all the more time to savour their home-cooked favourites and mums and dads-in-law may need to step it up! If you're planning a home-cooked spread, explore some good old favourites and forgotten delights that'll have your jamai and his crew visiting more often.
Check out these specially curated recipes that'll make sure this Jamai Sasthi is an affair to remember!
Gandharaj-chingri pulao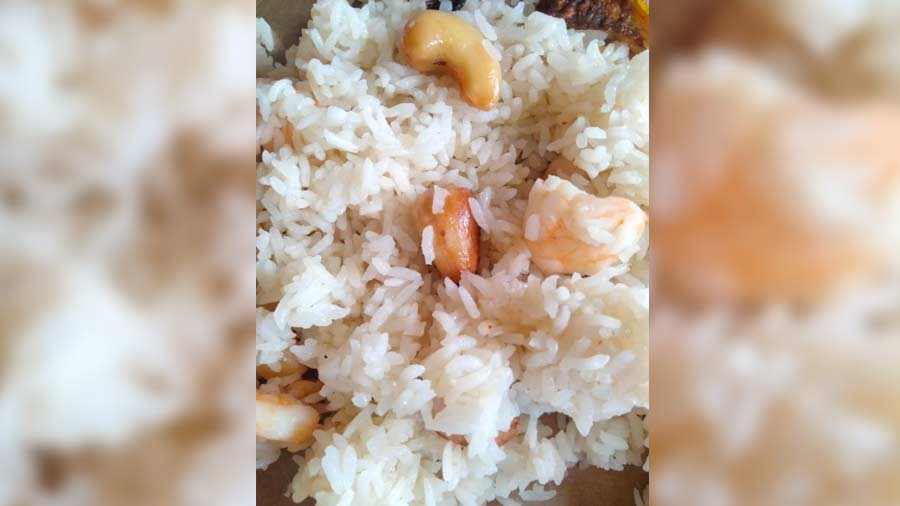 Rinku's Kitchen
The goodness of gandharaj lebu, chingri and gobindabhog chal in one dish — can there be a better pulao recipe than this?
Recipe:
The rice-to-water ratio is the make-or-break part of this pulao. Stick to a balance of one cup of rice to two cups of water.
Make a ghol/lassi-ish blend with sour curd and gandharaj lebu juice. Wash the gobindobhog rice and soak dry. Keep some lime zest and leaves ready on the side.
Clean the tiger prawns and marinate them in salt and turmeric powder. Saute them in a small dollop of ghee and keep them aside. If you like cashew and raisin in your pulao, saute them in the same skillet in a little ghee and keep them ready to mix.
In a kadhai, add a good amount of ghee and whole garam masala along with one bay leaf. Add the rice grains and fry till translucent in low flame. Add the ghol/lassi and one cup of lukewarm water. Add the prawn pieces, salt and sugar to taste.
Cook at a high flame for the first two minutes after adding all the ingredients. Give it a good stir and cook in low flame under cover for another 10 minutes (or till the time the rice is cooked). At the five-minute mark, add the lime leaves and give it one good stir.
Switch off the burner. Add the lime zest and give one last stir. Drizzle a little ghee and allow a little resting time. Serve hot!
Tips:
How to know the rice is fried to perfection? The grains turn sparkling white
Be careful while stirring the rice and keep checking because they burn quickly
'Phool tupri'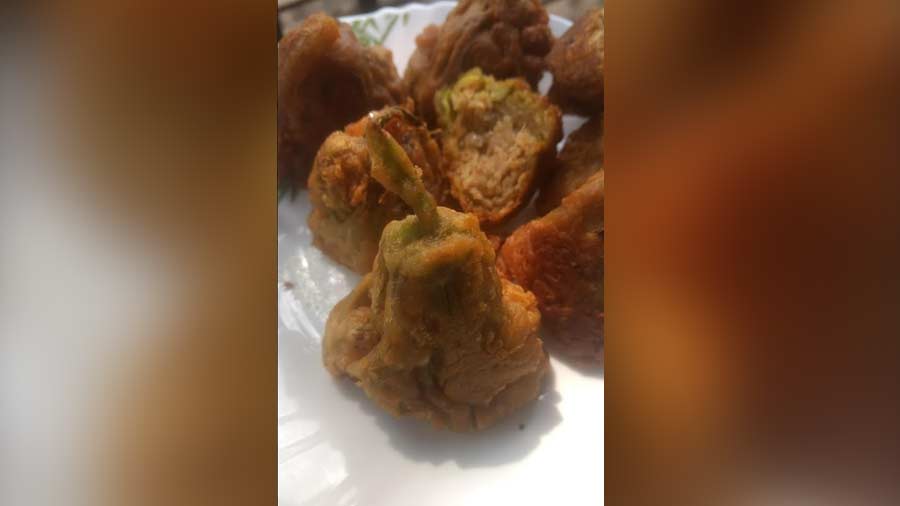 Rinku's Kitchen
These delicious fritters look like a biyer topor and can be the perfect appetiser.
Recipe:
Clean the innards of the whole kumro phool and keep the stem. 
Soak masoor dal overnight and make a paste with a pinch of salt and green chillis. 
Make a paste of small prawns (kucho chingri) with a pinch of salt, lime juice, and green chillies to taste. 
Drizzle mustard oil in a kadhai and add finely chopped onions and add the dal and prawn paste one after the other at a gap of 3-5 minutes and cook till the dal is cooked nice and fine. Bring the paste to room temperature. 
Now, take each kumro phool and add a little bit of the filling. 
Make a thick batter of chickpea flour with a pinch of salt and sugar. 
Dip each flower in the batter and deep fry till golden brown.
Tips:
Dip the stem and the flower
Don't forget to sprinkle a little chat masala over the fritters
Quick chicken seekh kebabs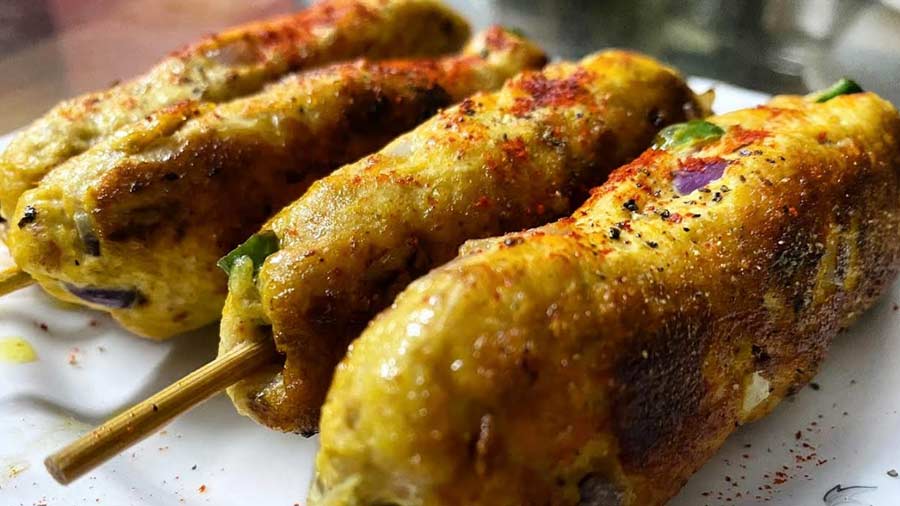 Pooja Mitra
What if we tell you that you can make these juicy kebabs in 30 minutes? You can even batch cook and store them to last over the weekend!
Recipe:
Blend boneless chicken thigh pieces with salt, whole or powdered black pepper corns, lime juice, onion-ginger-garlic-green-chilli paste and coriander powder into a smooth paste and set aside. 
Soak split bengal gram overnight and make a smooth paste with a pinch of salt. Now mix both the pastes and ensure they are tight but not chewy (the purpose of the dal bata is to act as a binding agent).
Take skewers and make the kebabs. In a skillet, add mustard oil and shallow fry the kebab sticks. 
Serve piping hot, and don't miss sprinkling lime juice and chaat masala on the top. 
Murgh Musallam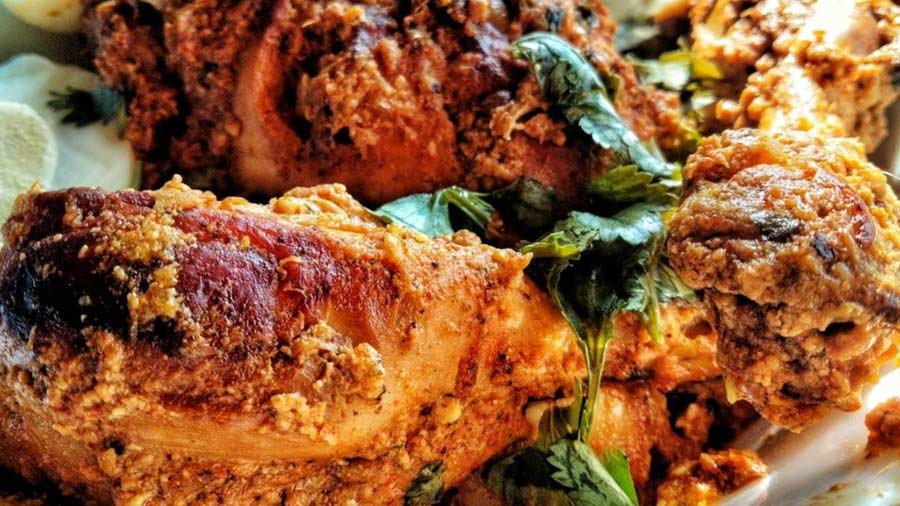 This regal number is a slow-cooked, desi alternative to a chicken roast and makes the heart crave for a pint of beer (hic!) or some few smooth DIY cocktails. 
Recipe:
Clean the whole chicken, pat it dry and make tiny holes with a fork.
Make a paste of onion-ginger-garlic-green-chilli paste. Marinate the whole chicken (in and out) with the spice paste, melted butter, hung curd and salt. Keep the marinated chicken overnight in the freezer. 
For the filling, boil eggs and medium sized potatoes cut into halves and shallow fry them. Add tomatoes cut into halves. Fill the chicken with these and stitch the open area so they do not spill over while cooking.
To cook, add sunflower oil and ghee in a kadhai. Add whole garam masala in the oil and temper. 
Carefully place the chicken in the kadhai and cover in low to medium flame. Turn sides every 5-10 minutes, brushing ghee or sunflower oil (or both mixed together). 
Cook till the chicken is tender and serve piping hot, garnished with chopped green coriander leaves.
Mutton Kosha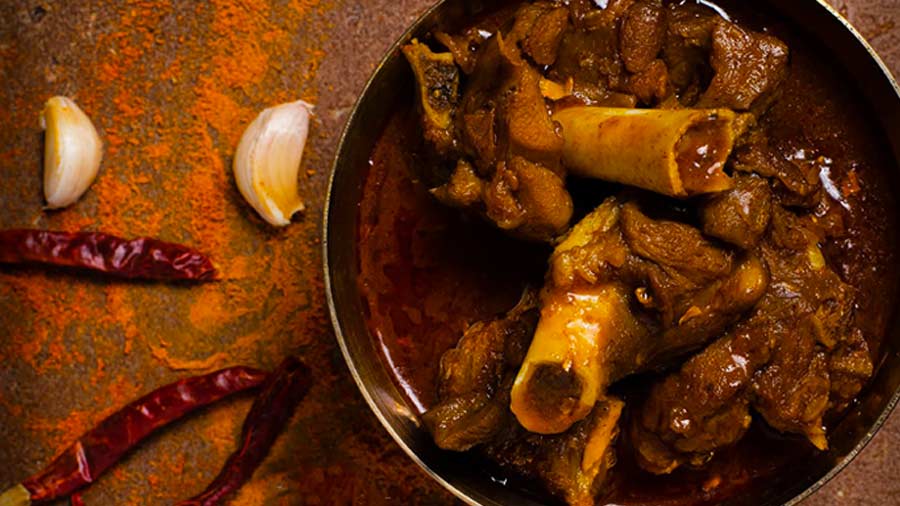 What is Jamai Sasthi without rich gravy and succulent mutton pieces melting in the mouth? Nothing!
Recipe:
Marinate the mutton pieces (80:20 meat-fat ratio) overnight with salt, whole black pepper powder finely grounded, turmeric powder, fine paste of whole cumin and coriander seeds, ginger-garlic paste, chopped onions, green chilli and lime juice paste, slit green chillies, hung curd, mustard oil and a paste of tomato-whole red chillies and red chilli powder. These spice pastes will be required while making the gravy.
In a deep kadhai, add mustard oil and a dollop of ghee and heat. Now add bay leaves, whole cinnamon stick, cardamom and cloves pods and temper the spices. 
Next in line are the chopped onion slices. Divide them in half and make birista (caramelised onions) and keep aside one half. The other half goes in the kadhai and must be cooked with a sprinkle of salt and sugar till they are soft and golden brown. 
Add the birista, one whole garlic, ginger-garlic paste, green-chilli lime juice paste, whole garam masala paste, whole cumin-coriander paste, tomato-whole red chillies and red chilli powder paste one after the other, at a gap of 4-5 minutes each. Now that all the masalas are here, do what a good manghso needs — the koshano, of course! 
Add the marinated mutton and go for the second set of koshano — 10 minutes in high flame and uncovered (and covered for 30 to 40 minutes in low to medium flame.)
Meanwhile, fry the mangsher aloo and keep aside, and make one cup of sugar-free liquor tea that's deep brown in hue. 
Add the tea you made in the meat and let it simmer for 2-3 minutes and then add the desired amount of water. 
Add the fried potatoes and tomatoes cut into halves. Pressure cook after the mangsho koshano is done, if you prefer. Two whistles, and then one whistle after adding the aloo should be good to go. 
Check seasonings one last time and serve red, hot and smelling of food coma!
'Kalo jeera diye ilisher jhol'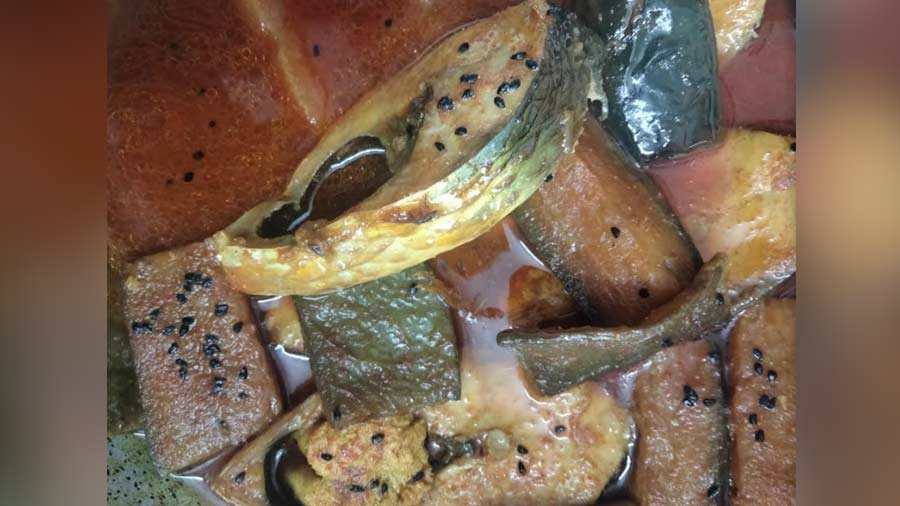 Pooja Mitra
Jamai Sashthi menu is meant to be heavy on the tummy, but is it ever complete without maacher raja, aka ilish? Skip the shorshey-posto bhapa and try kaalo jeera diye ilisher jhol.
Recipe:
Marinate the ilish pieces in salt and turmeric. Cut the brinjals into quarter pieces, marinate with salt, a little bit of sugar, turmeric powder and fry till golden brown. Next in line are the ilish pieces. A light fry, about a minute and a half for each side, and that's about it.
In a kadhai, add mustard oil, kalo jeera and slit green chillies and let the spices spread some aroma. 
Make a paste of salt, turmeric powder and water and keep aside. 
Add the spice paste till the rawness is gone and you can see oil rise to the surface. 
Add the desired amount of water and let it take one full boil. 
Add the brinjal pieces and cover. Cook the brinjal pieces till they are tender but firm and add the fish. 
Another good boil, check seasoning, add a few more slit green chillies and a dollop of mustard oil — and voila!
Tips:
Don't overcook the fish. They are fragile!
Add bori if you like
Aam doi sorbet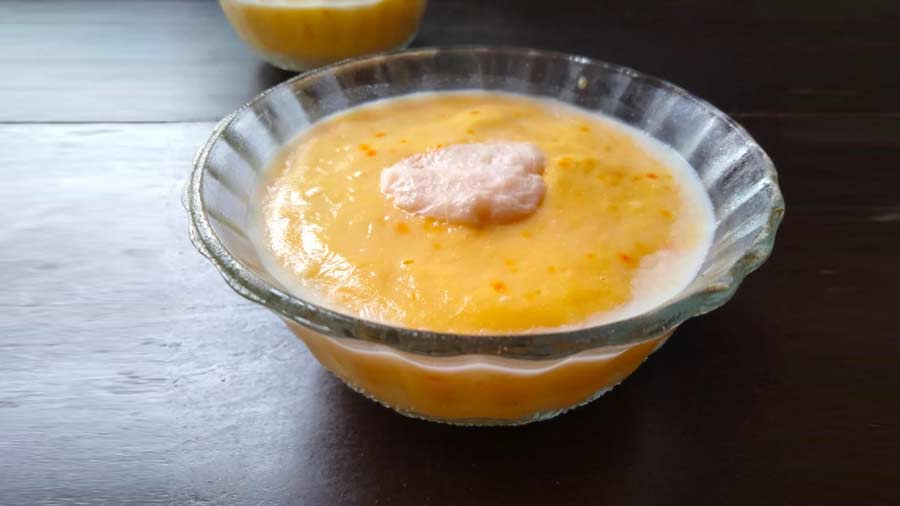 Pooja Mitra
All's well that ends well, they say. This quick and easy sorbet recipe has the coolness of ice cream with the goodness of mangoes!
Recipe:
Take a couple of ripe, sweet mangoes and scoop out the flesh. 
Blend it with a little bit of saffron, doodher shor or milk malai, sugar (if needed) into a fine paste. 
Take hung curd and lightly hand blend with the mango pulp. 
Grease bowls with butter and pour the batter. 
Serve frozen with dollops of malai.
Tip:
Finely chop raw mango, pistachio, almond and raisins, and add into the final batter for a little surprise element