There's a reason why breakfasts are the MVPs of your day — be it a last-minute BLT sandwich, a big ol' bangers-and-mash platter or the irresistible luchi-chholar dal — the first meal sets the tone for the rest of your day. And we insist you make an effort to sort yourself a hearty brekkie.
If you're low on time and wary of carb-heavy options, go for interesting homegrown recipes which can be more palatable and nutritious than your go-to eggs and toast, and definitely yummier.
So, here are a few breakfast recipes that need minimal prep time and offer the biggest satisfaction.
20-minute 'dhoklas'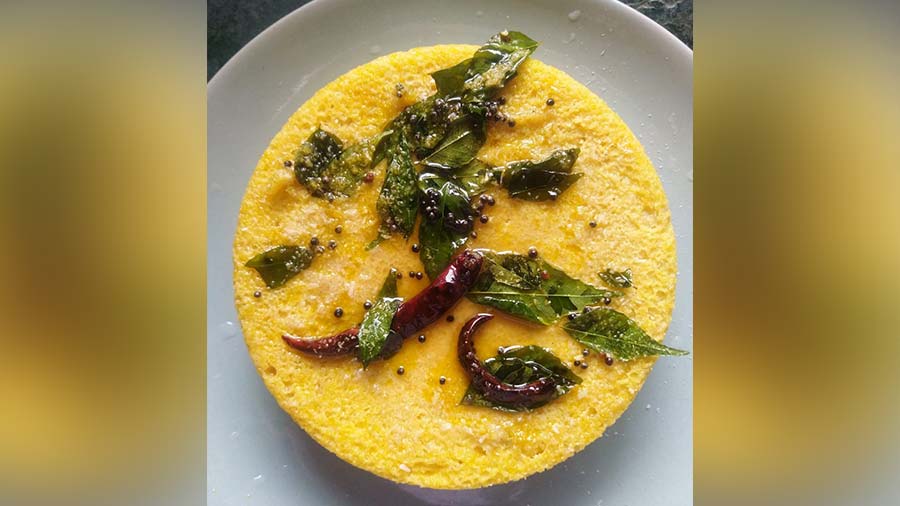 Pooja Mitra
Start your day with soft, spongy dhoklas, topped with grated coconut, tempered mustard seeds and curry leaves on the top — can it get better than this?
Ingredients:
1 and ½ cup besan
1 tablespoon semolina
3-4 tablespoon of sugar
1 and ½ teaspoon ginger-green chilli-lime juice paste
½ teaspoon lime juice
1 teaspoon salt
1 sachet Eno
3-4 tablespoons vegetable oil
1 tablespoon black mustard seeds
1 teaspoon hing
7-8 curry leaves
2-3 dry red chillies
1-2 green chillies finely chopped
7-8 tablespoons grated coconut
1 cup water
Recipe:
Sieve the besan. In a mixing bowl, add besan, semolina, salt, sugar, ginger-green chilli-lime juice paste and lemon juice. Whisk well with approximately ¾ cup of water, until there are no lumps. The batter cannot be runny and has to be smooth.
Fill a kadhai with adequate water to half-submerge your steaming container and set it to boil. Grease a tiffin box or cake mould with vegetable oil.
Right before pouring the batter into the mould, add Eno and give it a light-handed and quick mix. Pour the batter and cover the container. Do for a double cover by adding a lid to the kadhai and something heavy atop to keep the utensil in place.
Steam for 10-15 minutes, periodically doing a toothpick test. Once done, do not de-mould at once and let it cool for about 7-10 minutes. Meanwhile, in a nonstick frying pan, add some vegetable oil, mustard seeds, dry red chillies, hing, curry leaves and chopped green chillies and temper well. Add a little water and 3-5 seconds later turn off the flame.
Pour this mixer on the de-moulded dhokla and sprinkle some grated coconut. Cut into pieces and serve with chutney of your choice.
Crispy 'jalebis'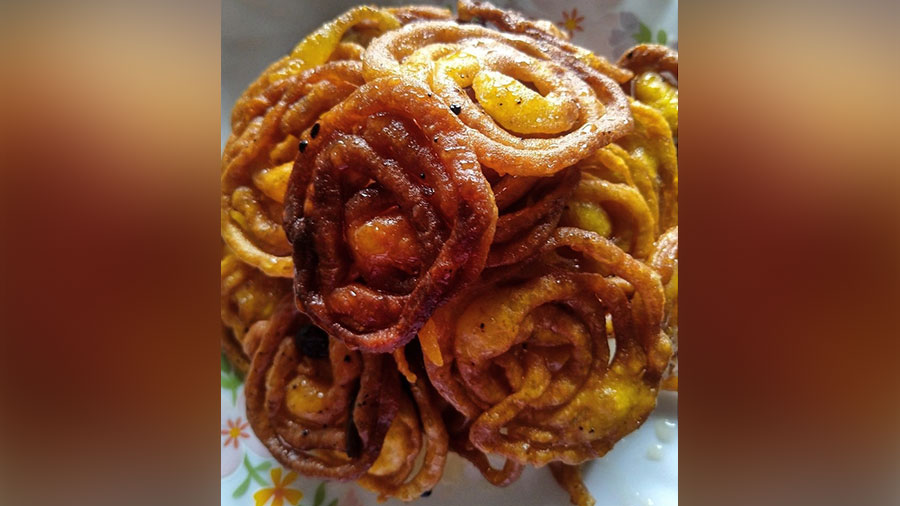 Pooja Mitra
Piping hot jilipi can be a love language. Dip it in warm milk, pair them with singaras or simply team it up with the leftover rabri — nothing quite comes close to this.
Ingredients:
For the sugar syrup-
1 cup sugar
1 teaspoon saffron
½ cup water
1 teaspoon rose water
1-2 cardamom pods
For the jalebi batter:
1 cup flour
1 teaspoon baking powder
½ cup hung curd
1 teaspoon cardamom powder
½ teaspoon salt
For frying:
Recipe:
Keep the sugar syrup ready. Remember, the syrup cannot be runny but has to be sticky instead.
Sieve maida and baking powder and set aside. Add curd and water in a bowl and beat well. Pour the seived flour and make a thick batter.
Heat ghee and vegetable oil in a kadhai. Take a piping bag or make a makeshift one to make small jalebis. The trick is to go from exterior to centre while making the patterns, 2 and ½ ring per piece (unless you are making an amriti/imarti).
Fry till they are golden brown and shift into the sugar syrup straight from the kadhai. Dip for 3-4 minutes and serve.
Tip:
You can add a small drop of orange food colour if you want, as you make the batter.
Ghugni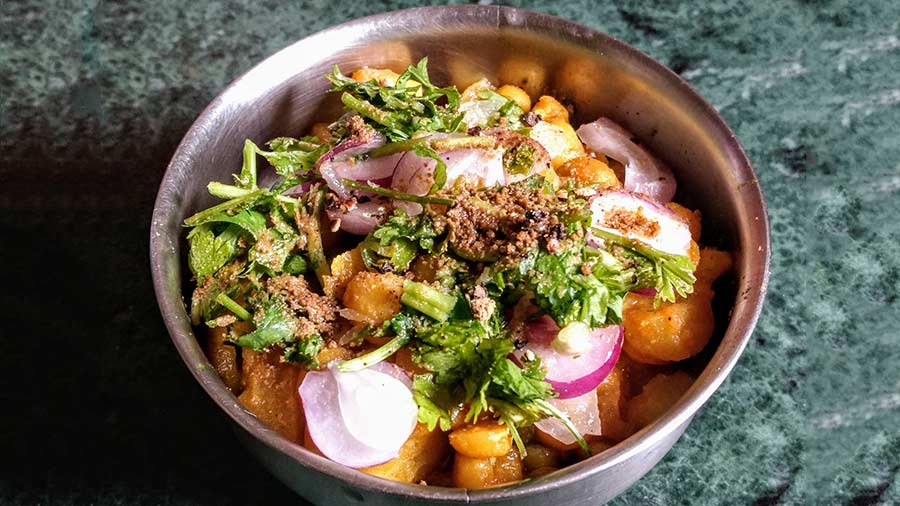 Pooja Mitra
Ghugni goes with anything – be it a steaming paratha, with some surprise mutton metey pieces and narkel, or simply with some tamarind chutney. Is there a better soul food than this?
Ingredients:
1 and ½ cup soaked chickpeas, boiled
1 large onion finely chopped
2-3 tablespoons ginger-garlic paste
2-3 tablespoons lemon juice
2 tablespoons whole coriander-cumin paste
1 tablespoon Kashmiri mirch powder
1 tablespoon
1 bay leaf
2 cardamom pods
2 cloves
1 cinamon stick
5-6 green chillies slit
1 tomato, diced
2 potatoes chopped into dices
1 tablespoon turmeric powder
Salt
Sugar
Mustard oil
Ghee
For garnish:
½ cup grated coconut
2-3 green chillies finely chopped
1 onion finely chopped
Chopped coriander leaves
Ripe tamarind chutney
Recipe:
Pour mustard oil and ghee (2:1 ratio) in a kadhai and heat. Add bay leaves, cardamom, cloves and cinnamon and let it simmer a little. Add the onions and fry till golden brown, followed by the ginger-garlic paste. Let the spices cook till the rawness is gone.
Next in line are the coriander-cumin paste, turmeric and red chilli powder. This is the koshano part of the spices that should be done in low to medium flame until oil leaves the surface.
Keep sprinkling water intermittently to save the spices from burning.
Add the potatoes and tomato and cover for a little while. Once the potatoes are a little soft, add the chickpeas and give a good stir. Cover and do the second round of koshano, adding slit green chillies, sugar, salt and lime juice.
Add water and cook till the peas and potato are all cooked. Garnish and serve piping hot!
Tip:
Have left-over mutton or mutton liver? Add them on!
If you have mutton fat or pork fat stored, use that instead of oil
'Chirer Pulao'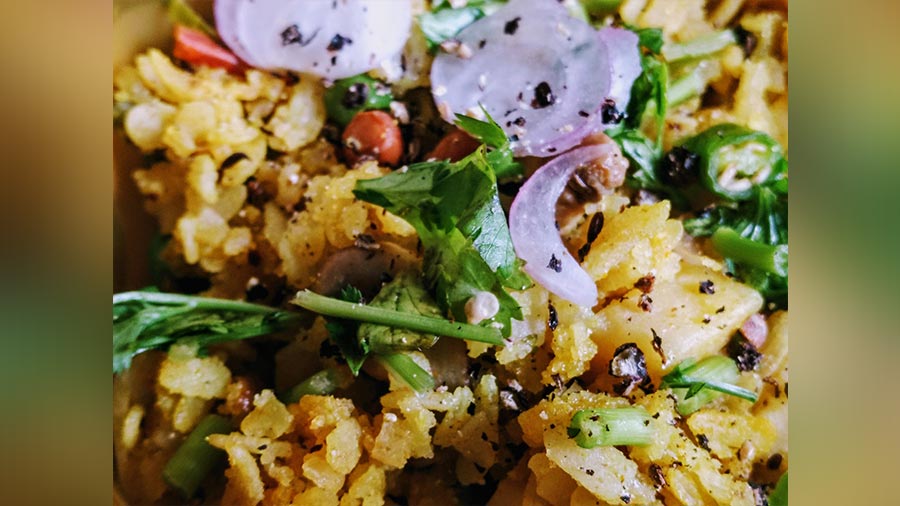 Pooja Mitra
The perfect workday breakfast — it's light, savoury and filling. If you're not too keen on carb-loading in the morning or are trying to cut back on meaty breakfast options, the low-key chirer pulao is ideal.
Ingredients:
1 and ½ cup chire (aka poha or beaten rice)
1 large onion finely chopped
3-4 finely chopped green chillies
Finely chopped coriander leaves
Peanuts
1 tablespoon cumin seeds
1 and ½ tablespoon ginger-garlic paste
Salt
Sugar
3-4 tablespoons lime juice
5-7 curry leaves
Potato, carrots, beans and cauliflower cut into small pieces
1 tomato chopped
1 bay leaf
1 cinnamon stick
2 cloves
1 cardamom
1 tablespoon turmeric powder
Vegetable oil
8-10 cashews
10-15 milk-soaked raisins
Ghee
8-10 curry leaves
Recipe:
Saute the peanuts, cashews and raisins in ghee and keep aside. Wash the beaten rice lightly and dry it well. Remember, beaten rice softens quickly and poha needs soft but whole grains. Blanch the veggies.
In a kadhai, add vegetable oil and 1 tablespoon ghee and heat well. Add bay leaf, cinnamon, cardamom and cloves and wait till the aroma starts to come out. Add cumin seeds, ginger-garlic paste and curry leaves.
Now add the veggies into the kadhai and saute well. Add the onions, tomato, green chillies, turmeric powder, salt and sugar and give a good stir. Cover with a lid and allow the vegetables to soften. Add the beaten rice and stir lightly, along with the peanuts, cashews and raisins. Cover and cook for 7-10 minutes at low flame.
Serve hot with some ghee and coriander leaves sprinkled above.
'Aloo singara'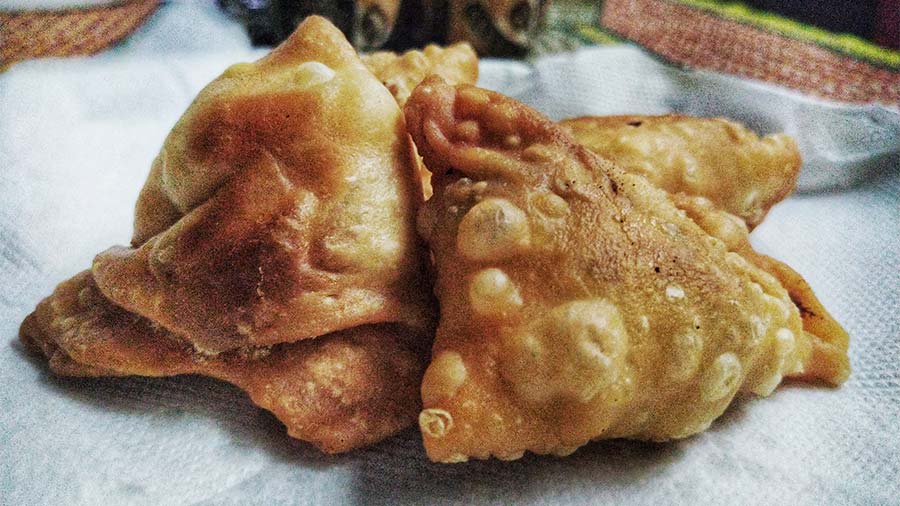 Pooja Mitra
Gorom gorom singara, ek cup chaa and morning adda with fam — the recipe for an ideal weekend. Scroll down for the easiest aloo singara recipe below…
Ingredients:
For the coating:
2 cups maida
A pinch of salt and sugar
3-4 tablespoons ghee
Water (as required)
For the filling:
3-4 large potatoes boiled and mashed
2-3 dry red chillies
½ tablespoon panchforon
3-4 green chillies finely chopped
1 tablespoon ginger paste
2 teaspoons mango ginger (optional)
1 tablespoon bhaja masala (whole cumin, coriander, bay leaf, black peppercorns, dry red chilli whole dry roasted and ground into a powder)
8-10 tablespoons chopped and fried coconut
8-10 tablespoons peanuts, sauteed
Salt
Sugar
1 bay leaf
Mustard oil
Vegetabele oil
Ghee
Recipe:
First comes the moyan part or the base. Knead the maida with salt and sugar until the outcome is a flaky mix. Add water and knead into a tight dough. Cover and let it rest for a minimum 15 minutes.
In a kadhai, prepare the filling of the singaras. Add mustard oil, bay leaf and dry red chillies and temper. Panchforon next and fry it till the aroma fills the air (careful, burns as easily). Add the ginger paste and cook. In goes the potatoes, peanuts and coconut. Cook till it turns into a no-moisture residue dough. Cool the filling completely before making the singaras.
Make the outer coating with the kneaded maida in the shape of singaras (tbh, it's fine if they don't look all profesh). Seal the edges of the singaras applying a little water on the fingertip.
Heat vegetable oil and some ghee and fry them golden brown. Serve hot with chutney of your choice!