It's already mid-June, so savour mango mania while it lasts because pretty soon the only place you're going to spot the king of fruits, is in the frozen aisle of your grocery store.
We have already curated a bunch of yummy ways you can use green mangoes in your kitchen and also cooked up a storm with savoury mango recipes. And now, we could use something sweet. Here's presenting some beginner-friendly mango dessert recipes which can also double up as breakfast or snacks.
Mango jam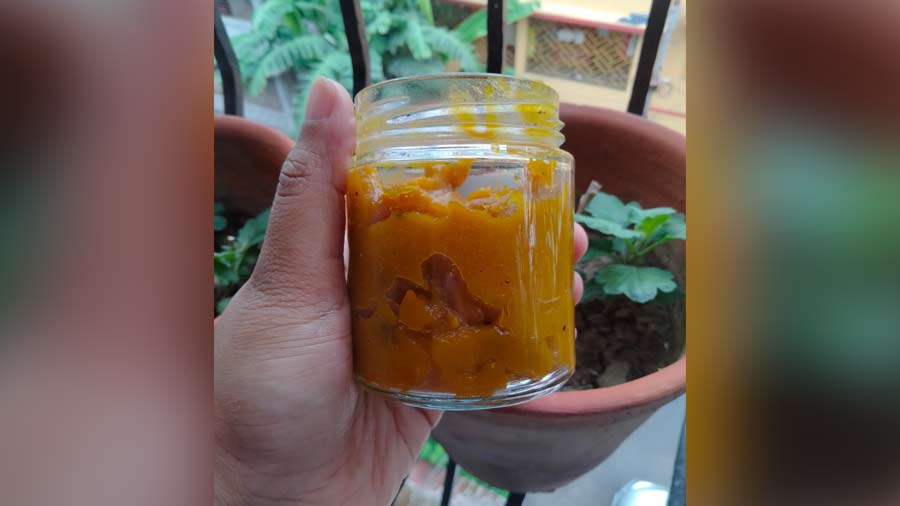 Pooja Mitra
Craving a mango condiment for breakfast, lunch and dinner? Here's how you can sort a DIY jam in under 20 minutes!
Ingredients:
5-7 ripe mangoes
2 small cups of sugar (granulated or powdered)
1 tablespoon kesar
2-3 tablespoons of butter
Recipe:
Scoop ripe mangoes and make a fine paste in a blender with a few strands of kesar. 
In a non-stick pan, add butter and let it melt. Add sugar (depending on the sweetness of the mango and your preference). 
Stir continuously in low flame till the sugar has melted. Add the mango pulp and keep stirring intermittently on low flame to avoid the surface getting burnt. Add a few more strands of kesar once the pulp is thick in consistency, with no water residue in the pan. 
Transfer the jam to an airtight container when it has cooled. Serve with crepes or toasts!
Tip:
Make this in small batches since it keeps in the refrigerator for about 72 hours
Mango pancakes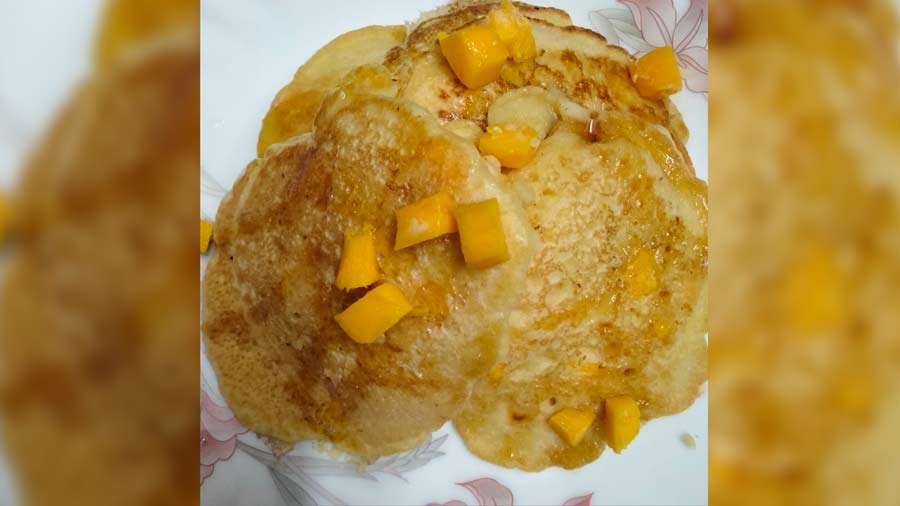 Pooja Mitra
Mango pancakes for breakfast, anyone? These soft, melt-in-the-mouth pancakes have a fruity base which could be a delight for kids.
Ingredients:
1 and ½ cup maida
1 egg
1 pinch of salt
1 tablespoon sugar
1 cup milk
½ tablespoon baking powder
2 large mangoes
Butter or oil of preference
Maple syrup or honey
Recipe:
Make a semi-thick batter with maida, egg, a pinch of salt, sugar, milk and baking powder, cover and set aside for 10-15 minutes.
Prepare the mango in two batches. Scoop out a few pulps of ripe mango and make a fine paste, and chop some into small cubes.
Right before turning on the oven, mix the mango pulp and cubes and give it a good fold.
Take a non-stick pan and brush butter or oil of your choice. Put a dollop of butter in the pan and spread evenly.
Cover and cook for 3-4 minutes or till one side is golden and flip to repeat the process. Serve piping hot with maple syrup or honey.
Mango cookies
Pooja Mitra
Who doesn't want their home to smell like freshly baked cookies? Trade in your chocolate chip cookies for these crackling and delicious mango cookies which will perk up your morning cuppa.
Ingredients:
1 and ½ cup maida
½ teaspoon baking powder
5-6 tablespoons melted butter
1 small pinch of salt
1 teaspoon mango essence
2-3 tablespoon mango pulp, beaten or blended
1 egg
1 small cup of milk
2-3 tablespoon dark chocolate chips
Recipe:
For the cookie dough, sieve maida and baking powder together in a mixing bowl.
Beat melted butter and sugar with egg till the batter is white and fluffy. Mix the maida with the batter with the mango pulp and essence.
Sprinkle the choco chips and knead them into a dough.
Don't forget to grease your palm with butter or oil and sprinkle milk only if the dough is too tough. Cover and refrigerate for a minimum of 20 minutes.
Preheat the oven to 180 degrees for 15 minutes as you brush butter or oil on your baking tray.
Make small balls and flatten them in the shape of a cookie or use cookie cutters.
Place the cookies on the tray, sprinkle a few chocolate chips and brush butter or oil on the top.
Bake them for 10-12 minutes, checking with a toothpick at halftime. Serve straight out of the oven with milk, coffee or tea.
Mango and white choco chip cake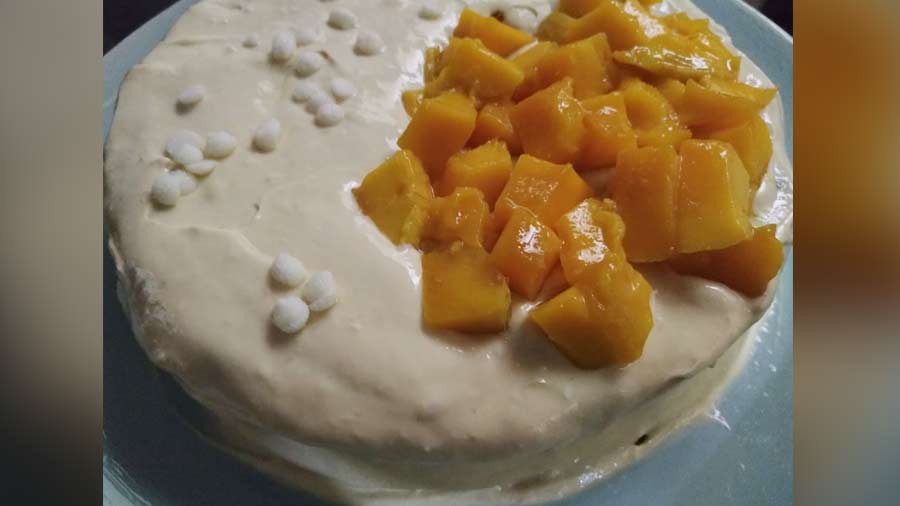 Pooja Mitra
You can opt for your own white velvet cake with this recipe and skip the frosting if you want.
Ingredients:
1 cup maida
½ cup sugar
1 egg
1 tablespoon baking powder
100gm butter
½ cup ripe mango puree
1 teaspoon mango essence
2 large cups whipped cream
50gm white chocolate chip
½ cup ripe mango cubes
½ cup icing sugar
½ cup milk
½ teaspoon cardamom powder
Recipe:
Sieve maida and baking powder in a mixing bowl and set aside. Whisk butter and sugar together till it has turned pale and add the egg and beat further till it's all nice and fluffy.
Mix mango pulp and mango extract well till the pulp is all smooth.
Mix maida and butter-egg-sugar in the mango mix in small batches using the cut and fold method.
Grease the cake tin with butter or vegetable oil and pour the cake mix. Preheat the oven for 15 minutes.
Bake for 30-40 minutes, periodically testing with a toothpick. Once the cake is ready, let it cool for 10-15 minutes before de-moulding it.
For the frosting
Whisk the whipped cream with a pinch of mango essence and white chocolate chips.
Pour over the cake and even the sides and surface with a knife.
Sprinkle some white chocolate chips and mango cubes and refrigerate for at least 30 minutes to allow the frosting to settle. Slice up and dig in!