Bribery complaint against councillor
The councillor dubbed the allegations 'fabricated' and the complaint an attempt to 'malign us and the party'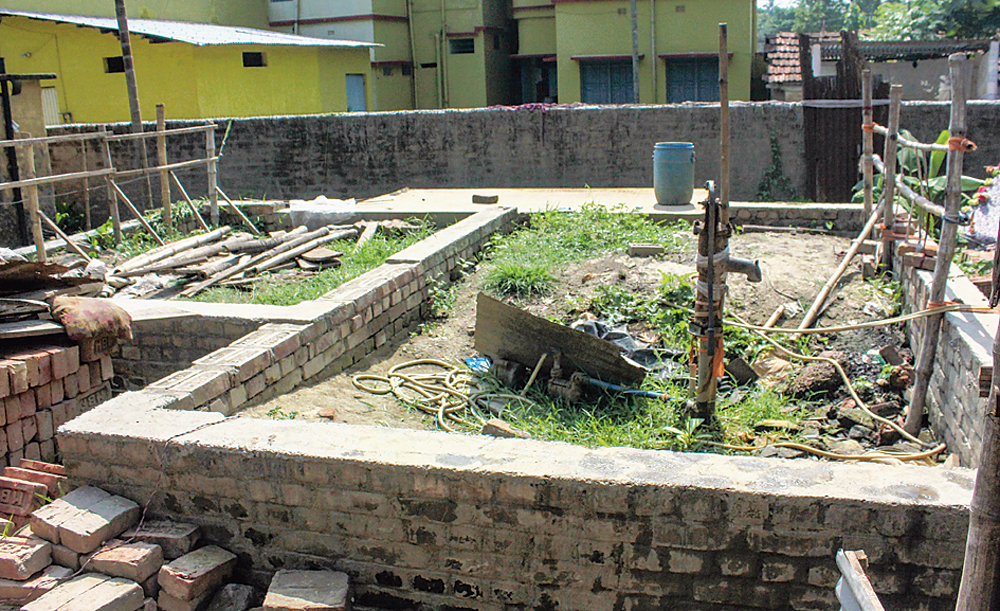 The unfinished house of Paresh Sarkar, who has alleged bribery in the Pradhan Mantri Aawas Yojana
Picture by Abhi Ghosh
---
Santipur
|
Published 19.06.19, 07:57 PM
|
---
A decorator in Nadia's Santipur lodged a police complaint against a Trinamul councillor and her husband for allegedly taking cut money to ensure smooth release of funds under a central housing scheme, acting within hours of Mamata Banerjee's anti-bribery message to elected party representatives.
In his complaint, Paresh Sarkar, 45, has alleged that councillor Soma Ganguly and her husband had taken Rs 27,000 in two instalments by promising release of funds under the Pradhan Mantri Aawas Yojana (PMAY).
"I did not get any money after the first instalment as the civic body cited a technical reason. I want my money back," Sarkar said in his complaint. The police are yet to start a case, saying the "veracity" of the complaint is being examined.
Ganguly dubbed the allegations "fabricated" and the complaint an attempt to "malign us and the party". The complaint, however, became a point of discussion in the district as it came soon after the chief minister's warning.
Sources in the Santipur municipality said funds for Sarkar had been sanctioned in 2017. Under the scheme, a beneficiary gets Rs 3.53 lakh in four phases. Release of funds from second phase is based on physical verification of the construction.
Sources said Sarkar had received Rs 55,000 in the first phase but funds in the second stage were put on hold as the municipality found that he had violated the approved construction plan by adding extra space.
"It was a mistake on my part. The engineer advised me to demolish the unauthorised part. But the councillor and her husband took Rs 12,000 and assured me they would get the issue settled. But nothing was done and I did not get the second instalment."
Sarkar alleged the councillor had taken Rs 15,000 soon after the first instalment of Rs 55,000 had been released.
Sukanta Ganguly, husband of the councillor, said: "We have neither taken money nor promised any undue assistance. The allegations are baseless."
The chairman of the Santipur municipality, Ajoy De, pleaded helplessness.
"The municipality directly sends money to the beneficiary's bank account. If a beneficiary gives cut money to someone, the civic body can hardly do anything."
Rajib Banerjee, state backward classes welfare minister and Trinamul observer for Nadia, said the police would be urged to "inquire into the complaint thoroughly".