Why pick on women MPs for their clothing choices?
And what does the customary white kurta mean anyway, when 43 per cent of MPs have criminal cases against them?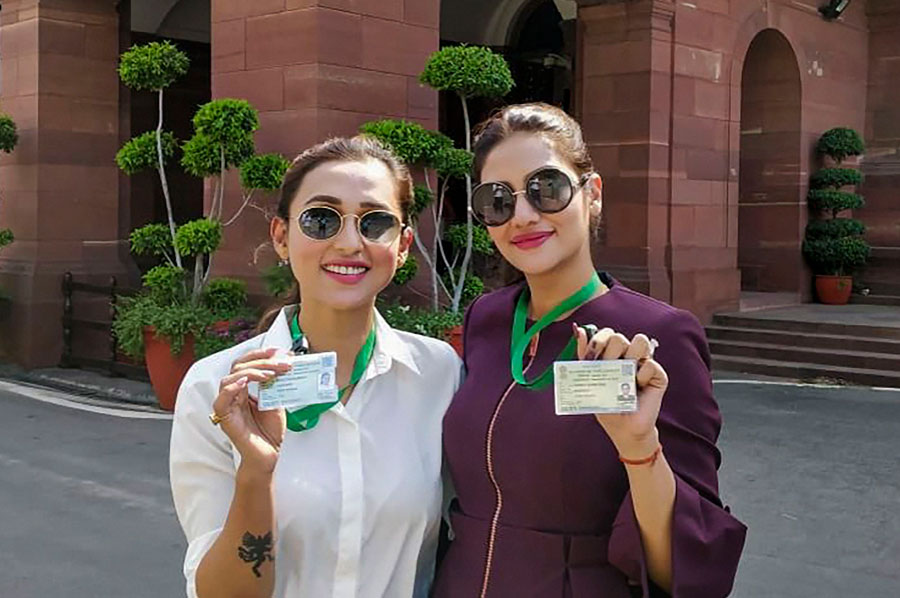 Newly-elected TMC MPs Mimi Chakraborty and Nusrat Jahan pose for photographs at Parliament House in New Delhi on Monday, May 27, 2019.
(PTI)
---
Published 02.06.19, 03:10 PM
|
---
Sir — It is unfortunate that the actors-turned-members of parliament, Mimi Chakraborty and Nusrat Jahan, were trolled for their choice of attire after they posted pictures of their first day in Parliament. Apparently, their so-called 'western' clothes were not acceptable to some people. They were told off not just about what they were wearing but also lectured about Parliament not being a "photo studio". Ironically, another new MP, the former cricketer, Gautam Gambhir, too, posted a photograph outside Parliament in t-shirt and denims. But he has received no such admonition from the moral police who seem to be so upset with Chakraborty and Jahan. Such double standards should be condemned.
In fact, Chakraborty, Jahan, Gambhir and others like them represent young India, which is not caught up with formalities. Besides, the obsession with attire in politics is out of sync with public expectations. We should judge our representatives on the basis of their work and not what they wear.
Khokan Das,
Calcutta
Sir — It is high time politicians stopped wearing the customary white kurtas. The idea behind white clothes was to project an untarnished and clean image to the public. This is a futile exercise when the public knows that 43 per cent of the current crop of MPs have criminal records. The clothes that newly-inducted MPs, Mimi Chakraborty and Nusrat Jahan, wore were a refreshing break. More important, did people who had an objection to Chakraborty and Jahan not see a terror accused, Pragya Singh Thakur, sitting in Parliament with a broad smile on her face? If the former seemed more objectionable than the latter, it speaks terrible things about the mindset of Indians.
Payel Ghosh,
Calcutta
Just don't do it
Sir — The sportswear giant, Nike, recently apologized for its practice of imposing performance-pay cuts on female athletes who endorsed the brand if they opted to have a baby. The gesture is too little, too late. Why should women athletes have to pay for becoming parents when the same rules do not apply to men? But the fact remains that Nike is not the only brand to have such discriminating rules. Neither is sports the only field where having a child costs women more dearly than it does men. It is a fact universally acknowledged that working women are not just discouraged to have children by passing over expectant mothers for promotions, but companies also hire less female employees as they might get married and choose to have a family. In fields ranging from medicine and journalism to Hollywood and academia, women are paid less than their male counterparts.
Apologies mean nothing unless these disparities are corrected. Women all over should demand to be treated on a par with men. Economies will be crippled and companies become defunct if all the female workers take a united stand. It is time to show the world that women do more than just pull their weight in the workplace.
Raina Patranobis,
Calcutta
Sir — Just as the Volkswagen emissions scandal had eroded the faith of the public in the brand, Nike is surely set to lose the support of many a patron for discriminating against pregnant women athletes. It has apologized for its double standards. But the apology must be backed by action for it to mean anything.
Lekha Chakraborty,
Calcutta
Chomp away
Sir — Riverside Park in New York City is overrun with goats. The creatures have been introduced to control invasive species of plants that keep growing in the steep, sloping parts of the park that the staff cannot access. The goats can stand the slanted ground as well as stomach the pesky weeds. This is a sustainable solution to treat damaged landscapes without resorting to the use of harmful chemicals. The goats do not need training, eating weeds is what they do. Nature has many symbiotic relationships, which, if used carefully, can reduce man's destructive carbon footprint.