Letters to the Editor: The entrance of men in the kitchen
Readers write in from Calcutta, Kanpur, Mumbai, Ujjain and Chennai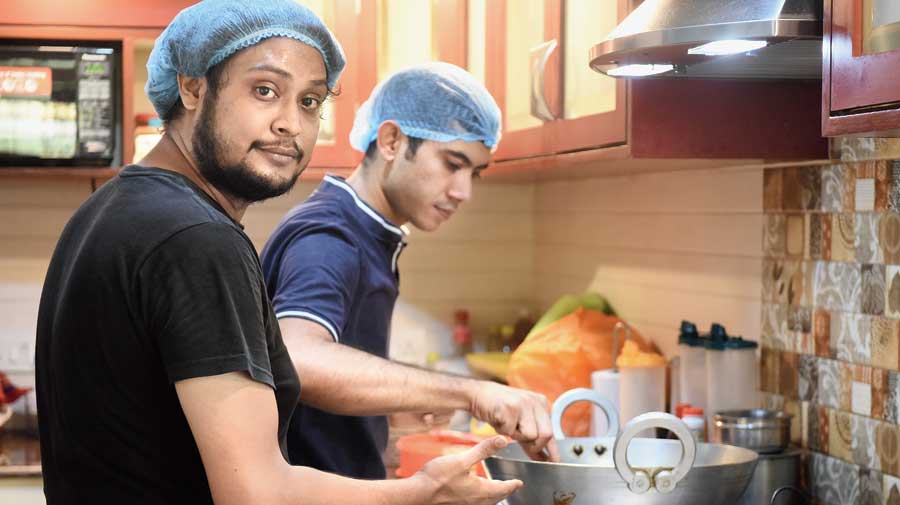 Everyone, irrespective of gender, must be taught and encouraged to cook from a young age, alongside other household skills
Representational picture
---
Published 02.07.22, 02:44 AM
|
---
Survival skill
Sir — For hundreds of years, the kitchen was demarcated as the exclusive domain of women. The idea of men cooking or helping out in the kitchen — especially those from certain socio-economic backgrounds — was considered to be emasculating. Societal expectations of men have shifted since then. The changing economic situation has forced youngsters to move out of their hometowns; this has led to a revision in men's outlook towards this basic survival skill. Everyone, irrespective of gender, must be taught and encouraged to cook from a young age, alongside other household skills. 
Akash Saha, Calcutta
Timely move
Sir —The Government of India has banned the manufacture, sale and use of identified single-use plastic items ("Single-use plastic ban from July", June 29). This is welcome. Single-use plastic items are a major environmental hazard and are difficult to recycle. The government has shown that it is committed to the fight against climate change by banning plastic products that are less than 100 microns in thickness. The Plastic Waste Management (Amendment) Rules, which prohibits the manufacturing, stocking, distribution, sale and use of plastic carry bags having thickness below a certain standard, was notified by the Centre last year. Now, it is up to the ordinary citizens to adhere to the rules and bring down plastic waste.
Kirti Wadhawan, Kanpur
Sir — India has imposed a nationwide ban on certain kinds of single-use plastic products from July 1. Last year, the Centre banned plastic bags which were less than 75 microns in thickness. Yet, most shopkeepers keep using them because they are easy to use and are available at a cheap price. The indiscriminate dumping of plastic bags and other products into landfills and water bodies is extremely hazardous — these eventually break down in microplastics and pollute the environment. This has an adverse impact on the global food chain. The government must introduce a cheaper and viable alternative to single-use plastic products. This is the only way to successfully implement the ban.
Swati Pandey, Ujjain
Dangerous words
Sir — The chief minister of West Bengal, Mamata Banerjee, recently said that July 21 will be observed by the Trinamul Congress as a day of 'jihad' against the Bharatiya Janata Party. It is unbecoming of a chief minister to make such remarks. Banerjee has failed to uphold the dignity of her post. The governor, Jagdeep Dhankhar, has rightly asked the TMC supremo to withdraw her statement.
Arun Gupta, Calcutta
Selfless service
Sir — National Doctors' Day is celebrated in India on July 1 to express gratitude for the relentless service provided by doctors across the nation. It is observed in honour of Bidhan Chandra Roy, the physician-politician who was the second chief minister of West Bengal. Since the beginning of the pandemic, doctors have selflessly served the people of the nation. With Covid-19 infections on the rise, once again, this is the right time to appreciate the contributions of doctors to our healthcare apparatus.
Jubel D'Cruz, Mumbai
Sir — On the occasion of National Doctors' Day, we must remember those physicians who have served their patients without any expectation of monetary gains. V. Balasubramaniam, a doctor in Coimbatore, would charge only Rs 20 for consultations — in 2016, thousands of people had gathered to mourn the loss of the beloved doctor. It is heartening that such doctors still exist at a time when there is rampant commercialisation of healthcare services. 
T.S. Karthik, Chennai