Letters to the Editor: Effort to bring typewriters back from oblivion
Readers write in from Calcutta, Visakhapatnam, Nellimarla, Kozhikode, Hooghly, Chennai and Mumbai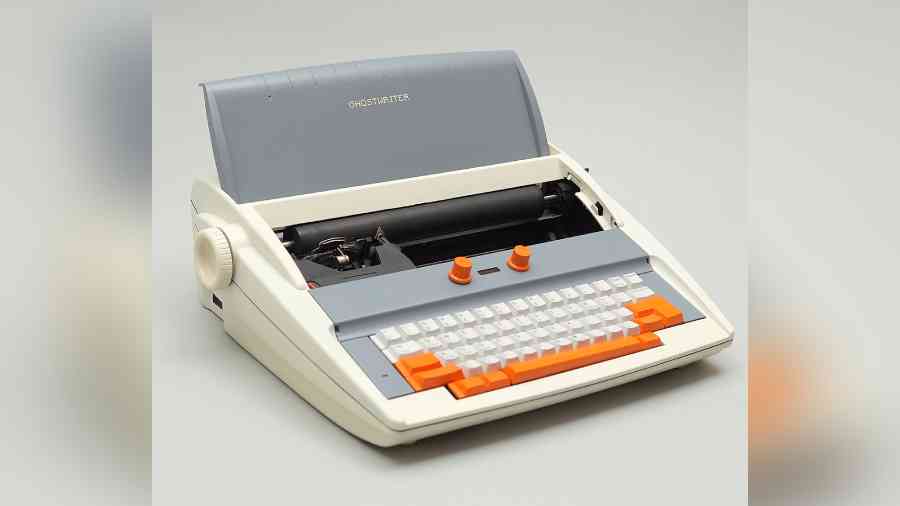 Powered by ChatGPT, the 'Ghostwriter' will not only chat with the person but will also type automatically onto paper, thus retaining the clickety-clack noise of the analogue machine.
---
Published 24.01.23, 04:35 AM
|
---
New spin
Sir — Technological upgrades have ensured the disappearance of many objects from public usage. For instance, typewriters, which were synonymous with both journalistic writing and clerical work, have been reduced to relics of the past with the introduction of keyboards. Hearteningly, a Kerala-based engineer has now attempted to revive the retro gadget from obscurity, creating a typewriter infused with artificial intelligence. Powered by ChatGPT, the 'Ghostwriter' will not only chat with the person but will also type automatically onto paper, thus retaining the clickety-clack noise of the analogue machine. But given widespread fears of AI taking over writing jobs, it remains to be seen whether this nostalgia is effective in restoring humanity's trust in technology.
Sulakshana Ghosh, Calcutta
Equal rules
Sir — The British prime minister, Rishi Sunak, has been fined 100 pounds by the Lancashire constabulary for not wearing a seat belt while filming a promotional video in a moving car ("No seat belt? Rishi fined £100", Jan 22). This is in stark contrast to the situation in India, where the police are usually reluctant to take action against traffic rule violators, especially if they are influential, for fear of retribution. Those with political affiliations are considered to be above the law. Such is their clout that it is not unheard of for a policeman to get transferred or posted to a remote place after charging a politician for flouting rules.
M.C. Vijay Shankar, Chennai
Sir — By fining the prime minister for traffic violations, the British police have demonstrated their objectivity. That is how law enforcement should function. Rishi Sunak was fined even though he had apologised for his mistake. In a similar incident, a Bharatiya Janata Party parliamentarian, Tejaswi Surya, recently opened the emergency exit of an aircraft just before its take-off, endangering the lives of his co-fliers. However, it is unfortunate that Surya has not been reprimanded for his action.
K. Nehru Patnaik, Visakhapatnam
Sir — This is the second time Rishi Sunak has been penalised while in government. This will affect his chances of retaining the leadership of the Conservative Party in the 2024 elections.
Dhruv Khanna, Mumbai  
Be transparent
Sir — The Union law minister, Kiren Rijiju, recently suggested to the Chief Justice of India, D.Y. Chandrachud, that the government have a representative in the decision-making process for appointing judges. This is a desperate attempt to interfere in matters of the judiciary ("Open house", Jan 18). Although the Supreme Court collegium has its shortcomings, it ensures a level of transparency. Conversely, the mechanisms for the selection of election commissioners and governors — they are appointed by the Central government — have been alleged to be opaque and inscrutable.
Haridasan Rajan, Kozhikode
Poor service
Sir — The public sector telecom operator, Bharat Sanchar Nigam Limited, is in a chaotic mess. The blame for this lies with the government. The services provided by the BSNL have deteriorated over the years. As a result, customers have been increasingly switching over to private telecom operators, which not only provide better services but also give attractive offers. The government must take immediate steps to revive the beleaguered BSNL.
N. Mahadevan, Chennai
Deep slide
Sir — The findings of the Annual State of Education Report 2022 highlight the negative impacts that the Covid-19 pandemic had on children's education ("Backslide", Jan 23). The survey shows that basic literacy aptitudes such as reading and mathematical competencies have declined significantly among schoolchildren.  The fall in enrolment in private institutions is marked by an ascendance in enrolment in government schools. This is because most parents had withdrawn their wards from private schools owing to the economic downturn during the pandemic. There has also been a rise in the number of children taking private tuition. This might explain the greater deficiency in reading skills than mathematical abilities since students typically choose to take tuition classes in maths and science.
Sukhendu Bhattacharjee, Hooghly
Sir — It is disheartening that the reading skills among children have dropped to pre-2012 levels. This reverses years of progress. However, student enrolment in government schools has increased. Steps must be taken to improve the standards of primary education to maintain the positive growth.
D.V.G.Sankararao,Nellimarla, Andhra Pradesh
Unhealthy practice
Sir — The increasing practice among doctors to prescribe antibiotics for treating slight ailments is a cause of concern. Antibiotics are useful against bacterial infections and are not effective against viruses. The indiscriminate intake of antibiotics is only leading to drug resistance. Medical practitioners must exercise caution and conduct proper diagnostic tests before prescribing medicine.
Nilaparna Das, Calcutta
Marked shift
Sir — Sudipta Bhattacharjee's article, "Pilgrim's progress" (Jan 20), correctly analyses the shift towards materialism in pilgrimage. Pilgrims have become mere tourists, availing of good connectivity and luxurious hotels. The government has, in turn, undertaken constructions to cash in on tourism opportunities, causing damage to the environment. The land subsidence in Joshimath is an example of this.
Jahar Saha, Calcutta