Fifth dengue death in Cuttack hospital
109 dengue patients under treatment, 17 in ICU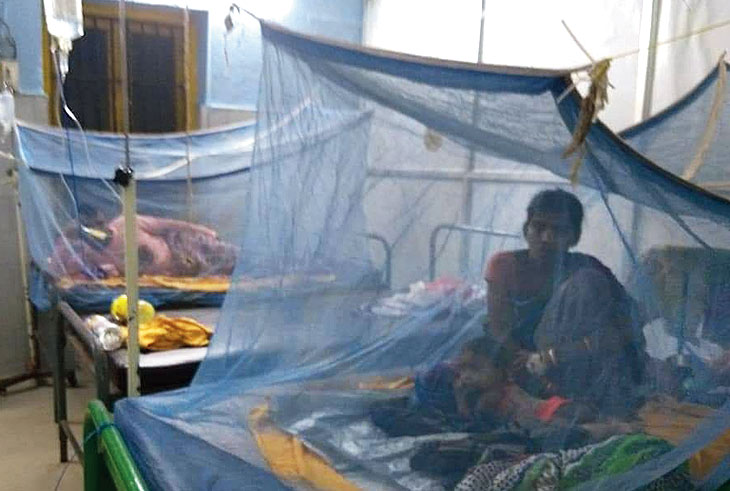 ---
|
Cuttack
|
Published 23.09.18, 06:19 PM
---
One more person died while undergoing treatment at SCB Medical College and Hospital's special dengue ward here on Sunday.
This is the season's fifth dengue death reported from the dengue ward that started functioning on May 26 this year.
Official reports said that Saumya Ranjan Nayak, 18, breathed his last in the dengue ward around 10am on Sunday where he was undergoing treatment for the past three days.
He was admitted to the hospital with dengue symptoms — such as fluctuating fever and nausea — on Thursday. "As he was found to have been afflicted by encephalitis — brain infection due to dengue virus — he was put under treatment in the intensive care unit (ICU). But, he died in the morning," said SCB's assistant nodal officer for treatment of dengue cases Sriprasad Mohanty.
"Nayak was from Arakhia in Kujang area of Jagatsinghpur, the district from where dengue cases are being reported in increasingly large numbers this year," Mohanty said.
Official records indicated that the number of dengue patients from Jagatsinghpur district has been high this year with 239 patients coming to SCB alone in the past 22 days.
In the past 22 days, more than 34 cases were tested positive at the hospital daily on an average, taking the total number dengue patients admitted for treatment from 998 to 1,760.
Emergency treatment and free blood tests are being provided to patients suffering from dengue.
At the casualty and outdoor departments, patients with suspected dengue symptoms are being thoroughly checked and admitted without delay.
While blood samples of 6,816 persons had been tested since May 26, 1,760 of them were tested positive and admitted for treatment.
"While the death toll has been five, 1,651 patients have been cured and discharged after treatment by Saturday," Mohanty said.
At present, 109 dengue patients are undergoing treatment at SCB.
Of them, 17 are in the intensive care unit.
The cases indicated that dengue has spread to 20 districts while nearly 70 per cent of the patients were from the six coastal districts — such as Balasore, Bhadrak, Kendrapara, Jagatsinghpur, Cuttack and Puri.
The other patients have been from eleven other districts, including Nayagarh, Khurda, Jajpur, Dhenkanal, Angul, Keonjhar, Boudh, Sambalpur, Ganjam, Rayagada and Sundargarh.