Odisha: Thieves target antique idols in temples, experts raise alarm
Ex-DG and state convener of Intach, A.B. Tripathy, said crime branch of Odisha police needs to be activated with required manpower and logistical support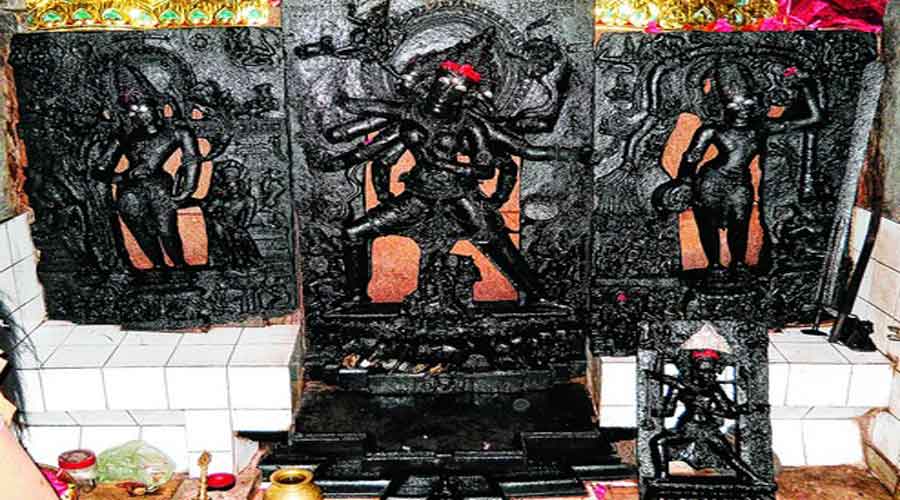 Hundreds of antique idols have been stolen particularly from the ancient Prachi river valley that comes under Puri, Khurda and Cuttack.
Telegraph photo
---
Bhubaneswar
|
Published 17.03.22, 01:23 AM
|
---
Antique idols kept in temples and protected monuments of Odisha, particularly in the coastal belt, are being stolen with alarming regularity.
In the last one week, nine antique idols were stolen from Puri district.
On Saturday morning, five antique ashtadhatu (eight metals) idols of different gods were stolen from a temple at Biranarasinghpur village. On Wednesday, four idols, each 500-years old, were stolen from a temple in Sri Mukundapur village under Kanasha block in Puri district.
Puri sub-divisional police officer Kishore Chandra Mund told The Telegraph: "An inter-state gang is behind the idol-theft racket. Local people are also involved in the racket. They are in touch with the prospective buyers, mostly from outside the state. With their tacit support, antique idols are being sold outside the state. We are hopeful about cracking the case."
Mund said: "On March 8, we arrested a couple in connection with the theft of 10 antique ashtadhatu idols of different gods from different temples across the state."
Thieves target the astadhatu idols in the hope of extracting gold from them. Mund claimed that all past cases of idol theft had been cracked.
However, the Indian National Trust for Art and Cultural Heritage (Intach) has a different story to tell.
Former director-general of police and state convener of Intach, A.B. Tripathy, told this newspaper: "We have a cell in the crime branch of Odisha police to investigate idol-theft cases, but it needs to be activated with required manpower and logistical support. We have been raising the issue of increase in idol thefts with the state government."
Anil Dhir, another member of Intach and a well-known historian, said: "Hundreds of antique idols have been stolen from different temples, particularly from the ancient Prachi river valley that comes under Puri, Khurda and Cuttack districts. We have filed nearly 50 FIRs. But only a single antique idol has been recovered. When we referred to the photographs in the books of T. Donaldson, we found that a number of idols are missing. Where have they gone?"
Dhir is the author of the book titled The Prachi Valley, which is a detailed documentation of the monuments of this rich heritage site.  The Prachi river valley is considered as a hidden gem of Odisha art, architecture and culture.
Dhir said: "We have proposed the introduction of a unique identification number that should be tagged to each idol. But it is yet to be accepted and executed. There are instances of antique idols recovered being dumped in the malkhanas (store rooms) of police stations and courts."
According to Intach, the stolen idols are being exported to Europe and the US where they have a ready market. "They fetch a good price there. Many people are involved in the racket. The law is inadequate to deal with it. We need to involve experts."
The Intach has suggested that the containers in which sculptors export idols be checked by experts before dispatch.
"A temporary permit is required to send an idol, which is 100-years old. But who can guarantee that old idols are not being sent with the new idols? It should be checked by experts only before being dispatched," said Dhir.
Dhir said other states had also been hit by the racket.
According to a government audit in 2018, between 1992 and 2017, 4,408 items were stolen from 3,676 protected monuments across India. The actual figure is estimated at more than thrice this number.
"The number is quite high. Very often people of the area where a theft takes place do not come forward to lodge an FIR," Dhir said.