Dancer dreams big
Jayadev Yuva award for Anindita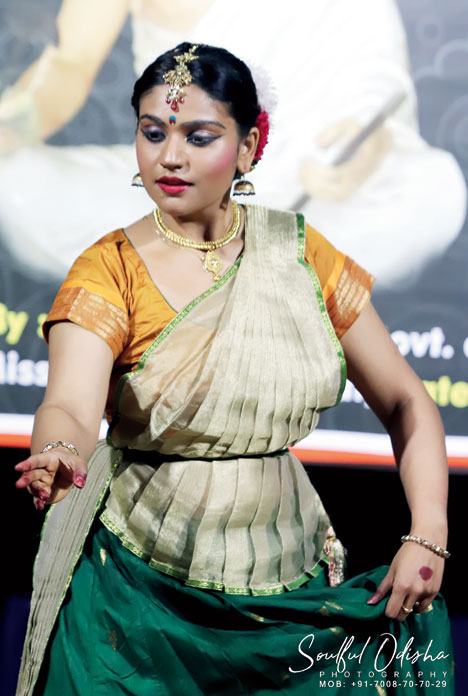 ---
---
Bhubaneswar: Anindita Anaam, a kathak dancer based in the US, wants to promote classical art forms across the world.
She enthralled viewers with her recital at Bhanja Kala Mandap during the four-day Jayadev International Dance Festival organised by the culture department and the National Culture Mission where she was conferred with the Shri Jayadev Rastriya Yuva Pratibha Puraskar, 2018, for her exemplary services to kathak.
She started the concert with a rendition from Jayadev's famous Geeta Govinda, the Lalita Lavanga, where she showcased her talents in facial expressions or abhinaya.
She enacted the romantic verse with delicate gestures and brisk movements as she vacillated between moods.
The second part of her recital began with the traditional teen taal, a 16-beat rhythmic beat pattern set in raag Charukeshi.
She mesmerised the audience with her pure footwork that showed different aspects of chaal, palta and ladis and complex tihais. In vilambit laya (slow tempo), she touched moved through the famous Jaipur gharana and moved on to fast uthans, aamads and parmelus.
She portrayed gat nikas and Krishna kavita focusing on the life of Lord Krishna and ended with 24 chakkars or spins based on drut laya.
Trained in both Jaipur and Lucknow styles of kathak, she was delicate yet fierce in her presentation.
"Dance, for me, is a way of life. I want people from far and wide to know about the art and culture of our country," she said.
Anindita is a regular performer and instructor in Wisconsin. She has taken part in many cultural festivals and fusion music events where she blended traditional kathak with other forms such as jazz and ballet and charmed the audience with her hypnotic recitals.
"In order to make classical art more reachable, I have made a fusion of classical art with others so that it becomes easies to apprehend and gauge," she added.