Bru voters make Mizoram polls a success
Displaced Brus coming in from Tripura camps vote for first time since 1997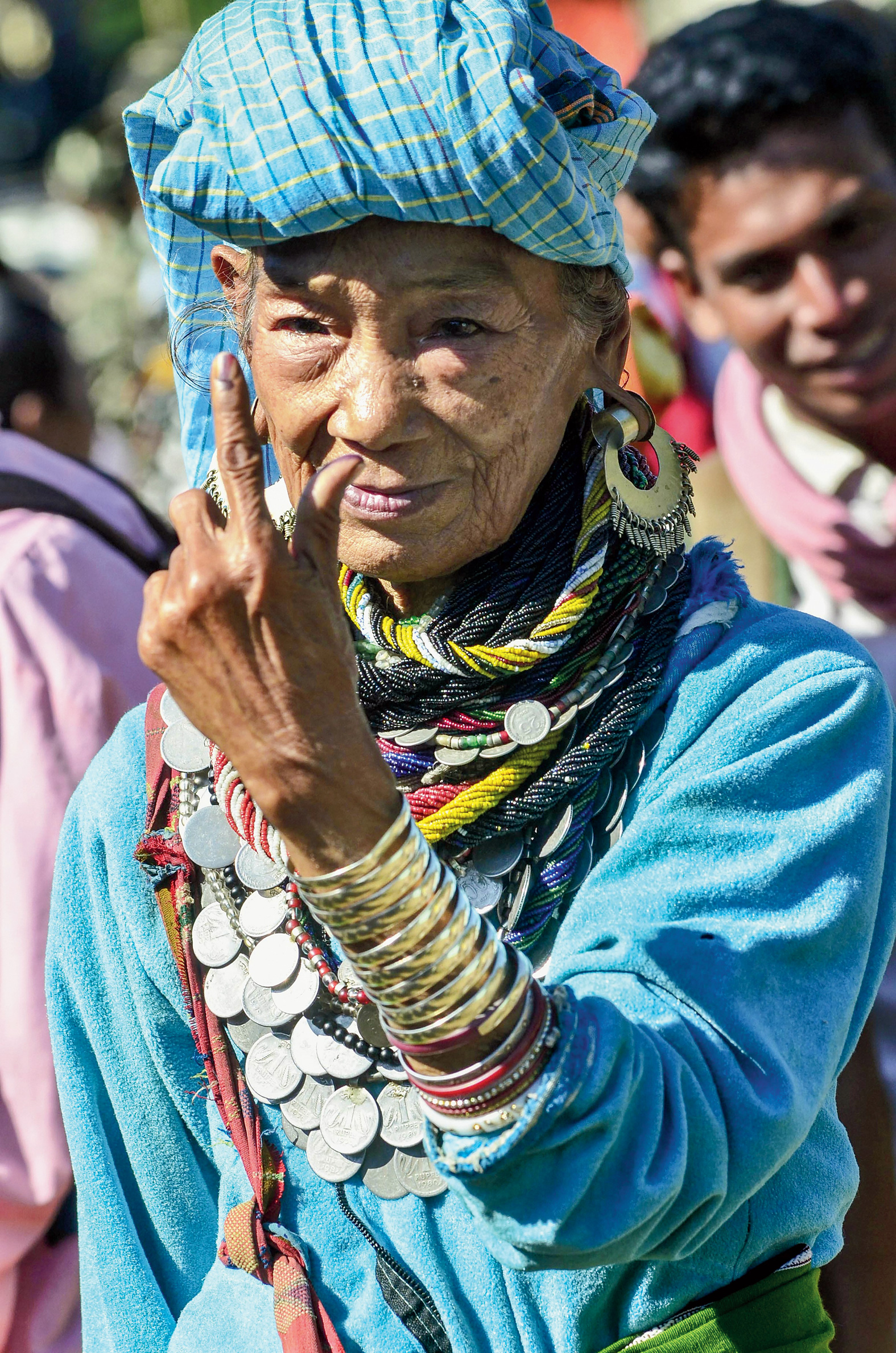 An elderly Bru woman shows her inked finger after casting her vote in Kanhmun on Wednesday.
PTI
---
Aizawl
|
Published 28.11.18, 07:58 PM
|
---
Thousands of Bru voters from Tripura exercised their right to franchise at Kanhmun village in Mamit district on the Mizoram-Tripura border amid tight security along with rest of the state on Wednesday. For the first time, the Bru refugees cast their votes inside Mizoram since they fled the state in 1997 following ethnic clashes.
The demand for Brus to vote in Mizoram by civil society and student groups was a huge issue in the run-up to the polls, triggering massive protests that led to removal of chief electoral officer (CEO) S.B. Shashank who was accused of trying to allow the Bru refugees to vote in the refugee camp for political reasons. However, the Election Commission not only agreed to the Mizo organisations' demand, but also removed Shashank.
Mizoram's new CEO Ashish Kundra said the Bru voters turned out in huge numbers.
He said of 11,987 Bru voters based in six relief camps in Tripura, 6,284 (52 per cent) cast their votes till 4pm, but the figure could increase as many voters queued up at polling booths after the deadline.
Kundra said special arrangements had been made to felicitate voting by Bru refugees at Kanhmun village.
Fifteen polling stations have been set up for nine constituencies at Kanhmun for Bru voters and the Tripura government arranged transportation for them.
Kundra said that at least 433 vehicles, including buses and light vehicles, were used in ferrying the refugees from Tripura.
The Brus started coming since 6am.
Kundra said polling was delayed in some booths due to malfunctioning of electronic voting machines (EVMs).
He added that civil society groups and local leaders of Kanhmun village had assisted poll officials in making arrangements such as food and water.
According to Kundra, at least two companies of the central armed police forces were deployed at Kanhmun. They were assisted by state police to ensure smooth conduct of polls.
He said polling was peaceful and there was no report of any untoward incident.
Sources from Kanhmun said over 300 refugees returned to relief camps unhappy as they could not cast their votes.
In 2014, the Election Commission signed an agreement with civil society groups in Mizoram to allow the Bru voters exercise franchise rights inside Mizoram after massive protests.
President of the Mizoram Bru Displaced People Coordination Committee, Laldingliana, told The Telegraph from Tripura that voting passed off peacefully. "We are yet to get the final figure but over 7,000 cast their votes peacefully," he said.
The Tripura government arranged about 140 vehicles to ferry the voters to the polling stations in Tripura. "They left around 6pm and the first lot reached around 10am," Laldingliana said. All along the route there was tight security.
On the experience of voting in Mizoram after 1997, Laldingliana said: "It was good but there were time constraints. There was a rush to complete the voting exercise and return. Polling was to be held between 7am to 3pm but the turnout increased after noon because there was no fixed time for arrival from the camps. Polling continued till late in the evening. Had it been in the camps, there would have been no pressure to meet the deadline. The atmosphere would have been much more relaxed," Laldingliana, who also cast his vote, said.
Thousands of Brus left Mizoram and stayed at six relief camps in Tripura since 1997 due to communal tension triggered by the murder of a Mizo forest guard by Bru militants. Since then the Brus have been casting their votes inside their relief camps.