Brotherhood in Mizoram as displaced Brus vote
Turnout was 80% in Mizoram and 75% in Madhya Pradesh, the other state where Assembly elections were held on Wednesday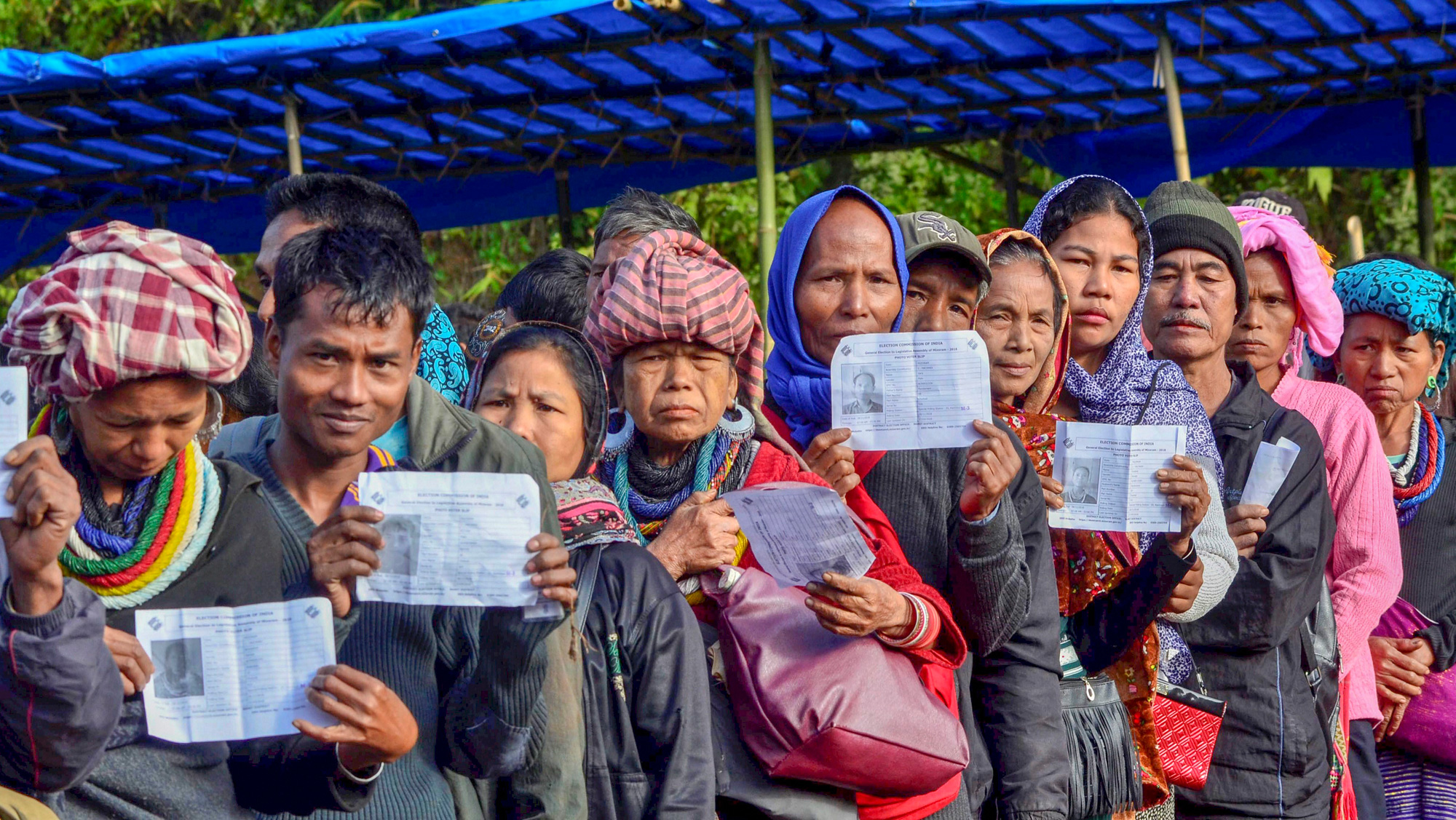 Voters show their identity cards as they stand in queue at a polling station in Kanhmun during the Mizoram Assembly elections on Wednesday.
PTI
---
New Delhi
|
Published 28.11.18, 10:51 PM
|
---
Mizos welcomed Brus to vote during peaceful Assembly elections in Mizoram on Wednesday, days after a collectorate was ransacked in the northeastern state, three bureaucrats were transferred and the veracity of the voters' list was challenged in court.
In Madhya Pradesh, the other state where elections were held, the turnout was a record high of 75 per cent although there were complaints of electronic voting machines and voter-verifiable paper audit trail devices malfunctioning. Violence was much less than in previous elections, with only one bullet reportedly being fired.
Deputy election commissioner Sudeep Jain, who had earlier led a troubleshooting team that ended an impasse in Mizoram over voting rights for displaced Brus, told reporters on Wednesday: "We thank civil society organisations for an all-inclusive, free and fair and credible polls in Mizoram…. The Young Mizo Association (YMA) in Kanhmun wholeheartedly welcomed Brus with refreshments in a shining example of brotherhood and community service."
Around 80 per cent of Mizoram's over 7.7 lakh voters had cast their ballots, according to tabulation till 9.30pm. Of the 11,987 Bru voters living in transit camps in Tripura, 6,284 — around 52 per cent — had voted when the report was filed. The tally is expected to rise.
The EC had set up 15 booths in Kanhmun, a Mizoram village on the banks of the Sunai river that borders Tripura, for the Brus to vote.
The YMA, the largest Mizo outfit in the state, and other Mizo NGOs had brought Mizoram to a standstill in the first week of November after the EC removed the state's home secretary L. Chuaungo. Then state chief electoral officer S.B. Shashank had complained that the Congress government, particularly Chuaungo, had interfered in the poll process to obstruct displaced Bru tribals from voting.
The EC broke the deadlock by replacing Shashank.
In BJP-ruled Madhya Pradesh, the initial turnout was 75 per cent. The turnout was surprisingly high in the three Maoist-hit constituencies — Baihar, Lanji and Paraswada — where polling started an hour early at 7am and ended at 3pm, two hours before the official closing time in the other 227 seats. The three seats recorded more than 78 per cent polling.
In Bhind, an alleged Samajwadi Party worker fired a shot opposite a polling station, and was arrested. A scuffle was reported from another polling booth in the district.
Leaders of the Opposition Congress claimed that EVMs at many places malfunctioned.
"There were several complaints that EVMs at many places malfunctioned. We had requested the Election Commission that voting time in these polling booths be extended to compensate for the delay," Congress leader Jyotiraditya Scindia said.