Trincas and Flurys have been in the news this week with Bollywood actors breezing through both the landmark establishments in Kolkata.
Karisma Kapoor dropped into Trincas on June 19 with her daughters in tow, to enjoy the jazz brunch. Her father Randhir Kapoor had also visited The Ming Room by Trincas in 2014 for a Chinese meal. Karisma is in town for the shooting of upcoming webseries Brown - The First Case, directed by Abhinay Deol.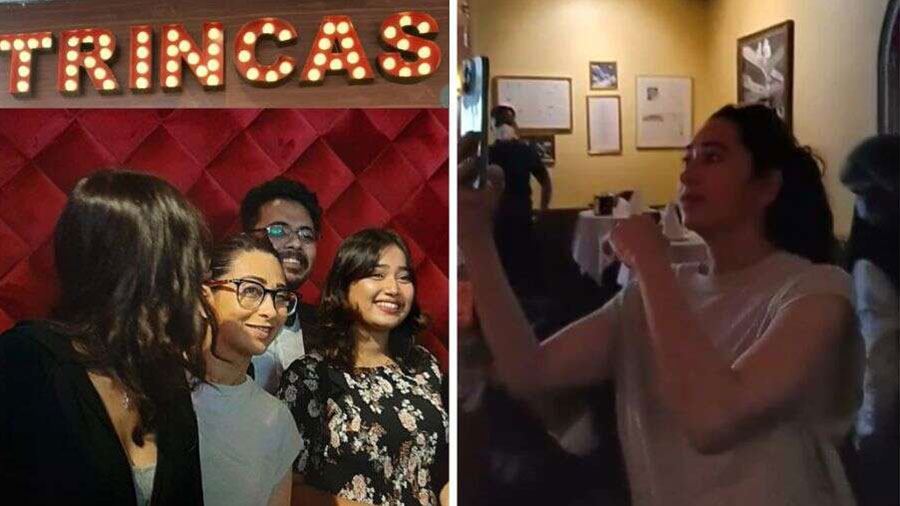 Lolo at Trincas on Park Street on July 19
Courtesy: Trincas
Two days later, Varun Dhawan and Kiara Advani were at the heritage tea room Flurys where a crowd of fans were pictured taking their photographs through the glass windows. They are in town to promote their film Jug Jugg Jeeyo, which is set to release this Friday.
A walk down memory lane reveals an interesting nugget about the two landmarks.
Trincas and Flurys have a historical connection that dates back to the British Calcutta of 1927, when the original owners, Mr Trinca and Mr Flury, were business partners.
In 1927, Quinto Cinzio Trinca joined hands with Joseph Flury and his wife Freida to start a Swiss confectionery and tea room on Park Street. It was called Flury & Trinca.
The partnership thrived for 12 years and broke up in 1939 due to unknown reasons.
Cinzio Trinca and his wife Lilly opened up another tea room, Trincas, which stood diagonally across Flurys at 17 Park Street. They ran it for 20 years and then sold it to the current owners in 1959. "Trinca sold his business to Omi Puri and Ellis Joshua. He had been adamant the Tearoom be passed on within the Jewish community in Calcutta and Joshua's presence in the new partnership was reassurance of that," writes Anand, the grandson of Omi Puri, in the Trincas Timeline Project.
In 1965, ten years later, Joseph Flury sold Flurys when he was made "an offer he couldn't refuse". In her book, Flurys of Calcutta: The Cake That Walked, which is an ode to the timeless tea room, Bachi Karkaria tells the story of how the Swiss couple sold the tea room to a young Jit Paul, who had by then started Park Hotel across the street.
And so the twain did part. Flurys and Trincas became independent establishments, with rum balls and prawn cocktails both holding their own.
Two halves of a cake that walked across Park Street.