Identify and complete the set. New York has Times Square, London has Oxford Street, Paris has Champs-Élysées, New Delhi has Khan Market…. So, what does Kolkata have? 
The answer, which has not changed for close to a century, is Park Street, with the stretch between Chowringhee Road and the multi-point Park Circus crossing retaining its iconic status as the focal point of the city's urbanity. 
But you already know about the charms of Park Street, don't you? The breakfast at Flurys, the nostalgia-laden evenings at Trincas, the ubiquitous queue outside Bar-B-Q, the invigorating smell of tea and new books at Oxford Bookstore, the history and the heritage of Asiatic Society and St. Xavier's College. 
Have all the restaurants and the stores and the legacy buildings of Park Street not been documented endlessly? Have you not taken turns in sampling every single Park Street speciality over weekends or run through them all on a particularly adrenaline-pumped Christmas evening? 
Is there really anything left to discover in Park Street anymore? My Kolkata finds out.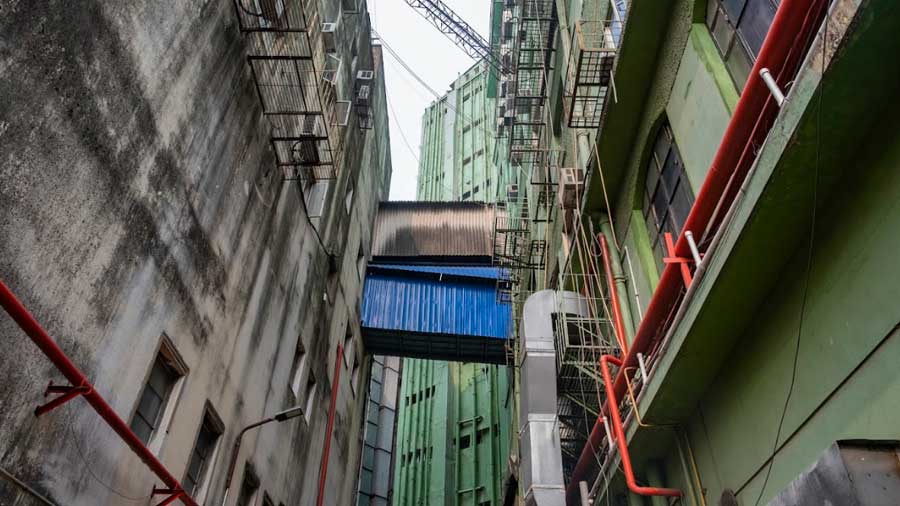 The midday scene at Celica Park, with sky-kissing residences and offices, create a semi-dystopia
Ritagnik Bhattacharya
As you make our way to Park Street's most recognisable thoroughfare, which includes Flurys, Trincas, and The Park Hotel, do so not by pursuing the bustling footpaths but by taking a slightly more winding route through the Celica Park complex. The sky-kissing residences and offices there create a semi-dystopia, accentuated by the overwhelming presence of grey and green.
Imran the flautist
Once you arrive with a cheery disposition in front of Flurys, be sure to linger for a while. For soon enough your ears are bound to be mesmerised by Mohammad Imran, Park Street's champion flautist, who has been charming pedestrians for close to 17 years.
"I stay near Howrah Maidan and play the flute everyday between 7am and 9pm, right outside Flurys. I never learnt music properly, I just picked up a flute as a kid and started developing tunes on my own," said Imran.
From Bollywood chartbusters to Christmas carols to a tune that you feel you have heard forever but just cannot name, Imran can play pretty much anything, transitioning between songs with the ease of the winter breeze wafting through a metropolitan boulevard.
Around Imran, on practically all sides, are a bibliophile's delight, stacks of books at subsidised rates – a miniature College Street in the heart of Park Street.
Uday Book Shop's Obama connect
"I have been sitting here selling books for 36 years," said the owner of Uday Book Shop. Since the start of the millennium, MusicWorld has given way to Au Bon Pain and then Spencers, which has now given way to Nature's Basket, but Uday Book Shop has endured in the immediate vicinity of Flurys.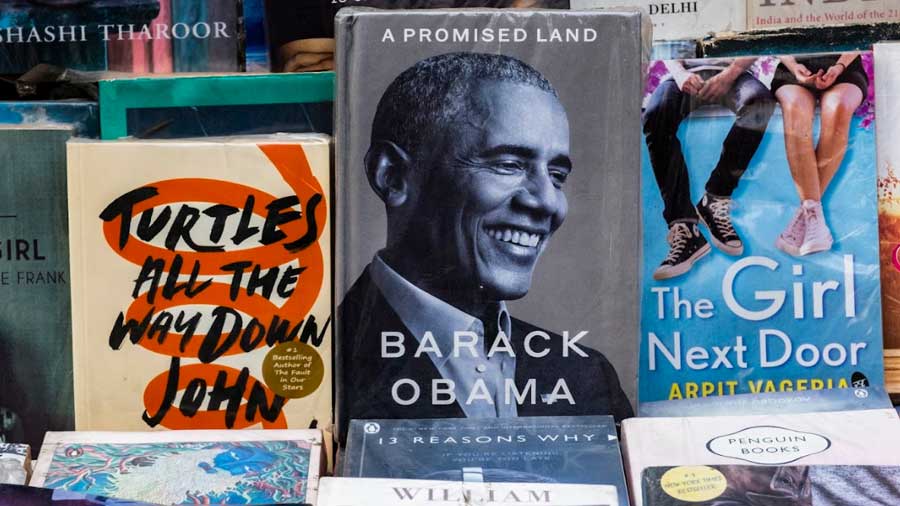 The first volume of Barack Obama's memoir has been a big hit among readers in Kolkata
Ritagnik Bhattacharya
"Most customers that come here have been coming for generations. I know what they want, especially in terms of magazines, where Travel is the most popular genre. As for the books, biographies and memoirs sell a lot," said he, preferring to stay unnamed. No wonder then that the bestseller for 2021 was Barack Obama's A Promised Land, not least because of the 10 per cent discount that this shop offers.
Jhal muri and papri chaat
If a late afternoon saunter through Park Street has whetted your appetite but you have decided not to pass through any of the glass doors welcoming you into cafes and restaurants aplenty, you should spot Raj Kishore Shah, who will offer you the most scintillating jhal muri and papri chaat available on Park Street. All with expertise of over two decades and with cost to the consumer of under Rs 20.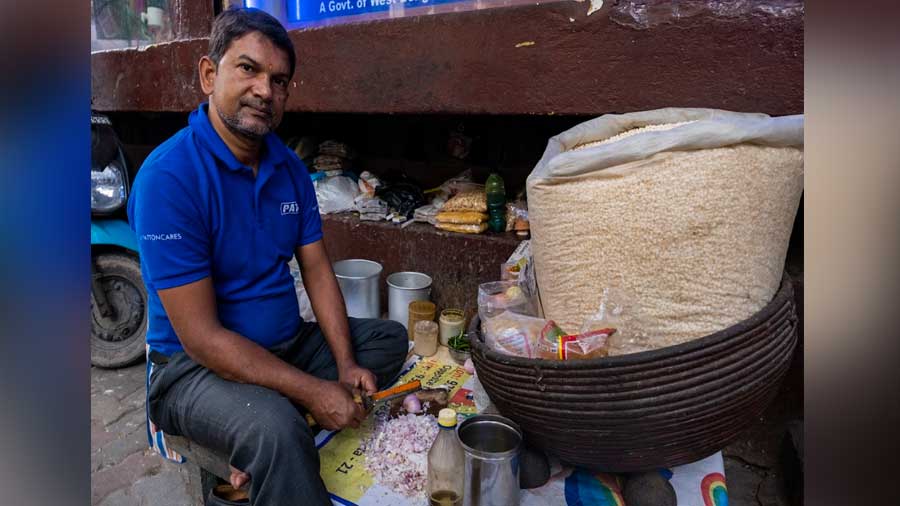 Nobody makes better muri in Park Street than Raj Kishore Shah
Ritagnik Bhattacharya
On a roll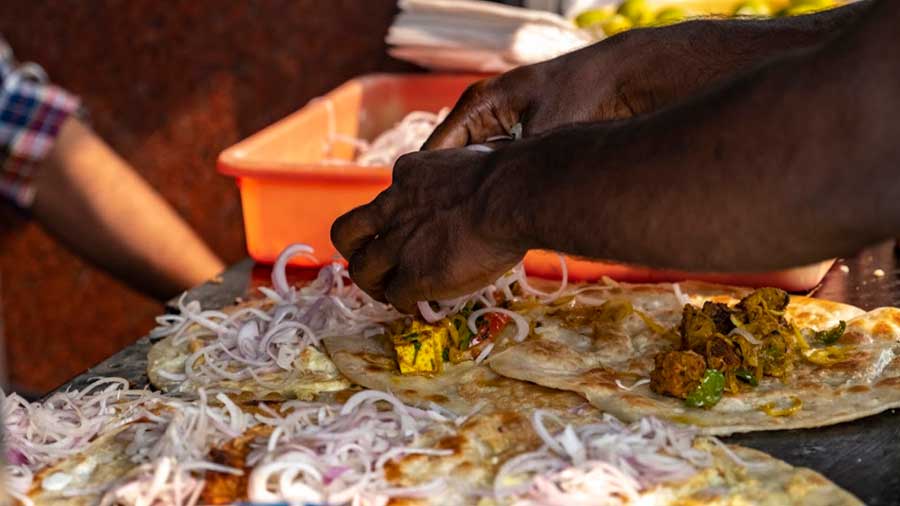 Mouthwatering rolls being readied at Hot Kathi Roll
Ritagnik Bhattacharya
Should rolls be what you fancy instead, you can always head over to Kusum, which nowadays has two outlets in the space of a few metres. But if you want to ditch Kusum (magnificent as it is) for a thicker, spicier, and more economic alternative, Hot Kathi Roll is your spot. The double chicken and double mutton rolls, both priced at Rs 100, will satiate your heart and belly comfortably till dinner.
Care to do a bit of shopping once your roll is done? How about some good-old street shopping?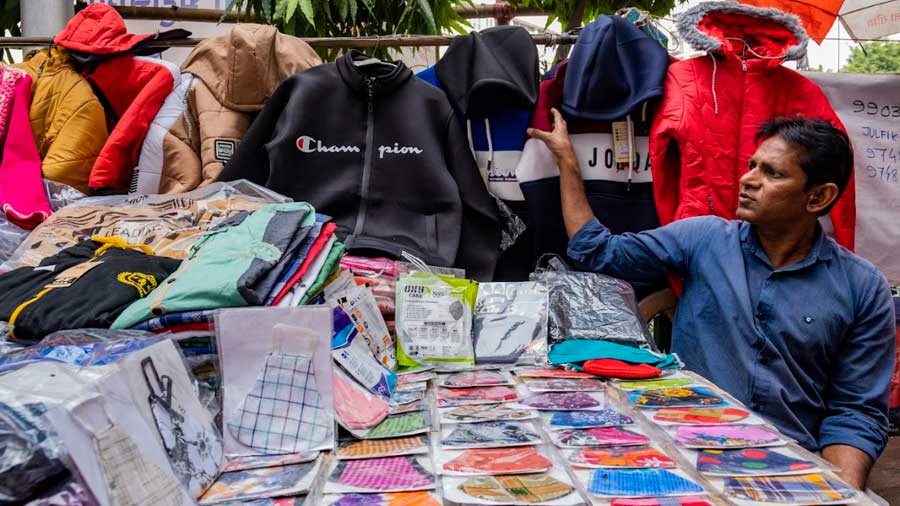 Who doesn't love a good hoodie in December?
Ritagnik Bhattacharya
Just hop over to the other side of Hot Kathi Roll and feel free to unleash a shopping spree. From sunglasses to hoodies to phone covers, your winter accessories will be taken care of, all within a modest budget.
Years of lost hope on party street
In case you want your wrist watch to get a makeover, proceed towards Bandhan Bank on the same footpath and you will meet Dinesh Chandra Shaw, whose corner shop has been catering to watches, belts, batteries, buckles for more than three decades.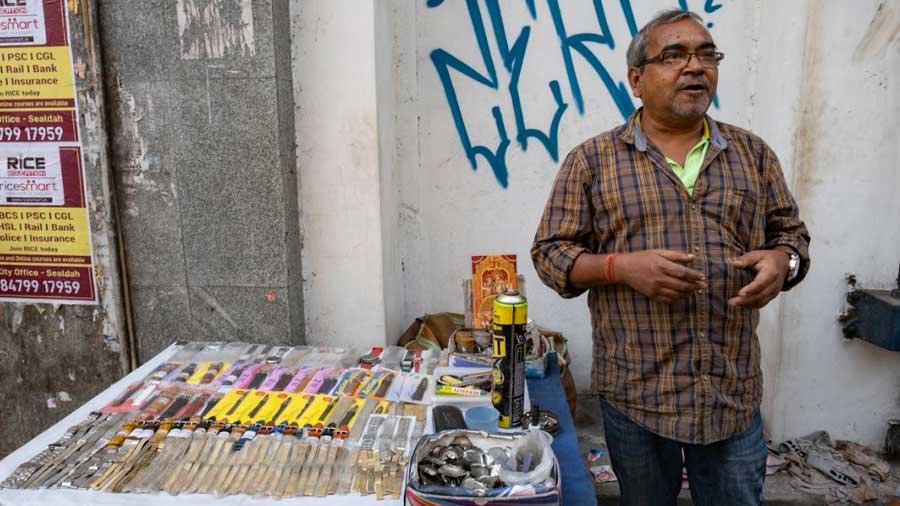 Few have seen Park Street evolve and grow from closer quarters than Dinesh Chandra Shaw
Ritagnik Bhattacharya
But Shaw is not sure how much longer he will continue, for the Covid-19 pandemic has taken its toll: "The last two years have been years of lost hope. The pandemic has ruined people like us completely. I am wondering if I should shut my shop down. I'm barely managing to get the necessary rations these days. I end up having too much of gutka so that I can avoid feeling hungry for as long as possible," said Shaw.
Stories like Shaw's are nestled together on the same Park Street as those of young ambitious college-goers looking to change the world as well as of those who are neither despondent nor dreamy, but simply grateful to be where they are, content with what they have.
Paan never goes out of season
One such individual is Omnath, who runs Quality Paan Shop, next to Oxford Bookstore. "I have never known anything else in my life apart from paan. My grandfather ran this place, then my father, and now me."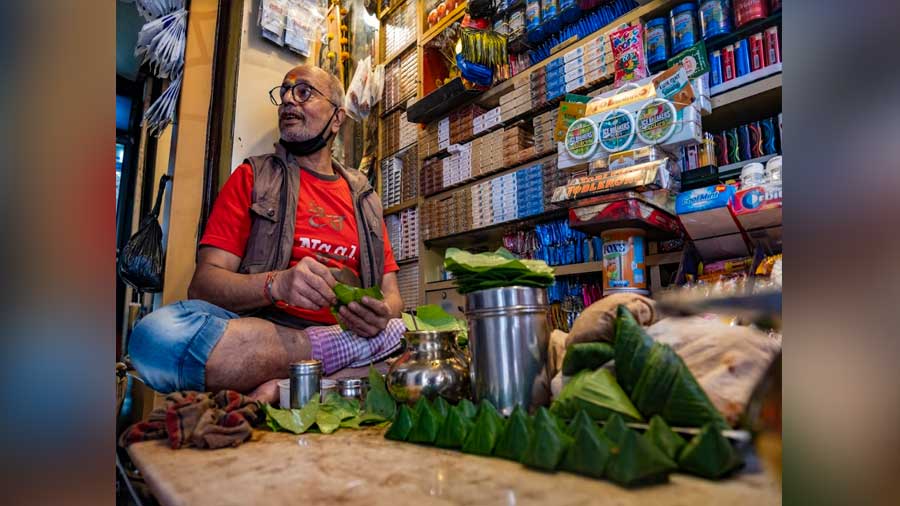 Omnath catching up with a customer at Quality Paan shop in his typically affable manner
Ritagnik Bhattacharya
What are the premium paans that Omnath can offer?
"The ones that sell the most are the saada and jarda paans, but our special touch is present in the gilori paan, which comes with ingredients like mawa and the lingering smell of gulkand," explained Omnath.
He went on to add: "No matter the weather, time of day, or people's moods, everyone here loves a paan. They never go out of fashion."
Much the same can be said about Park Street – even the one not behind glass doors.