Usha Uthup is the undisputed 'Queen of Pop' for Generation X, Y and its parents and grandparents. Her singing career spans a string of datelines that not many can hope to straddle in a lifetime. From her early days in Bombay, the jazz clubs of Madras and a certain Park Street in Calcutta, Usha has won the hearts of millions of music lovers. Straddling diverse genres with ease and adding a natural finesse to her renditions of any song she chooses – be it a Fever, Malaika or a Ramba Ho.
Yet her foray into Hindi film music wasn't easy, starting with a disappointment that could not let her spirits down. But then, that's Usha. Here's an extract from her just released authorised biography, telling us the real story of Hare Rama, Hare Krishna and her tryst with Dev Anand, RD Burman and Asha Bhosle. [Note: The sub-headings have been put in by My Kolkata]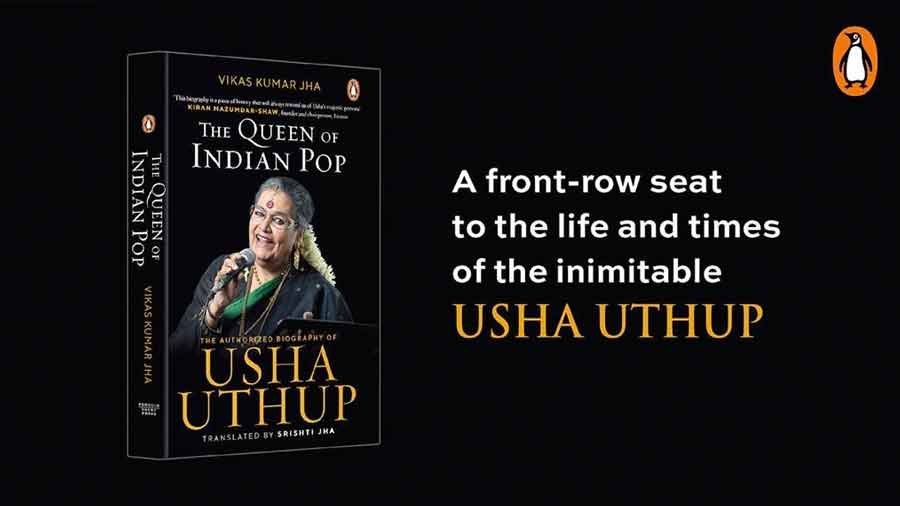 It was 1970. An imagined future was occupying Usha's dreams. She had already sung two English songs at Bombay Talkies but getting into Hindi films was appearing tough to her. Luckily, the stars aligned in her favour, and she got regular offers to sing in films like Kabhi Dhoop Kabhi Chaon, Hare Rama, Hare Krishna, Bombay to Goa. As Usha had already sung so many advertisement jingles, the music directors were in two minds thinking if it would be a successful move to have a girl sing for Hindi films who came from a jingle-singing background. But eventually this doubt faded, and many offers came up to sing in Hindi films. Shyam Benegal's film was one such opportunity. But Kabhi Dhoop, Kabhi Chaon was the first Hindi film in which Usha did playback singing. The song became popular — 'Main Bhi Jalun, Tu Bhi Jale'.
This song was written by the famous film lyricist Pradeep and the music was by Chitragupta. When the film's producer called Usha for a meeting, she innocently asked if the song was in English, or a mix of Hindi and English? The producer laughed and said, 'The song is in Hindi. It's a lovely song.' Sitting along with the producer-director of the film, Chandrakant also couldn't hold back from smiling. Usha was given the song script. Usha actually liked the song – Main bhi jalun . . . tu bhi jale . . . aaja sanam lag ja gale . . . aag se hi aag bujhe . . . bahon mein aake dekh le.
I didn't expect you to sing this song so wonderfully: Pradeep
The song reflected Usha's state of mind. She went to the studio for rehearsals. After that, she didn't go back to the house in Dadar but to Amma and Appa's home to share the good news that she had got a chance to sing for a Hindi film. Usha's brother Shyamsundar asked who will be enacting the song. Usha told him that this song will be picturized with Helen and Dara Singh. Shamu said jokingly, 'Oh okay! So, you will be singing for Dara Singh?' Such remarks were common between the siblings. Such light-heartedness ran in the Sami family. And Usha was ahead of everyone in humorous tricks. When 'Kabhi Dhoop, Kabhi Chaon' was recorded, lyricist Pradeep was happy with the song's presentation. He said to Usha, 'I didn't expect you to sing this song so wonderfully.' This came as a welcome appreciation for Usha in 1970.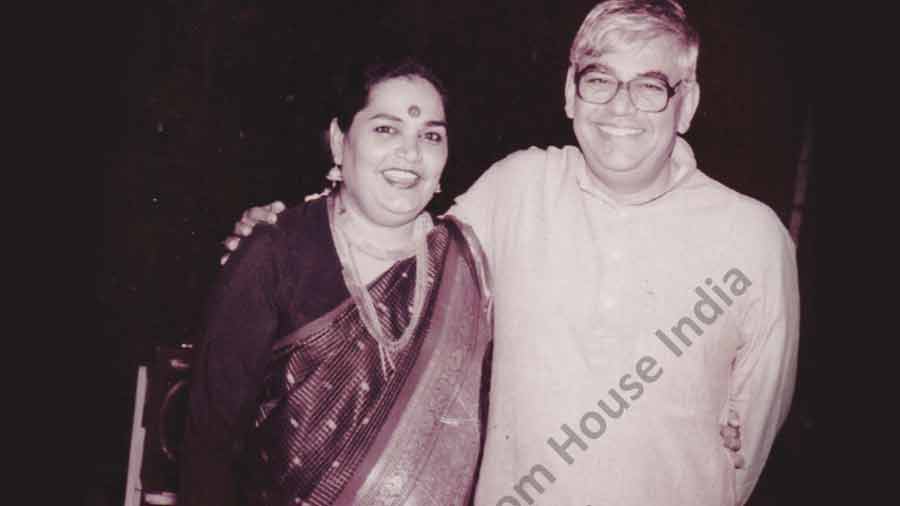 Usha with her brother, Shyamsundar
But amid this there remained an uneasy darkness between Ramu and Usha. They were in the fifth year of their marriage but there was still a desolate void between them. Ramu was always supportive of Usha's music career, but he was a quiet man by nature. Usha was full of life. And life was going on, chugging along the isolated quietness. But in her professional life the golden doors of opportunity had opened. The chance to sing in Dev Anand's Hare Rama, Hare Krishna was a sign of good luck. However, it was in Usha's horoscope that she would never attain anything without enduring difficulties. For the film, Dev Anand had brought Sachin Dev Burman, Rahul Dev Burman and Shashi Kapoor to Delhi along with the entire unit of Navketan.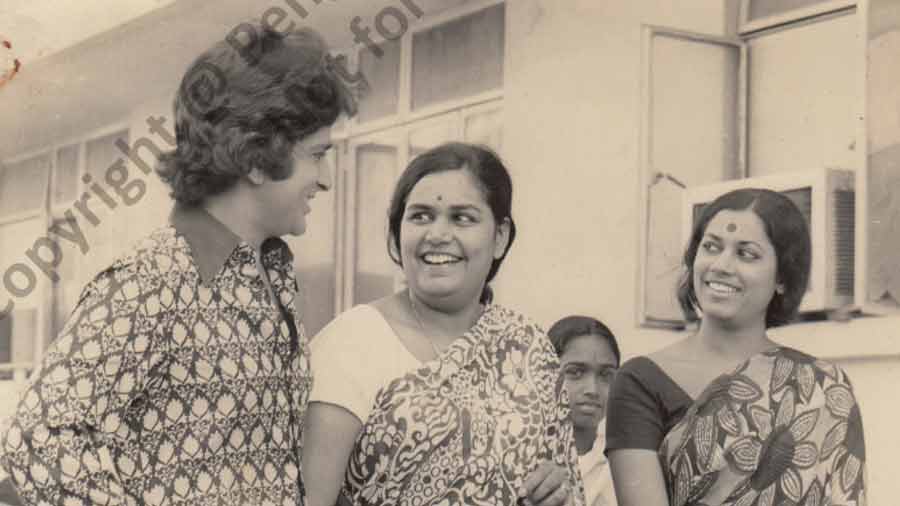 ...with Shashi Kapoor
Zeenat Aman will have your voice in Dum Maro Dum: R.D. Burman
This was during the last days of 1969. At that time, Usha was on a contract with Delhi's Oberoi International for two weeks. Dev Anand and the others were present at Usha's show. Shashi Kapoor's father-in-law ran the Shakespeareana theatre along with his daughter Jennifer Kendal. Due to that, Usha knew Shashi from before. When Usha's show got over, Shashi came to Usha and introduced her to Dev Anand. Dev Anand asked her, 'Usha, will you sing for Hare Rama, Hare Krishna? It's a duet song.' R.D. Burman told Usha, 'Lataji will be giving her voice to Mumtaz in this song and the girl with a Western outlook, Zeenat Aman will have your voice.' After Usha agreed, she was given the lyrics of 'Dum Maro Dum'. Even Appa had tagged along when Usha had gone to the studio for rehearsals. It went well. But Usha was wondering as to why there was no news from Navketan. One day, when R.D. Burman spoke to Usha, he told her, 'What do I tell you! That song is not happening for you. Now Asha (Bhosle) will be singing it. But we have kept a song for you in the film I Love You.' Usha felt bad hearing this.
The song that she had been rehearsing was given to Asha Bhosle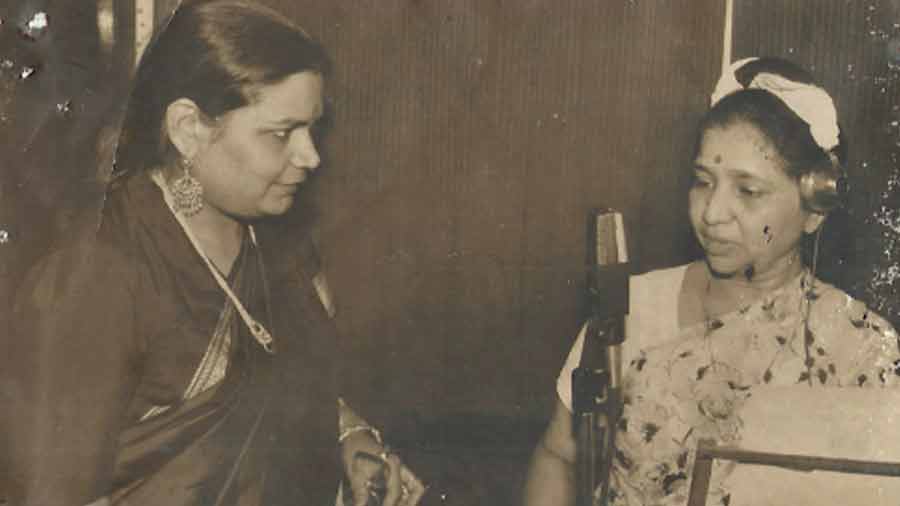 Usha Uthup with Asha Bhosle
She had only heard stories about the politics that goes around in the industry, but this time she was experiencing it. The song that she had been rehearsing was given to Asha Bhosle. Usha, however, comforted herself by believing that what was destined for her would happen. She would sing the songs that were meant for her. However, the song 'I Love You', that was given to Usha, later on became a duet with Asha Bhosle. The English parts of the song were given to Usha and Asha got the Hindi parts. The song was written by Anand Bakshi and the music was by R.D. Burman.
The song went like this:
Usha: I love you / can't you see my blue eyes I really do . . . ooo/ Oh, please give me another little chance/ Dim duba dubaa, dim doobaa doobaa/ Dim daaba daaba daaba daa
Asha: Kya khushi kyaa gham, jab tak hai dum mein dum /Arre aao kash pe kash lagaate jaao . . . galiyon mein ghooma, sadakon pe jhooma, duniya ki khoob karo saair/ Hare Krishna, Hare Ram/ Hare Krishna, Hare Ram
This is how Usha, at an early stage, became a victim of the Mangeshkar sisters' dominance in playback singing in Bollywood. Whatever happened to the song 'I Love You', people till date believe that the song 'Dum Maro Dum' is sung by Usha Uthup.
Even Amitabh Bachchan liked 'Rain' in Usha's voice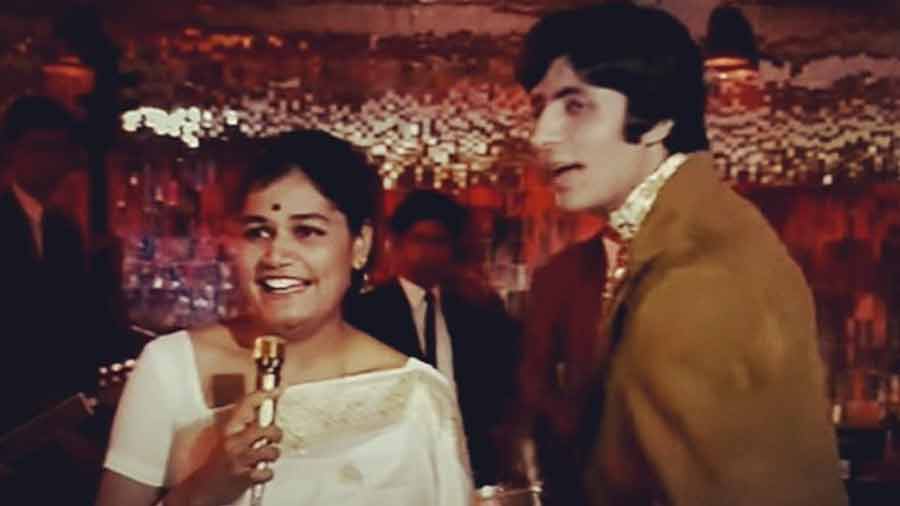 Tweeted by @singerushauthup
Even R.D. Burman felt bad taking away 'Dum Maro Dum' from Usha after she was asked to sing it. That's why he wanted to make it up to her. From Bombay's famous nightclub Talk of the Town to Oberoi Sheraton, R.D. Burman along with Asha Bhosle had heard Usha sing 'Rain' many times. R.D. Burman would say each time, 'Usha, we must do something with this song.' He found a chance in the film Bombay to Goa. In a particular scene in the film, Amitabh Bachchan and Aruna Irani go to a nightclub following a tiff. In that scene, R.D. Burman had Usha singing 'Rain'. Even Amitabh Bachchan liked this song in Usha's voice. She was presented with her real name in the film sequence: 'And now ladies and gentlemen! We proudly present to you the one and only Usha Iyer!'
Excerpted with permission from The Queen of Indian Pop by Vikas Kumar Jha, The Authorised Biography of Usha Uthup (translated by Srishti Jha). Publisher: Ebury Press, an Imprint of Penguin Random House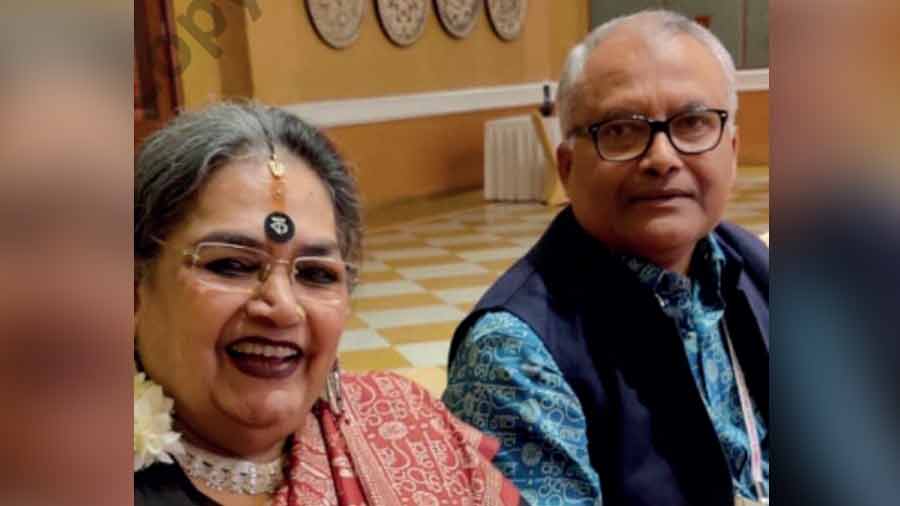 ...with author Vikas Kumar Jha