In Kashmir, there is no dearth of food for meat-lovers. Arrive in the capital city, Srinagar, and almost everyone will recommend a meal at Ahdoos, a 100-year-old restaurant steeped in history, or the multi-course wazwan experience at Mughal Durbar.
But if you're looking for a taste of the valley's street food, there's only one place to head – Khayam Chowk.
Where to eat in Khayam Chowk
In the daytime, Khayam Chowk looks like any other alleyway. But it is after dark that the lane comes to life. 
Men stand fanning charcoal clay ovens as meat is roasted on skewers, and the aroma of spiced meat charred on embers hangs in the air.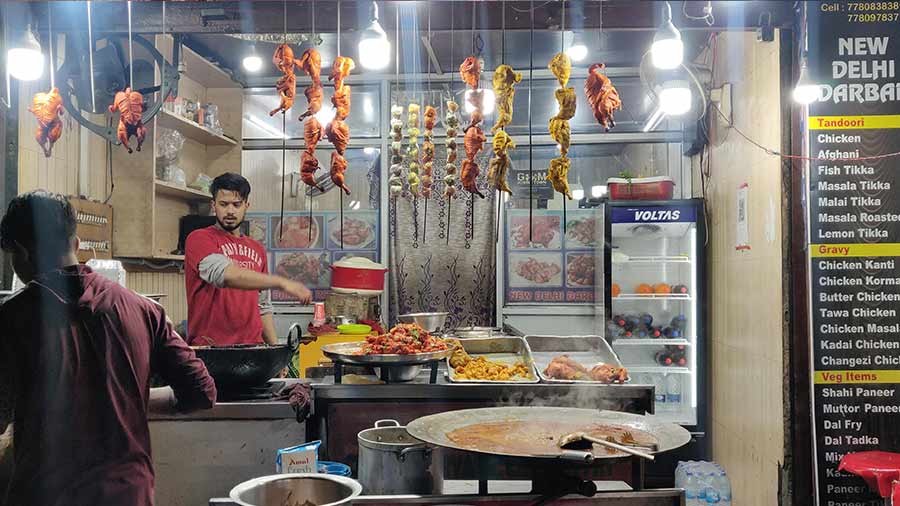 It is after sundown that the food street of Khayam Chowk comes to life
Karo Christine Kumar
One of the most popular eateries here is Imran Cafeteria, which was opened around five decades ago by Muhammad Yusuf, and now run by second-generation Zeeshan Yousuf. The best-selling dish here is mutton tujj, one of Kashmir's most famous street foods. Barbecues in Kashmir are known as tujji and seekh tujj is skewered meat cooked over charcoal.
A few stalls away is Shahee Darbar, run by Md Izhar, who is originally from Delhi. "Mashallah, Kashmir mein bathees saal ho gaye (it's been 32 years in Kashmir)," he tells us, as he puts masala-coated meat into a large kadhai.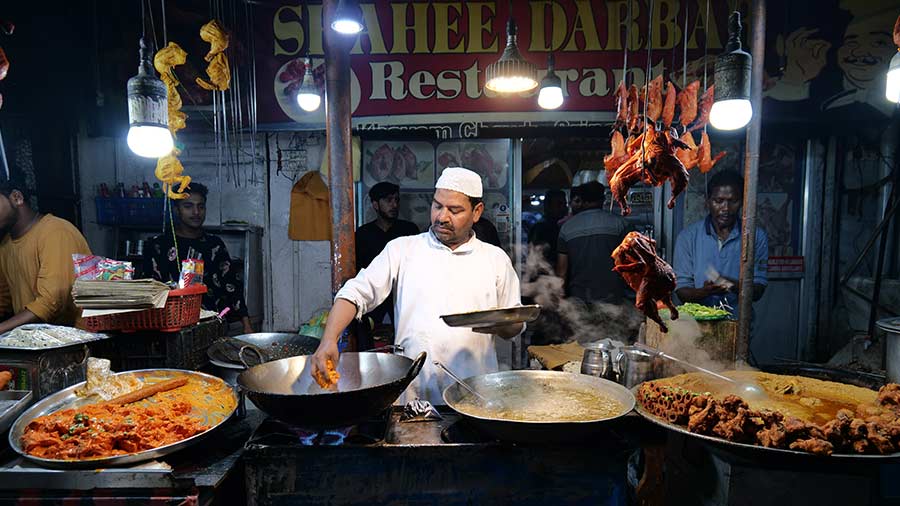 The exterior of Shahee Darbar eatery in Khayam Chowk, manned by Md Izhar
Sourced by My Kolkata
The front of his eatery is decorated with tall skewers strung with pieces of fish, chicken and mutton, and there are even whole roasted chickens on display. "Khayam Chowk is one of the main food attractions in Srinagar. Non-veg ke ilawa, yahan kuch nahin milta (apart from non-veg, there is nothing available here)," he smiles.
The meat is usually served with local roti called lavasa. It is an unleavened flat bread made of maida, and can be either soft or crispy. Yoghurt and mint-based chutneys are served with the kebabs, along with sliced onions and radish.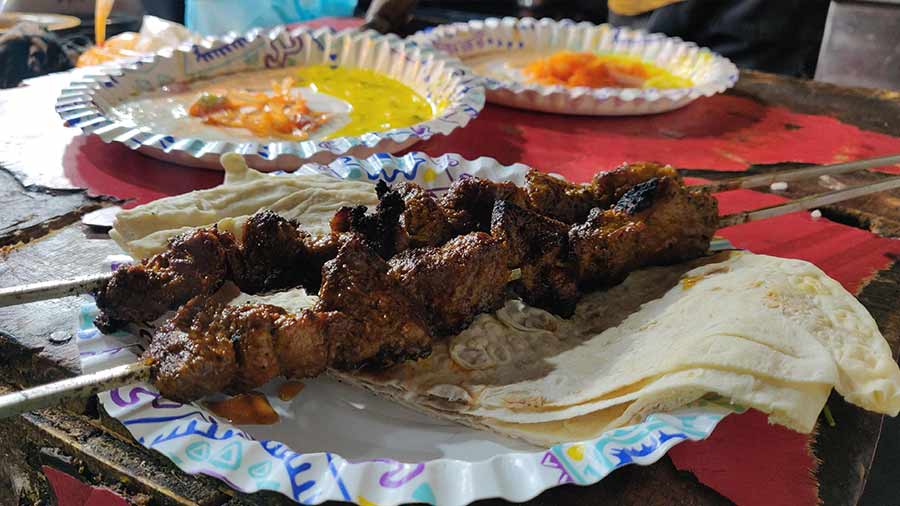 Seekh tujj or skewered meat cooked over charcoal, wrapped in lavasa or unleavened flat bread
Karo Christine Kumar
Surprisingly, there are only two shops that sell beef, but both were closed due to Eid-al-Adha. During the three days of Eid, everything from restaurants to pharmacies remain shut in Srinagar, so if you're a tourist in the Venice of the East during the festival, your best bet for a meal is one of the dhabas near Dal Lake.
In Khayam Chowk, other popular eateries are Sher Khan's Sher Barbecue Cafeteria and Gareeb Nawaz. There are around 30 such shops lining both sides of the street, some leading to areas with proper seating inside, while others occupy road space on their mobile carts.
Fish shops are a recent addition to the food street.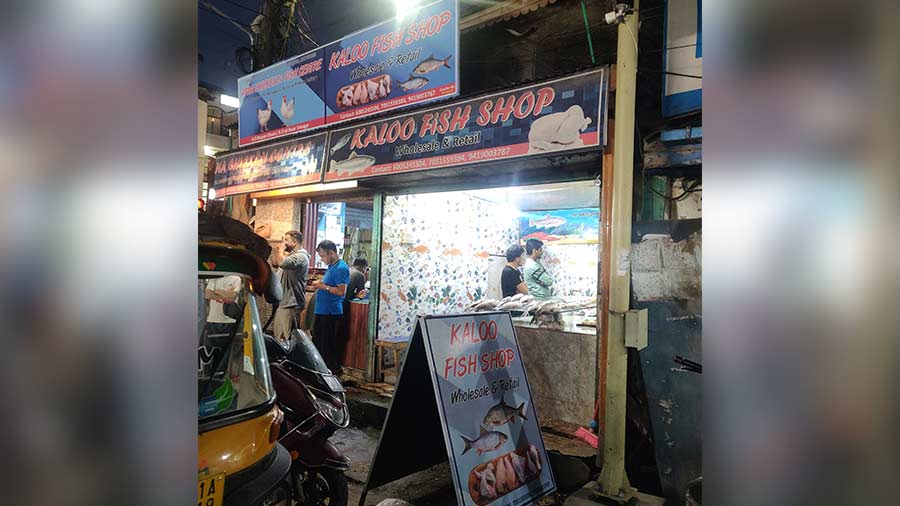 A shop selling fish — a recent addition to the food street
Karo Christine Kumar
A bite of history
The market square is named after the Khayam Cinema Hall, which was shut down when militancy erupted in Kashmir in 1989. Regal, Broadway, Palladium, Neelam were some of the other halls that were either shut or burnt down. In fact, despite a number of attempts to rekindle cinema, Kashmir valley still has no multiplex theatre, though Jammu has a good number.
The chowk lost its charm when the cinema hall was shut. But when Khayam cinema hall was converted into a hospital, some tea stall owners, who would cater to the cine-goers, converted their business to barbecue-making. One seekh kebab shop gave rise to many and soon Khayam Chowk was back in business, earning the title of Srinagar's 'barbecue street'.
Kolkata photographer Debdatta Chakraborty was awarded the Pink Lady Food Photographer 2022 for the above picture of a vendor in Khayam Chowk.