If you want to know about the food culture of a region, visit its markets. Better yet, visit a market with someone who is curious about little-known herbs or odd-looking fish. Sienna Cafe's 'chef and chief grumpus' — as he calls himself — Auroni Mookerjee and the man behind the newly launched platform The Locavore — chef Thomas Zacharias — went fish and veggie shopping at Gariahat market on Wednesday. 
Auroni and Zac picked the most Bangali of things to show off as the highlight of Zac's time in Kolkata — fish! And not just any fish, but the much-loved chhoto maachh. 
Auroni grew up in Delhi and worked in Mumbai before making a home in Kolkata and finding his way to Sienna. While the store celebrates the best of Bengal's artisans, the kitchen at Sienna dishes out the best of Bengal's produce — from laupata and dheki shaak to chhoto maachh — in new and exciting ways.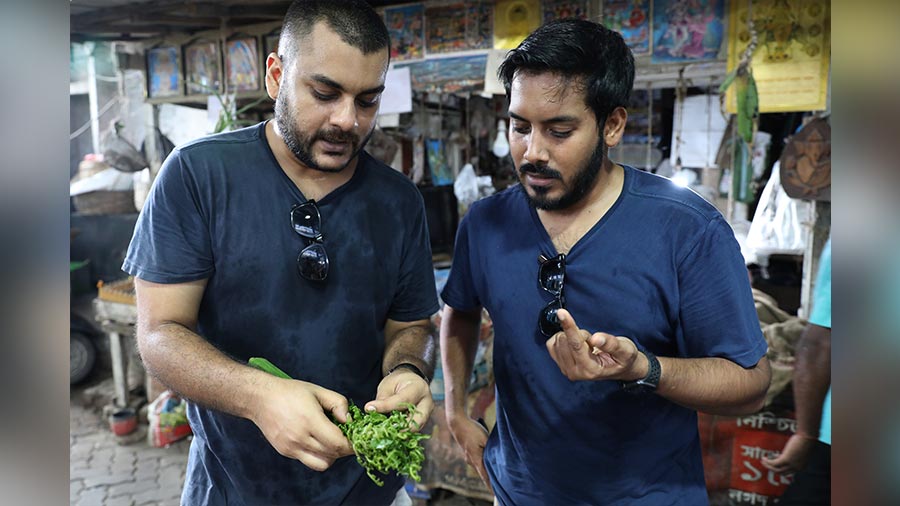 Auroni and (right) Zac examine a stalk of fiddlehead fern or 'dheki shaak'
Arijit Sen
Zacharias, or Zac, the former executive chef of the prestigious The Bombay Canteen, has been teaching us new ways to love our vibrant desi ingredients for a while now. His #ChefOnTheRoad journeys have taken him around the country, discovering new flavours a plate at a time and this time, the stop is Kolkata.
A day before Sienna hosted a Choto Maach Potluck with The Locavore, the Sienna squad experimented and showed off their ideas for cooking chhoto maachh. Teams were made and chits drawn for the fish each team had to cook with, and the choices were aplenty, from amudi and kucho chingri to gule, gurjali, khoira, bele and more. Each team got some money to spend and then it was time to go to the market to find accompanying ingredients for their fishy dishes.
My Kolkata tagged along on the all-important visit to the bajaar and watched the chefs explore.
The joy of markets
The Gariahat bazaar was the first of the markets on Auroni's list. "We will be going to Maniktala and Muchibazaar (Ultadanga) as well," he said. "Different bazaars are good for different things, and cater to the different tastes of the people who shop there. At Muchibazaar you won't find goyna bori, for example, but you will get many varieties of kochu and foraged saag that you might not find elsewhere. Of course, each market also has its own kind of street food — Maniktala has kochuri and mishti, Muchibazaar has a great nanpuri stall."
Gariahat has kochuri-chholar dal and petai porota and a breakfast stop is on the cards to wrap it all up. But till then, it's maachh on every mind. Conversation about fish brought up the topic of childhood fish-eating memories. "My fondest memory is of eating sardines. There's a particular time of year, when they're just fattening up, so there's a layer of fat under the scales, and my grandma would just season it with salt and fry it with the scales on. We'd hardly eat any freshwater fish though at home (in Kochi), apart from karimeen," said Zac.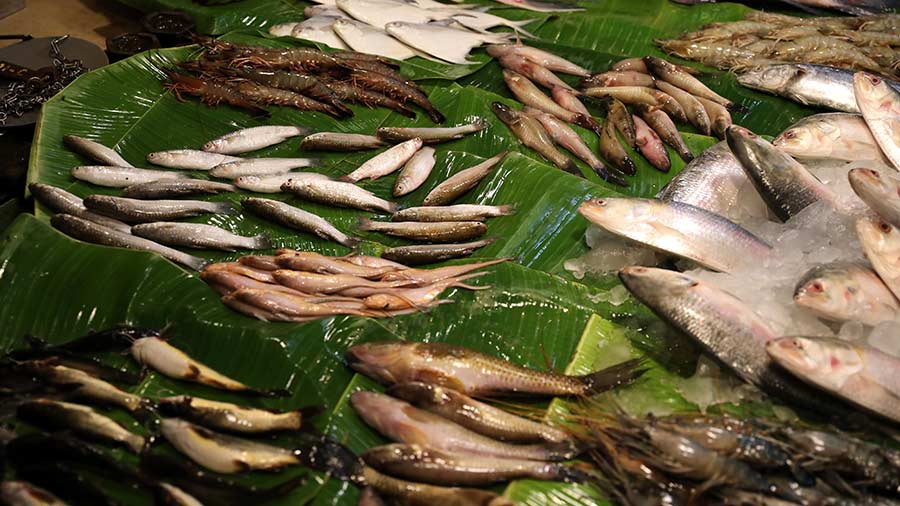 Pomfret, prawns, 'ilish' on ice, and a variety of 'chhoto maach' like parshe, tyangra and bele at the Gariahat fish market
Arijit Sen
He admits he hasn't really cooked with a lot of chhoto maachh, one of the reasons for basing the cookout on it, apart from showcasing the diversity that exists. "It's a learning experience for me, because only once you start working with a fish, do you understand its characteristics and how it cooks. Typically, freshwater fish are more delicate with subtle flavours, while sea fish are more pronounced in flavour, meatier in texture, and fattier."
"That's until you meet the big guys of the freshwater, and see bellies the size of pork bellies," Auroni added, referring of course to the giant cuts of katla and rui that any shopper would spot in a Kolkata market.
A bustling Kolkata 'bajar'
The first few sellers to greet us at Gariahat bazaar were the ladies with their smaller set-ups on the ground. There's an intro into the ways of cooking duck eggs by Auroni ("usually a nice kosha"). There is also the need for translations — dumur, we found out, is a kind of cluster fig — and for Zac, an offering of kumrophool, one of the Bengali ingredients he's cooked with before.
"I've cooked with a few things and some of them have parallels, like pui shaak and kochu, but there's a lot of the shaaks I haven't tried," he said, adding that the one thing he specifically liked about vegetable markets in Bengal was that "the vegetables are typically younger (kochi, as we say), and that changes the flavour profile completely! It's something unique to Calcutta, you don't see many other communities in India that are that particular about it".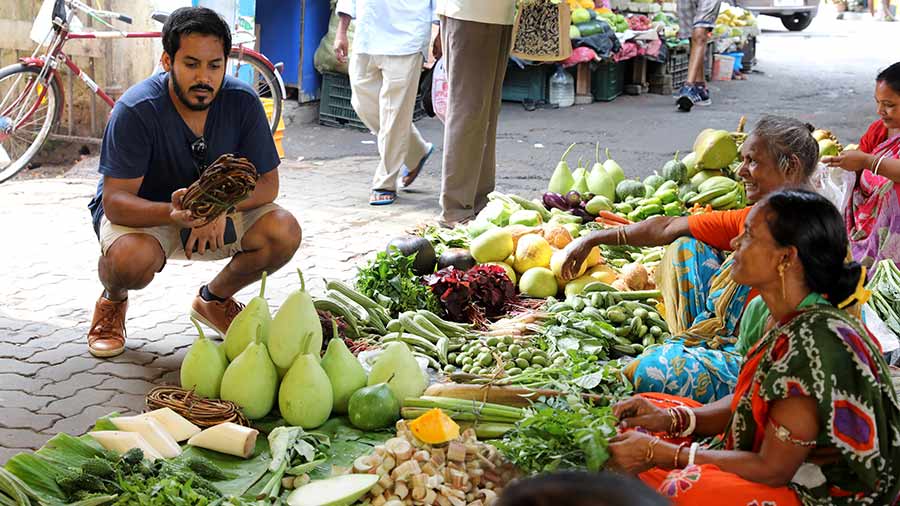 Chef Zac inspects a bundle of 'kochur loti'
Arijit Sen
Fresh and fishy
The noisiest and busiest section of the market is always the fish market, and also where the most stops were made for photographs and discussions. Topics ranged from the identifying markers of fresh fish — "The eyes will tell you," said Auroni; the pricing of hilsa and how to identify a Bengali ilish ("by the shape of the body").
The big guys, the ones with 'bellies the size of pork bellies', are the huge freshwater rohu and catla, and the belly cuts are laid on mats or displayed proudly on wooden stumps. Someone who has eaten a maachher kalia very often on special occasions might not really think that 'marbling' is a term that would ever apply to the piece of fish on their plate.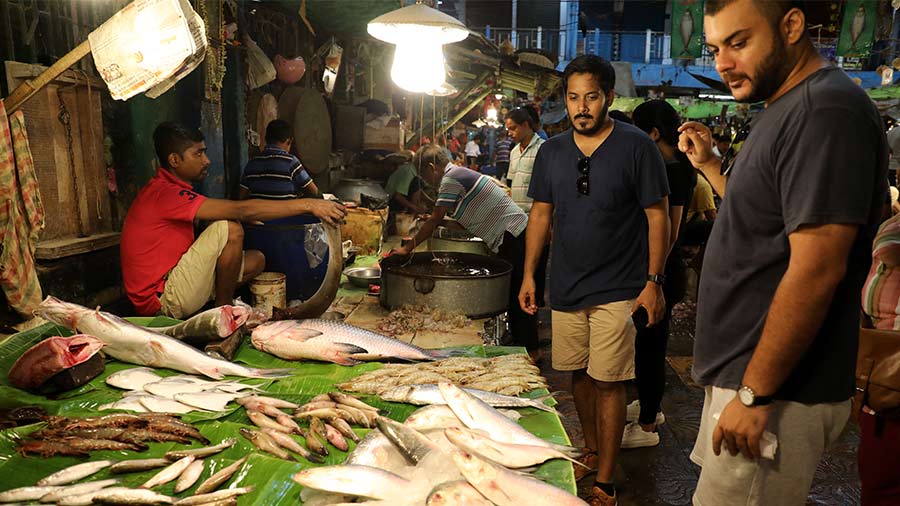 There are bigger 'bontis' or blades used to cut these really big fish, that can weigh up to 10kg sometimes
Arijit Sen
"You can make out the marbling and see how fatty and rich this piece of fish would be," Auroni explained. "In fact, many times, the bigger, fatter fish are used to make the rich last courses of a festive meal in place of meat. It's also a matter of skill, not everyone can cook this well."
Past the big guns, the next hour was spent roaming around identifying the different kinds of small fry on display. There were the slightly bigger, more popular ones like the tilapia, gurjali (Indian salmon) and pomfret. And then there were the star attractions, the chhoto maachh. Amudi, the favourite fried snack; puti, the everyday chhoto maachh; the incredibly bony bata; tyangra, the ones most often cooked in a jhaal; and more. The list continues with known and little-known names — gule, bhola, bele, bacha — the fish-eating Bengali really is spoiled for choice.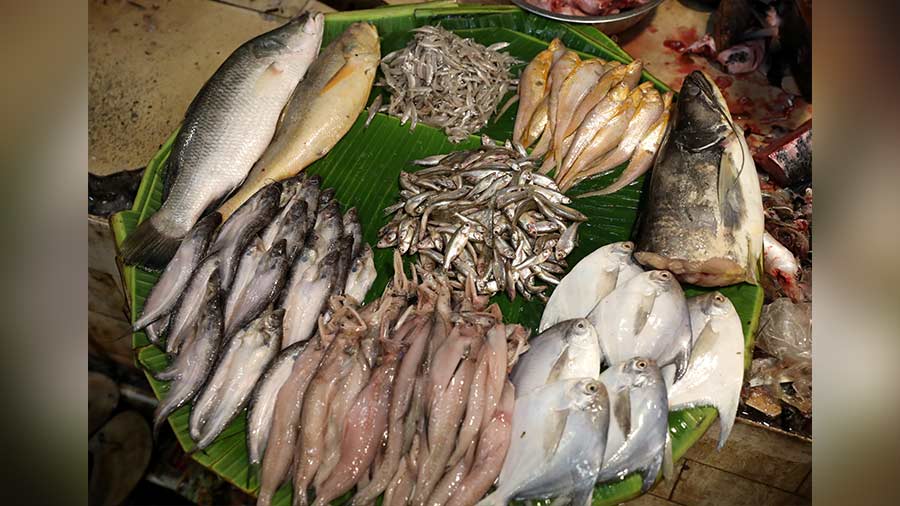 Bekti and pomfret, along with smaller fish like the tiny 'kachki', 'mourola', 'pabda' and 'loitta' or 'bombil'
Arijit Sen
Breakfast breaks and food tales
The street food ecosystem that has grown around the Gariahat bazaar is great for a morning fill of kochuri-chholar dal, and petai porota and keema ghugni. The lady at a little stall at the back of the market, near the temple, often supplies petai porota to Sienna as well. As Auroni said, there are some things that you should only get from the experts. Unlike in many other parts of the city, the kochuri-chholar dal here has that very Bengali flavour. It's one of the many food experiences the chefs have had since Zac arrived in Kolkata.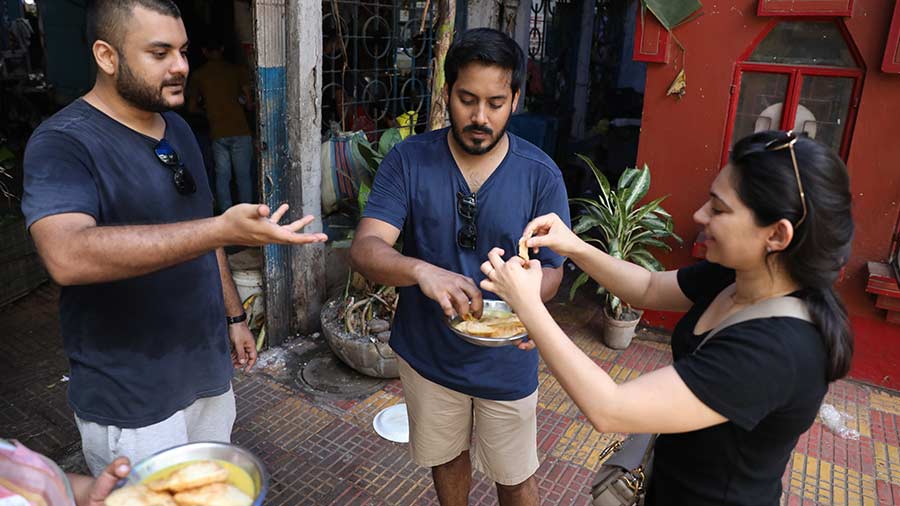 Auroni explains the origin of the name 'petai porota' to Zac and Karina Aggarwal, beverage writer and the vice-president of Indian gin brand, Terai gin
Arijit Sen
Apart from a degustation at Sienna, they've had biryani at Manzilat's, eaten at a pice hotel, walked around Bow Barracks and Tiretti Bazaar sampling the multicultural dishes that the area is famous for, "and the chaa!" Auroni added. "The way they make cha in north Kolkata, how it's steeped and not boiled and the attention paid to the CTC blend plus the customisation makes for a great cup of tea that doesn't need any additional flavours from elaichi or adrak."
Some food experiences have stood out for Zac. One of them is the Calcutta Chinese meal made by Edward, one of Sienna's chefs, "the likes of which I've never tasted before." A sneak peek on the gram reveals the menu, which consisted of shrimp and pork wrapped in caul fat, triple-cooked pork belly with fermented mustard greens, stir fried squid with celery and pear, sauteed lapchong (Chinese sausage) among other things. The other memorable experience was the simple vegetarian meal at Amar Khamar, an organic store in Dhakuria. They used different parts of the vegetables in the dishes and it was served with three varieties of locally grown rice. Zac's favourite? The aromatic karpurkanti.
Chef Zac also tried a mishti shingara and really liked it, Auroni recalled. "Looking at it, it looked like it would have been a deadly sweet thing, but no, I actually liked it!" Zac said .
The seasonal surprises
The great thing about markets is that the same bazaar can seem totally different in two different seasons. Zac remembered coming to this market seven or eight years ago, at a time closer to the winter and finding a whole different spread. As we exited the market, and walked past the few sellers on the last stretch, Auroni led us to the three most exciting finds of the market trip.
"Doodh chhata (milk-white mushrooms) is the Bengali name," he said for the first. The lady selling them had only a few of the large, stark-white mushrooms left and handed them over. It's the first time any of us, Zac included, had seen these. Later, a quick Google search pointed to the most plausible English name — milky mushrooms. An Indian variety of mushroom found and eaten in Bengal that is now slowly being cultivated in other parts of the country.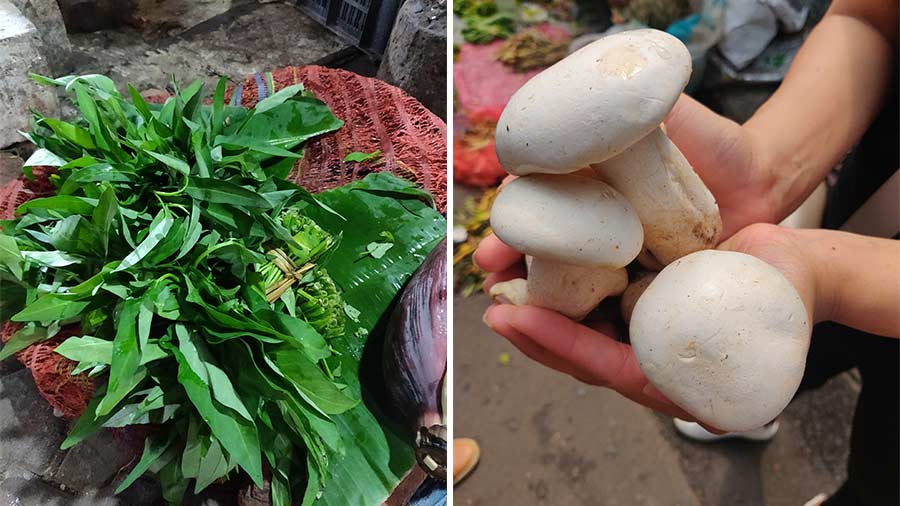 'Doodh chhata' and 'kharkol pata'
Arijit Sen
The second was kharkhol pata, the leaves of a type of taro, usually eaten as a bata. "Fry it with garlic and lots of green chilli and then grind it," said the lady when asked how to cook the leaves. She didn't have the third thing Auroni was looking for, but we found it with another seller nearby. The tapering, green stalks of kochu phool resemble a Maharashtrian vegetable Zac recognised called shevla, which has a meaty, almost mushroom-like flavour when cooked. This one seemed to be a little different.
Most often, the ladies who sell the vegetables are the ones who can best tell you how to prepare them. She plucked out and threw away a stamen-like stalk from the inside, before explaining that the kochu phool should be chopped and then stir fried with some onion, salt, and a pinch of sugar.
Bounty and brainstorming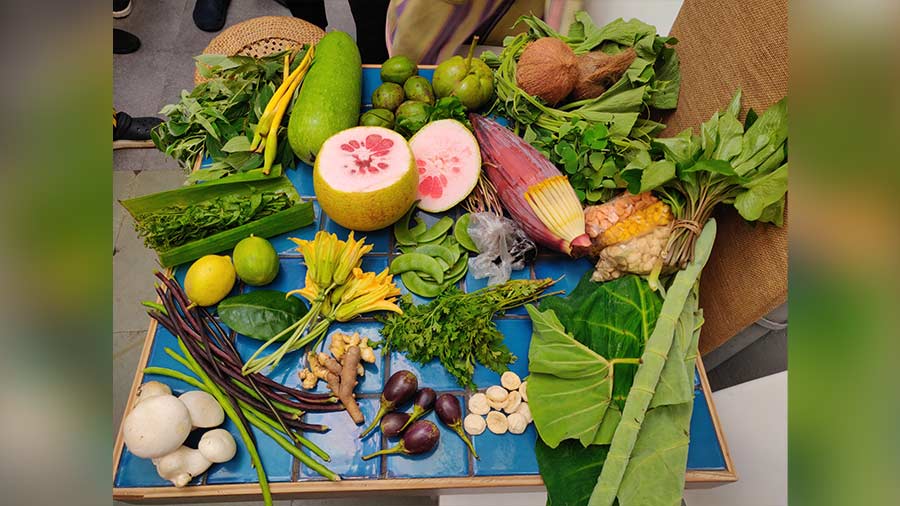 Some of the produce that the different teams picked from Gariahat market
Rumela Basu
"We've divided the fish amongst the teams to see what inspires them, because as cooks we all come with different experiences and there are things we've eaten growing up, so you play to those strengths and see what works. Then it's a lot of trial and error, and that's the beauty of it," Zac said.
Shingi is traditionally cooked in a light jhol with green papaya and usually served when one is under the weather. A ratatouille with cured shingi wouldn't be most people's first thought. There were a host of ideas that elevated the familiar local gem to something more precious — fried puti with tel-jhal wrapped in laupata with a side of pomelo salad, the fried amudi elevated with a mango ginger-infused jaggery glaze, a gurjali mousse with something crispy served on a bed of kolmi greens and garnished with bitter brahmi.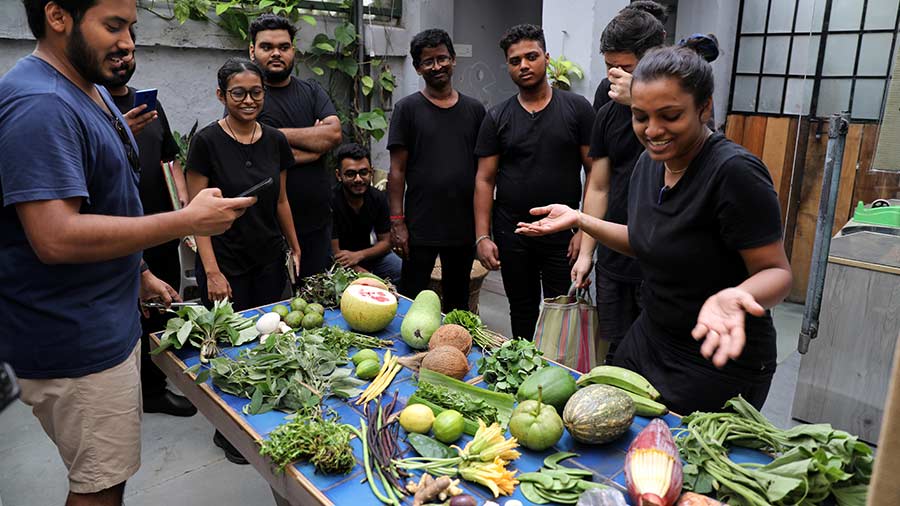 The Sienna team discusses ideas for fish dishes with Zac
Arijit Sen
Ideas were discussed, notes taken, and Zac agreed to let a team get a pick of the things he bought at the market — the mushrooms, the kochu phool, the kharkol pata — if they could convince him they needed it before a parting advice of cooking with love.
The simplest and seemingly most ordinary of ingredients found in local markets can create the most nuanced dishes, just — in Zac's words — be a little more open-minded, put a few of the rules aside.
But first, some of those fish need to be seasoned with nun-holud and fried!