Food is an obsession. Food is an emotion. Food is cerebral. Food is cultural. When in Kolkata, food is all of these things and more, as evidenced on the afternoon of January 14 at the Apeejay Kolkata Literary Festival (AKLF) at Park Mansions. Featuring Vir Sanghvi, India's leading food and travel writer; Doma Wang, the "Momo Queen" of Kolkata; Auroni Mookerjee, the head chef at Sienna Cafe; and Shaun Kenworthy, one of Kolkata's most celebrated chefs and restaurateurs, AKLF's pre-lunch session, titled "Oh Calcutta!", was all about digging into Kolkata's culinary culture. Moderating the session was Debanjan Chakrabarti, director of British Council, East and Northeast India.
Chakrabarti initiated the discussion by debating the name of the session itself. "Is the phrase 'Oh Calcutta! (both the name of a restaurant in the city started by Anjan Chatterjee and a musical co-authored by Samuel Beckett) an exclamation of disgust or a whoop of delight?" asked Chakrabarti. Sanghvi's reply was prompt: "It's definitely about delight. Kolkata has the most inclusive and cosmopolitan cuisine in the country. It also represents the sophistication of the Bengalis towards their food and how, in spite of losing a lot in other aspects, Kolkata has retained its decency, and remains, perhaps, the most civilised city in India."
Are Bengalis more French or Irish?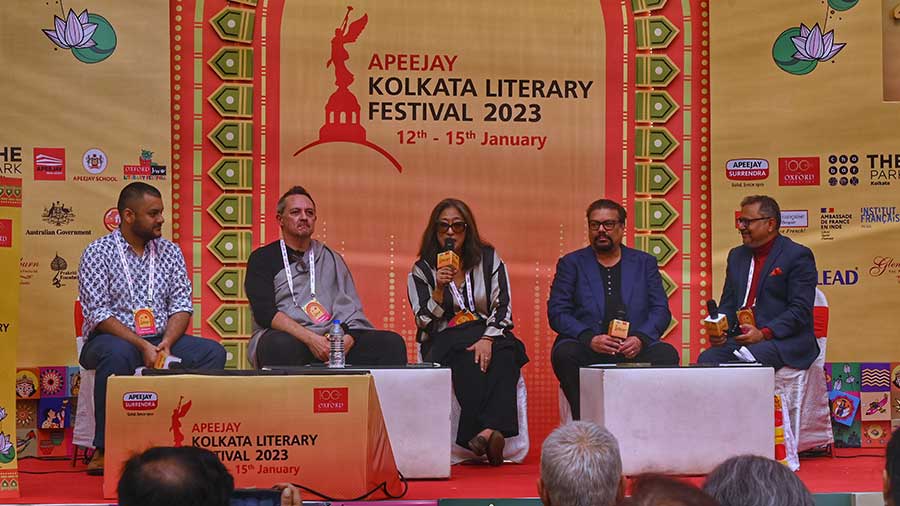 A lot of the afternoon's discussion around how food influences Bengali culture and identity
"Bengalis are the most obsessed with food, and Kolkata embraces food from all across the world. It makes people feel at home, like it has with me," said Wang. Kenworthy and Mookerjee, both naturalised Kolkatans in their own ways, having come from London and Mumbai, respectively, agreed, describing the city as "the place to be for its diversity, accommodating nature and sense of community". Mookerjee went a step further, hailing Kolkata for its magic realism, "the ability of the city to grow on you and to make you love it gradually, just like a Salman Rushdie novel".
Kenworthy then proceeded to compare the disposition of the Bengalis with that of the French: "Bengalis have this habit of separating Bengalis and non-Bengalis and so do the French when it comes to French and non-French. Both sets of people talk about food all day and love their politics. Be it arguments or strikes or smoking, they have similar passions." Sanghvi stepped in to add a rebuttal. "Bengalis love to eat, drink and argue. I feel that makes them more Irish than French!"
Both, however, felt that Kolkata has the most cosmopolitan cuisine in the country, with Sanghvi shedding light on how dishes like Chilli Chicken and momos have become an integral part of Kolkata in spite of not being a part of traditional Bengali cuisine. "Kolkata is very good at embracing dishes from other areas and making them its own. Though I wish that the city and its people did more to popularise Bengali cuisine outside Bengal. And also that Bengalis ate more of their own food when outside. On the rare occasions they do eat their native cuisine outside Bengal, most of them tend to say that their moms could make it better!" added Sanghvi.
'In Kolkata, almost everyone has a different idea of what the right kind of 'moori' is for them'
Wang introduced a fresh angle to the discussion when she shared an anecdote about her Bengali father-in-law and how he would lay out meticulous instructions for his wife on how to cook everyday meals after returning home from the bazaar. "I asked him that if he knew exactly what to do, why doesn't he cook it himself? Why leave his wife to do all the cooking," recounted Wang, evoking plenty of relatable laughs from the audience. Mookerjee supplemented Wang's point about the specificity of Bengali food with his example of moori sellers in Kolkata and how each customer recommends their own customisations to the evening snack: "In Mumbai, the Vada Pav is served more or less the same way to everyone with some minor adjustments in terms of spice. In Kolkata, almost everyone has a different idea of what the right kind of moori is for them. Even if you go around the city, the kachori and tarkari that you'll get at roadside eateries will change from para to para. When my team and I go shopping every morning, we keep discovering new ingredients in the local markets. That's the beauty of Kolkata."
'The vegetarian part of Bengali cuisine, which is incredible, doesn't get talked about enough'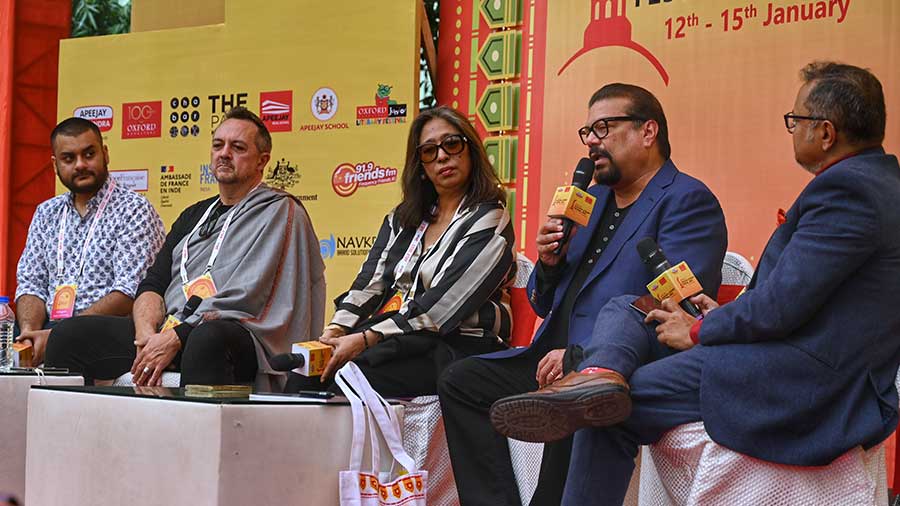 The panel emphasised the need to document food history better in India
Chakrabarti switched focus to the commercial side of food by citing a study done by the British Council in 2019 that found that 10 per cent of all expenses for Durga Puja celebrations in Kolkata was on food and beverages alone, "a figure that's highly disproportionate when compared with other festivals". Sanghvi corroborated this observation with his comment that "even though Punjabis may be more passionate about their food and are natural restaurateurs, no other community in India spends as much of their income on food as Bengalis. Especially when it comes to eating meat". Kenworthy took up this tangent to briefly make a case for "the vegetarian part of Bengali cuisine, which is incredible, but doesn't get talked about enough".
The session drew to a close with a couple of questions from the audience, both centred around food history and how it can be chronicled better when it came to Kolkata's culinary habits. Sanghvi, on behalf of the panel, said: "We have a lot of great food writing going on, writing that celebrates chefs and restaurants and waxes lyrical about one's personal relationship with food. What we don't have is someone recording the history of great dishes. How did the Masala Dosa become a fixture at restaurants? How did the Tandoori Chicken evolve into the Butter Chicken? How has the phuchka travelled across the country? Nobody seems interested in talking about that."