Park Street's sidewalks now have the heady notes of freshly brewed espresso, fruity pancakes and gourmet cheese in the morning with Trincas reviving its breakfast buffet. "We're serving breakfast again after a break of 62 years," said the third-generation restaurateur Anand Puri on November 11, the first day of the breakfast buffet.
Trincas served breakfast from 1939 to 1960 with a menu that was quite different from the one currently on offer. Confectionery picks like patties, croissants and pies punctuated the menu of that era, along with seasonal favourites and festive special offerings. "I have a picture of a Christmas menu, and from what I can tell, almond croissants, chicken patties, minced pies and cocktail sausages were served in those days. We also had Palmier Biscuits, which were heart-shaped biscuits made with butter and lots of melted sugar," said Anand.
A much-awaited revival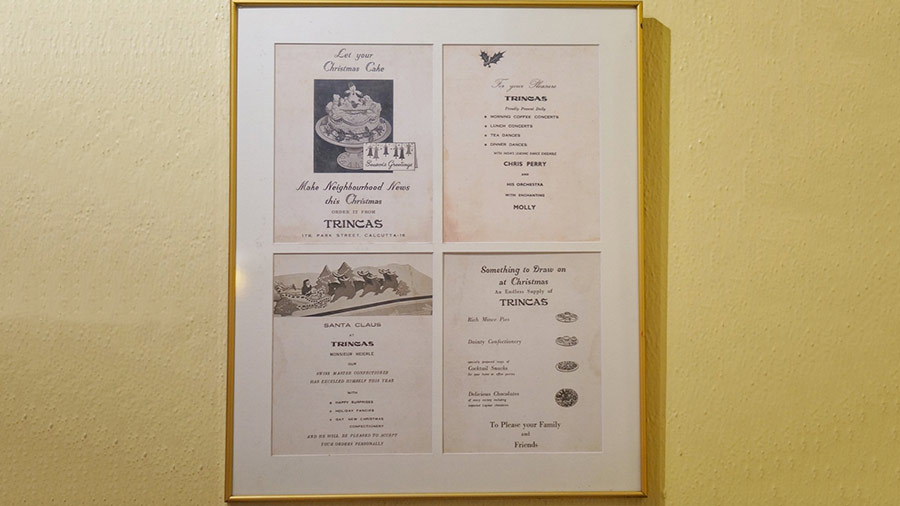 An old Christmas menu from the golden days of Trincas's breakfasts
The buffet at Trincas today comprises contemporary breakfast items like grilled sandwiches made with sourdough bread and fluffy waffles layered with special spreads. "We're keeping the buffet simple, but of top-notch quality. Our omelettes are made with brown eggs, so they're always colourful. We source our bread from a local baker and they're the most amazing artisanal sourdoughs. We make our pancakes with butter and our waffles are made on the spot, so you always get them hot," said Anand, who came up with the idea of reviving Trincas's breakfasts after savouring a series of experimental breakfasts at home.
"I love breakfast. So whenever I would sit down for breakfast, I would experiment with different combinations of bread, eggs and cheese, and it always tasted great. I thought why not do this at the restaurant — it's a great concept and I think Kolkata needs a place that does a good solid breakfast buffet that is more accessible and affordable," he said.
Sugar, cinnamon spice and everything nice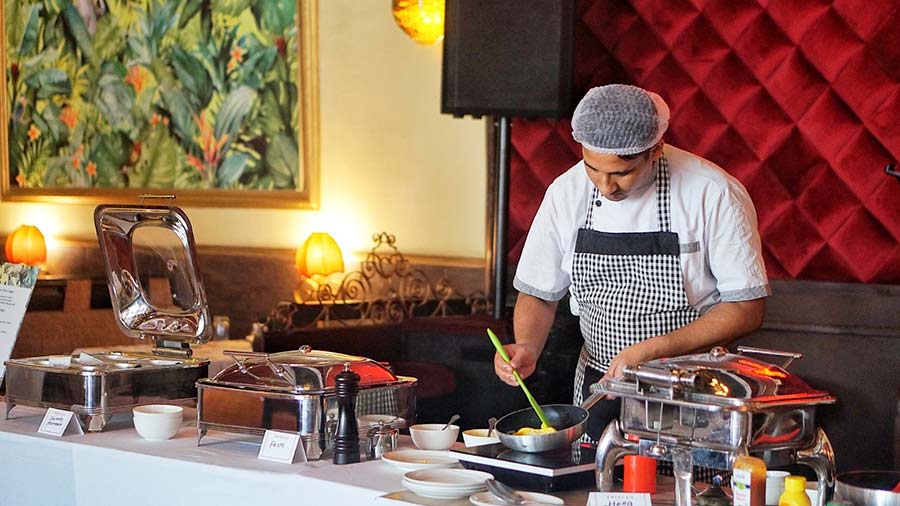 From scrambled to sunny side up — whip up scrumptious eggs at the 'Make Your Own Eggs' station
On the buffet is a 'Make Your Own Eggs' station that whips up eggs to order — from scrambled eggs to sunny side ups — with red onions, cherry tomatoes, bell peppers, mushrooms, pesto and five varieties of cheese accentuating them. There's also a grilled sandwich station that serves up sinful sandwiches, a live waffle station with cinnamon waffles, fluffy blueberry and choco chip pancakes, along with the herbed potatoes, baked beans and artisanal toasts.
The sides on the buffet are really the essence of it. Five cheeses — cheddar, parmesan, mozzarella, Kraft and smoked Bandel cheese — along with artisanal loaves like Ancient Grains Loaves and Roasted Garlic and Black Pepper Bread from home bakery Wild Yeast Stories are on offer, hitting all the right spots.
The waffles and pancakes can be topped with a number of special spreads like Apple Cinnamon Jam, Marmalade and Grape Jelly along with a dusting of Cinnamon Spice!
"We've been sitting here for the last two-and-a-half hours eating. We're stuffed! It was a great meal as always, and we liked everything on the menu, especially the Bandel cheese," said a group of three women who visited the restaurant after 20-odd years for its breakfast.
A DIY concept — with expert guidance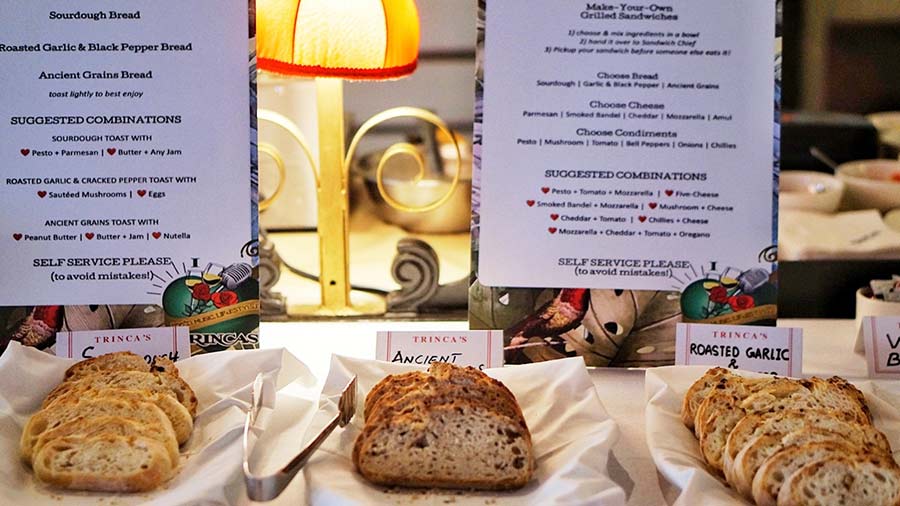 The Roasted Garlic and Black Pepper Bread is a popular loaf
While the restaurant encourages a 'do-it-yourself' concept, which allows the customer to choose their favourite ingredients and make a mouth-watering meal out of them, there are helpful prompts at each station to guide customers.
"We've come up with a few suggestions that will make for great meals. For example, we recommend Smokey Scrambled Eggs with Bandel Cheese and a Pesto, and the Tomato and Mozzarella Sandwich, which were hot picks during our soft launch," said Anand. Other interesting suggestions are the Sunny-Side-Up with Any Cheese, Chilli Cheese Grilled Sandwich and the Oregano, Mozzarella and Bandel Scramble.
'We recommend the Pesto, Tomato and Mozzarella Sandwich, and Smoked Bandel and Mozzarella Cheese Omelette,' says Anand Puri
Trincas is also offering a la carte add-ons that elevate the experience. Order chicken or pork sausages, bacon and ham, and wash everything down with teas from Karma Kettle and coffees from Craft Coffee. "Trincas is a lovely bright space in the mornings. It's completely different from the dark and sexy evenings — you walk in and smell coffee and waffles. I'm looking forward to seeing people coming in to hang out here over breakfast and making a morning out of it," said Park Street's latest breakfast man.
Already popular!
Hot favourite: Smoked Bandel and Mozzarella Cheese Omelette
Catches you by surprise: Cinnamon Sugar Powder (on waffles)
A loaf of deliciousness: Roasted Garlic and Black Pepper Loaf
Delightful drink: Strawberry Hibiscus Cockscomb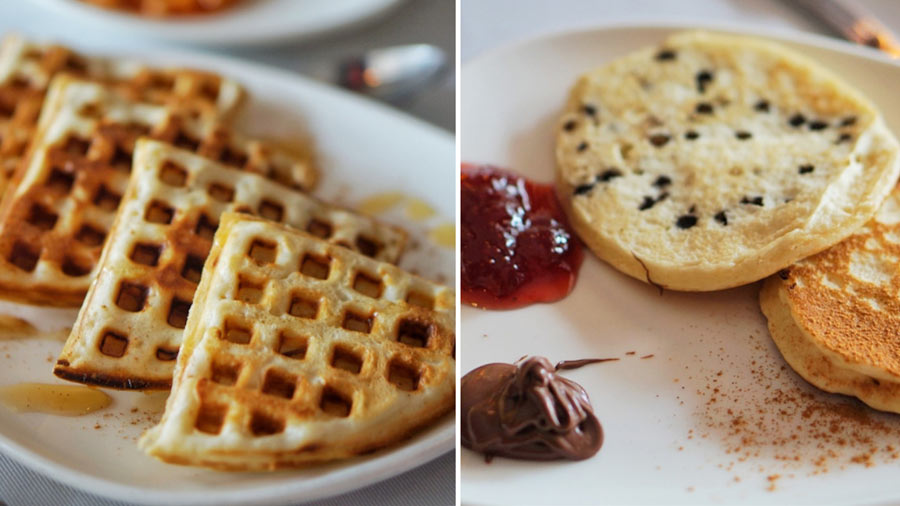 (L) Waffles with honey and a dusting of cinnamon spice, and (R) pancakes with strawberry jam, Nutella and peanut butter