Are you one of those who watches reruns of Masterchef just to ogle at the colourful and flavourful exquisite international dishes? If you've been trying to console yourself for all the dishes, Indian and international, that you crave to taste, these Kolkata-based cloud kitchens are for you.
These four cloud kitchens run by home chefs offer a variety of global dishes, that too without burning a hole in your pocket. They organise various pop-ups with menus curated by cuisine or occasions. My Kolkata had a chat with the four entrepreneur cooks…
Gooseberri by Sayani Sengupta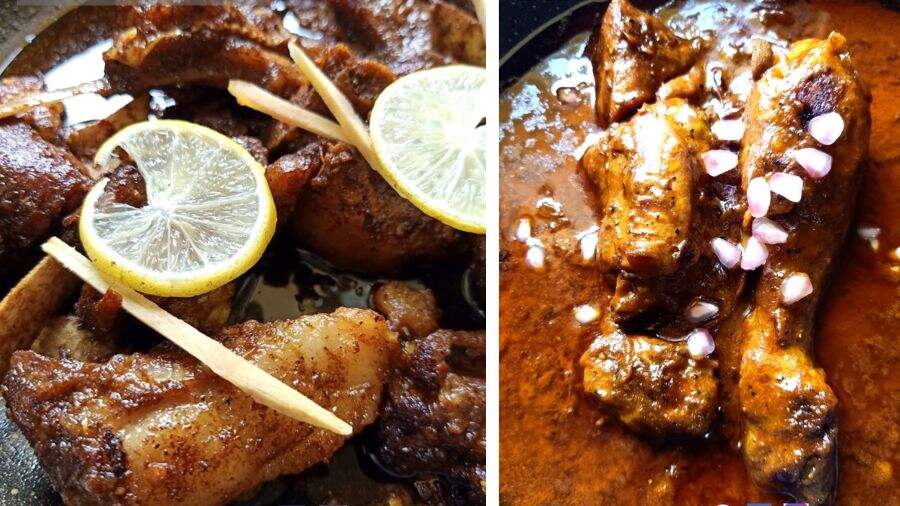 Rawalpindi gosht roast with mutton and pork ribs, and Iranian morgh fesenjoon — chicken in walnut and pomegranate molasses
Courtesy Gooseberri
A tragic loss during the 2021 wave of COVID prompted Sayani Sengupta to start her own Covid Care High Protein meal plan. Since then Gooseberri has delivered a variety of monthly pop-up menus. "Gooseberri does traditional to out-of-the-box cuisines, typical Bengali and Bangladeshi to Parsi, Iranian, Peshawari, Nepali, Bihari to Singapore hawker market street food and innovative fusion,'' says Sengupta.
Diversity is her forte. "I even customise menus for solo meals, parties, social and corporate gatherings, including outstation catering. I have quite a few bestsellers like authentic Champaran, Mughlai chaanp, Rawalpindi gosht roast, Nepali choila, Bangladeshi bhortas, Korean bulgogi (barbecue), stir fries, fesenjoon (Iranian stew), Persian meygoo polo, Peshawari maghaz masala, Parsi patrani, preservative-free non-veg pickles, etc.,'' she said.
At present Sengupta operates from her home kitchen in Kestopur, with some help from her parents and brother on Sundays. She signed off by sharing her future plans, "Maybe in the near future I shall have a selective menu for each month. Post Durga Puja I will be shifting my kitchen to South Kolkata. We deliver all across Kolkata and will soon start nation-wide delivery.''
How to order
To order food from Sengupta's kitchen, you can WhatsApp / call on 9903583823. It is ideal to order 48-72 hours in advance. Certain dishes like Champaran and crab need to be ordered four days in advance. For any party order for 15 heads and above, ideally five days in advance. 
Upcoming menu
Peshawari cuisine in collaboration with DjCooksKitchen. Orders need to be placed by August 11 for delivery on August 15. (Approximate price for two, Rs 600)
Dine & Dine by Surjendra K. Chakrabarti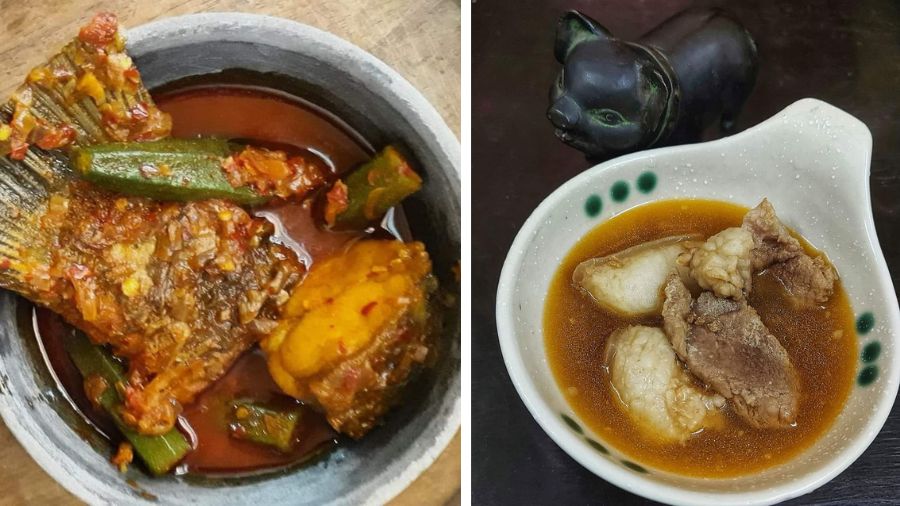 Sylhetti maacher lal jhol bhindi diya and pork stew with candied ginger
Courtesy Dine & Dine
Surjendra Chakrabarti's mixed parentage — Bengali father and Bhutanese mother — gave this professional chef access to two culinary cultures. He started his own venture in 2016. "Professionally, I am a chef and wanted to serve my clients something unique. This prompted me to open my own kitchen. Drawing from the traditions of both my parents, my food is all about Sylhetti, Bhutanese, Nepalese, Burmese and Anglo-Indian dishes," he explains.
Chakrabarti usually has a pop-up every three months. "Sometimes clients call up and I suggest three or four-course menus for parties or functions.'' He currently operates from his home with a team of six members and offers delivery services for a minimum of five to a maximum of 30 people.
How to order
Orders can be placed 48 hours in advance through WhatsApp on 9903643928 or an Instagram DM
Upcoming Menu
A pork pop-up menu on September 11. (Approximate price for two Rs 1,200)
For_kandknife by Pallavi Khaitan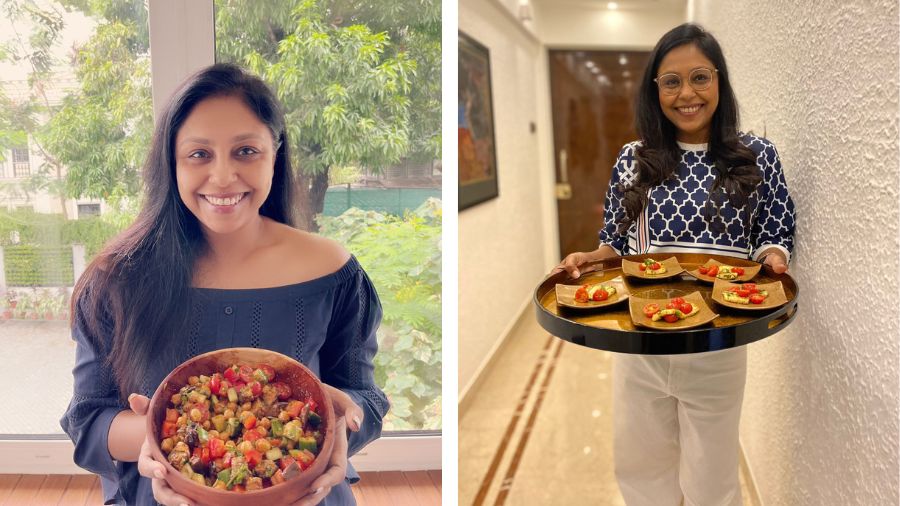 Pallavi Khaitan with her chickpea salad and with grilled halloumi
Courtesy For_kandknife
The days at home during the pandemic gave Pallavi Khaitan a chance to nurture her love for food and cooking. Born in 2020, her brand For_kandknife features a variety of global dishes. "I was always fond of cooking and the lockdown showed me another side. I wasn't sure if catering and food blogging was something I wanted to do, but in 2020 during COVID I realised that's my calling,'' she says.
For those who love to eat scrumptious meals but do not want to compromise with health, this is the go-to brand. "I serve mostly Lebanese and Asian food and healthy bowls, ramen and salads. I have a fixed menu but sometimes do a 'healthy meal week.'"
Khaitan has been single-handedly working for the past two years from her home. Orders are primarily home delivered, but there is an option for takeaway too.
How to order
To place an order one can WhatsApp on 9830024338, one day ahead. (Approximate price for two Rs 700)
Homely Zest by Sakshi Sureka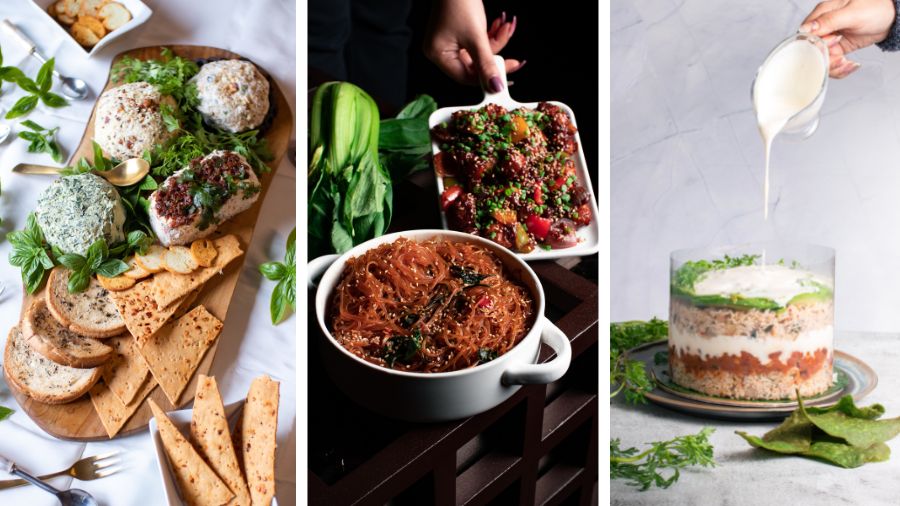 Cheese Platter, vegetarian Japchae with Korean chilli potatoes, Mexican pull-me up cake
Courtesy Homely Zest
Opened on July 13, 2020, Sakshi Sureka's journey was inspired by her father's idea to open a cloud kitchen.
"During COVID, I would cook different dishes for my family every day as they love trying new kinds of cuisines. After sometime, my father gave me the idea to open my cloud kitchen and provide all cuisines under one roof and also provide delivery to make it easier for our clients," Sureka said.
She has a menu that caters to every kind of palate. "We work with all kinds of cuisines — Indian, Italian, Asian, Mexican, Thai, Rajasthani, and Korean. We also make chaats and desserts. Our USP is to provide an elaborate range of offerings all under one roof.''
Operating out of Ballygunge, Sureka has a regular menu along with theme-based curated menus for different occasions.
How to order
To place an order WhatsApp or call on 6290795522. Orders are taken a day ahead.
Upcoming menu
Rakhi-special menu. Limited orders taken. (Approximate price for two INR 1100)