Natively from Ghoom in Darjeeling, 37-year-old Urgen Sherpa has two passions in life—music and momos. His love for the latter led him to make Darjeeling momos in his own cloud kitchen called Momocha.
Also known as DJ U-Gain, Sherpa, who was born and brought up in Kolkata, has made the city his home ever since his parents moved to Siliguri. "I have been missing those home-made momos with the spicy fresh chutney Aama (my mother) makes. During the pandemic, I tried to recreate these memories of homely flavours that remind me of my family and the hills of Darjeeling," he said.
The fold of these momos are much like a tortellini, thereby allowing them to be stuffed generously with filling, making for a big morsel. Momocha makes Darjeeling momos with chicken, pork and beef fillings and serves it with their signature tomato and chilli chutney which balances out the flavours. 
"I miss the chutney from home. Its freshness makes any momo taste better. Actually, you do not need too many ingredients to make momos but onion, ginger and coriander are a must apart from the meat," said Sherpa.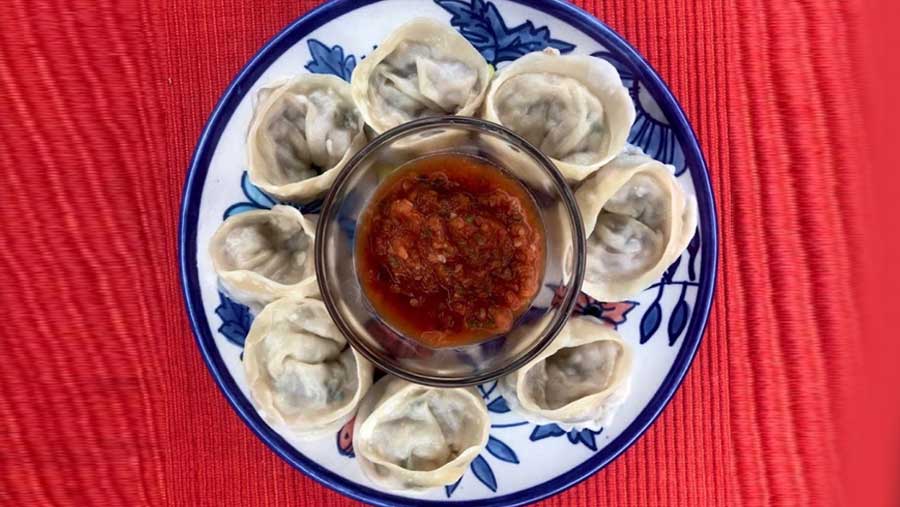 Momocha momos with their signature chutney.
@momochaofficial/Instagram
Serving both steamed and fried options, a plate of 8 momos at Momocha starts at Rs 140. The minimum order value is 3 plates and you can place your orders on Instagram between 2pm and 9pm everyday. A 24-hour preorder window is compulsory.
While Momocha is currently operating as a takeaway home kitchen from Mukundapur, Kasba, delivery is available all over the city with extra charges applicable. 
The next time you're missing the hills, bring Darjeeling to your doorstep with these momos.