Bhutan lives up to every idyllic image of the country you could have imagined in your mind. Pristine natural beauty, historical sites and heritage structures; warm, smiling locals; hearty food and colourful festivals. The country that measures its success with an annual Happiness Index also has a few surprises and little-known wonders. 
If a trip to Bhutan is on the cards for you, don't miss out on these unique travel experiences in the country.
Spy Mt Everest from your flight window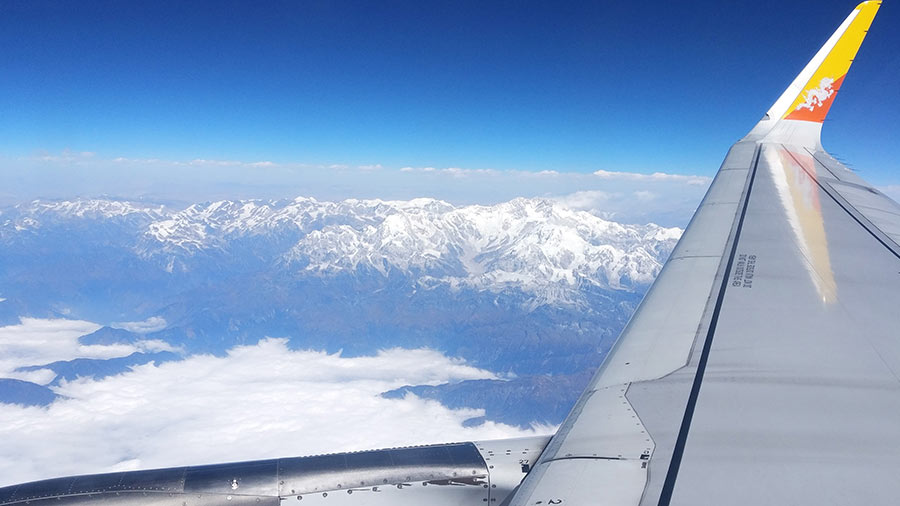 While driving to Bhutan is a great road trip experience, flying there is an adventure. If you, like me, are one of those whose trekking holidays are restricted to hikes on undulating hills, and you'll possibly only ever see Mt Everest from a distance — take a flight to and from Paro. Not only is the landing at Paro airport a thrilling experience — it's one of the trickiest landings in the world. If you're flying from Delhi or Kathmandu, you get to spot the snowy Himalayan peaks outside your window. On a clear morning, Everest and Nanda Devi glisten in the sun as you make your way to the land of the Thunder Dragon.
Eat a traditional meal and pose in a gho/kira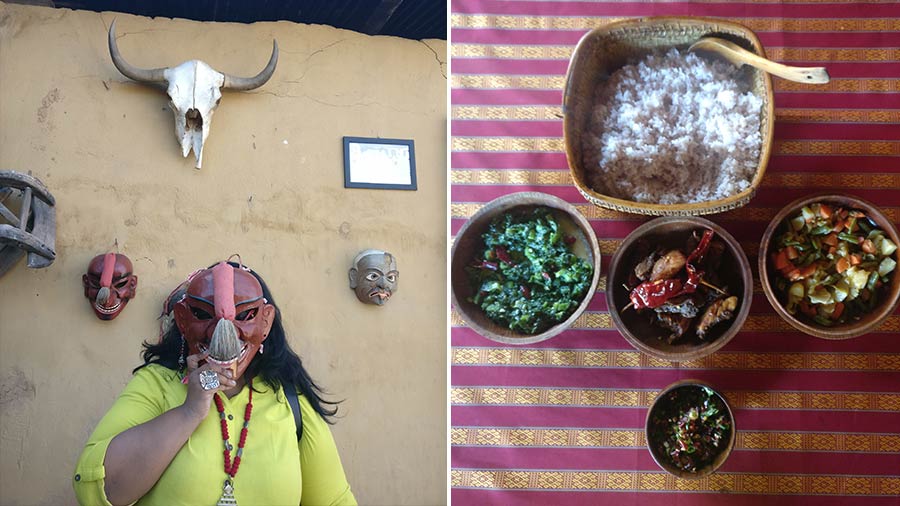 At Simply Bhutan in Thimphu, you can do both together. The eatery has a little heritage museum on the premises, so while the chef stirs up your meals you can find all things cultural about the country under one roof.  The cheerful folks will happily help you try on some traditional attire, and click your photos as you pose in a kira or hold up a mask. The Bhutanese traditional dress for men is a gho and for women is a kira, and they have a small selection of pieces that you can try on. 
The meal that follows is equally enjoyable, and begins with the traditional Bhutanese butter tea that's topped with a sprinkling of puffed rice (muri). A full course will have the staple red rice, a datshi (cheese) dish, tossed greens or veggies, and a semi-gravy chilli-flavoured meat dish. 
Have a welcome drink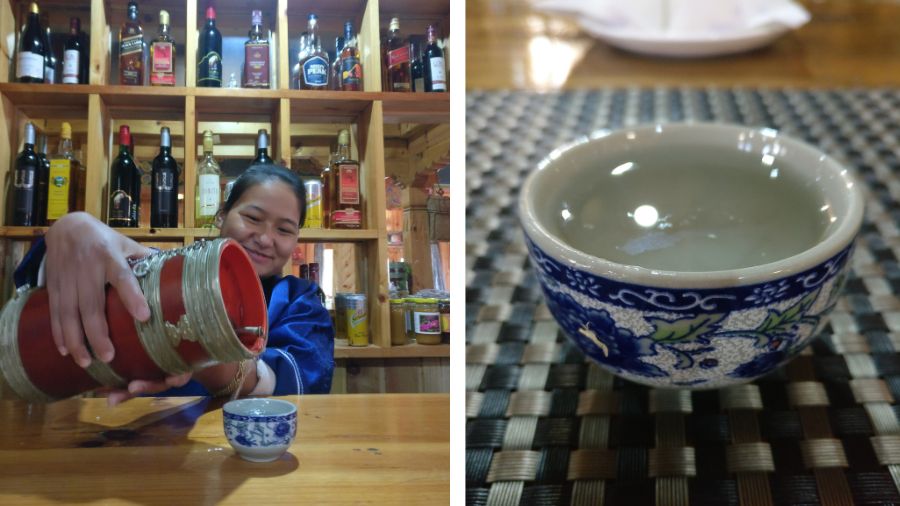 Every country has a favourite drink. In Bhutan its ara or arag. Made from fermented barley, maize, millet, rice or wheat, the distilled local spirit is their choice for a welcome drink. Everywhere you go, someone will offer you a small shot of ara. It's definitely a taste that needs getting used to, but after the single digit winter-time temperatures, it's a 'welcome drink' to savour. If you get a chance, definitely try variations of ara that are locally made — flavoured with saffron, even butter and egg.
Drown in 'datshi'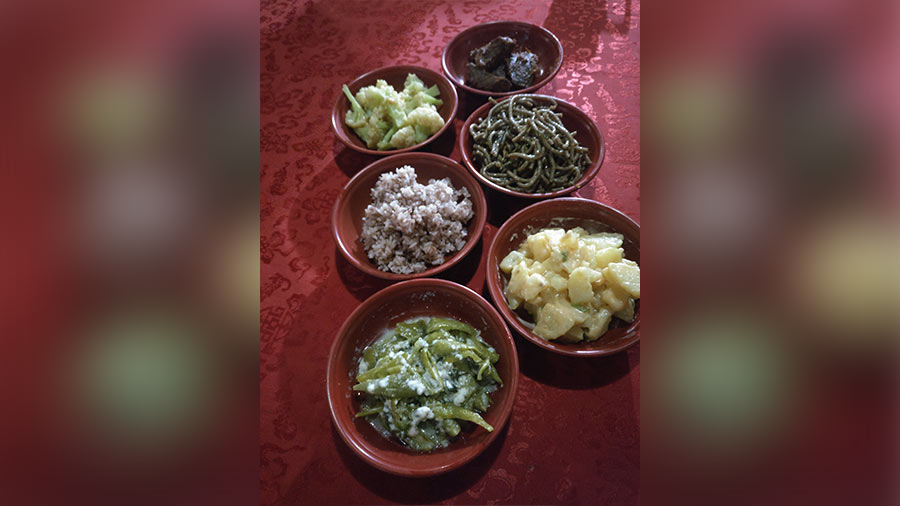 A Bhutanese meal with beef pa, lightly tossed cauliflower, buckwheat noodles called 'puta', rice, 'kewa datshi' and 'ema datshi'
Datshi is a soft cheese that's a speciality of Bhutanese food and found in every other dish. The national dish, ema datshi, is a spicy, cheesy preparation with just the cheese and chillies. There's a datshi dish for everything — potatoes is kewa datshi, mushrooms is shamu datshi, and so on. The most decadent datshi dish is gondo datshi, which is made with a mix of cheese, butter and eggs. 
Play some snooker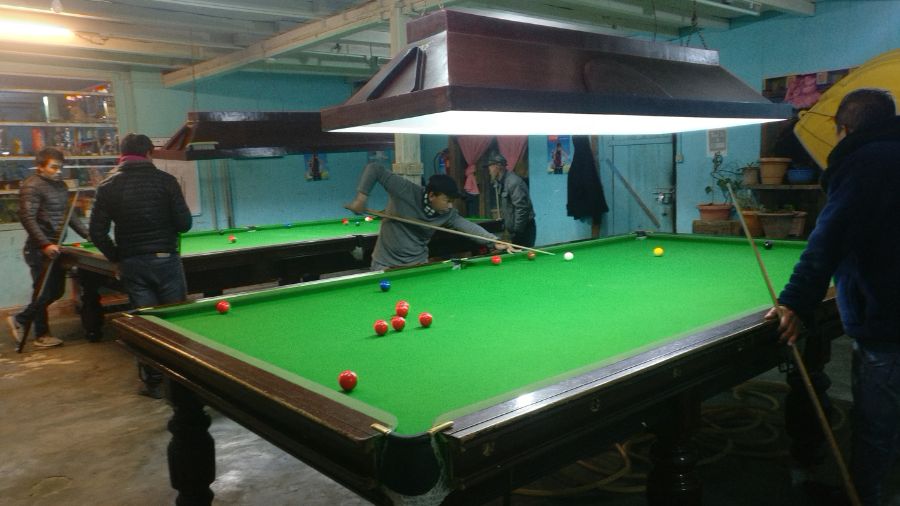 The effects of gradual globalisation has introduced Bhutan to snooker. The country has a thriving culture of playing snooker. Evenings and weekends find many from the working population in local bars and snooker bars for an evening of game and guzzle. Even the smallest establishments have their regulars, who have their scoreboards and keep tally. It is also perhaps those rare few informal settings where you will see people dressed in something other than the traditional attire, which they are required to wear to work by law. Ask your local guide to take you to a snooker game, and make sure to either get some practice beforehand or find an amateur's table.  
Watch dances at a drayang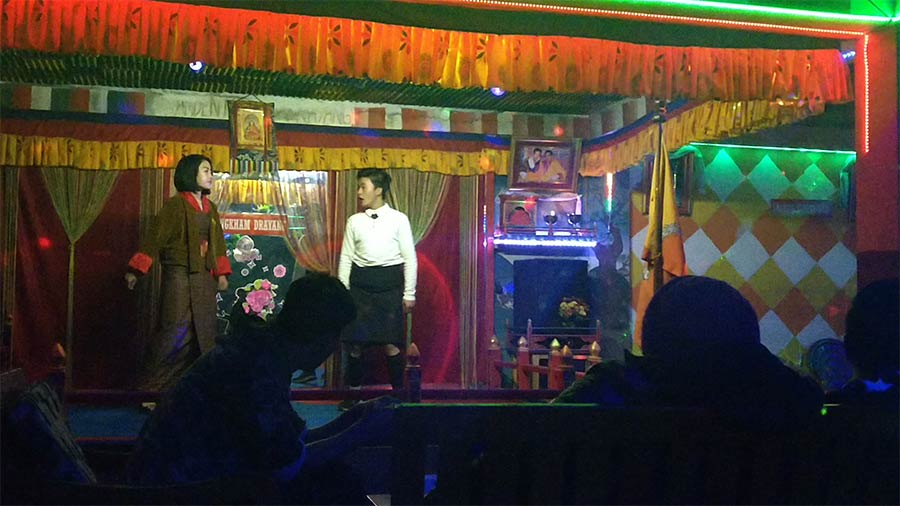 When someone says dance bar, the image above is probably not what will come to mind. But this is exactly what a drayang in Bhutan is — a dance bar. Often located at the basement level of bigger restaurants or hotels, these dance bars have no thumping music, gyrating bodies or salacious intent. Sofas and armchairs are arranged around various tables where people — stags, hens, couples, friends — gather for drinks and munchies. A stage is set up for the bar's dancers, some of whom might also be your servers. Some of the girls might flirt a little to ask for song requests, which are paid (or in my case, insist that they dance on a Bollywood number). The dancing  is done by solo performers, groups, even couples and is a series of graceful, fun steps on folk songs and local numbers.
Get a phallic souvenir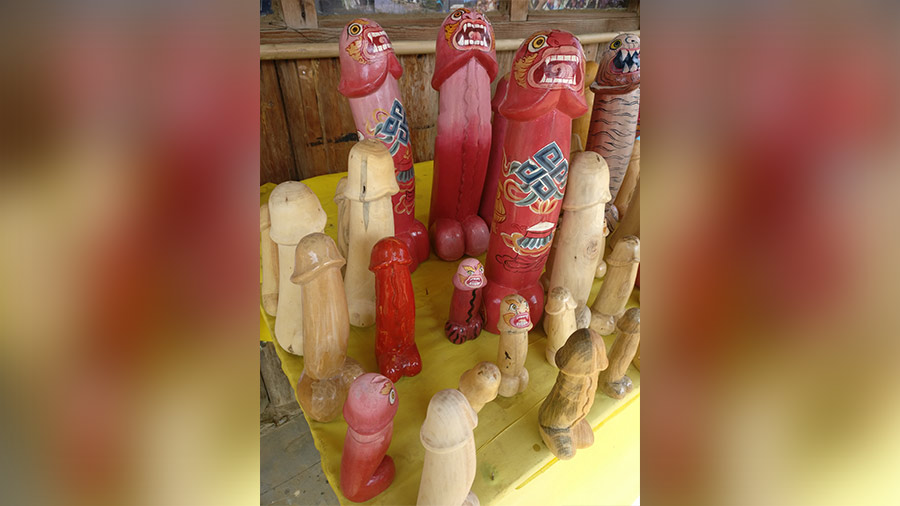 Did you ever think you'd return from Bhutan with a cheeky souvenir? In Punakha, at a site blessed by a maverick Tibetan saint known locally as 'Divine Mad Man,' stands the Chimi Lhakhang Monastery. The phallic symbol that is seen in abundance in and around the region is said to have been brought by the saint from Tibet and is traditionally used to ward off evil. A wooden phallus kept inside the temple is touched to the heads of devotees to bless them, and the monastery is also known as a fertility temple where couples come to seek blessings for a child. The street stalls and shops near the monastery all sell brightly painted wooden phalluses of different kinds — from lockets to show pieces. 
Soak in a hot stone bath
There are various places in the country where you can indulge in a hot stone bath. These traditional wooden bathtubs come in different sizes and shapes, and oftentimes families have their own backyard tubs. Red-hot stones are dropped into a compartment in the tub separated by a perforated barrier. The heat from the sizzling stones travels to warm the water in the entire tub, readying it for a steaming soak. 
Sip some tea, or peach wine, read a book and take in the views and play your travel montage in your head as you relax.