What's a family dinner without some heritage picks? A handful of home-run labels in Kolkata are cultivating the unassailable influence that Anglo-Indian cuisine has had over Bengal's kitchens. While some menus rely on recipes that have been passed down from generations, some new-age chefs are adding personal twists to modernise the colonial strain.
My Kolkata caught up with some of the city's most authentic Anglo-Indian home kitchens ㅡ Mom's Home Kitchen, Simple Cooking, Mag's Kitchen, and Happy Diner's ㅡ that are delivering deviously delicious delicacies across Kolkata.
Mom's Home Kitchen
Maria Liao adds interesting contemporary twists to her family recipes, and her menu has propelled Mom's Home Kitchen to considerable prominence. Besides lunch and dinner on weekdays the home kitchen that runs from Picnic Garden has a special weekend menu and some novelty festive treats such as marzipan (in various shapes and sizes), rose cookies, and of course, kulkuls!
Pork balichao, ball curry (meatballs cooked in a creamy, coconut curry), sausage curry, dolma (gourd stuffed with minced beef) are some of the biggest hot-sellers. The menu also sports a number of pickles such as prawn balichao, salt fish (Bombay duck), and brinjal that sell out almost instantly.
Of course, every curry comes with traditional yellow rice, coconut rice, or peas pulao. Some of the specials are beef tenderloin steaks, spicy crab curry, tripe, pork trotters, and oxtail vindaloo, which take your palate on an adventure, to say the least.
How to order: Call or message 9051184233 to place an order and follow their Facebook page for regular updates.
Mom's Home Kitchen's grub at the Anglo-Indian day at Calcutta Rangers Club. Sinful, much?
Simple Cooking by Michelle Sarkar
For seven years now Michelle Sarkar has been catering homemade Anglo-Indian delicacies to friends and family. In June 2021 she launched Simple Cooking - a home kitchen serving lunch and dinner from Wednesday to Sunday, and a variety of snacky delights on weekends.
Delicacies such as jhalfrezi and pepper water, chicken korma, pork bhuni, tahari (a one-pot meal of rice, chicken, potatoes, and peas), oxtail stew, and beef pepper fry are available on rotation. Potato chops, pantheras, beef cutlets, beef croquet, and beef momos mark Simple Cooking's weekend menu while sweetmeats like caramel custard and fruit salad are always up for grabs. Come Christmas, Simple Cooking offers their signature ginger and grape wine, a perfectly balanced festive potion!
How to order: Call or message 9903049763 to place an order.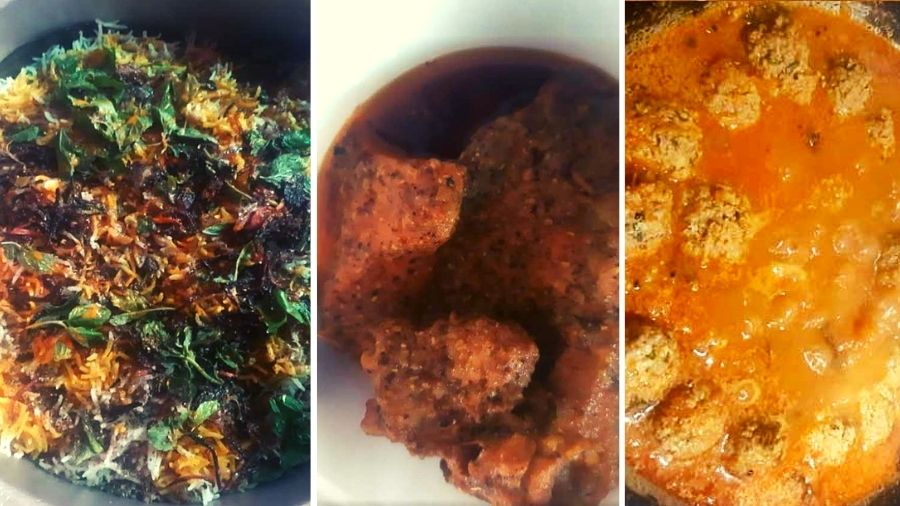 Simple Cooking's ball curry, yellow rice and chicken korma, it's finger-licking good!
Image Source: Simple Cooking
Mag's Kitchen
Michael Siddiqui's Mag's Kitchen is an ode to his late mother, Margarette. In fact, the daily lunch menu at Mag's is inspired by her culinary legacy. Traditional Anglo-Indian recipes such as pork/beef bhuni, country captain, minced curry khichdi (so perfect for those insatiable rainy day cravings!), pork vindaloo, chicken korma, potato chops, fried meatballs, and their very own Mag's special concoction are some of the best things on the menu.
A noteworthy signature would be their Punjabi Methi Chicken with an Anglo-Indian twist, something Margarette concocted several years ago. Mag's also offers brinjal pickle and balichao pickle - some simple yet sinful sides to their savouries.
How to order: Call or message 9831872268 to place an order and follow their Facebook page for regular updates.
Happy Diner's
Marilyn Highland's brainchild Happy Diner's is Anglo-Indian to the tee, offering old favourites like potato chops, beef croquet, shammi tikkias, pantheras, and chicken pepper grill, all coupled with parathas.
The home kitchen began its journey this year and at the moment it offers only dinner and rotates its menu daily, hero-ing one delicacy every day. On special occasions, you can score chicken vindaloo, chicken korma, or a khow suey. The upcoming winter season will see a special menu that lines up fish ball soup, fish cutlets, chocolate mousse, and different types of roasts. So, stay tuned!
How to order: Call or message 9836286481 to place an order.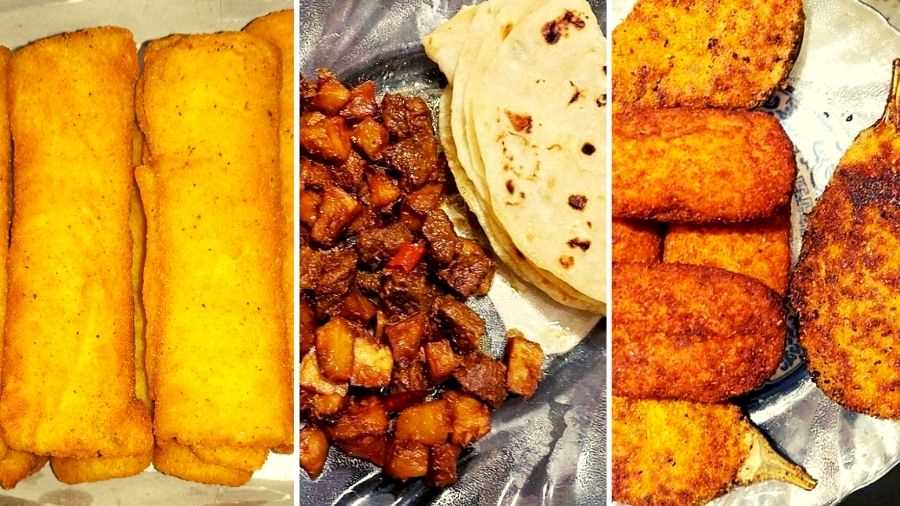 Happy Diner's potato chops, brinjal cutlets, pantheras, jhalfrezi and parathas. Yummy would be an understatement.
Image Source: Happy Diner's.