Why the US embassy in Delhi is bathed in rainbow light
The US state department instructed embassies not to fly the Pride flag on a 'public-facing flagpole'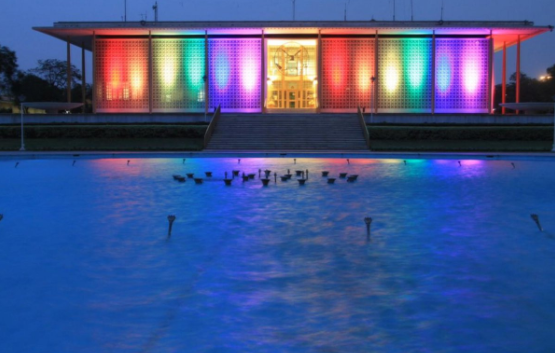 ---
---
As we celebrate LGBT Pride Month and recognize the outstanding contributions LGBT people have made to our great Nation, let us also stand in solidarity with the many LGBT people who live in dozens of countries worldwide that punish, imprison, or even execute individuals....

— Donald J. Trump (@realDonaldTrump) May 31, 2019
LGBTI rights are a priority for us - our Special Envoy Randy Berry can tell you why https://t.co/hL2lKzetbS #PRIDE pic.twitter.com/gm6ENO1Wif

— US Embassy Canberra (@USAembassyinOZ) June 17, 2016
The Trump administration banned foreign embassies from flying Pride flags this month. So the US Embassy in New Delhi just lit up its whole building instead. pic.twitter.com/pmpO2lsFvK

— The Betches Sup (@Betches_Sup) June 13, 2019
The flagpole missive to diplomats came two days after Trump's tweet, according to a New York Times report.
The messages from Washington are being seen as a bid by the Trump administration to abandon the advancement of gay and transgender people's rights as a foreign policy imperative.
The gesture of flying the Pride flag had become routine in American diplomatic posts since 2011, when Hillary Clinton, then secretary of state, proclaimed in a landmark speech that "gay rights are human rights".
The US embassy in India, like many others across the world, took the best of both messages from the US and chose an innovative way out. They did not raise the Pride Flag, they switched on the rainbow lights.
When asked whether embassies in India, South Korea, Nepal and many others were defying the US administration by choosing to don Pride colours, Greg Porter, the press officer of the US embassy in New Delhi, said "the Embassy Chancery, in accordance with Department of State guidelines, is illuminated in rainbow colors".
In order to establish that the embassies were not violating any state department order, he shared a release by Morgan Deann Ortagus, the spokesperson for the department of state, who clarified that the "LGBTQ flag, the rainbow colours, the pennants, banners are not in violation of any kind of edict or order".
The US embassy in Vienna, on the other hand, featured a photo of a rainbow flag.
US diplomats in Jerusalem joined a Pride and Tolerance march and several ambassadors tweeted their photos from Pride parades.
Some have shared photos of them standing outside the embassies surrounded by embassy employees holding letters that spell PRIDE.
The US embassy in India has been aglow in rainbow colours all of June to celebrate Pride Month, but did not unfurl the rainbow flag on its campus.
The reason for keeping the flag folded away could be a US state department instruction to embassies that said the rainbow flag may not be displayed on a "public-facing flagpole".
President Donald Trump on June 1 sent out a tweet supporting gay rights. "As we celebrate LGBT Pride Month and recognize the outstanding contributions LGBT people have made to our great Nation, let us also stand in solidarity with the many LGBT people who live in dozens of countries worldwide that punish, imprison, or even execute individuals....," he wrote.